Though the iPod product line was discontinued in 2022, many people are still fond of this music-centric widget and want it back to the stage. Moreover, a minority of people just can't take their eyes off the iPod Classic series with a click-wheel of nostalgia. However, the pity is that iPod Classic 1st to 6th is really old-school and unable to enjoy Apple Music right on the device.
So, how to sync Apple Music to iPod Classic? If you're an active Apple Music subscriber, there is a tricky way for you to download DRM-free Apple Music songs/playlists and then sync Apple Music Playlist to iPod Classic with ease. If you want to listen to Apple Music offline on your iPod Classic, let's make it out now.
CONTENTS
Why Can't I Sync Apple Music to iPod Classic
Apple Music songs cannot be copied to an iPod Classic, iPod shuffle, iPod nano and iPod touch 4th gen, because all these iPod models don't have Wi-Fi compatibility. This is a small trick that Apple is using to prevent people from downloading and keeping songs for offline playback without paying the subscription fee.
Since Apple Music songs are DRM protected, the streaming service will recognize whether the hardware has the ability to identify an active subscription, which means it is not possible for you to play music on nonauthorized devices unless you can strip off DRM of Apple Music.
You Can Only Use iTunes to Sync iPod, Not iCloud
The iPod Classic series can trackback from 2001 to 2007. Back at that time, iPod Classic only had FireWire for charging and USB for syncing. It is a fully music-centric player without bells and whistles, let alone iCloud or AirDrop.
Therefore, the only way to put music on this born-for-music device is by syncing DRM-free songs to iPod Classic, and it doesn't support popular streaming music services like Apple Music, Spotify, YouTube Music, and so on. By syncing to iTunes, you can add songs, playlists, albums, photos, audiobooks, and videos on the computer to iPod based on your model.
Before Syncing Apple Music Playlists to iPod Classic: Tools You'll Need
Now, let's get all the things prepared. To make it clear, check out the list below.
● A Windows PC or MacBook Pro/MacBook Air/MacBook mini
● iTunes for Windows with the latest version.
● Finder for Mac running macOS Catalina and above.
● Your iPad Classic.
● A USB cable.
● TuneFab Apple Music Converter

You should already be familiar with all the stuff except for TuneFab Apple Music Converter. This is the professional Apple Music converter tool that lets you easily convert Apple Music to MP3 or other DRM-free formats. It allows you to access the entire content catalog of Apple Music including albums, playlists, and podcasts. Then, you can follow the tutorial below and transfer songs to your iPod Classic or any device without restriction.
Sparking Feature of TuneFab Apple Music Converter
● High-Res Sound Quality - The best output quality can reach up to 320kbps at 48kHz which will deliver you immersive playback for your favorite tunes.
● FairPlay DRM Removal - TuneFab makes it possible to get rid of DRM protection and convert Apple Music songs to DRM-free formats like MP3, M4A, FLAC, and WAV.
● Flexible Music Playback - The downloads are free from DRM restrictions, so they are transferable to and playable on any device including all iPod models, MP3 Player, Smart TV, Gaming Console, etc.
● Batch Download In a Flash - You can download as many songs as you want from Apple Music with an ultra-fast converting speed of up to 5X faster than ever.
● Easy Management - The downloads will preserve ID3 tags and metadata to make it easy to sort out the whole music library such as title, artist, album, cover artwork, and so on.

How to Put Apple Music to iPod Classic (The Universal Way)
TuneFab Apple Music Converter comes with a user-friendly in-built Apple Music web player that lets you directly look for and download Apple Music songs without iTunes or the app. It takes only 3 steps to complete.
STEP 1. Log in to Apple Music
You should take a minute to download and install TuneFab Apple Music Converter on your Windows or Mac. Then, launch the program and click Open the Apple Music web player. Next, you'll need to sign in to your Apple ID so the program can access and convert songs from Apple Music.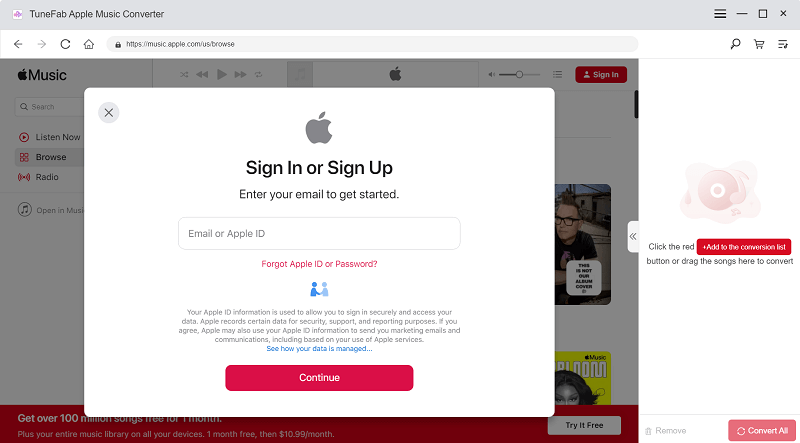 STEP 2. Customize Audio Parameters
The default output settings are in MP4 with the bitrate at 256kbps and the sample rate at 44.1kHz. If you want to switch to better sound quality, you can click the Menu icon on the upper right and choose Preferences. You are able to modify the output path, output format, sample rate, and bitrate here.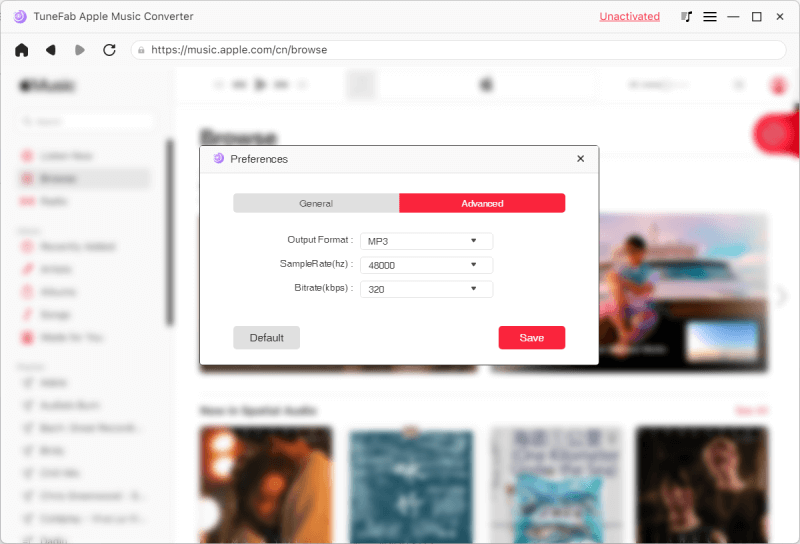 STEP 3. Convert Apple Music to DRM-Free Files
Now, you can search for your favorite song, and drag it to the Floating Plus button. Or, if you want to convert the entire playlist/album, drag the cover to the button and it will fetch all the songs for you. Then, you can make your selections and click Convert All to start. When done, downloads will be saved in the Finish tab.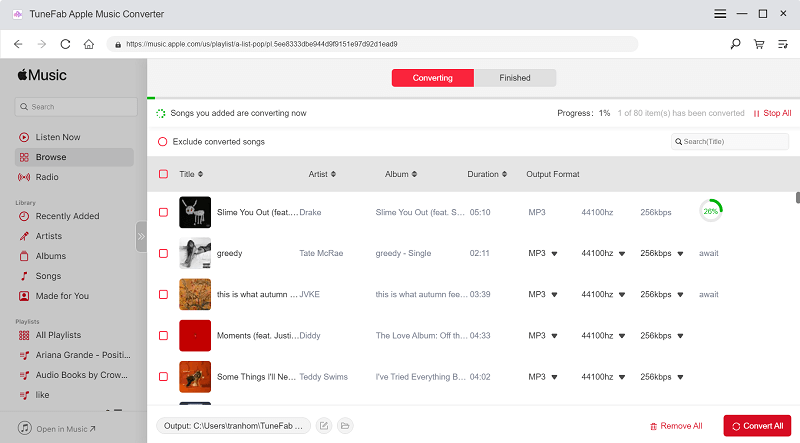 Then, let's move to the next part to see how to put Apple Music into iPod Classic. Also, you can transfer DRM-free files to unauthorized devices that include in the following lists.
● iPhone 5 to iPhone 14 Pro Max;
● iPod touch 6th and 7th;
● iPad running iOS 10 and above;
● Apple Watch (all);
● Apple TV 4th or newer;
● Samsung Smart TVs from 2018 or newer.

How to Sync DRM-Free Apple Music to iPod Classic with iTunes
Before you start syncing songs to iPod Classic, you should find out what formats are supported to add to iPod Classic. The supported file formats include MP3, AAC, AIFF, ALAC, and WAV. Thankfully, TuneFab Apple Music Converter makes it possible to convert songs to MP3 and WAV without DRM protection, so you can follow the tutorial below to sync DRM-free apple music playlists to iPod Classic.
STEP 1. Prepare DRM-free Apple Music Songs
After you have successfully converted Apple Music to MP3 or WAV files with TuneFab, you can go to the output folder to check the converted songs. If everything is fine, then you can save the songs in a new folder and rename it as "DRM-free Apple Music Playlist" or other names you like.
Note: If you are using iPhone, iPad, or iPod touch and want to sync Apple Music to them, you can try using TuneFab WeTrans. It is a great iTunes alternative when it comes to transferring DRM-free Apple Music, video, audiobooks, and more between PC and iOS devices. It's much more convenient than iTunes and it won't erase the important data on your device.
STEP 2. Add DRM-free Apple Music to iTunes Library
Now open iTunes or Finder on your PC/Mac. Then go to "Music Playlists", right-click and select "New Playlist" to create a new playlist for saving your DRM-free Apple Music.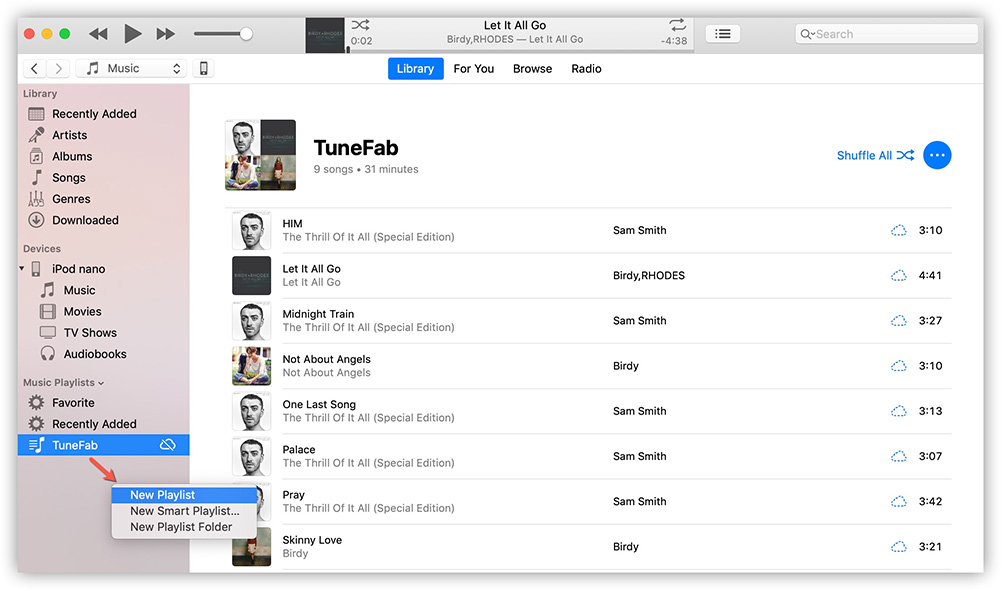 STEP 3. Connect iPod Classic to iTunes
Connect your iPod Classic to iTunes with a USB cable. Then you will see the interface as follows.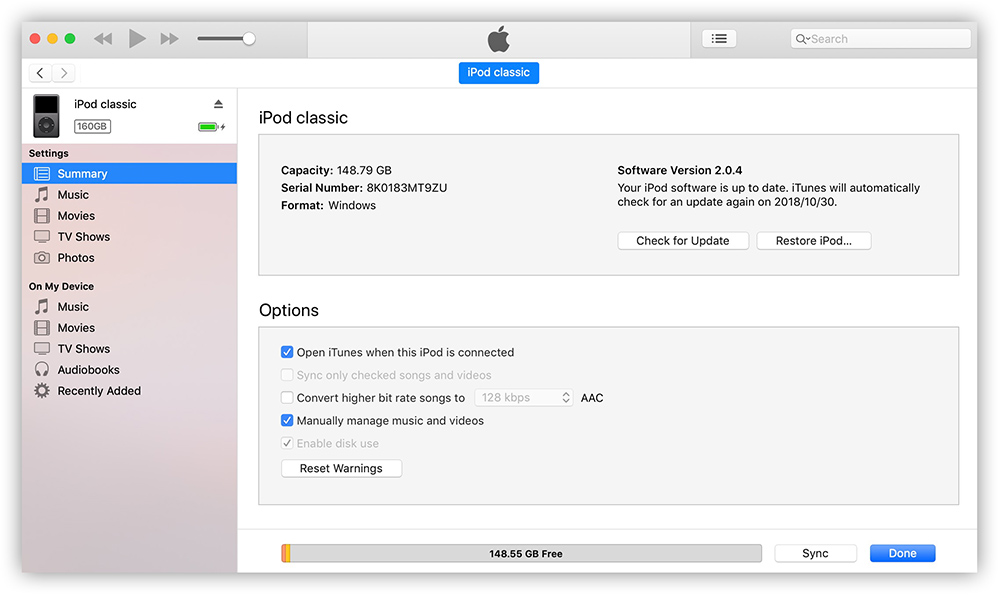 STEP 4. Sync DRM-free Music to iPod Classic
Now go to "Music" under the "Settings" tab. And then check the "Sync Music" option. Please note that one device can only sync with one iTunes library at a time.
If you see the pop-up window that says "Are you sure you want to remove existing music, movies, and TV shows from this iPod and sync with this iTunes library", you need to select "Remove and Sync" to continue. And it's necessary for you to back up your iPod music first before syncing.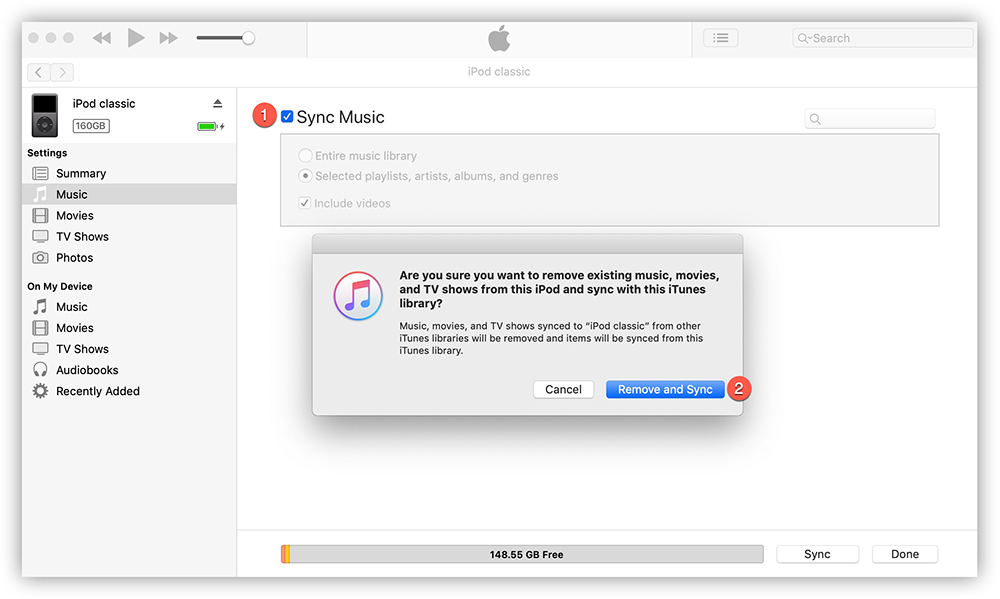 When you see the Sync Music interface, select "Selected playlists, artists, albums, and genres" and go to "Playlist" to locate the playlist that you created for saving the DRM-free Apple Music. In this guide, I will use the "Recently Added" playlist as an example. Select the playlist and then click the "Apply" button, soon after all the songs selected will be synced to iPod Classic.
STEP 5. Transfer DRM-free Apple Music to iPod Classic Successfully
When you see "iPod sync is complete" showing up on top of iTunes, it means all the songs have successfully been transferred to iPod Classic.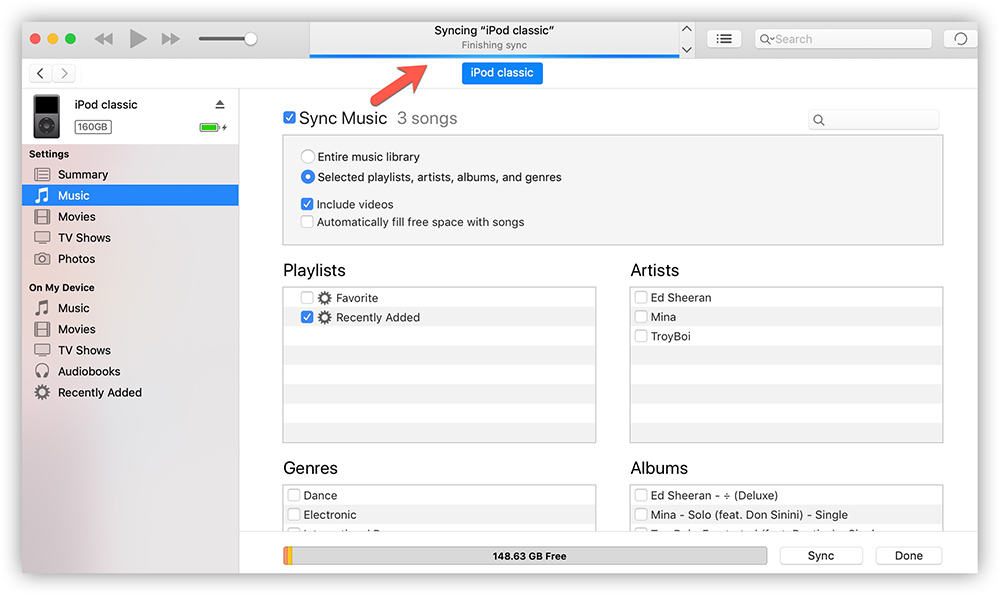 You can now go to "On My Device" > "Music" to check the Apple Music playlist.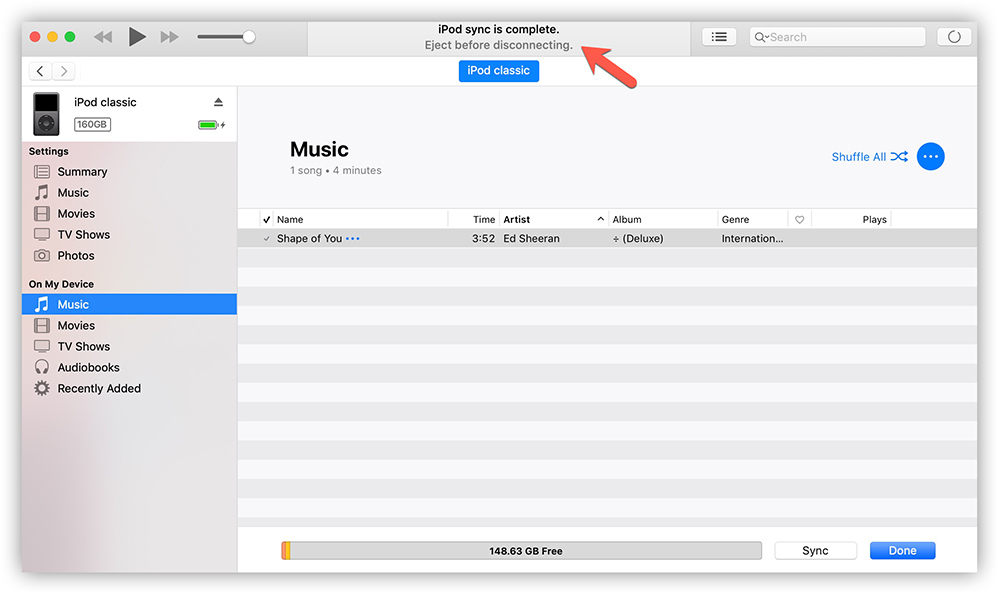 Conclusion
Pretty easy, right? The barrier is how to remove DRM protection from Apple Music songs. At this point, TuneFab Apple Music Converter leads the pack in defying the barrier and making it possible to add a playlist to iPod Classic. Moreover, you can add your favorite songs to any device without restrictions and enjoy the best offline playback on the go.
Was this information helpful?
TrustScore 3.4 | 5