You may notice that Apple Music has a 1-month trial for free, but what starts as a free trial will always end up costing you real money. You have to pay for Apple Music to access its library. Also, the subscription fee may vary according to the country or region you live in. In the U.S., it costs $9.99/month for an Individual Plan. While in some foreign countries, the subscription price is much cheaper.
So for those who have a limited budget or wonder how to get the cheapest Apple Music subscription - here is the hack tutorial to teach you how to get free Apple Music forever with no monthly fee required.
CONTENTS
How Much Does Apple Music Cost? Is there a free Apple Music?
As a subscription-based service, Apple Music offers three plans, so how much you should pay depends on which plan you choose.
1. Individual Plan. This plan fits everyone. Just by paying $9.99 per month, you can join Apple Music.
2. Family Plan. If your family members also want to stream songs from Apple Music, then the family plan may be your best choice. It costs you only $14.99 per month, but up to six people are able to access the Apple Music library.
3. Student Plan. Students studying at degree-granting universities and colleges can subscribe to Apple Music at $4.99 per month, half-off the individual plan. (We'll talk about it later.)
Since Apple Music doesn't offer a free plan, you may wonder if there is a free Apple Music. Here comes the good news - you can also find some smart hacks to keep Apple Music free forever in the next part. Besides, all new subscribers can get free Apple Music for at least 3 months by following the below methods.
How to Keep Apple Music Songs Free Forever
The first method is for those who are now enjoying Apple Music free trial. A feasible tool will be recommended to help you prepare for the day when the free trial is invalid.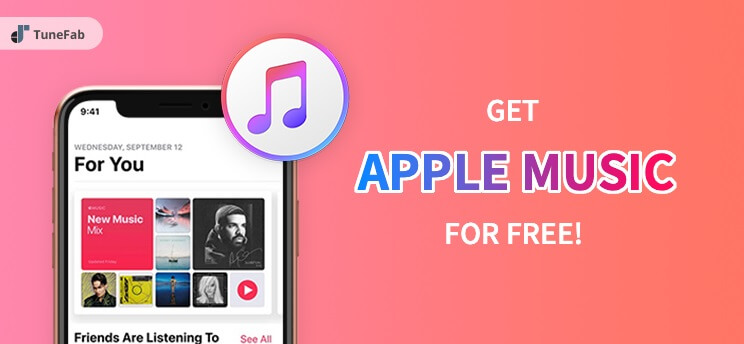 What Happens If Free Trial or Subscription Ends?
By following the above methods, you can get Apple Music free for a few months. But once the free trial ends, you need to pay for the plan you choose in order to access Apple Music. Otherwise, all songs that you previously downloaded from the Apple Music catalog will be removed from your devices. Basically, you cannot stream any Apple Music tracks added to your iCloud Music Library anymore.
Note: Only your purchased iTunes songs or songs that you added to the library won't be affected. And you can download them again without paying extra.
Also, as you may know, Apple Music is linked to your iCloud Music Library. And every time you log out and log in to your Apple ID on your device, your data will be automatically removed so you need to resync backups and sometimes, even rebuild your library. Therefore, if you determine to leave Apple Music and not renew your plans after the free trial, we strongly advise you to keep your playlists or transfer your playlists to another music streaming service. Or all your created playlists will become inaccessible after the cancellation.
Rebuild your Apple Music library can be a huge project. Still, here is a way to keep Apple Music free forever and save all your playlists effortlessly. Just read on.
Best Apple Music Converter to Save Music Forever – TuneFab Apple Music Converter
To make it possible for you to keep enjoying Apple Music without paying a penny, you are introduced to the powerful TuneFab Apple Music Converter, which is the best tool allowing you to rip songs from Apple Music and convert them to DRM-free formats, such as MP3, M4A, AAC, FLAC, WAV or more. All tracks downloaded with TuneFab are available for lifetime streaming and are playable without any DRM restriction, therefore you can put them on multiple devices for offline listening.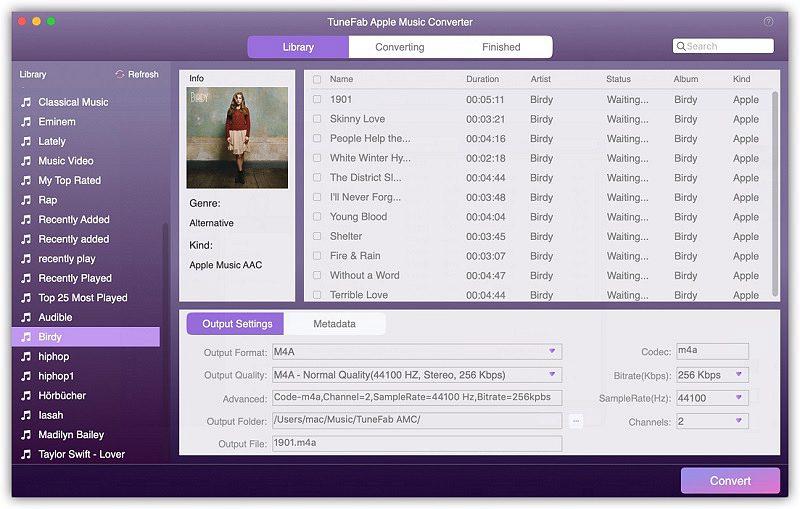 You may wonder, is TuneFab Apple Music Converter free? Although TuneFab Apple Music Converter is not freeware, it offers you a 30 days trial to fully evaluate its features for free. Additionally, TuneFab gives you a chance to win a free lifetime license of TuneFab Apple Music Converter by completing specific offers, such as writing a blog review, publishing a YouTube review, etc. For those who have no interest in buying a license, you can use this method to get a free license key for free.
Try TuneFab Apple Music Converter for Free:
Apple Music Free Hack Requirements:
You are an Apple Music subscriber (Free trial or Premium)

You are running Windows PC or Mac

You've installed iTunes or Music app

You've downloaded TuneFab Apple Music Converter (If you want to get DRM-free Apple Music songs)
If you'd like to cancel your membership but are afraid of losing your music library, TuneFab Apple Music Converter allows you to make a digital backup of your Apple Music songs from all playlists before cancellation. The following instruction will show you how to create an Apple Music backup and play Apple Music for free for life. Altogether it takes 5 simple steps. If you are wondering about how it works, keep reading.
Step 1. Sign in iTunes/Music app with your Apple ID (the one that connects with your Apple Music subscription). Then, make sure your computer is authorized with your Apple ID via iTunes.
Step 2. Open TuneFab Apple Music Converter, when all playlists are recognized, select songs that you want to retrieve from Apple Music.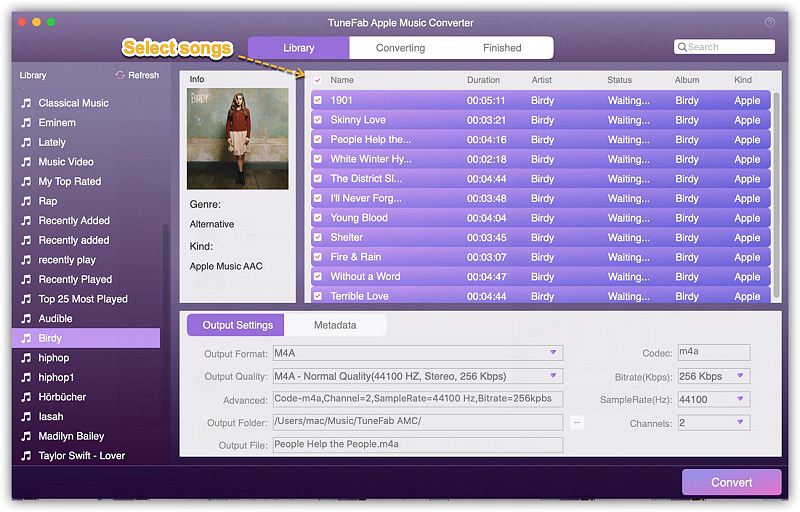 Step 3. Configure the output settings, including format, sound quality, speed, etc. (Tip: To keep your converted tracks the same quality as Apple Music tracks, you may select AAC format and tweak the bitrate as 256 Kbps, and choose 44,100 Hz sample rate.)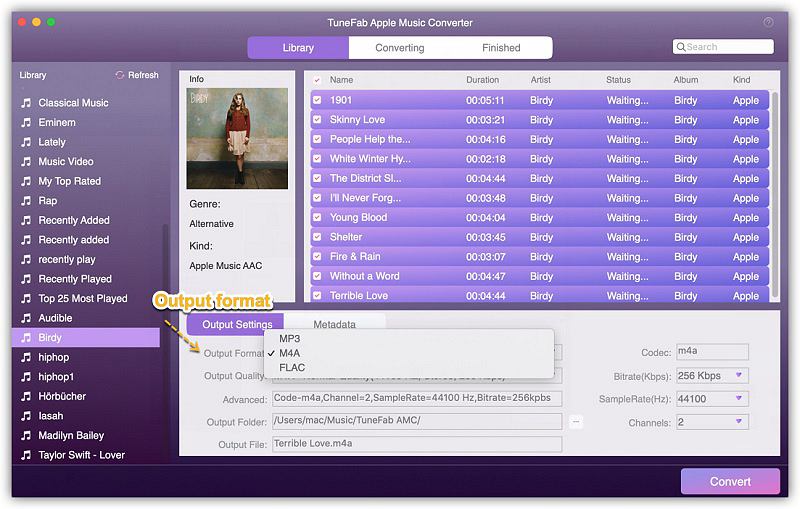 Step 4. Click the "Convert" button to start ripping Apple Music songs.
Step 5. When it's done, go to "Finished" and click "View Output File" to get the songs for free. You can burn them to CD, use them as a ringtone, or put them on your favorite MP3 player and enjoy them for free.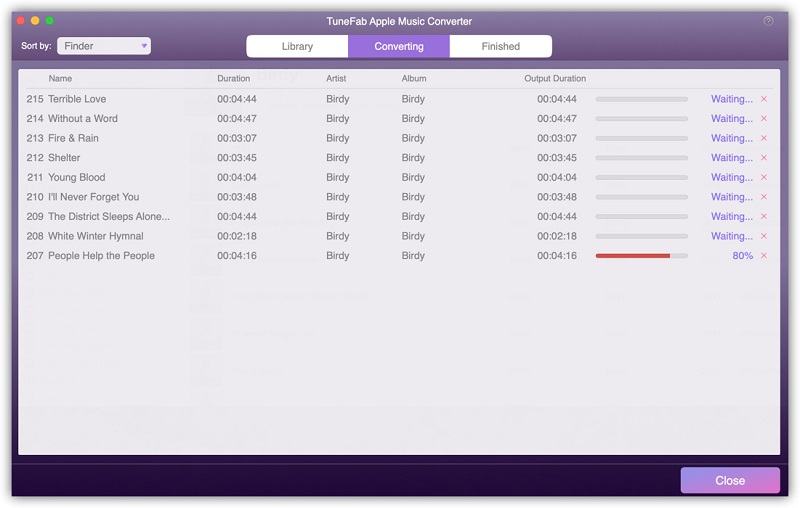 4 Alternative Methods to Get a Free Apple Music Account
Although Apple Music doesn't come with a freemium, it allows you to enjoy all features during the free trial period. Any new subscriber downloading the Apple Music app can use these methods to enjoy free access to Apple Music for a limited time. If you currently benefit from the free trial offer and would like to get an extension, you can also use the Family Plan to extend your free account. I'll explain the top 5 methods with all details you need to know. Read on.
Method 1. Get 3 Months Free Apple Music [Trial Offer]
You can easily sign up for Apple Music on iOS/Android devices or on iTunes. Before you get started, make sure you have a valid Apple ID account, and a payment method is also required for completing the subscription. Don't worry, trial users don't need to pay for anything, you can cancel your Apple Music subscription any time and still be able to use the service until your trial expires.
Here's a breakdown of how to join Apple Music for free on your iPhone, iPad, iPod touch, Mac, or PC:
1. Open the Apple Music app on iTunes.
2. Click the trial offer then choose a subscription plan (Individual, Student, or Family subscription).
3. Sign in with your existing Apple ID or create a new Apple ID.
4. Confirm your billing information and payment method.
Need help? You can visit our previous post – How to Get Apple Music Free Trial to view the step-by-step instructions.
Tips:
1. Android users can get the Apple Music app for Android from Apple or download it directly from the Google Play Store. And make sure that your Android device is running Android 4.3 (Jelly Bean) or later. You can go to Settings > System > About phone to check which version it has.
2. Note that if you don't manually cancel the membership after the 3-month promotional period, plans will automatically renew to $9.99 a month for an individual plan, $4.99 for a Student plan, or $14.99 for a family plan.
Method 2. Get 6 Months Free Apple Music as a College Student
On February 11th, Apple announced that it doubled the usual three-month Apple Music trial for eligible students in the US, the UK, Canada, and Japan who have never subscribed to Apple Music until the end of April 2021. That means eligible students can get 6 months of free Apple Music. After the free trial period, you'll only need to pay 50% of the regular price of the standard individual plan, which is $4.99 per month.
Who are qualified for an Apple Music Student Subscription? Here's the official statement from Apple.com:
"To qualify for an Apple Music student subscription, you must be a student studying a bachelor degree, post-graduate degree, or equivalent Higher Education course at a University, College (U.S. only) or Post-Secondary School (Canada only). Junior, technical colleges, and special courses are also eligible in Japan."
Note: If you miss this six-month Apple Music free trial, you may only get Apple Music 3 months for free as an eligible student. Still, you can wait until Apple brings back the free trial plan. And usually, the 6 months Apple Music student discounts will be available when the back-to-school season starts.
Requirements of this promotions:
1. You must be an eligible college student and a new Apple Music subscriber.
2. You must pass the enrollment verification on the UNiDAYS website.
3. It's only valid for new subscribers.
How to Sign up for Apple Music Free Trial for Students?
Step 1. Open the Apple Music app on your phone or iTunes on your computer.
Step 2. Tap "Listen Now" or click "For You" and then go to "Free Trial".
Step 3. Choose "College Student" and then tap or click "Verify Eligibility". After that, you need to follow the instruction to verify your enrollment on the UNiDAYS website.
Step 4. When the verification is completed, sign in with your Apple account.
Step 5. Confirm your billing information and add a valid payment method.
Step 6. Tap or click "Join" to get an Apple Music student subscription.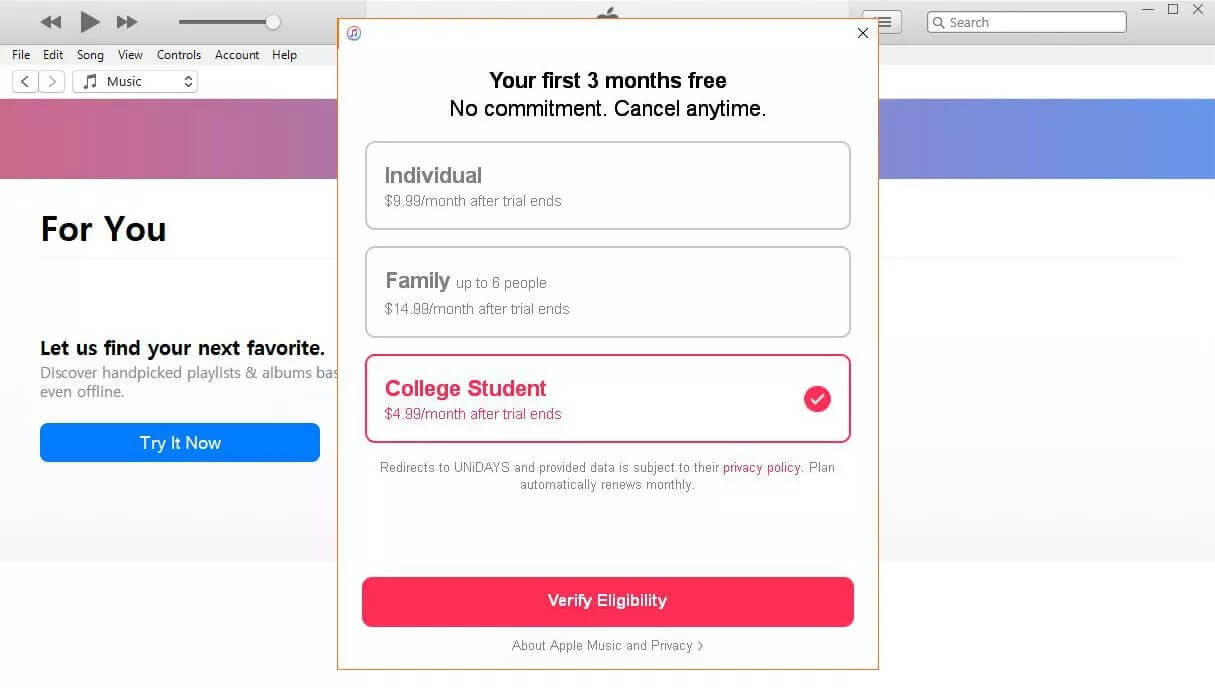 Method 3. Get 6 Months Free Apple Music [BestBuy Special Offer]
In fact, Apple is not the only platform offering free Apple Music deals. Best Buy has a partnership with Apple Music also gives subscribers a free Apple Music trial without buying anything on BestBuy.com. But note that Best Buy only gives you six-month free Apple Music and is just available to new subscribers.
Requirements of this deal:
1. Discount valid for new subscribers only.
2. It's only available for customers in the U.S.
3. BestBuy.com account required.
4. This order is non-returnable.
How to get it? Follow these steps below:
Step 1. go to BestBuy.com, click "Account" > "Sign in" to sign in with your account. If you don't have a Best Buy account, then click "Create Account" to create an account at first.
Step 2. Enter "free Apple Music for six months" on the search box, then click "Add to cart" of the first item shown on the page.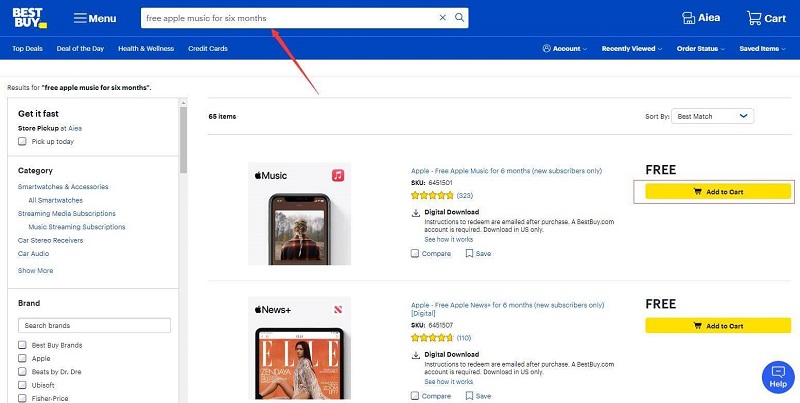 Step 3. Click "Go to Cart" to go to the checkout page, then simply click "Checkout" to finish the order process. After that, you will receive a digital code.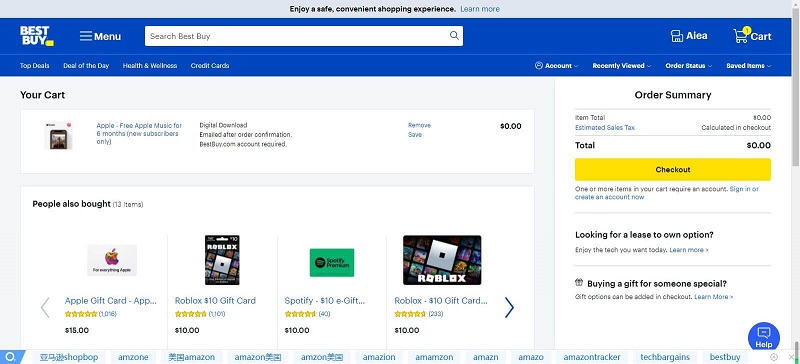 Method 4. Earn Free Apple Music Gift Card
One way to get a free Apple Music code is to earn points by completing offers, such as installing apps on your iPhone and run them for a while, completing a game, or filling out a survey. Then you can use these points to exchange for prizes, such as Apple Music free code. But this is not the most efficient method, because not all offers are actually working. Even worse, some of the free Apple Music code generator tools found on the Internet are probably just scams.
But if you are still interested and would like to give them a shot, you can check out the following 2 methods.
1. Earn Free Apple Music Gift Card with PointsPrizes

2. Win Up to 12 Months of Free Apple Music Account with Music Machine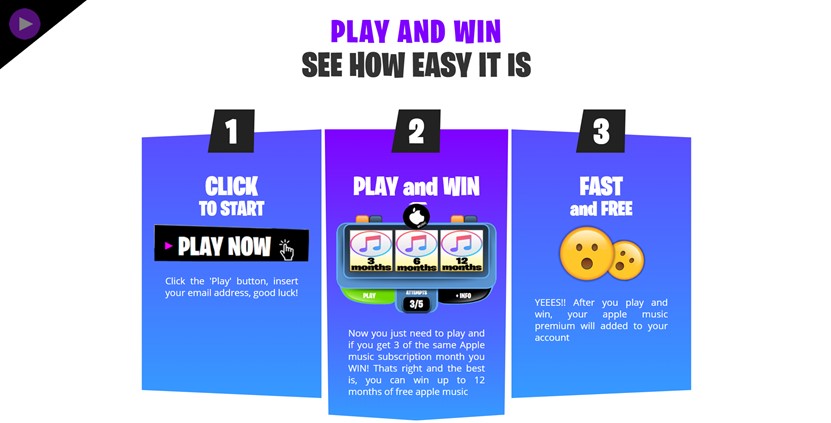 Note: This method allows you to get free Apple Music directly on iPhone, no credit card or jailbreak is required.
Step 1. Open this webpage on your web browser.
Step 2. Scroll down and click the "PLAY" button at the bottom of the screen.
Step 3. Enter your Apple ID / Email and then hit "Next" to participate in the game.
Step 4. Now you can start playing the game to win your free Apple Music subscription, 3 options are available including 3 months, 6 months, or 12 months. In total, you've got 5 chances to get your best shot, if lucky you can get the 12 months Apple Music premium.
Step 5. Next, click on the blue button to synchronize data with your Apple ID and when it's done, you will be asked to activate your Apple Music premium by clicking at the "VERIFY NOW" button. Verification is required because it needs to make sure that you are a human instead of a bot.
Step 6. Now you will be directed to a new page that shows you a list of apps. All you need to do is download and run 2 free apps by following the instruction carefully. It's necessary that you run both apps for at least 30 seconds and do some interactions within the app to pass the human verification.
Step 7. When you've done human verification, you can delete the 2 apps from your iPhone and open Apple Music.
Method 5. Use A Family Account
Perhaps some of you have already used the first free trial, it's almost impossible to get another one. But the chances are your family member or friend who has an Apple Music family account, you can ask them to invite you as one of the 6 members of joining the Family subscription. With the Family sharing feature, you can enjoy unlimited access to Apple Music on your own device.
Conclusion
We've introduced the top 5 methods to get free Apple Music without paying. After you claim the free account, you can enjoy up to 70 million songs, exclusive playlists, and radios on your iPhone, iPad, iPod, Android, PC, or Mac with no limitations.
But if you want to keep these tracks forever, you can use TuneFab Apple Music Converter to download and convert songs to plain MP3 or M4A formats. After that, you'll have full ownership of all the music files and you'll be able to listen to them any time anywhere without monthly payment.
Was this information helpful?
TrustScore 2.2 | 46