Since Apple Music is launched in 2015 in over 100 countries, it gets fine favor from subscribers and appeals to a broad spectrum of music lovers as Apple Music provides more than 50 million songs with high quality and is also characterized by its "For You" section, 24-hour radio stations music video and so on. As of May 2018, Apple Music had about 50 million paying subscribers. Are you one of them? How do you like Apple Music? Have you ever met some problems when using Apple Music? Well, I believe that most of you have met some Apple Music problems, have you fixed it? Today I'd like to show you solutions of some frequently asked Apple Music problems, but if you can't find your problems here, then you can try to contact Apple Music service about Apple Music problems.
CONTENTS
Part 1. Frequently Asked Apple Music Problems: Here is the Fix
Actually, some of your Apple Music problems can be solved by yourself so that you don't need to contact Apple Music membership customer service for help. Here are some frequently asked Apple Music problems.
Solution: First connect your device to PC and launch iTunes, then select your device and click on "Music" button, at last select your playlists and click on "Apply" button. After that, disconnect your device and check your playlists.
Solution: Restart your iPhone and re-enable iCloud Music Library by going to Settings >> Music to tap on iCloud Music Library. After that, try to stream the song again.
Solution: Manually backup your iTunes library via iTunes so that you can get the disappeared Apple Music songs back. To do that, launch iTunes and click on "File" button, then select "Library" and "Organize Library", finally check "Consolidate files" and click on "OK" button.
Solution: If you have that problem, you can try to check your network, restart Apple Music app or your iPhone, re-login your Apple ID, turn off and on "Show Apple Music" and update Apple Music and iOS system.
General Solution: In fact, to fix all above problems, you can totally download and convert Apple Music tracks to MP3 with TuneFab Apple Music Converter which is designed to remove DRM from Apple Music and convert them to various common formats such as MP3, AC3, M4A, M4R, AIFF, FLAC, etc.
There is no doubt that your problems are more than these, then you can read Frequently Asked Apple Music Problems: Here is the Fix! to find out the solution or contact Apple Music customer service.
Part 2. How to Contact Apple Support about Apple Music Problems
If you can't solve your problems about Apple Music, then you should consider to contact Apple Music customer service for help. But how to do that? Considering that some of you haven't done that before, I hereby show you the step-by-step guide.
Step 1. Click https://support.apple.com/contact to visit Apple Music Support where you can check with experts online, set up a repair, get Apple Music customer service number and more. Then scroll down to find "Talk to us" and "Get a repair" section, and click on "Get help >" which is blue font below the "Talk to us" section to enter into a new interface.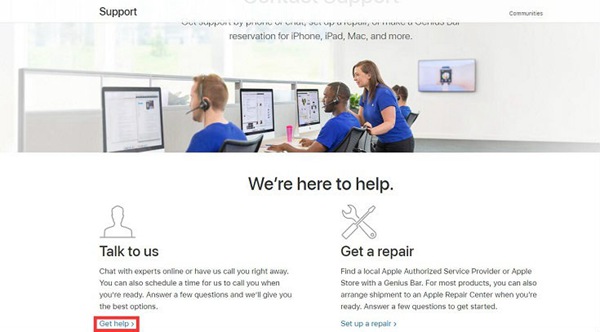 Step 2. On the interface, you can find "Mac", "iPad", "iPhone", "Apple Watch", "Music", "Apple ID", "App & Software" and "More" options. Just choose "Music" >> "Apple Music" option and then you will go to the "What's happening with Apple Music" interface.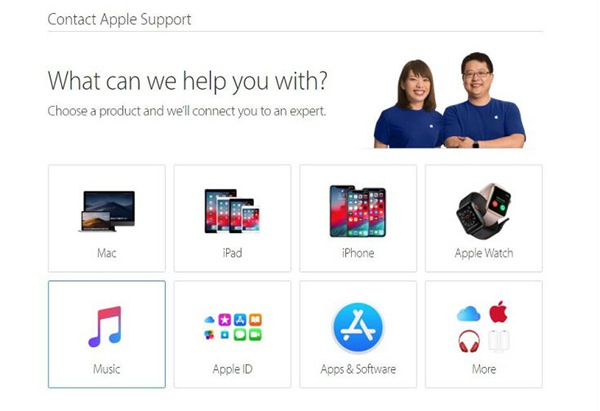 Step 3. After that, you can find "Saving & Playing Songs", "Radio", "Membership & Billing", "iCloud Music Library" and "Other Apple Music Topics" options on the interface, you need to click on one of them according to your Apple Music problems.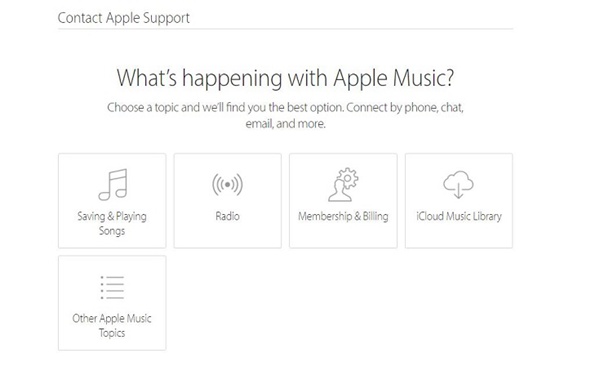 Step 4. Let's take "Saving & Playing Songs" option as an example. If you want to contact Apple support by call right now, then click on "Talk to Apple Support Now" option, or make an appointment for Apple Support by clicking on "Schedule a Call".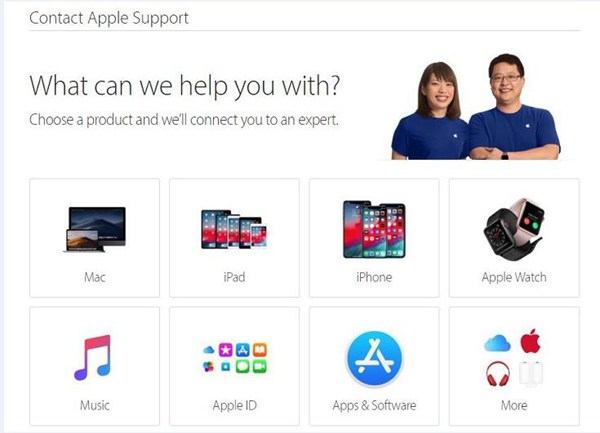 Step 5. No matter you choose either of "Talk to Apple Support Now" and "Schedule a Call" options, you need to enter your contact information including your first name, last name, email address and phone number. After that, click on "Continue" button on the bottom of the interface, then just wait for the call from Apple Support.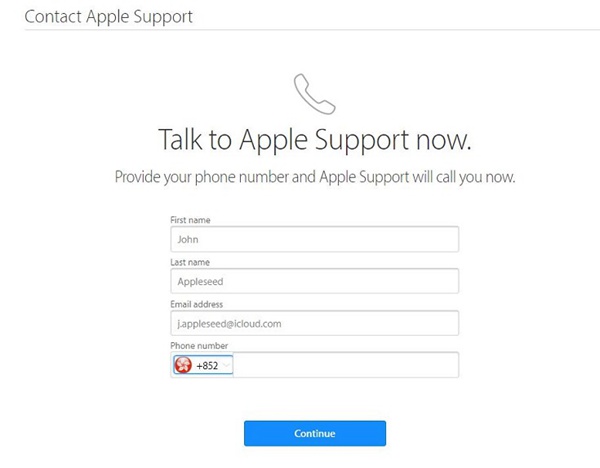 Except contacting Apple Music customer service, you can also get help from Apple users around the word by going to Apple Support Communities. But the ultimate solution for solving the Apple Music problems should be downloading Apple Music songs and saving them on generic MP3 devices so that you can enjoy Apple Music songs anywhere and anytime. That means you need a professional DRM removal tool and Apple Music converter like TuneFab Apple Music Converter. To know more about this reliable software, just click the link here.
Was this information helpful?
TrustScore 1 | 3