When streaming songs from Apple Music collection, some subscribers reported that they've run into a problem with Apple Music, that is Apple Music not playing downloaded songs. Actually, it seems to be a prevalent problem, but thankfully, it's usually nothing serious, and there are various fixes for letting your downloaded Apple Music songs play again.
CONTENTS
Fix 1. Enable Cellular Data or Connect to Wi-Fi
Though you've successfully downloaded songs from Apple Music, you might find that Apple Music not playing downloaded songs. Well, if so, what you need to do first is to establish a connection to Apple Music, for example, enabling cellular data or connecting to Wi-Fi.
Just turn on cellular data, then run Apple Music and tap the track that is downloaded before for listening. If the track starts to play, then you can disable cellular data now and Apple Music is supposed to play the track without issues from now on.
For those who disabled Apple Music from using your cellular data before, they should follow the below steps to enable Apple Music to use your cellular data.
Step 1: First tap the vertical Ellipsis icon where you can find on the upper-right corner.
Step 2: Then tap "Settings" > "Cellular Data" options.
Step 3: At last, turn on the switch of "Use Cellular Data". Meanwhile, as what you want to do is to connect to the Apple Music for a brief moment, you can keep other switches disabled.
Note: After fixing the issue, you had better disable your cellular data.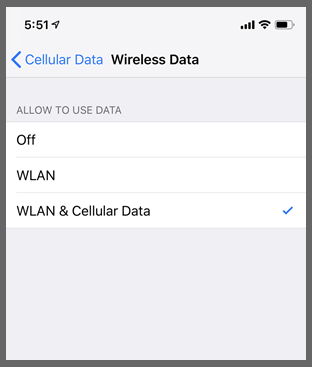 Sometimes, when your network connectivity is poor, you can try to connect to Wi-Fi and simply turn off Wi-Fi when Apple Music starts playing your downloaded tracks.
Fix 2. Toggle the iCloud Music Library
This fix might seem to be no sense or illogical, but some Apple Music subscribers who have that issue find the fix is workable. Hence, why not have a try?
Step 1: Tap "Settings" and then select "Music" on your iOS devices.
Step 2: Move the switch of "iCloud Music Library" to OFF position.
Step 3: Go back to "Settings" and then tap "General".
Step 4: Select "Reset Network Settings" to reset your device.
Step 5: After that, go to "Settings" again and enable "iCloud Music Library".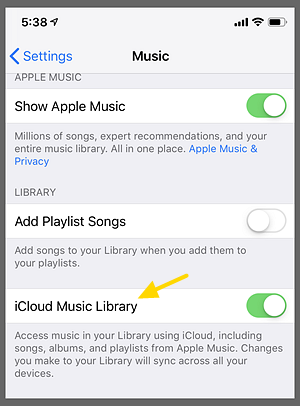 Now you should be able to play the downloaded songs even without network connection.
Fix 3. Clear Cache
For those who stream and download tracks from Apple Music regularly, you might need to clear cache at fixed period as an outdated Apple Music cache might result in stopping the Apple Music app from working properly.
Fix 4. Update Your Device to the Latest Version
As Apple always launches updates of iOS operation system, therefore, you need to keep your devices up to the latest version so that you are probably avoided from the issue of Apple Music not playing downloaded songs.
Step 1: Tap "Settings" on your iOS device and select "General" > "Software Update".
Step 2: See if your device is needed to update. If there is an update available, then tap "Download and Install" to let your device update to the latest version.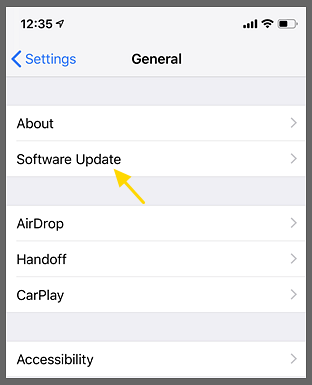 Fix 5. Update Apple Music App
Except updating your device to the latest version, you can also try to update Apple Music app to fix Apple Music not playing downloaded tracks, because newer versions always fix various bug.
In order to get the latest version of Apple Music app, you need to search for Apple Music on Google Play Store, then go to the product page. Tap "Update" if there's a newer version. For those who have installed the latest version, then you would see "Open" option rather than "Update" option.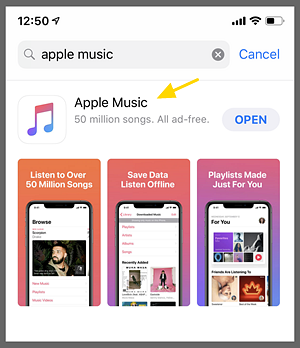 Fix 6. Re-download Apple Music Tracks
Actually, the issue might result from errors occurring in downloading tracks so I suggest those who can't play downloaded tracks on Apple Music to delete the tracks and re-download them in a right way.To download Apple Music in a right way, you need to:
Step 1: First of all, run Apple Music on your iPhone, iPad, iPod touch or Android device and find the track that you want to download.
Step 2: If you want to add a single track, then tap "+". Besides you can tap "+ADD" to add the whole album, playlist or video content.
Step 3: Now you are able to find songs, albums and video content in your library, just tap download icon near the item to download it to your device.
Once you see a tick icon, that means you have successfully downloaded Apple Music tracks to your device.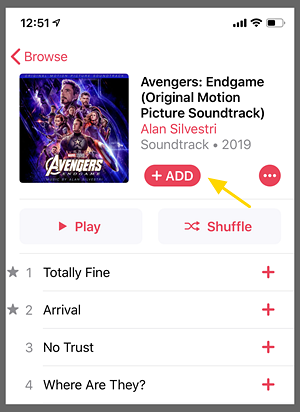 Conclusion
Though Apple Music is a popular music service which enables you to download songs for offline playing, you might find Apple Music not playing downloaded songs sometimes. Therefore, you had better collect this ultimate guide so that you can fix the issue easily.
Was this information helpful?
TrustScore 2.3 | 6