It's important to be able to download songs from Apple Music catalog to your computer or device if you want to listen to the music without WiFi or data connection. Somehow you might run into troubles like these:
"Apple Music songs won't downloading to my iPhone! Anyone else got this problem?"
"My Apple Music has stopped downloading songs and when I add them to the library nothing happens. Anyone got any ideas?"
If you have tried every way you can think of to contact Apple support but got no response on fixing this issue, it's time to try some different solutions. I've rounded up the 12 possible solutions to help you solve Apple Music won't download songs issue. Shall we begin?
CONTENTS
Solution 1: Download Apple Music Songs with An Alternative Tool
Why do I introduce this solution to your first?
Because TuneFab Apple Music Downloader has a 99% chance of helping you download Apple Music songs from iTunes to PC. You can access your iTunes music library through this program and what's more, you can browse, download or edit Apple Music songs directly from this program. All you need to do is to add Apple Music songs to iTunes library, and TuneFab will help you download them successfully from cloud.
Here's how to download Apple Music from cloud:
Step 1. Launch iTunes and add Apple Music songs into iTunes library (songs are storing in cloud).
Step 2. Launch TuneFab, then select the Apple Music songs you want to download for offline playback.
Step 3. Select MP3 as output format, then click "Convert" button to start downloading Apple Music to MP3.
Step 4. Wait until all songs are downloaded to the destination folder.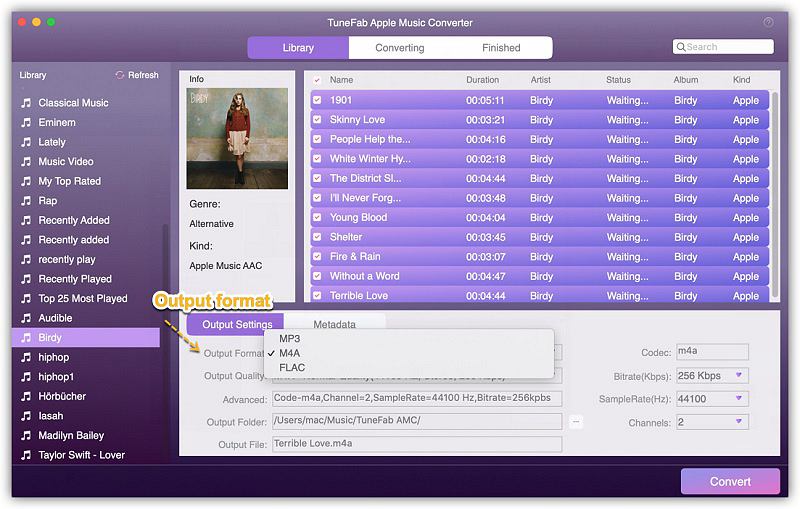 Solution 2: Check Your WiFi & Mobile Data Network
Stable network connection is required if you want to download Apple Music songs. So you should check if you have a strong Wi-Fi or if you have turn cellular data on. If your network connection is fine, but you still cannot download the songs on your mobile, check 2 things:
1. On your mobile device, go to "Settings" > "Music" > "Cellular Data" > "Wireless Data", you need to select "WLAN & Cellular Data" to allow Apple Music to use data for updating your library and loading artwork.
2. Under the "Wireless Data" option, you will see the "Download" feature. Turn on the "Download" function by switching the button to "On".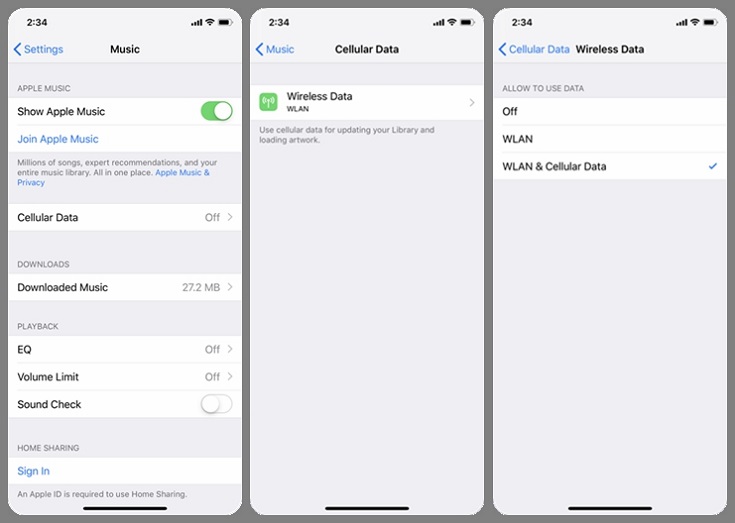 Then you will be able to download Apple Music songs with mobile data. But enabling the download feature will greatly increase your data usage.
Solution 3: Close and Re-open Apple Music App
Restarting the Apple Music app can fix some bugs. Here's how to restart the app:
Step 1. From the Home screen, swipe up from the bottom of the screen and pause near the middle of the screen until all open app cards appear. (If you are using old iPhone, double-click the Home Button).
Step 2. Find out Apple Music app by scrolling through the list of apps.
Step 3. Hold the Apple Music app and swipe it up and off the screen.
Step 4. Go back to Home screen and tap Music app to restart it.
If it didn't work, restart your iPhone and repeat the same steps.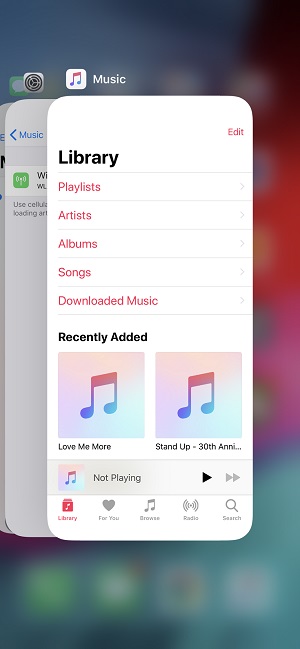 Solution 4: Restart Your iPhone
If your Apple Music app is not working properly, it might be caused by some background apps or junk files running on your device. You can restart your device to clear the junk files and shut down some of the background app, after that, you can use Apple Music more smoothly.

Also, you need to check if you have enabled iCloud Music Library function on your device:
Step 1. Open the "Settings" app and tab "Music".
Step 2. Find out "iCloud Music Library" and switch the button to "ON" to enable the feature.
Solution 5: Sign Out Apple ID and Re-login Again
Apple ID is an important key for you to access Apple Music library. If there is a problem about playing or downloading your Apple Music files, you can sign out and re-login with your Apple ID to see if it helps.
Step 1. Launch "Settings" and go to [Your Name].
Step 2. Scroll down the screen and tap "Sign Out".
Step 3. Sign in again with your Apple ID, and then run Apple Music app and download songs again.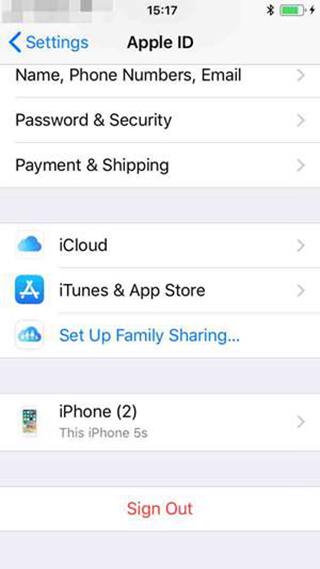 Solution 6: Disable and Enable "Show Apple Music"
"Show Apple Music" is not only an option to turn on or off Apple Music, but also a way to restart the Apple Music app. When Apple Music is not downloading songs, you can try this way to relaunch the app.
Step 1. Go to "Settings" > "Music", and then slide off "Show Apple Music".
Step 2. Wait for a few minutes, and then slide on "Show Apple Music" and restart Apple Music.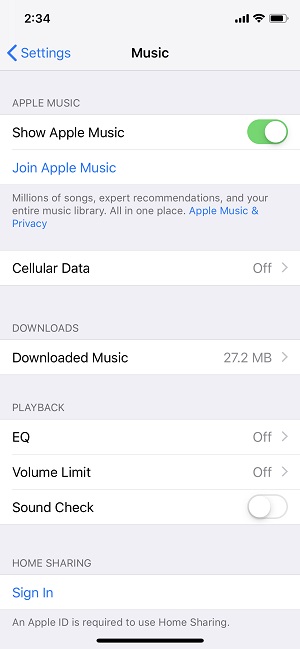 Solution 7: Update Apple Music App
You should check if you are using the latest version of Apple Music app. If not, update your app now because an updated version can probably solve the music downloading not working issue.
Here is how to update:
Step 1. Launch "App Store" and tap on "Update",
Step 2. If there is an "UPDATE" option beside Apple Music, you can tap "UPDATE" to get the newest version.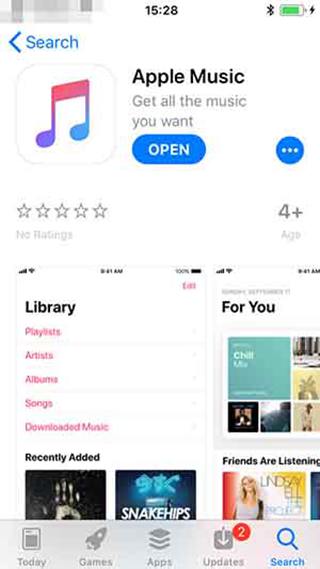 Solution 8: Check If Your Apple Music Subscription Is Active
Apple Music offers a monthly subscription service, which means you need to pay every month to enjoy or download music from Apple Music.
If you cancel your Apple Music subscription after trial or turn-off Apple Music Auto-Renewal function, then you won't be able to access Apple Music songs on any of your device including PC, iPhone, Android, etc.
Solution 9: Update iOS Device to the Latest Version of iOS
It's necessary to update your iOS device to the latest version of iOS. By doing so, some bugs or software issues can be removed and resolved. Try updating the iOS system and see if you can save Apple Music songs to your library.
Step 1. Go to "Settings" > "General", and then tap "Software Update" to see if an update is available.
Step 2. If a new version is available, tap "Install Now" to download and install it.
Heads Up: Make sure that your iPhone's battery is charge at 50% or above before you start updating your iOS system.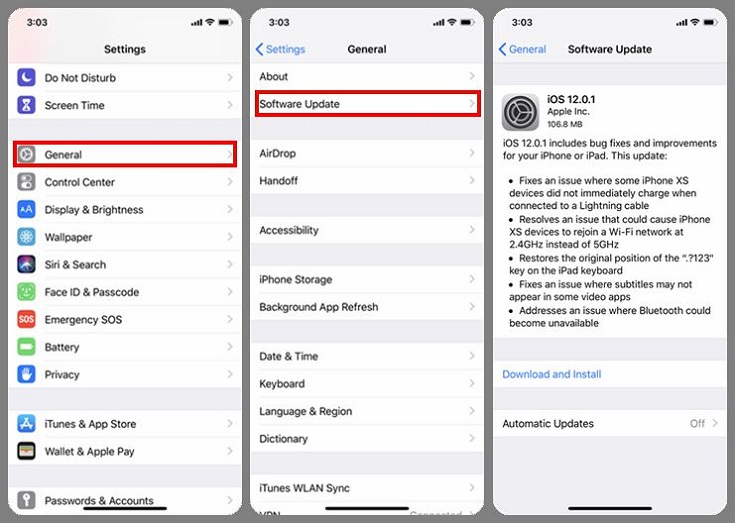 Solution 10: Download Apple Music on A Different Device
If you fail to download songs on your iPhone, try using a different device that can access Apple Music.
If you can download songs on another device instead of yours, then there could be something wrong with your iPhone.
Solution 11: Free Up Storage Space on Your iPhone
If the new music cannot be downloaded to your iPhone, you'd better check your iPhone's available storage space.
Launch "Settings" > "General" > "iPhone Storage", you will find how much space each app uses.
If your device is running out of storage space, you should delete some large files to free up space on your iPhone. After that, you can download new music to your device.
Solution 12: Turn Off the VPN
If you are using VPN on your iPhone, try turning it off. And restart your Music app to download music again.
The 12 solutions are shown as above, you should be able to solve the problem of Apple Music not downloading songs on iPhone successfully now.
Was this information helpful?
TrustScore 5 | 49