If you are a Spotify user, you can listen to music on Spotify for free, but if you want to download your favorite music, what should you do? Right, to pay for the Premium. With the purchase, you can gain a better experience of downloading high-quality music on your mobile, and get rid of ads when listening online.
However, is it possible to download Spotify songs without Premium? The answer is: Yes, and not hard. This article is going to show you some methods to achieve this goal, on both iOS and Android systems.
CONTENTS
Part 1: How to Download Spotify Music Without Premium on iOS
As we mentioned before, there are lots of limitations on downloading Spotify music to mobile, so we suggest these 2 tools below, Spotifydl and Spotify++, to help you out. Spotifydl helps you to download music from Spotify in a special way, while Spotify++ offers you an "unlocked" version of Spotify to get your things done.
Using Spotifydl
Spotifydl is a useful Spotify music extractor. It appears as a shortcut to iOS system, offering iOS users to download and convert Spotify music into suitable audio formats of good quality. Follow the steps below to start extracting your favorite music from Spotify.
Step 1: Install Spotifydl Shortcut
As long as you download it, you can see it on your iPhone's main interface. Add it to your "Shortcut".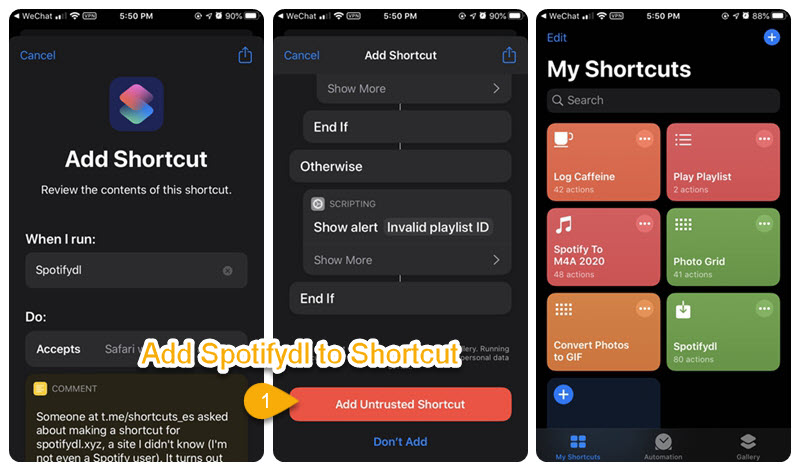 Step 2: Copy Spotify Link and Paste it on Spotifydl
Go to the Spotify app, choose your favorite playlist, and tap into it to copy its URL. Then back to Spotifydl shortcut, you can see the windows of "URL of Spotify Playlist?" showing up. Now, you can paste the URL of the Spotify playlist to the window to select the music you want, and press "OK" to start the work.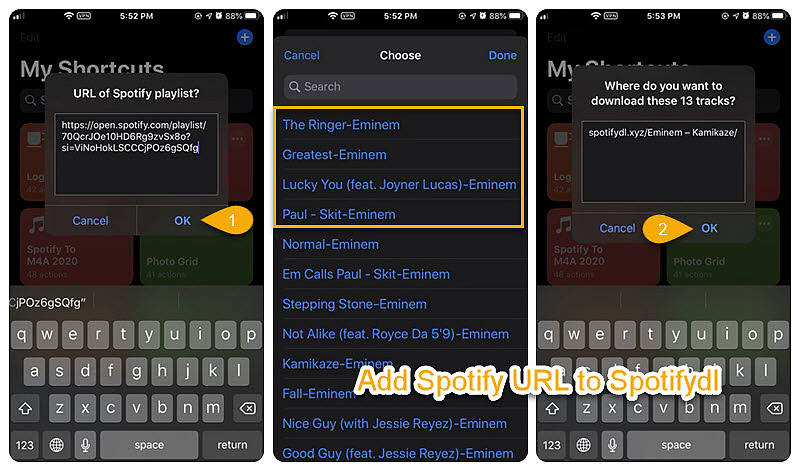 Step 3: Find Your Finished Files Under Shortcuts
After the music is successfully extracted, you can check them by these steps: "Files" > "iCloud Drive" > "Shortcuts", open the file folder named "spotifydl.xyz", and this is where your downloaded files lie in.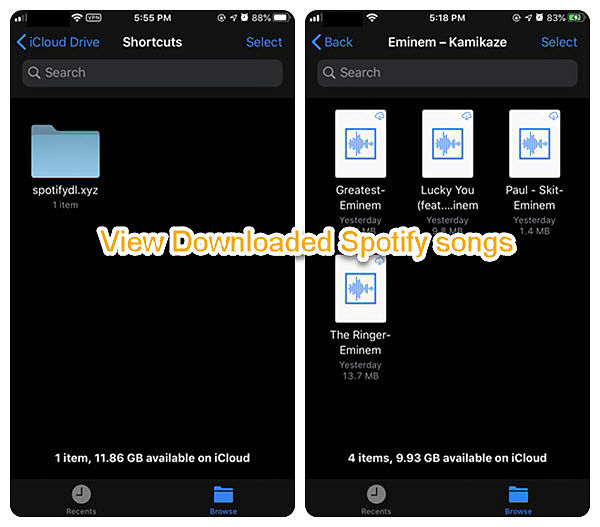 Via Spotify++
Spotify++ is a tweaked version of the Spotify app for iOS. This tweaked version enables you to utilize the premium features of Spotify for free. Follow the steps to see how to use it.
Note:
Before using this method, remember to uninstall Spotify on your iPhone first for unnecessary errors, if you have downloaded Spotify with an account signed in.
Step 1: Visit the Tweakbox website, and install Twaekbox on your phone.
Step 2: Run Tweakbox, search for Spotify++, and install it.
Step 3: After Spotify++ has been installed, you can log into your Spotify account with Spotify Premium for free.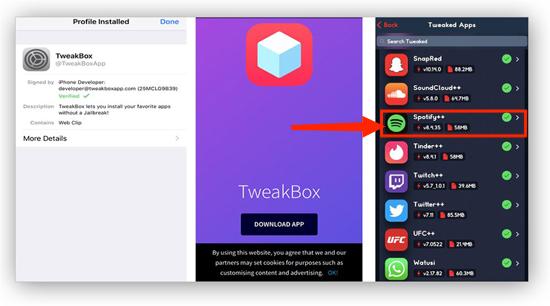 Part 2: How to Download Songs from Spotify Without Premium on Android
As same as the iOS system, Android users can also use extra tools to download Spotify music to mobile, and even easier. Here are the 2 apps you need, SpotiFlyer and Spotify Premium Mod. They are both apps for Android phones, which provide you with different ways to download music from Spotify on mobile.
Through SpotiFlyer
Spotiflyer is a helpful app for downloading songs from many online music platforms like Spotify, Youtube, Gaana, and Soundcloud. This app supports various devices such as Android, Windows, Mac, Linux, etc., and works well even for free users of Spotify.
The step towards using this app is very easy. The only thing you need to do, is to open SpotiFlyer, paste the Spotify music link into the search box, search for it, then tap "download" and the chosen files will automatically start downloading.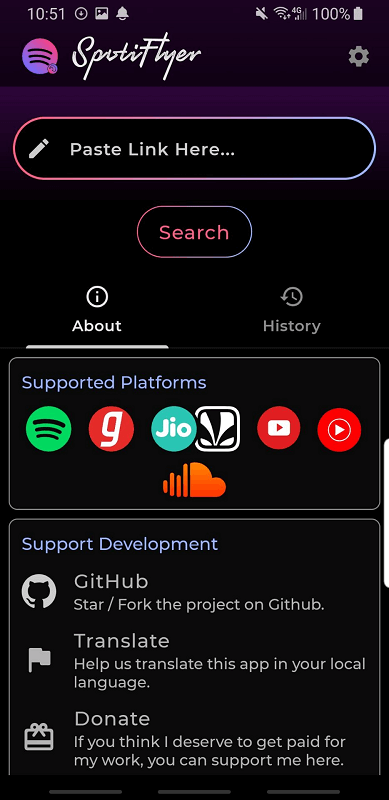 With Spotify Premium Mod for Android
Spotify Mod APK is a modified unofficial version created by third-party developers. It has no limit, no ads, and you can download your music offline. But, using Spotify Mod APK can be risky and may contain malware or viruses. If you want to try, here are the steps.
Step 1: Search for it on your browser. Open the Spotifygeek website, which offers a variety of modded APKs. Choose the version you want to download (the latest or old version).
Step 2: Go to Settings > Security and enable "Unknown sources" to allow the installation of third-party apps, find the Spotify Mod APK file on your device and click on it to install.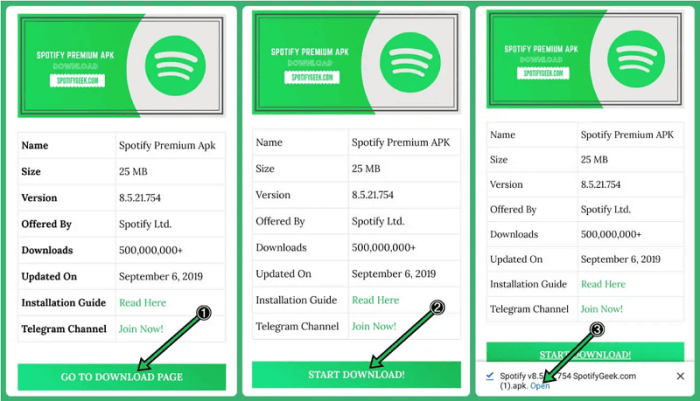 As we just talked about, these 4 tools above are all very useful, but you will find that they leave a lot to be desired.
1. They are all apps or shortcuts on mobile phones, which are not convenient to use, especially for iPhone users, because you have to set up a lot of things before downloading 1 single song.
2. They are all unofficial, and some of them are even illegal, so using them may violate Spotify's terms of service, and could result in the suspension or termination of your account.
3. They are not stable. Whether or not they work depends on the state of your device or the network, and they could be banned at any time.
Above all, we believe that what you need is a safe, powerful, and high-quality app that can totally solve your problem of downloading Spotify music to your mobile to listen to Spotify music offline without Premium. Hence, we highly recommend TuneFab Spotify Music Converter to you.
Part 3: Best Alternative Way to Download Spotify on Mobile Without Premium
TuneFab Spotify Music Converter is a fantastic app and probably the best Spotify music converter of all time. Different from the tools above, it is a PC application that can work on both Windows and Mac systems. With its help, you don't need to do anything else such as "shoutcuts settings" or copying URL from Spotify and paste it on other apps. Instead, you can use it to easily download Spotify music, playlists, and even a full album, then transfer them to your mobile with no limits, no worries, and no difficulties.
Besides, TuneFab Spotify Music Converter also has a lot more key benefits:
1. It removes DRM restrictions on Spotify music and offers you common format options, to play the converted music on plenty of different players.
2. It has a built-in Spotify web player, so you can directly access the homepage of Spotify to search, and listen to music.
3. It saves music with customization settings just as the original files, and well-preserves all original ID3 tags and metadata information.
4. Its speed of converting and downloading is faster than other third-party tools, while preserving their original audio quality.
TuneFab Spotify Music Converter is definitely better than those mobile apps and shortcuts because of its safety, efficiency, and easy handling. Before you decide to pay for the full version of TuneFab Spotify Music Converter, you can use the free version for 30 days, which allows you to download and convert the first 3 minutes of each song.
If you want to try TuneFab Spotify Music Converter, just follow the steps below.
Step 1: Install and Log in
Hit the button below to download TuneFab Spotify Converter, and install it. Launch the app, and you can see the main interface with a built-in Spotify web player. Log in to it with your Spotify account to start.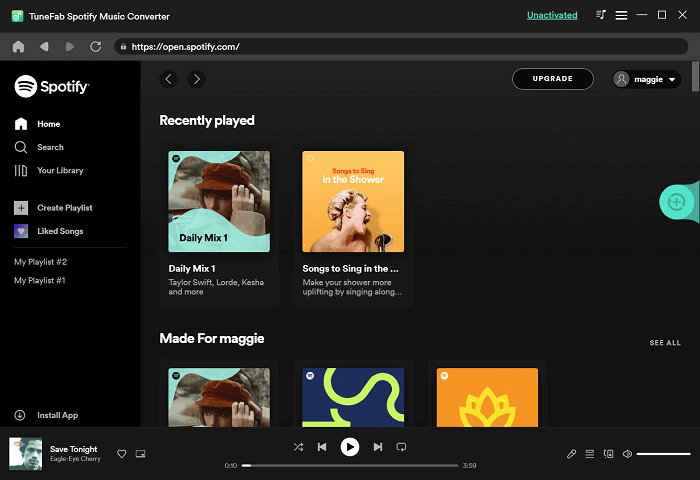 Step 2: Tweak Your Personal Settings
After running the program, you can choose your preferred settings by clicking the menu button on the upper right. "Preference", "Languages", "Purchase" and more information can be found there.
In "Advanced", you can select the output format, and output quality of your converted music.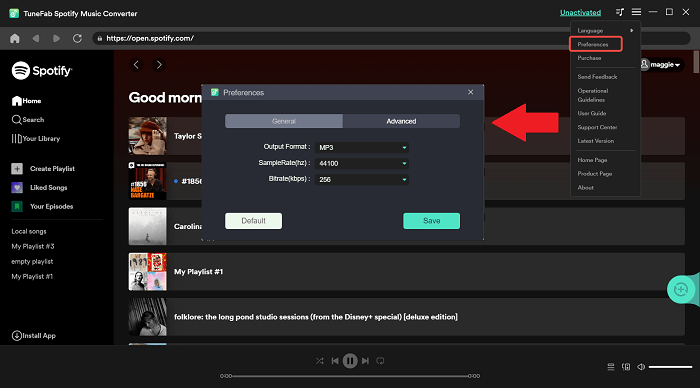 In "General", you can change the default output location of your converted files.
Note:
To make things easier, you can create some new folders on your computer to put the converted files so that you can manage and transfer them conveniently.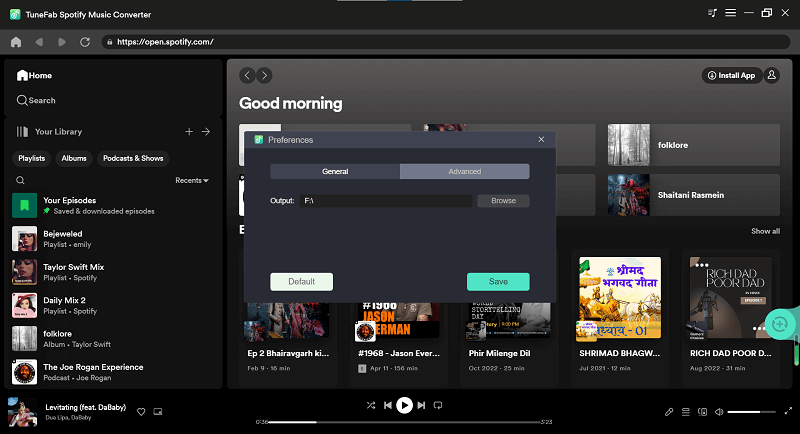 Step 3: Drag or Click to Start
Now you can start your converting work. Search for the music you want like what you do on Spotify's official platform.
If it's a single song, you can click it and drag it to the green function bar on the right with a "+" button to convert.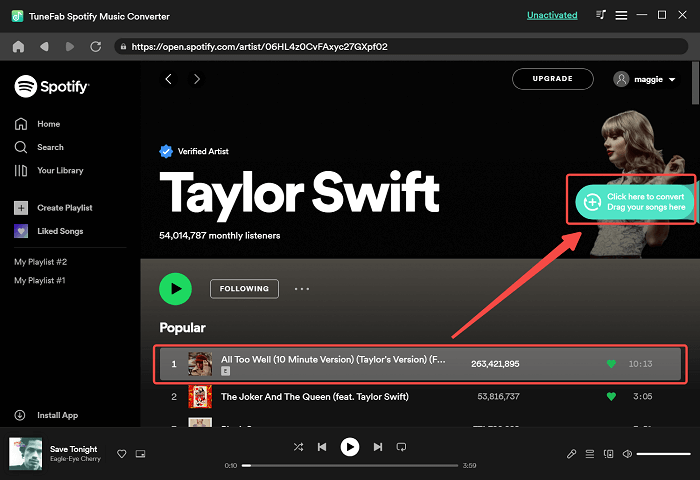 If you want to convert a full playlist or an album, just press to enter its page, and click the "+" button in the function bar, and all the songs you want will be dropped into the converting list.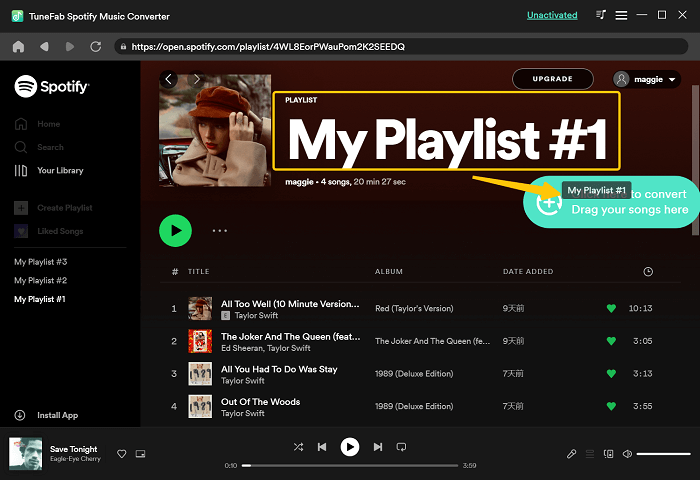 Step 4: Convert and Finish
Once all settings are done, the songs you need will be on the converting list. You can click on the "Convert" button to let the program remove DRM protection and convert Spotify songs. Click the "Output Format" to change the converted format of each song. Also, you can click "Convert All" to convert all the songs on the list or select some of these to do it separately.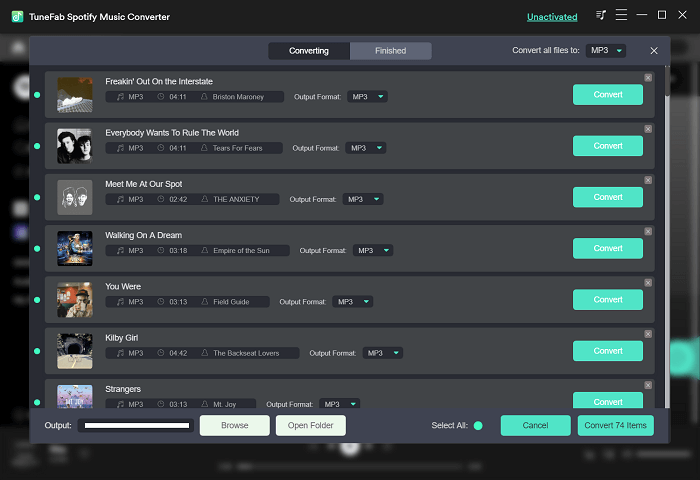 After the songs you choose have been converted, you can enter the "Finished" page to check them by clicking the "View Output File".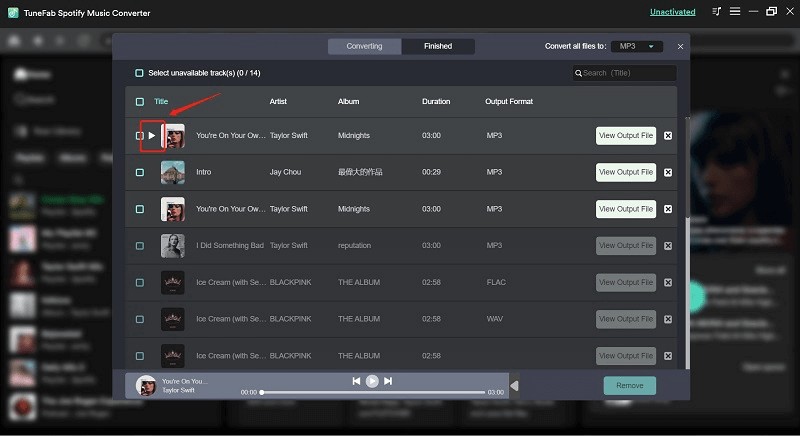 Step 5: Transfer Music to Mobile
After downloading those converted songs, you can now transfer them to your mobile. The transfer process is different for iPhone and Android users. Go on to know about their ways.
For iPhones:
● Connect your iPhone to PC using a USB cable.
● Run iTunes on your PC. If you don't have iTunes, just download one and install it.
● On the upper-left corner of the iTunes window, select the "iPhone" icon, located to the right of the media menu.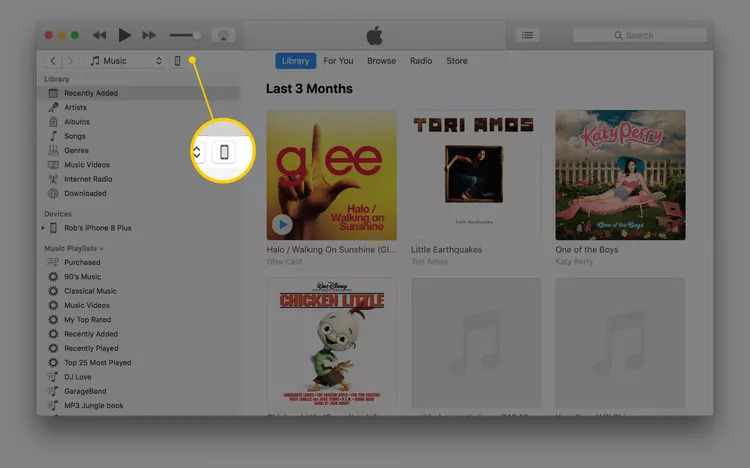 ● After the iPhone appears on the left, you can transfer your music to it by dragging or copying & pasting.
For Android phones:
● Connect your phone to your PC with a USB cable too.
● Click "My PC", find the folder of your phone, and open it.
● Drag your converted music to the folder, or copy them and paste them into the folder.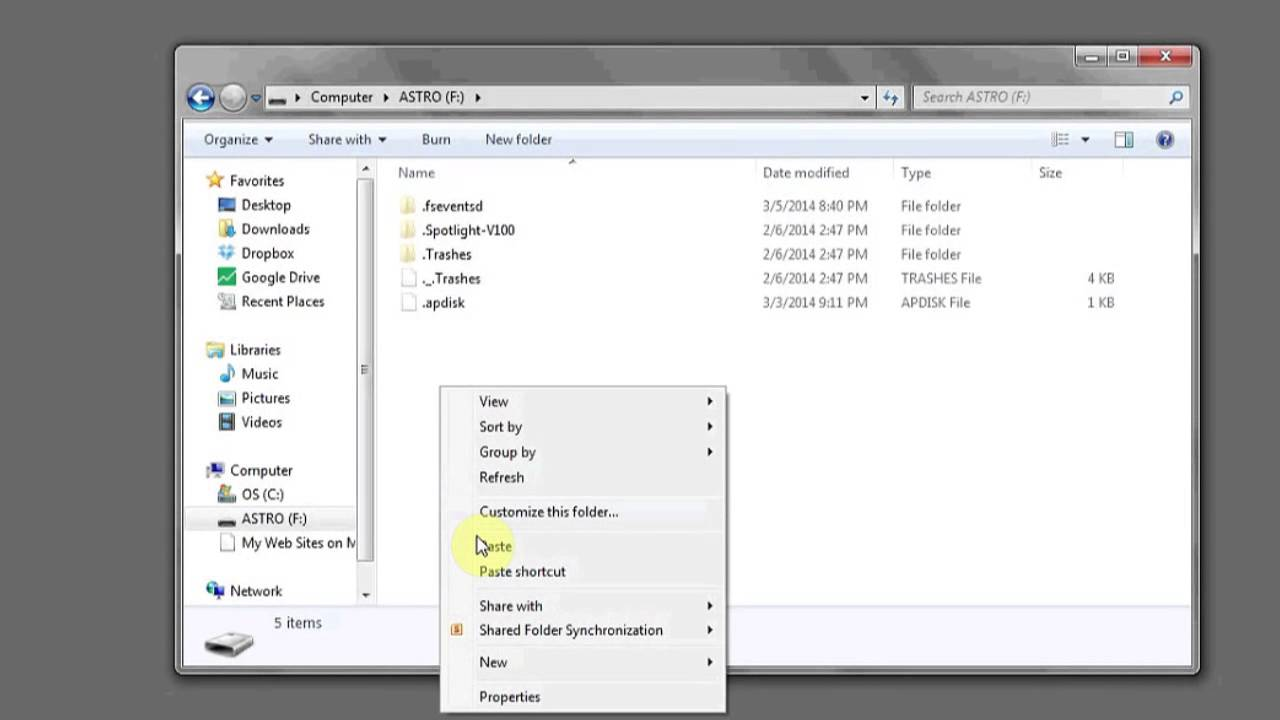 FAQs about adding music to Apple Watch
Q1: How to repeat songs on Spotify without premium on mobile?
While using the Spotify mobile app, you may discover that it's not available to loop or repeat songs on it without Premium, because Spotify doesn't provide this function for free-version users on mobile devices. So if you want to repeat songs on Spotify without premium on mobile, these 2 methods may help you.
Method 1: You can open the Spotify player on the desktop or open the Spotify Web Player on your browser to listen to your favorite tracks with the repeat feature.
Method 2: To make things simpler, you can download the songs you like with TuneFab Spotify Music Converter and transfer them to your mobile phone. Then, you can open those music files with the built-in player and tap the "loop" button to repeat songs. For detailed downloading steps, you can check the content above, especially the "Best Alternative Way to Download Spotify on Mobile Without Premium" part to learn more.
Q2: How to play without shuffle on Spotify Free?
If you are a Spotify paid user, turning off shuffle play is very easy, because no matter on mobile devices or web players from desktops, you just need to click the "Shuffle" button and turn it off. But for free, in the latest Spotify updates, you only have the "Shuffle-only" option during playback.
However, sometimes you could find there're still some playlists that Free users can turn off "Shuffle Play" and listen to music in the order of the list. For example, some of the "Made for you", or "Daily Mixes" playlists, etc. These cases depend on the situation.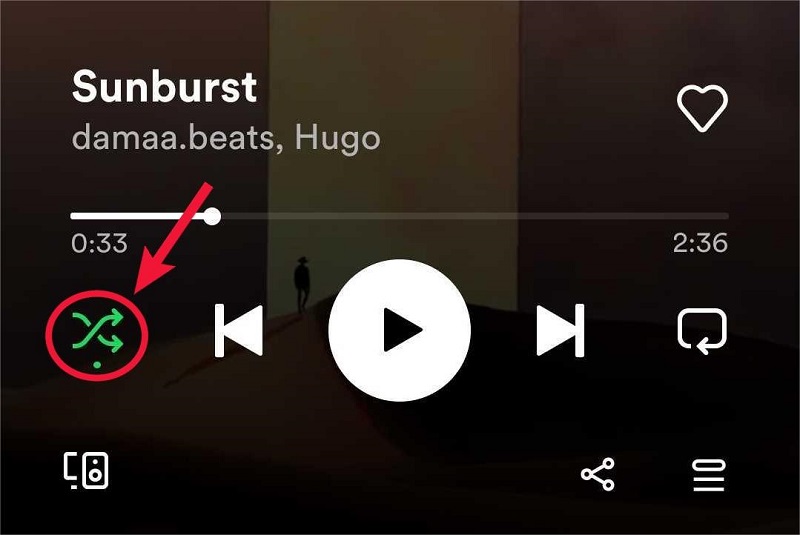 Hence, if you want to play without shuffle on Spotify for free anywhere anytime, we highly recommend you to download your favorite music, playlists, and albums with TuneFab Spotify Music Converter, so that you can transfer them to your mobile phone and listen to them in your preferred order. You can check the "Best Alternative Way to Download Spotify on Mobile Without Premium" part to get more details about this powerful PC application.
Summary
To sum up, there are many ways to download Spotify music on mobile without Premium, but TuneFab Spotify Music Converter may be the best and easiest choice to download Spotify music, which is also very convenient and safe, especially for free mobile Spotify users. Click the button below to get this amazing tool, and you will absolutely be surprised.
Was this information helpful?
TrustScore 3.5 | 8