There are a lot of people asking questions in the Quora or Spotify Community, like, "Can I listen to Spotify offline without premium?" or "How to listen to music offline on Spotify without premium?" Well, actually, only when you subscribe to the Spotify premium account, can you listen to Spotify offline by enabling its offline mode.
However, instead of seeking an official way, a third-party Spotify downloader, such as TuneFab Spotify Music Converter, can help you do it. With their help, you can directly access the whole Spotify library, and convert songs from Spotify to DRM-free formats, like MP3, for free. Then you can listen to music offline without premium on whatever media player you prefer. If you like, you can also add them as local sources and stream them on Spotify offline directly.
Now, you can click the download button below to install this tool ahead, then scroll down to grasp the steps below
Part 1: How to Listen to Music Offline on Spotify Without Premium on Windows/Mac
It's not difficult at all to enjoy Spotify offline playback once you get the right tool. And the entire process doesn't even require a Spotify Premium subscription. TuneFab Spotify Music Converter is the one you need. With its built-in Spotify web player integrated and also powerful download functionality equipped, you can easily download any songs or playlists from Spotify for free to enjoy offline.
Apart from ensuring a smooth music downloading process, TuneFab Spotify Music Converter is also equipped with more essential features, such as being capable of converting music to different kinds of media formats, like MP3, WAV, M4A, FLAC, AIFF, ALAC, and keeping the original audio quality without any loss for a better experience.
Other Attractive Features of TuneFab Spotify Music Converter
● High Efficiency: Batch process Spotify playlists download with 35X or faster speed ensured.
● Convenience: Full preservation of ID3 tags and metadata info for arranging music playlists offline without hassle.
● User-friendly: Customized quality settings to define the best music streaming experience after downloading offline.
● Easy handling: No requirement to install the Spotify app for syncing and greatly improve the success rate.
Now, grasp the way on how to listen to Spotify offline without premium via TuneFab Spotify Music Converter:
Step 1. Launch TuneFab Spotify Music Converter to Log in
Download TuneFab Spotify Music Converter from the above "Try It Free" button and install it. After launching the software, you will see the welcome page. Then you should hit the "Open the Spotify web player" button and process the account login to get into the web player right away.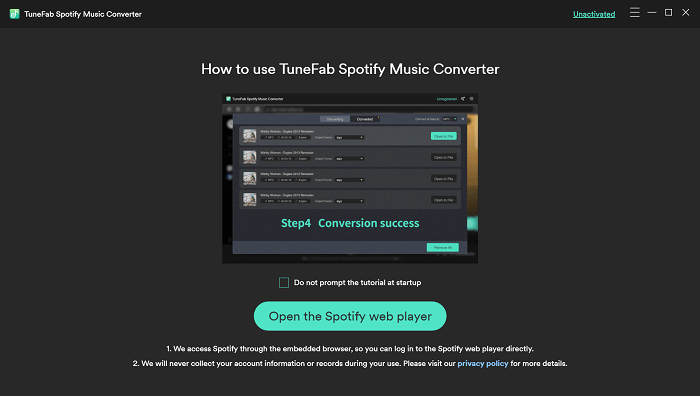 Step 2. Add the Songs to Music Downloader
Search for the music you wish to listen to offline or even navigate to your playlist. Once accessing those you desire to download, drag them to the green bubble plugin on the right side of the converter.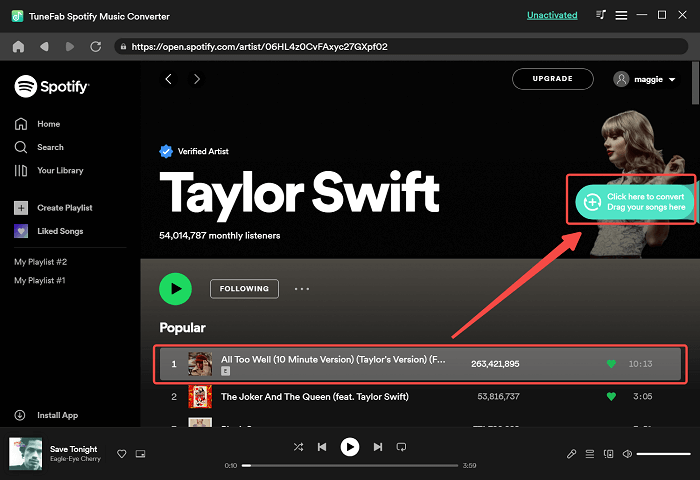 Step 3. Set Output Preferences
After adding the music, it is time for you to set the output settings. Hit the hamburger icon on the top right and select "Preferences". Here you can preset the output format, the sample rate, or the bitrate according to the Spotify music parameters.
Note: It is recommended to select MP3 as the output format as it is well-compatible with most devices and media players.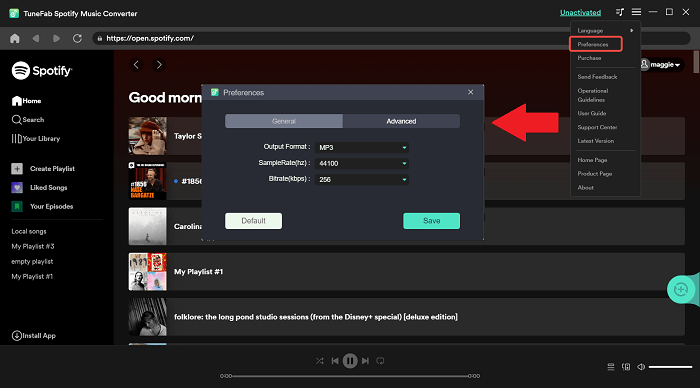 Step 4. Start Converting Spotify Music
Just click the "Convert All" button to convert Spotify Music so that you can listen to Spotify Music offline without premium.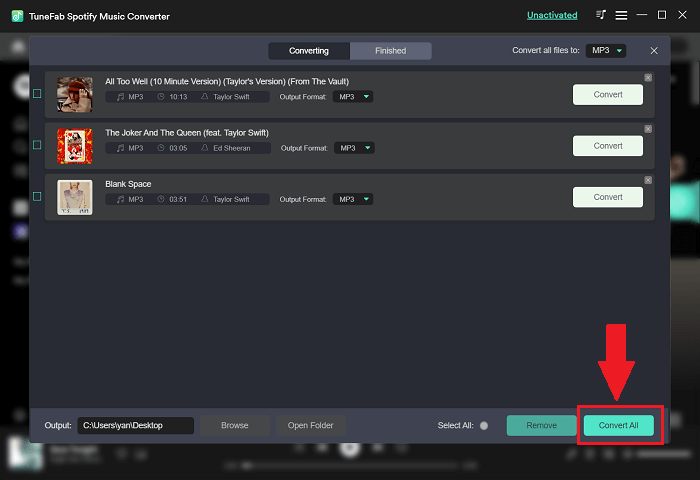 Step 5. Listen to Spotify Offline Without Premium
Just in seconds, TuneFab Spotify Music Converter will complete the music download for you quickly in batches. You are able to access them under the "Finished" section.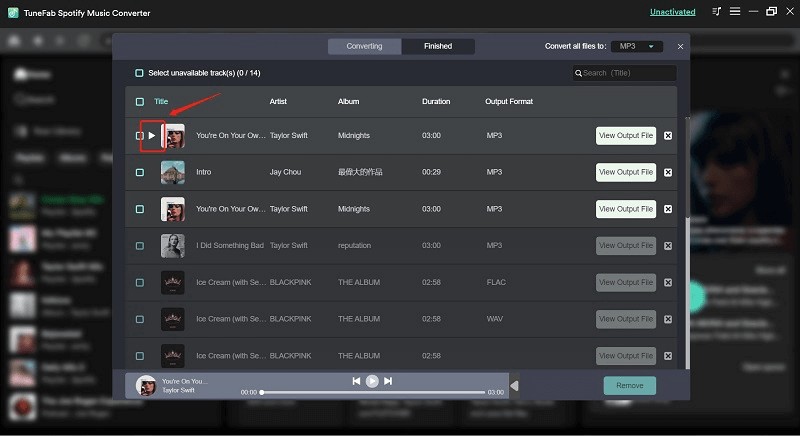 Step 6. Import the Local Files Back into the Spotify App
Run the Spotify app on your phone, and go to the "Settings". Scroll down until you see the "Local Files". Hit the "Add a source" and select the TuneFab Spotify Music Converter output folder. Then you can find these MP3 Spotify downloads on "Your Library".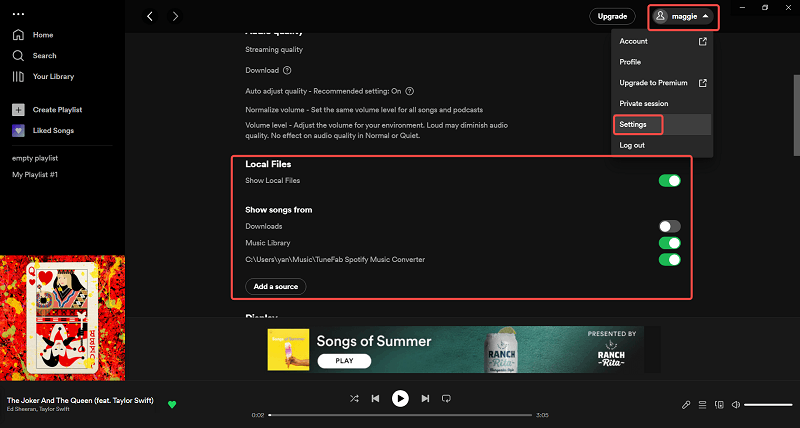 Step 7. Enable Spotify Offline Mode on the Desktop App
Once you get MP3 Spotify downloads saved on your Spotify library, you can go to "File" on Windows, or "Spotify" on Mac to turn on the "Offline Mode". Once the offline mode is active, you can then listen to Spotify offline without premium on your computer.
In addition, since Spotify downloads are in common formats now, you are also able to transfer them to any device and play with the installed media players without using the Spotify app!
Part 2: How to Listen to Spotify Offline Without Premium on Phone
If you have downloaded Spotify songs offline using TuneFab Spotify Music Converter, you can utilize these downloaded Spotify files flexibly. That means you can transfer them to any device, such as your mobile phone, for offline listening as you like. Just follow the step-by-step guide below to transfer the Spotify music you download from your PC to your mobile to listen to Spotify offline on mobile for free.
Before moving Spotify files to your phone, make sure that you have already created a Spotify playlist with those added files under "Local files" in your library.
On iPhone
Step 1: Use a USB cable to connect your iPhone to PC, and run iTunes on your PC.
Step 2: Click the popped-up "iPhone" icon on the left to enter its page, then you can drag and transfer downloaded Spotify music to iPhone.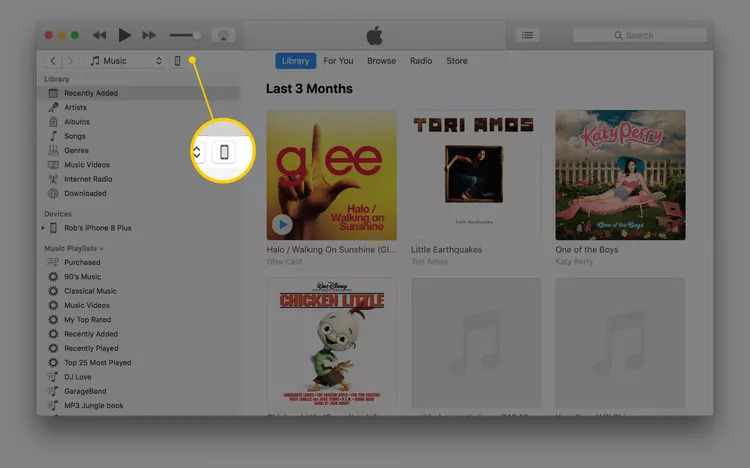 On Android
Step 1: Connect your Android device to your PC via a USB cable as well.
Step 2: Click "My PC" and locate the folder of your downloaded files. Copy the files and paste them into the folder of your phone.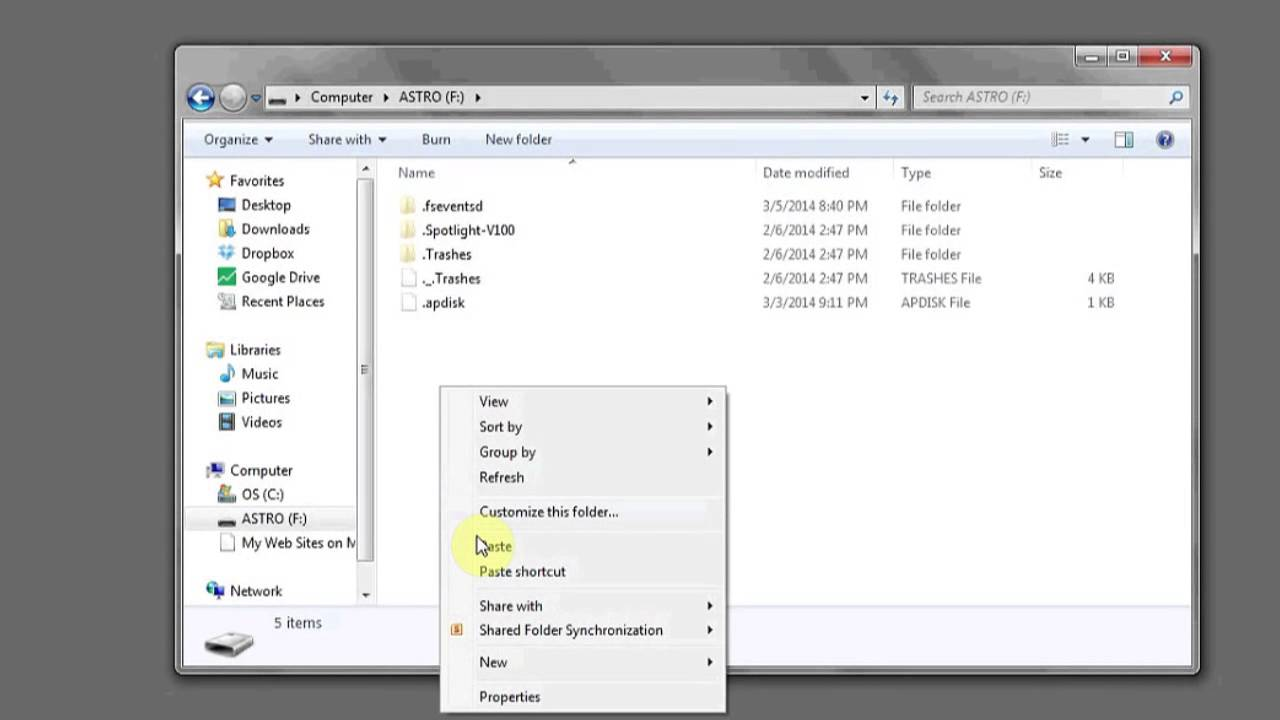 After the steps, you can go back to the Spotify app on your phone, tap "Settings" and scroll down to check "Local Files". Turn on the "Offline Mode" button on your mobile Spotify app, and you can listen to songs on Spotify offline.
Part 3: How to Use Spotify Offline for Free with a Premium Account
An obvious fact is that only Spotify Premium users can enjoy the Spotify offline feature. However, fortunately, Spotify will provide a 30-day free trial period to invite new users to join its Spotify Premium plan. Besides, to sign up with PayPal, you will even get a 3-month Spotify free trial. So if you are new to Spotify, don't lose the opportunity to get the Spotify Premium free trial and listen to Spotify songs offline directly.
Note:
If you're no longer a new Spotify user, or you already have a free Spotify trial via PayPal or other ways, you are not available this way to listen to Spotify offline with your premium Spotify account. At this time,you can use TuneFab Spotify Music Converter alternatively to enjoy all the features and services of Premium users for free.
Mark Spotify playlist for Offline Sync on Desktop
Step 1: Launch the Spotify App on your PC.
Step 2: Look for the playlist you want to download for offline listening.
Step 3: Click the "Download" button, then wait for the arrow next to the playlist to turn green, which means you successfully downloaded the Spotify songs.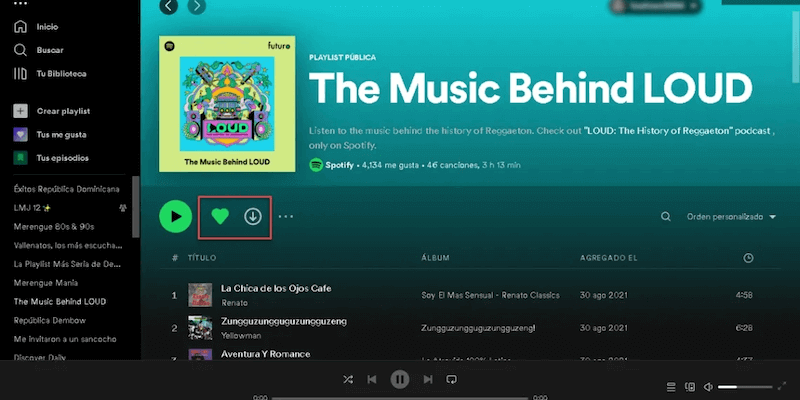 Step 4: Once you get Spotify songs downloaded on your PC, you can enable the "Offline Mode" option, and then you can listen to the downloaded music offline on your PC with your premium account.
Mark Spotify Playlist for Offline Sync on Phone or Tablet
Step 1: Run the Spotify App on your mobile or tablet.
Step 2: Search for the playlist you want to download, and then tap the "Download" icon to "Your Library".
Step 3: Wait for the green arrow next to the playlist to appear, which means the downloads are successful.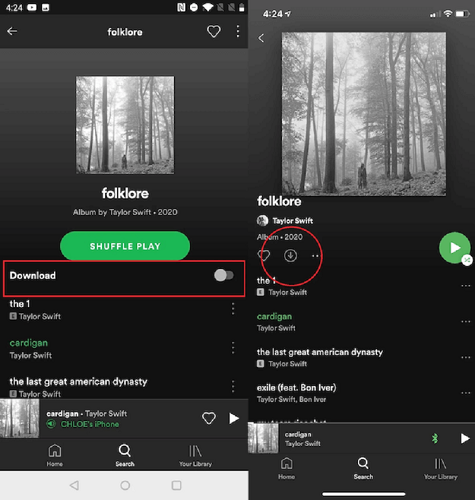 Step 4: Once downloaded, navigate to "Settings>>Playback>>Offline" to enable the offline mode, then you can listen to Spotify offline with your Spotify premium account for free.
Note: According to Spotify Official, you can download as many as 10,000 tracks on each of up to 5 different devices after purchasing with Spotify Premium.
Part 4: How to Listen to Spotify Podcasts Offline Without Premium
You must know that Spotify also offers podcasts for us to enjoy. However, unlike music resources, Spotify podcasts are available to be downloaded and enjoyed offline without premium subscription.
However, like Spotify songs, all downloaded Spotify podcasts can only be accessed within Spotify app. If you desire to get free Spotify content saved as MP3 files to play outside Spotify app or on devices like MP3 players without Spotify compatibility, you need to seek software like TuneFab Spotify Music Converter to help.
On PC
Step 1: Run the Spotify app, then navigate to the podcast you wish to download.
Step 2: Move your mouse cursor over the episodes, and you will see the "Download" button for each. Click on it to download the podcast.
Note: You can not only download the audio of the podcast but also get the videos from the podcast for viewing on your computer using TuneFab Spotify Music Converter.
On Android/iPhone
Step 1: Tap into the Spotify app, and search for the podcast you desire to enjoy offline.
Step 2: Enter the episode list. Then you will see a download icon on each episode.
Step 3: Simply tap it and all episodes in the list will be downloaded offline right away.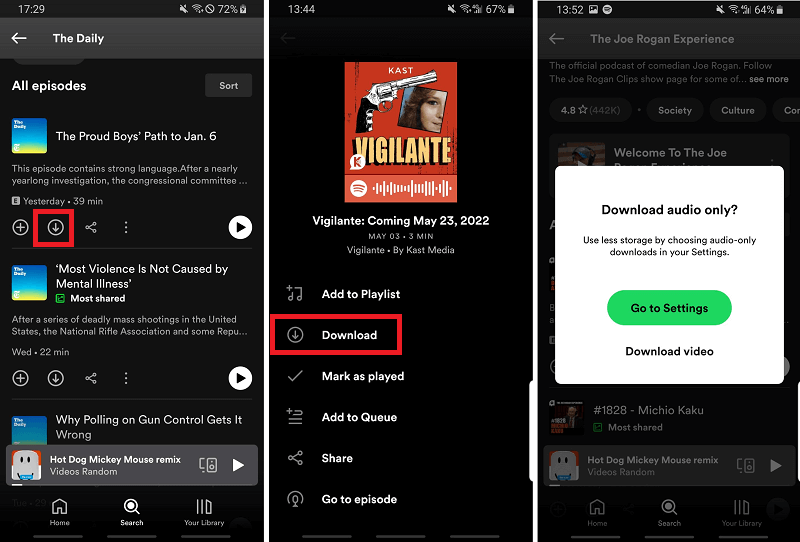 Bonus: How to Turn on Spotify Offline Mode to Avoid Using Mobile Data
When you are hunting for new songs, you need to turn off the Offline mode. And I believe that you will manage the downloaded songs that are not downloaded altogether in the same playlist. If you don't remember to turn on the mode after that, when you are streaming the downloaded Spotify music, or leave Spotify in the background without playing anything, your data will still be used. To avoid this, you can block Spotify from doing so.
Note: Offline mode only lasts for 30 days. You need to turn the feature off after that to make sure the account is logged in.
On PC
Step 1: Locate the "Three-dots" in the upper-left corner of the Spotify desktop app.
Step 2: Click the dots and then select "File" > "Offline Mode" to take Spotify offline.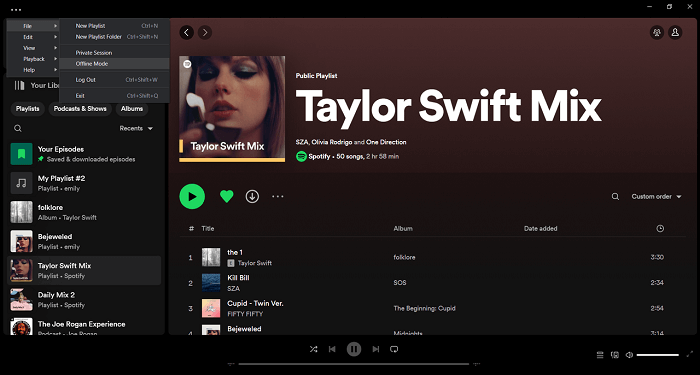 Bonus Tip: If you are using a Mac computer, you can navigate and select the "Offline Mode" from the menu bar on the top of the screen.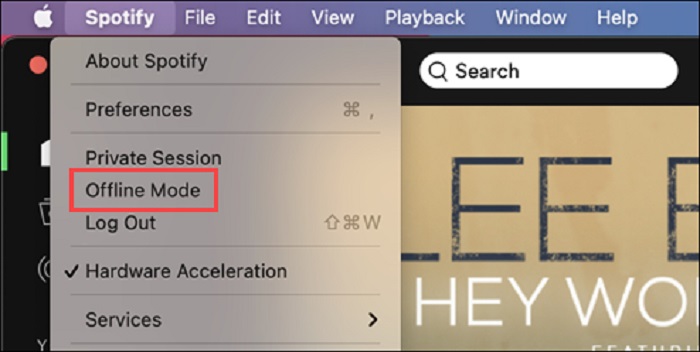 After turning on the "Offline Mode", the "Offline Mode" button will be ticked, and you can see a blue icon saying "You're offline" appearing on the right of the interface.
On Android/iPhone
Step 1: Go to "Settings" on your phone.
Step 2: Hit the "Apps" and find "Spotify".
Step 3: Click "Mobile Data" and toggle off "Allow background data usage".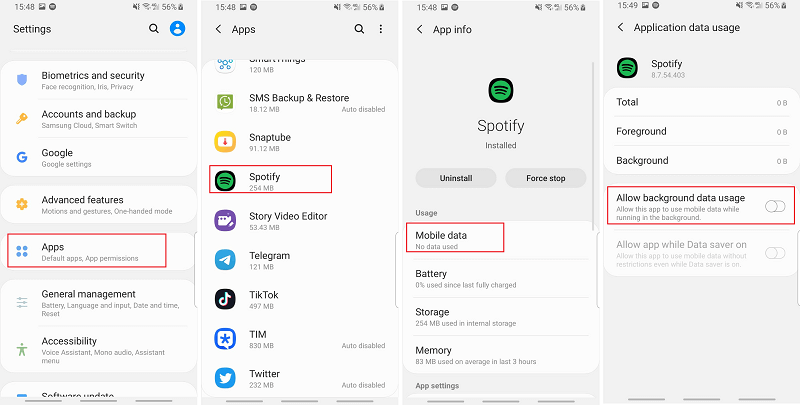 FAQs About Listening to Spotify Offline
Q1: Difference Between TuneFab Download and Spotify Official Offline Function
Being a Spotify Premium user, you can use Spotify offline function to download Spotify songs. But songs downloaded in this way are still protected with DRM so that you can only play them offline in the Spotify app while not on other unauthorized devices or platforms.
Things are different if you download Spotify music using TuneFab Spotify Music Converter. The TuneFab downloads will be saved on your local as popular MP3, M4A, WAV, or FLAC formats, so that you can move them to other players for offline listening or burn them to a CD as you like.
Q2: Is There Any Alternative Way to Listen to Spotify Songs Without Premium?
If you would like an alternative to using a Spotify downloader, you can choose to install the Spotify Mod APK. It is a pirated version of the Spotify app which can be used on Android. It emulates Spotify's function and allows you to access Premium features for free just by signing into your free account. There are many websites that offer Spotify Mod APK downloads, such as Jojoy, Spotifygeek, and BestforAndroid.
But before you try out these free modified apps to hack Spotify Premium features, it should be noted that there can be potential risks of encountering malware attacks or viruses. Therefore, be sure you turn to a trustworthy app download site first to avoid problems. Besides, using these APKs may violate Spotify's official Terms of Service and could result in your Spotify account being terminated at any time.
Conclusion
Using TuneFab Spotify Music Converter enables you to listen to Spotify without premium with the highest quality 320kbps. You can easily download Spotify singles/playlists/albums to MP3 or other formats in batches. But for podcast download, even if you are not a Spotify premium subscriber, you are able to process it. Now, try the software and enjoy Spotify playback in more flexible ways offline!
TuneFab Spotify Music Converter
Download All Spotify Songs and Listen Offline Without Premium
Was this information helpful?
TrustScore 3.1 | 57