Spotify, unlike some music streaming platforms, offers free online music playback. As long as you have a Spotify account logged in, you can listen to music on it without paying. Things become different when your internet connection is not stable or you can't even use the internet at all. Yes, Spotify allows some users to listen to Spotify offline easily with its premium subscription. But what if you only need this premium offline mode from time to time? Paying for that is kind of a waste for you. Don't worry, this post will help you out.
Can You Listen to Spotify Offline Without Premium
In short, yes. You might have known that only Spotify premium users can download songs and listen to them on the Spotify app offline. But hey, why on the app? I mean you can try ripping songs off Spotify and listening to them offline instead. There are third-party tools that work for all Spotify accounts and allow you to do that for free and even offer you a better experience for offline listening.
Even though Spotify premium offers more features such as ad-free playback and offline mode, there are still some inconveniences using the latter feature - one can't stream them offline on other players like iPod Shuffle even though he subscribes to Spotify premium. If you got a tool that helps you convert Spotify music to MP3 or other formats with your free Spotify account, you can easily listen to them offline on whatever player you prefer. Or if you like, you can add them as local sources and stream them on Spotify offline directly. It's pretty simple, I will show you how in the next part.
How to Listen to Spotify Songs Without Premium Easily in High Quality?
Tools like TuneFab Spotify Music Converter can help. It is a professional and applicable program for both Spotify free and Premium members to download any songs from Spotify in batch. You can even add and convert an entire album or playlist in one click. Apart from music downloading, it is also capable of converting music to different kinds of music formats, like MP3, WAV, M4A, and even FLAC. After that, you can enjoy Spotify music on any device you like even without the Internet.
What's more, this TuneFab Spotify Music Converter can keep the original music quality and all ID3 tags for your music. Now let's see how to download Spotify songs with your Spotify Free account on PC.
Step 1. Launch TuneFab Spotify Music Converter
Download TuneFab Spotify Music Converter from above "Try It Free" button and install it. A beautiful interface of this Converter will appear along with the Spotify app launched.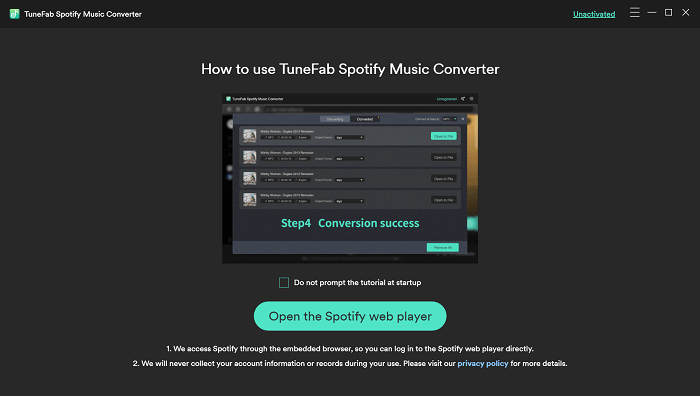 Step 2. Add the Songs to Music Downloader
Search for the music you wish to listen to offline or even navigate to your playlist. Drag the single track or the playlist name to the green bubble plugin on the right side on the converter.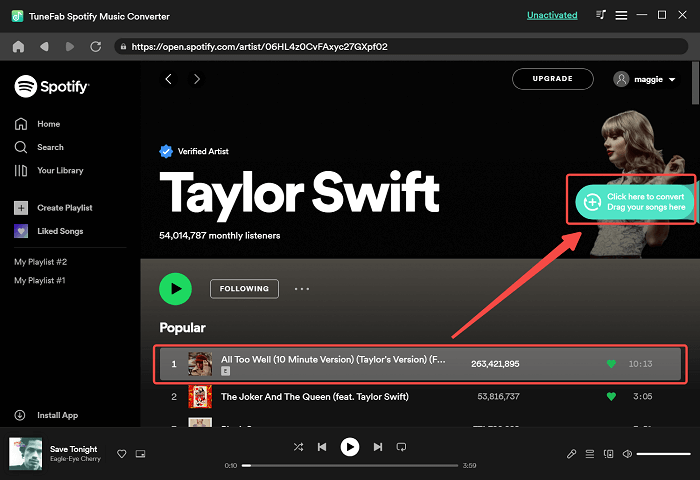 Step 3. Set Output Preferences
After adding the music, it is time for you to set the output settings. Hit the hamburger icon on the top right and select "Presences". Here you can preset the output format, the sample rate or the bitrate according to the Spotify music parameters.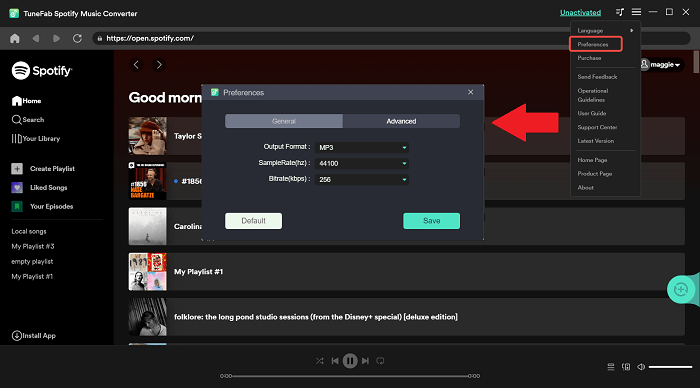 Step 4. Start Converting Spotify Music
Just click "Convert All" button to convert Spotify Music so that you can listen to Spotify Music offline without premium.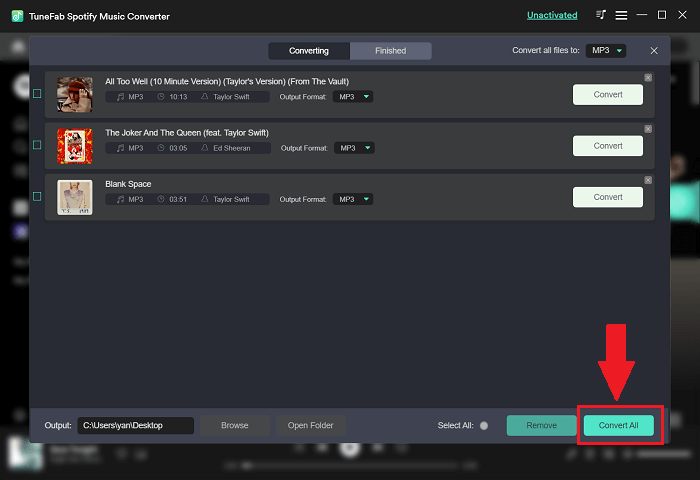 Step 5. Listen to Spotify Offline Without Premium
Now if you wish to listen to music on Spotify offline, launch the app and go to the settings. Scroll down until you see the "Local Files". Hit the "Add a source" and select the TuneFab Spotify Music Converter output folder. After which you can find your songs from "Your Library" and play them offline without premium.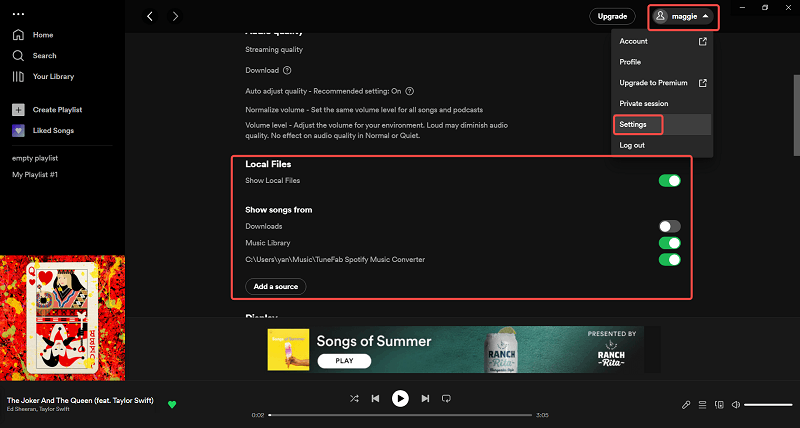 To stream them on your phone offline, you need to transfer them first. Then go to the "Settings" on the Spotify app by clicking on the gear icon. Scroll down and you will see "Local Files". Turn on the button and you can listen to songs on Spotify offline. Because this tool downloads Spotify music with ID3 saved, all songs added back to Spotify can be read and shows the song title, artist, cover artwork, etc. successfully.
Video Tutorial: How to Downlaod Spotify Music with Spotify Free Account
How to Make Sure That Spotify Plays Music Offline Without Using Mobile Data
There are times when you wish to listen to Spotify offline but still need to turn on the mobile data for other use. The following parts may help you reduce your mobile data use on Spotify.
Avoid Streaming Altogether When Listening to Spotify Offline?
If you let go of the settings without using the offline mode of Spotify, chances are Spotify will use the streaming mode for your playback, which means that even though you wish to listen to Spotify offline, your mobile data may still be used. Below is how to turn on the Spotify Offline mode:
Step 1. Launch Spotify on your phone, and hit the gear icon on the right top of the homepage.
Step 2. Scroll down. Under the "Playback" section, toggle on the button for "Offline mode".
Note: Offline mode only lasts for 30 days. You need to turn the feature off after that to make sure the account is logged in.
Block Spotify from Using Mobile Data in the Background
When you are hunting for new songs, you need to turn off the Offline mode. And I believe that you will manage the downloaded songs that are not downloaded altogether in the same playlist. If you don't remember to turn on the mode after that, when you are streaming the downloaded Spotify music, or leave Spotify in the background without playing anything, your data will still be used. To avoid this, you can block Spotify from doing so.
Step 1. Go to the "Settings" on your phone.
Step 2. Hit the "Apps" and find "Spotify".
Step 3. Click "Mobile Data" and toggle off "Allow background data usage".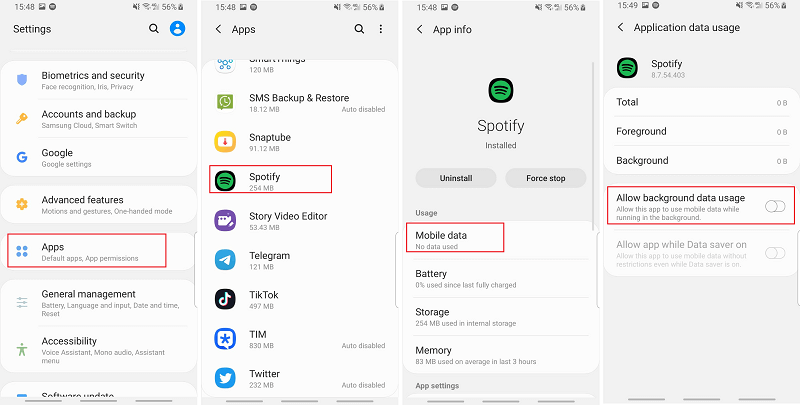 Conclusion
Using TuneFab Spotify Music Converter enables you to listen to Spotify without premium with the highest quality 320kbps. You can easily download Spotify singles/playlists/albums to MP3 or other formats in batch. And do remember to use the offline mode on Spotify if you need to reduce mobile data usage.
TuneFab Spotify Music Converter
Download All Spotify Songs and Listen Offline Without Premium
Was this information helpful?
TrustScore 3.2 | 17