Spotify has provided a 30-day free trial period to invite new users to join its Spotify Premium plan. If you sign up with PayPal, you will even get 3-month Spotify free trial. It's a complete loss if you lose this big discount offered by Spotify!
So in this article, we will mainly introduce you to those official ways to get Spotify free trial without any cost. Besides, this article will elaborate on how to keep your Spotify song playable after subscription ends.
CONTENTS
Part 1. Spotify Free Trial: Enjoy All Spotify Premium Benefits
You may wonder whether Spotify free trial would have some differences compared with the official Spotify Premium subscription. Actually, no! When you start Spotify free trial, you are actually accessing all premium features while playing music on Spotify platforms. The benefits you can enjoy include the following ones after getting a Spotify free trial:
● You can download Spotify playlists to listen offline without network connection (free users are not allowed to download Spotify playlists at all).
● Stop the shuffle mode and play Spotify songs or playlists in the way you like (free users can only listen to songs in shuffle mode and can't play them in the orders they want).
● Enjoy unlimited skips and replay any songs you like to listen to (only 6 skipping times per hour provided for free users).
● The music playback quality is higher, which can be up to 320Kbps (but free account only allows you to play at normal 96Kbps or 160Kbps).
● Oversea listening is also supported (free users can't use the streaming service if you staying abroad for more than 14 days).
As you can see, Spotify actually limits the music streaming for Spotify Free users greatly. If you want to remove them, subscribing to Spotify Premium is important. So in the following parts, let's quickly learn how to get a free Spotify trial.
Part 2. How to Get Spotify Premium 30 Days Free-Trial
For every new users, Spotify provides the 30-days free trial. Once you get this Spotify free trial plan, you can enjoy Spotify Premium for free within 30 days from the day you join it. Now, just read the tutorial below and learn how to get your free trial on Spotify immediately.
Step 1. Input https://www.spotify.com/premium/ on Google or other browser you use to enter the interface of Spotify Premium page.

Step 2. Click the "GET STARTED" green button on the banner, and then you will be guided to sign in the account first. If you need to register a new personal account, click "Sign up for Spotify" at the bottom of the page and complete your information. Well, if you have already had an account, then skip to the next step.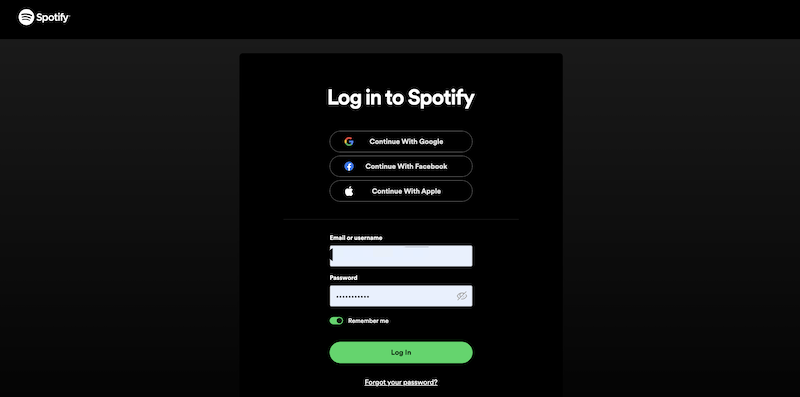 Step 3. You are able to select a payment method you want to use for subscribing to Spotify Premium. Don't worry because Spotify won't cost you any fee before the free trial ends.
Step 4. Click the green button, START 30-DAY FREE TRIAL NOW, beneath the section of payment details, and then you have successfully subscribed to Spotify Premium and you will get the perks of Spotify Premium for free for 30 days.
Tip: Before May 16, 2023, Spotify actually offers the 3-months free trial for new Spotify Premium subscribers. As this activity has ended now, if you want to get a longer Spotify free trial, you can try another way. Just keep reading because this method will be introduced in the following part.
Part 3. How to Get Spotify Premium 90 Days Free-Trial
As mentioned, although Spotify has cancelled its 3 months trial for all new users, it still keeps the benefits for those who use PayPal to pay. So if you also have a PayPal account, now you can follow the tutorial and see how to get a free Spotify Premium trial for 90 days. Have a look.
Note: Spotify will automatically bill monthly ($9.99) after the end of 3-month free trial. This promotion will end on September 15, 2023.
Step 1. Navigate to this PayPal activity page in a web browser. Click "START FREE TRIAL".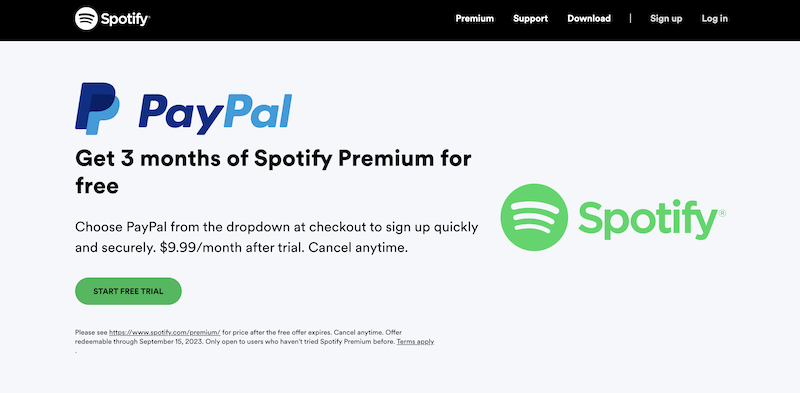 Step 2. Once leading you to the account sign in page, register or sign in with your Spotify account first.
Step 3. Then, also follow the instructions to finish entering the billing information. Remember that you have to use PayPal as the way to pay for the future subscription, or you can't get Spotify free trial successfully.
Once this final step finishes, you will directly start the 90-day free trial to enjoy all Spotify Premium features for free.
Part 4. How to Cancel Spotify Premium Trial
Once you start Spotify free trial, your next billing date will be the time when your free trial expires. So if you do not want to be charged, you can also cancel Spotify Premium when the free trial is due. Here is the manual for you to follow to cancel Spotify Premium trial before it renews:
Step 1. Input https://www.spotify.com/ in the browser of your computer, and log in. Be careful! You can cancel your premium at any time, but once you do this operation, you will lose access.
Step 2. Click Profile in the upper-right side of the interface, and tap Account on the drop-down menu to open your Spotify account page.
Step 3. Click MANAGE PLAN below the heading of Spotify Premium, and tap CANCEL YOUR SUBSCRIPTION in the middle of the page.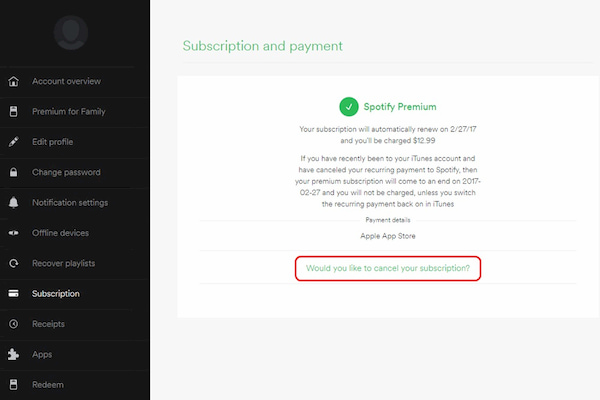 Step 4. Then click CANCEL PREMIUM on the right side of the interface below the heading. The last operation is to click YES, CANCEL, on the top of the page to terminate your free trial. In this way, you will not be charged even when the free trial is over.
Tip: For iPhone and iPad users, you can also cancel the Spotify Premium subscription by going to "Settings" and open your Apple ID. Under "Subscriptions", find Spotify and cancel it directly.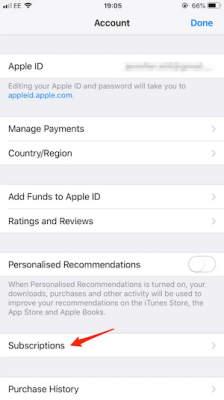 Part 5. How to Keep Spotify Songs Playable Offline After Canceling Premium
After you canceled your Spotify Premium free trial, you are no longer able to download tracks or albums on Spotify, but keep paying for the subscription to access the music downloads can't be affordable by all users.
Here, I would like to introduce another powerful and professional software that can download Spotify songs once for all, and the Spotify downloads can be saved forever even if you cancel the subscription. That is TuneFab Spotify Music Converter.
You can rip music from Spotify by removing DRM protection and converting Spotify songs into other formats like MP3. In this case, you can transfer them to listen offline on any devices you can get access to. After that, you can cancel the free trial without worrying about the expiration of the downloaded songs.
Key Features:
● Supports the in-built Spotify Web Player to download any songs, albums, playlists, and podcasts directly
● Offers widely-supported formats such as MP3, M4A, WAV, and FLAC to select
● Allows to edit SampleRate and Bitrate to download Spotify songs in the best quality such as 320Kbps
● Keeps all ID3 tags and metadata information while downloading Spotify songs
● Offers 5X or even faster speed to let you save much time waiting for Spotify Music download
By the way, speaking of how to operate TuneFab Spotify Music Converter, it is quite easy:
Step 1. Download TuneFab Spotify Music Converter on your Windows/Mac computer. Run the installed software, and then sign in its in-built web player.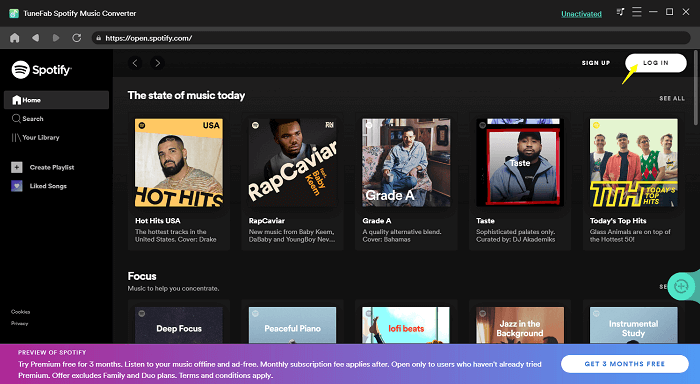 Step 2. Simply browse and select any playlist or album you want to download! By dragging them to the "+" button and the songs will be added.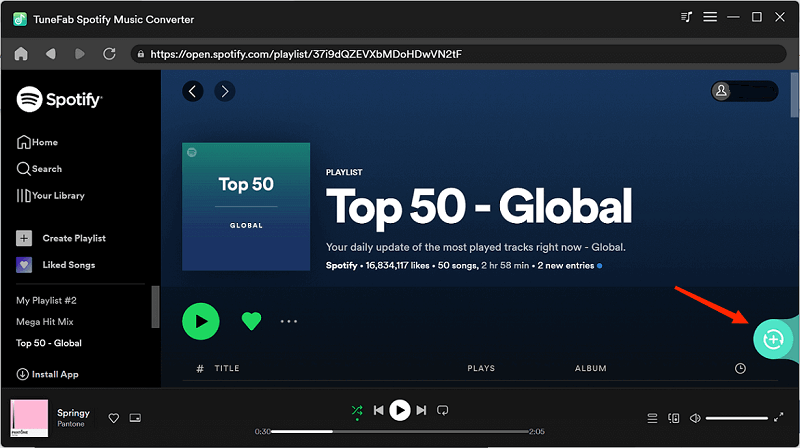 Step 3. To adjust the music quality, simply open "Preferences" in "Menu". By switching to the "Advanced" tab, you can freely change the "SampleRate" and "Bitrate" as you need.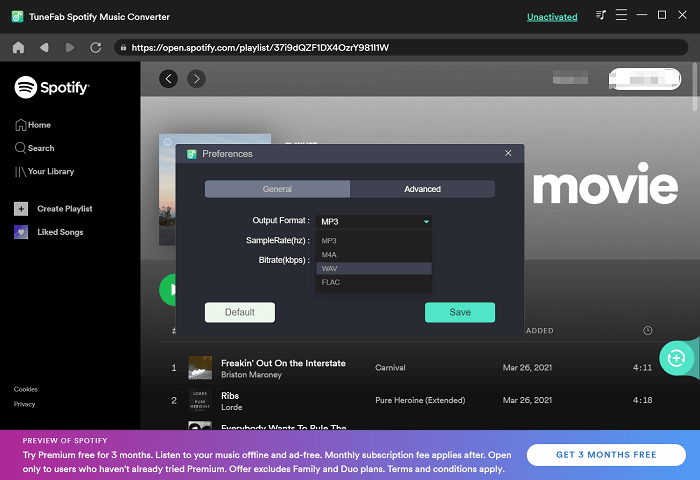 Step 4. Click "Convert All" to download your favorite Spotify songs and after downloading, you can go to "Finished" tab and click "View Output Folder" to enjoy your Spotify downloads.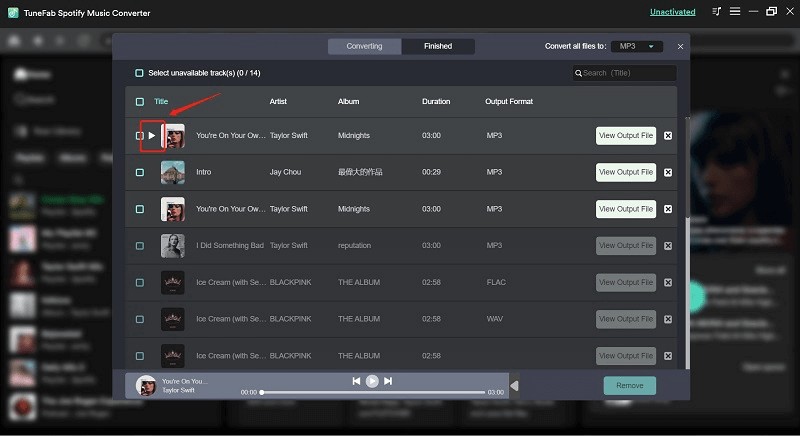 Conclusion
As this article has guided you the ways to get Spotify free trial, you can follow the tutorial and start Spotify free trial without paying any cost from today! If you want to cancel the subscription but keep all downloads forever, it would be better for you to try TuneFab Spotify Music Converter. As the software also provides free trial, you can install it here now.
Was this information helpful?
TrustScore 3 | 5