When Spotify has been the world's most popular music streaming platform, it has accumulated a variety of user groups, including iPhone users. iPhone users can now listen to Spotify songs either online or offline. However, offline listening is currently only available to premium subscribers. If you don't want to subscribe to get offline access to Spotify, what can you do? Don't worry, this article will help both Spotify Premium and Free users to download music from Spotify to iPhone freely.
CONTENTS
How to Download Music from Spotify to iPhone as MP3 [Even Without Premium]
Before knowing the ways to download music from Spotify to iPhone, you must know that Spotify has applied DRM encryption to regulate the music streaming behaviors - you are limited to playing Spotify songs within the platform with certain rules required to obey.
Based on your account status, you stream Spotify songs in different ways. For Spotify Free users, only online music streaming is available. In other words, you are completely not available to download any Spotify content offline on your iPhone. Instead, Spotify Premium subscribers are allowed to do so. But a pity still exists, which is that the downloaded Spotify songs can only be accessed within Spotify, which also greatly limits your offline music streaming experience.
Hence, if you consider accessing the free Spotify music playback offline on iPhone, you need extra software to remove Spotify DRM and save them offline for importing to iPhone without Spotify installed required. For such a purpose, TuneFab Spotify Music Converter is an ideal pick you should not miss.
Why We Choose TuneFab Spotify Music Converter
TuneFab Spotify Music Converter is able to decrypt DRM powerfully, and convert Spotify tracks to mainstream MP3, M4A, or other audio formats, enabling to increase the music compatibility and preserve on any device, including iPhone. When the software has integrated Spotify web player, you are only required to log in via your Spotify account, then the music download functionality is equipped to help. With TuneFab Spotify Music Converter, you can download music from Spotify to iPhone for streaming without Spotify app installed anymore.
Sparkling Features of TuneFab Spotify Music Converter:
● DRM decryption feature to unlock Spotify songs and extract them from the platform;
● Mainstream formats such as MP3, M4A, WAV, and FLAC are provided to convert Spotify songs;
● Customized settings are available to adjust output quality in requirements;
● Preservation of full ID3 info with each Spotify song while processing the music download;
● Batch conversion is supported at 5X faster speed to boost efficiency.
Next, also grasp the way to use TuneFab Spotify Music Converter to download music from Spotify to iPhone via the best quality:
Download Music from Spotify to iPhone via TuneFab Converter
Step 1. Log in TuneFab Spotify Music Converter
After installing TuneFab Spotify Music Converter, launch it and hit the "Open the Spotify web player" and log in via your Spotify account.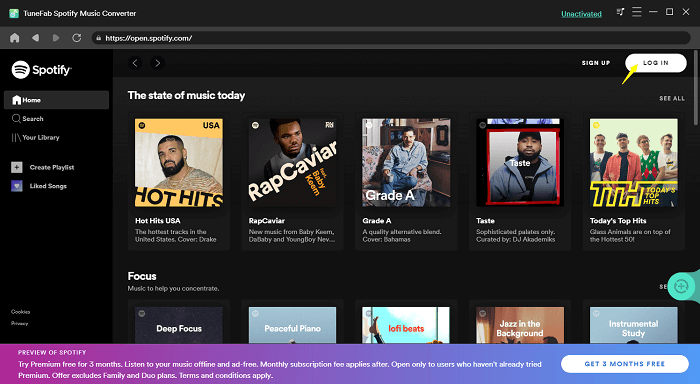 Step 2. Drag and Drop Spotify Music
Select Spotify songs, albums, or playlists you like, then click "Add" to add them or you can simply drag and drop them. Then TuneFab Spotify Music Converter will analyze the music automatically.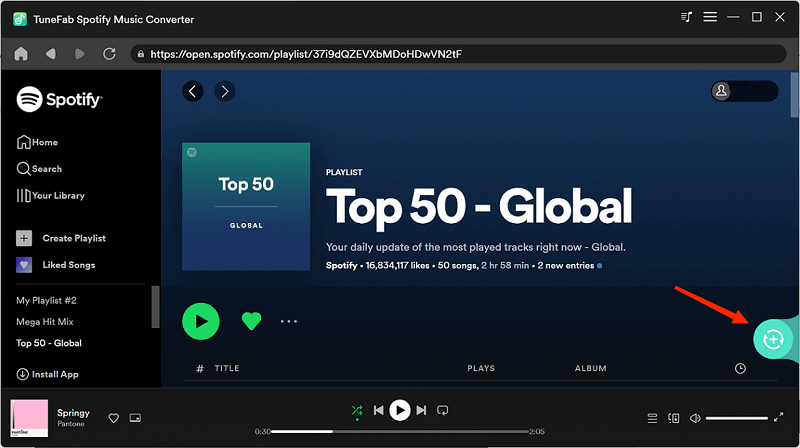 Step 3. Customize Output Settings
In the upper right corner of the interface, you can tap on the "Settings icon" to choose "Preferences". If you don't want the songs to be automatically saved in the default folder, you can click "General" to choose the output folder. While under the "Advanced" tab, you can reset the Output Format (MP3, WAV, M4A, and FLAC), Sample Rate and Bitrate.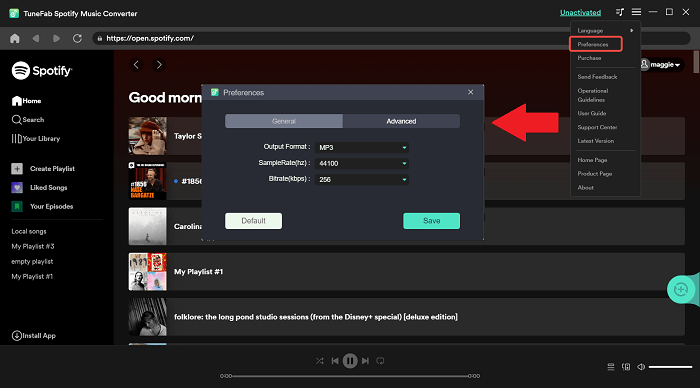 Step 4. Convert Spotify Music to MP3
After all the settings, you are supposed to click "Convert All" to begin changing Spotify songs to MP3. You just need to wait for a while until the conversion is over.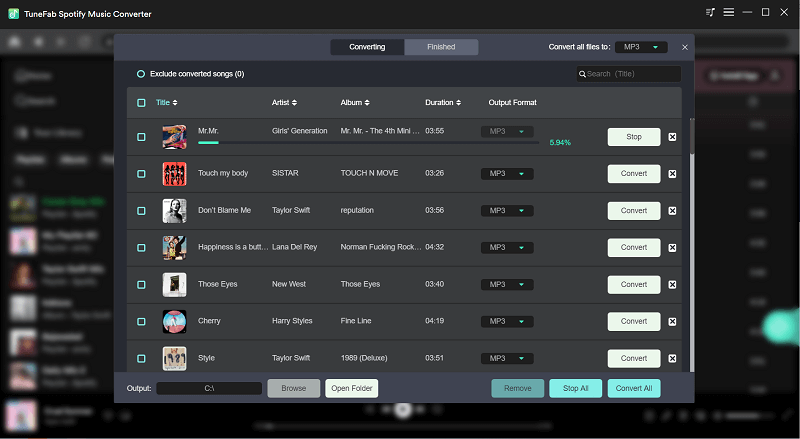 Step 5. Transfer Music to Your iPhone
Once you decode your Spotify music, the last thing you need to do is to connect your iPhone via the computer and then transfer your Spotify music files to your iPhone with the help of iTunes or Finder. Here we will see how.
Using iTunes if your computer is the version of Windows and macOS Mojave or earlier
1. Launch iTunes and let it detect your iPhone first.
2. Click the device icon to sync it via iTunes.
3. On the left panel, select "Music" and tick "Sync Music" > "Selected playlists, artists, alums, and genres".
4. Select the downloaded Spotify songs and hit "Apply" to process the music transfer right away.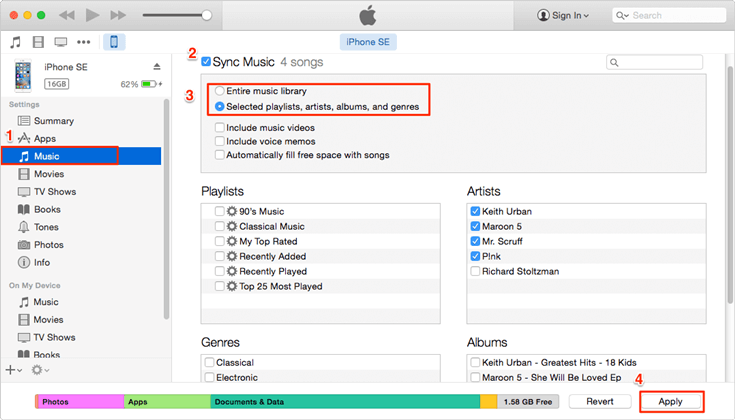 Using Finder if your computer is the version of macOS Catalina or later
1. Open a Finder window and select your device once it appears in Finder.
2. Navigate to "Music" and choose the "Sync music onto [Device]" option.
3. Select "Selected artists, albums, genres, and playlists" and also choose the downloaded Spotify songs.
4. Tap "Apply" to complete transferring Spotify songs to iPhone.

Once completed syncing all Spotify music downloads to iPhone, you then can enjoy Spotify songs offline without premium or Spotify app installed at all.
How to Get Spotify Music Downloaded on iPhone Free with iPhone Apps
In addition to the above method, you can also download Spotify music free to your iPhone with two apps, which are Shortcuts and Telegram Bot. Let's see how they work in the following sections.
Download Music from Spotify to iPhone Via Shortcuts
Siri Shortcuts is a built-in feature pre-installed on iPhone. Surprisingly, it is entirely possible for you to download music from Spotify to your iPhone using it! You just need a tap or a query from Siri to search for any Spotify song you desire to download, then this Spotify downloader will allow you to download songs from Spotify to your iPhone, even without extra apps installed required. Many iPhone users would choose to use this feature for their convenience.
Note: Though Shortcuts is quite convenient to use, it sometimes fails to work and it only allows you to download max 5 music tracks at a time. Therefore, if you don't want to be limited, we recommend you use TuneFab Spotify Music Converter to help you download Spotify music to your iPhone.
Tutorial to download Spotify music to iPhone using Shortcuts:
Step 1. On your iPhone, open the Spotify app and then copy the Spotify music link.
Step 2. Run Shortcuts on your iPhone and find the Spotify album downloader from the program.
Step 3. Paste the Spotify music link to Shortcuts and click "OK" button to access iCloud drive, then Spotify music will be downloaded to your iPhone as MP3.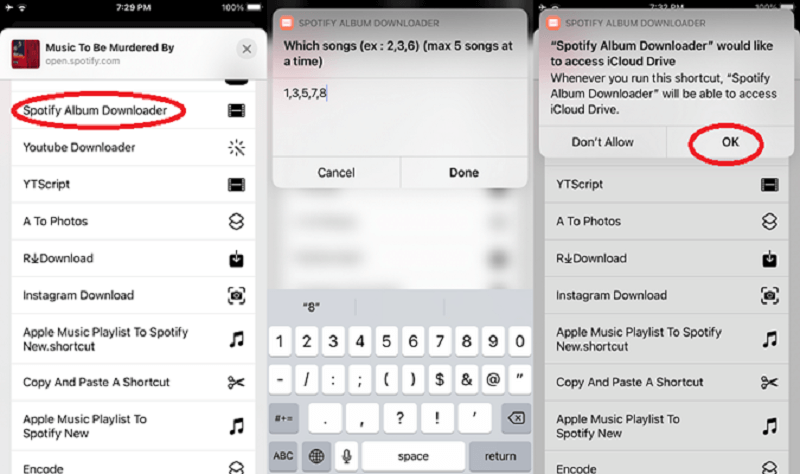 Get Spotify Music on iPhone in Telegram Bot
Telegram Bot is a freeware which requires no payment to install from the App Store. By installing it on iPhone, you then can process only several easy steps to download Spotify on iPhone without a premium subscription at all. It offers a mainstream MP3 format to export Spotify downloads. Although the quality is not as good as Spotify premium can provide, it can still ensure a smooth and good music streaming experience offline. Now, see how to process music downloads on iPhone freely via Telegram Bot:
Step 1. After launching and installing Telegram Bot on your iPhone, you are required to copy and paste the URL of spotifydl bot to it.
Step 2. Once complete, then you are able to go to Spotify and copy the URL of the song or playlist you desire to download on your iPhone.
Step 3. Next, paste it to the chat box in Telegram Bot and also send it. At the same time, the app will directly download the songs for you.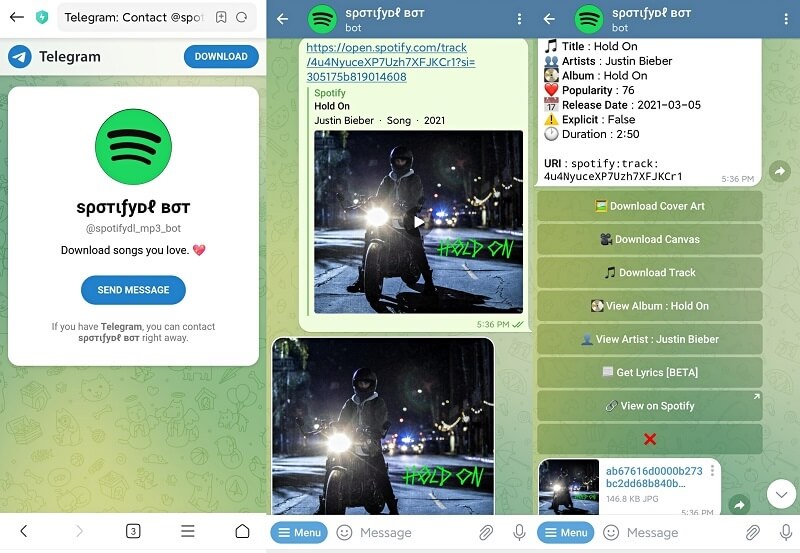 How to Download Spotify Music to iPhone with Premium
Since you are a premium subscriber, you must be aware that you have the privilege to download songs, playlists, or albums for offline playback. In case you don't know how to do it, I will walk you through every step of it.
Step 1. Open Spotify on Your iPhone
Open Spotify and log in if it is not automatically logged in for you.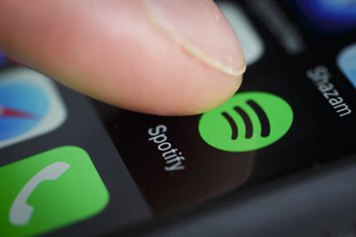 Step 2. Find the Music You'd Like to Download
(I will take a playlist as an example in this case. Downloading albums is quite similar to it.)
Choose a playlist you are interested in and tap on it. Hit "Follow" button below the song name to add it to your music collection.
Note: Currently, Spotify only allows users to download a whole playlist instead of a single track one by one. Hence, you are able to create a Spotify playlist with all the songs you desire to download added and process the music download at once.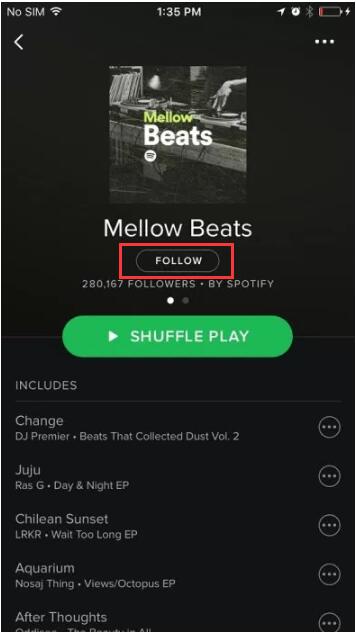 Step 3. Toggle "Available Offline" to the Right
After you do Step 2, the interface will switch to the one where you can see there is an "Available Offline" option in the middle. Toggle the button to the right, indicating that you want it downloaded for offline listening.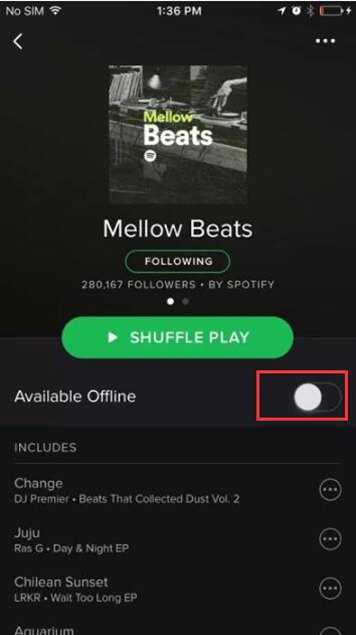 Step 4. Go to Your Library
Now since you have downloaded the playlist, go to your library and enter your playlist section.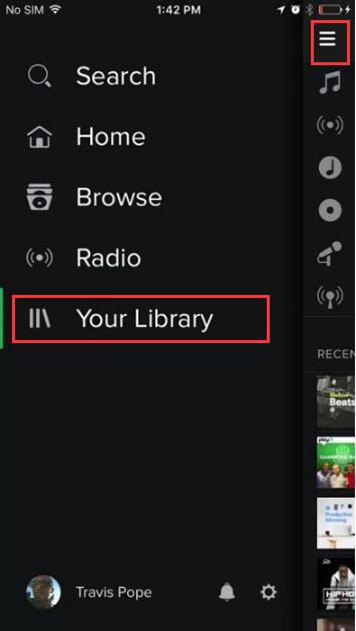 If things go well, the playlist you choose previously will have already been downloaded to your iPhone and you can see it.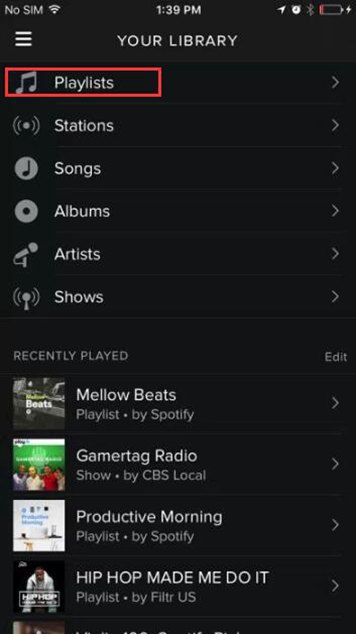 Now you are allowed to listen to offline music on your iPhone wherever and whenever you want without worrying the Wi-Fi connection.
Note if you cannot listen to the music offline, check
● Whether your Premium account has been expired.
● Whether you are using your Premium account.
● Whether you successfully download the music when you are connected to the Internet.
FAQs About Downloading Music from Spotify to iPhone
Q1. How to download the entire library from Spotify to iPhone?
The steps to download the entire library from Spotify to iPhone are quite easy, you just need a few clicks.
Step 1. Launch Spotify app on your iPhone and go to "My Library".
Step 2. Choose "Songs" from your library and you'll see a list of every song in your library.
Step 3. Enable the "Download" button, then the process of downloading all of your music will start.
Q2. How to make Spotify a default music player on iPhone?
Fortunately, Apple allows users to update the default music player to a third-party alternative. You can try the following steps to make Spotify a default music player on iPhone.
Step 1. Ask Siri to play the music you request.
Step 2. From the on-screen list, select "Spotify" and then click "Yes" to allow Siri to access data from Spotify.
Step 3. After all the settings, Spotify will play the music you request and each subsequent request will default to Spotify on your iPhone.
Conclusion
To sum up, if you are considering getting rid of Spotify's music playback limitations and downloading music from Spotify to iPhone for listening offline, TuneFab Spotify Music Converter should be the best choice. Its stable conversion experience, high-quality outputs, mainstream format selections, and secure in-app performance, all make the software an out-performing software to bring free to your digital streaming on iPhone. Now, freely install the software and give it a try!
By the way, if you have any questions concerning the program, leave a comment below or write us an e-mail.
Was this information helpful?
TrustScore 2 | 6