Each Spotify song has its own link to share or listen to your favorite Spotify songs, albums, artists, playlists, etc. However, it is inconvenient and time-consuming to listen to Spotify Music with the Spotify link, because before you listen to the songs, you need to copy it from the Spotify app. What's more, sharing Spotify songs through URLs doesn't mean that it is possible to play them off Spotify platforms.
So how to download Spotify link to MP3 files so that you can get rid of this trouble? Here is the best Spotify to MP3 converter - TuneFab Spotify Music Converter, for you. Get started here to learn about it.
CONTENTS
How to Get Spotify Link for a Song/Playlist in Spotify App
Spotify has utilized URL links to identify each music resource, and many Spotify downloaders have adopted link analysis as a way to recognize the songs and download them for you. In the following, see how to get a Spotify link for a song or a playlist on both your desktops and mobile phones.
On Desktop Spotify App or Web Player
1. Open the Spotify program or the online web player in the browser.
2. Access the song, playlist, or album you want to copy its link.
3. Please click on the three-dots button >> Share.
4. By selecting the Copy Spotify URL, the Spotify link will be copied to your clipboard.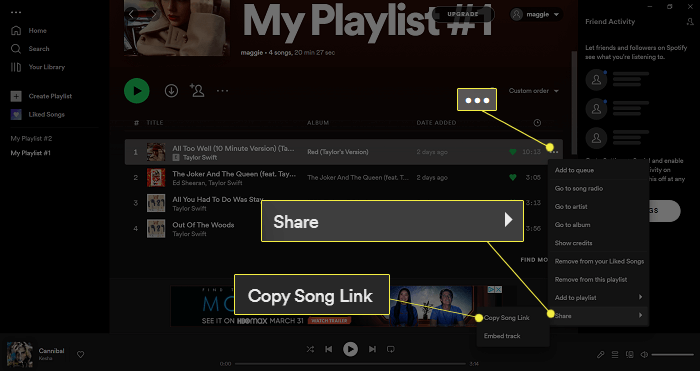 On Mobile Spotify App
1. Run Spotify app on your mobile device.
2. Open the playlist or album or access the exact Spotify song you wish to copy its link.
3. Click on the three-dots button.
4. Select Share >> Copy link to get its link.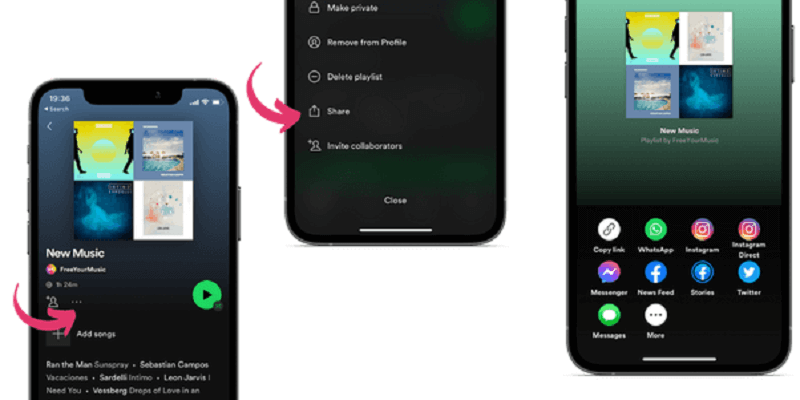 Best Spotify Link to MP3 Downloader - TuneFab Spotify Music Converter
Many of you need to get Spotify links because a majority of Spotify downloaders require them to convert Spotify Music to MP3. Nevertheless, there is actually a more effortless program, which needs no Spotify links to download Spotify playlists to MP3 for you - that is TuneFab Spotify Music Converter.
TuneFab Spotify Music Converter is a professional Spotify to MP3 converter, offering an all-around solution to download music from Spotify playlists, podcasts, albums, tracks, and even the artist channels in very simple manipulation. With the Spotify web player directly embedded in the program, you don't need to manually convert Spotify to MP3, but simply drag the songs, playlists, albums, or podcasts to the converting list, and TuneFab Spotify Music Converter will detect the links automatically in no time. Once getting the local MP3 music files, you can save them on various kinds of devices, like tablets, and MP3 players to enjoy offline.
There are lots of reasons for Spotify users to take TuneFab Spotify Music Converter into consideration. You can learn more about the details of the program from the features listed below:
● Basic needs of Spotify: Download songs from podcasts, albums, playlists, tracks, and artist page
● 4 general music output formats: MP3, M4A, WAV(Windows User Only), FLAC.
● Default 5X or even faster conversion speed is available for both Windows and Mac
● Adjust bitrate or sample rate to output in proper file size and retain high music quality (128, 256, 320 Kbps are available).
● Preserve audio ID3 tags and metadata info.
● Automatically detect Spotify links through drag-and-drop manipulation without manually copying and pasting.

Unlike other Spotify link to MP3 converters, TuneFab Spotify Music Converter can allow you to batch download music by dragging them or just clicking on the download plugin after logging into the Spotify account. Meaning, that you can directly download all Spotify music from a playlist, or an album without repeatedly searching for each music title or downloading Spotify songs with each link of them.
How to Download Spotify Link to MP3 on Windows/Mac
You may wonder, how is it possible to convert Spotify to MP3 without manually copying and pasting a link? Surprisingly, TuneFab Spotify Music Converter can do it for you! Next, please move on to the detailed manipulation guide and see how to download the Spotify link to MP3 automatically!
Step 1. Get TuneFab Spotify Music Converter Ready
Click the "Try It Free" button below to download TuneFab Spotify Music Converter on your computer and launch it. Following, we will take the Windows system as an example.
After you launch the software, login to your Spotify account on its built-in browser, with which you can download mp3 from Spotify without the Spotify app.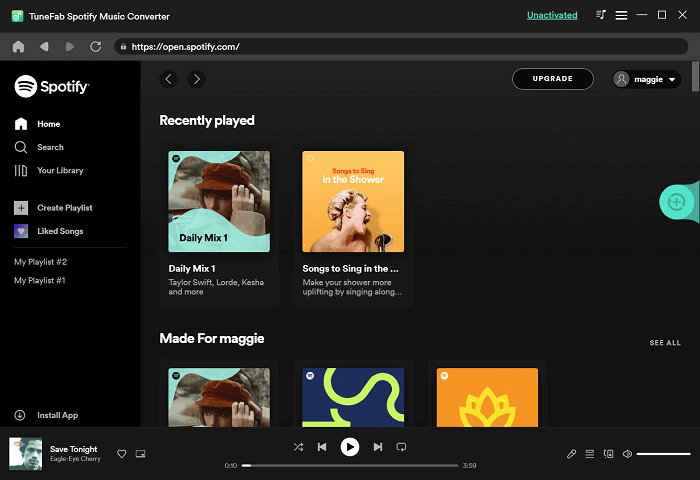 Step 2. Add Songs from Spotify
TuneFab Spotify Music Converter allows users to convert Spotify to MP3 with the following 2 methods.
Method 1: Copy the Spotify song title, and then paste it into the search bar of the converter to get ready for loading the Spotify music to convert.
Method 2: Select your favorite music from the Spotify interface, click and hold to drag them to the green plugin with a plus icon on the right of the TuneFab Spotify Music Converter.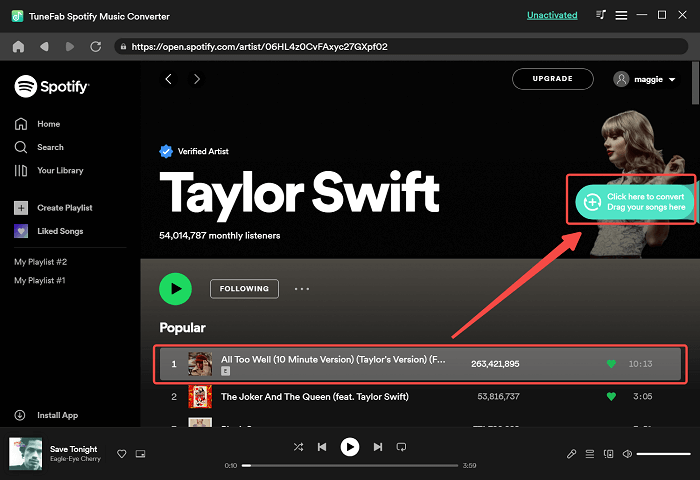 Step 3. Select MP3 as Your Output Format
It is easy to choose the music formats on TuneFab Spotify Music Converter. When you've added the song you want to download from Spotify, click on the download arrow next to "Output Format" and select the format you want in the drop-down list. For Windows, you can get MP3, M4A, FLAC, WAV. However, for Mac, you can get MP3, M4A, FLAC.
After that, just select the song and click "Convert xxx Items (xxx stands for the number of the items from the list)" and then they will be downloaded simultaneously.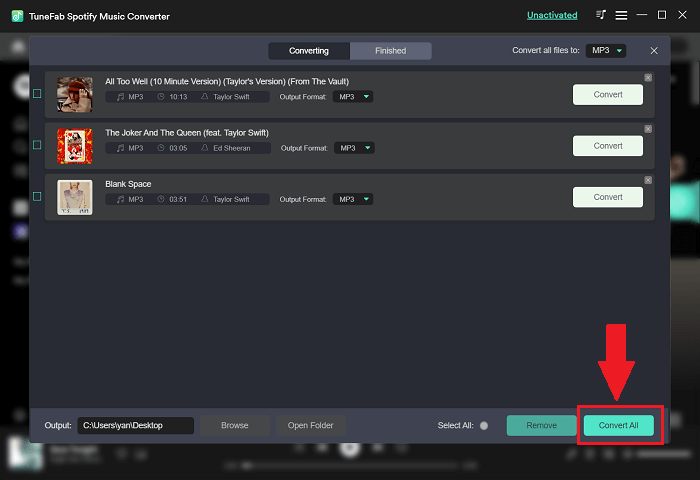 To avoid failing in converting, please note that it's better to stop playing songs on Spotify when converting songs on TuneFab Spotify Music Converter, including Spotify web player, desktop app or mobile app. And after a while, you can get Spotify songs converted and saved to your desired audio format. To view the converted files, click the "Finished" button in the center of the main interface and then you can enjoy Spotify music in MP3 files with ease.
FAQs About Downloading Spotify Link to MP3
Please also read the following 2 FAQs if you are still confused about converting the Spotify link to MP3.
Q1: When you get a Spotify link, how can you use it?
Other than utilizing the Spotify link to proceed with the music download with a third-party program, you can use it to share your favorite music with your friends on social media platforms, or add it to your website to create a vivid experience for viewers. There are actually many ways you can use it!
Q2: Can you download the Spotify link to MP3 online?
If you go and search on the Internet, you can find some Spotify links to MP3 online converters to download Spotify songs without installing third-party programs. Here are several popular options:
● Spindloaders
● SpotifyDown
● SpotifyMate
● Spotify-Downloader

However, compared with desktop Spotify downloaders like TuneFab Spotify Music Converter, these online converters function less stably, and the conversion success rate can be much lower. Meanwhile, some of them fail to support downloading Spotify playlists and podcasts for you. Therefore, if you consider a more professional way to convert Spotify to MP3, TuneFab Spotify Music Converter is still the most effortless and best option.
Final Words
Converting Spotify link to MP3 is a mainstream method utilized by most Spotify downloaders to help people enjoy free music playback offline. But with TuneFab Spotify Music Converter, this manual process is realized in an automatic way, greatly facilitating productivity by downloading Spotify playlists. As the program offers a free trial, you can install it and try it now.
Was this information helpful?
TrustScore 2.5 | 30