Each Spotify song has its own link to share or listen to your favorite Spotify songs, albums, artists, playlists, etc. More importantly, all the Spotify links contain music resources that can be parsed and downloaded. So in this article, we will introduce you to some free ways to convert Spotify links to MP3 through very easy operations. If you also want to keep Spotify songs as MP3 to enjoy offline without the Spotify app installed, keep reading and see how to do it now!
CONTENTS
How to Get Spotify Link for a Song/Playlist in Spotify App
Spotify has utilized URL links to identify each music resource, and many Spotify downloaders have adopted link analysis as a way to recognize the songs and download them for you. In the following, see how to get a Spotify link for a song or a playlist on both your desktops and mobile phones.
On Desktop Spotify App or Web Player
Step 1. Open the Spotify program or the online web player in the browser.
Step 2. Access the song, playlist, or album you want to copy its link.
Step 3. Simply click on the three-dots button >> Share >> Copy Spotify URL, the Spotify link will be copied to your clipboard immediately.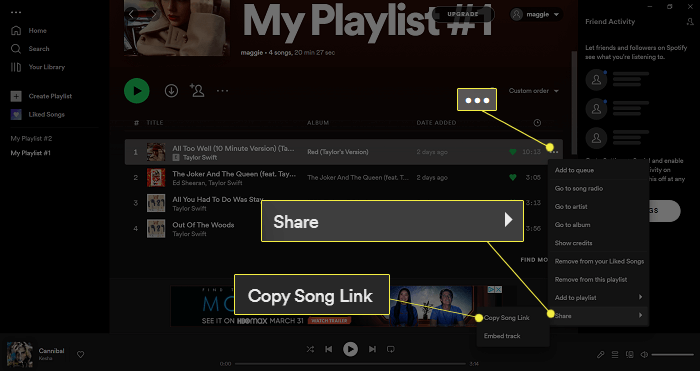 On Mobile Spotify App
Step 1. Run Spotify app on your mobile device.
Step 2. Open the playlist or album or access the exact Spotify song you wish to copy its link.
Step 3. Click on the three-dots button >> Share >> Copy link to directly get the Spotify link copied.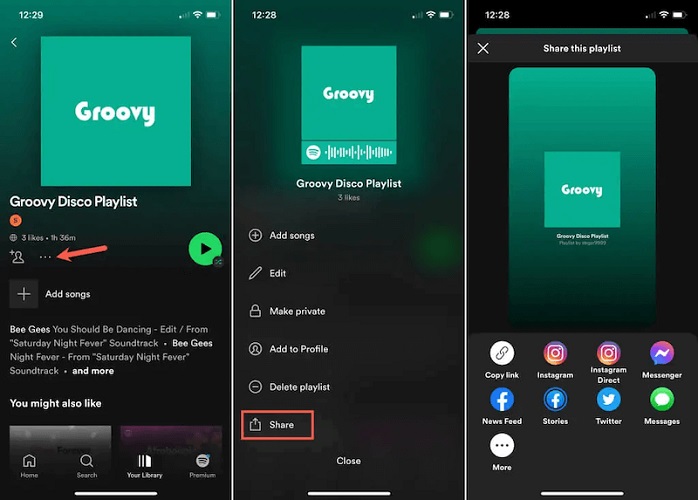 How to Download Spotify Link to MP3 on Windows/Mac for Free
Now you know how to get Spotify URLs, then you can try to download the Spotify link to MP3. For your convenience, this part has provided you with two workable Spotify URL downloaders that can easily help you convert Spotify Music to MP3. Without further ado, let's scroll down and have a try!
Download MP3 from Spotify Web Player
TuneFab Spotify Music Converter is the most popular software working to help you download MP3 from Spotify URL directly. It boasts the whole music library of Spotify. And with the Spotify web player embedded in the top-rated program, you don't need to manually download Spotify links to MP3, but simply drag the music source to the download queue, and TuneFab Spotify Music Converter will detect and download the links to MP3 in no time.
Besides, with ultra-high quality up to 320kps contained, you can enjoy the best listening on multi-devices for MP3 can be transferred as you wish. Better yet, TuneFab Spotify Music Converter offers you a 30-day free trial, during which you can download lots of music from URLs.
Now, just see how to directly download Spotify link to MP3 from web with TuneFab Spotify Music Converter.
Step 1. Get TuneFab Spotify Music Converter Ready
Click the "Try It Free" button below to download TuneFab Spotify Music Converter on your computer and launch it. Following, we will take the Windows system as an example.
After you launch the software, login to your Spotify account on its built-in browser, with which you can download mp3 from Spotify without the Spotify app.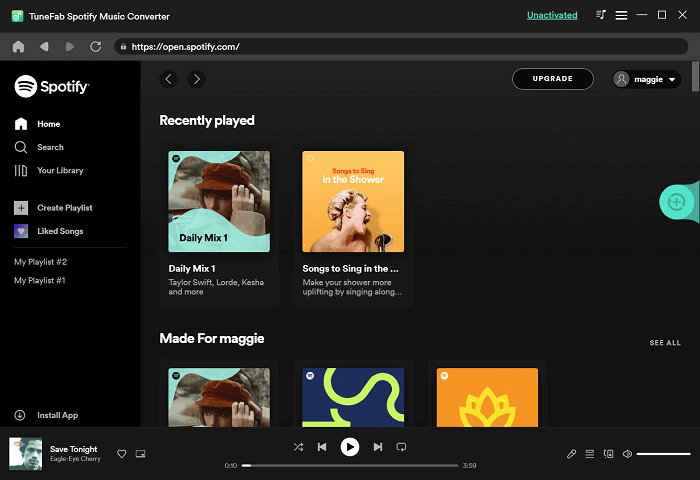 Step 2. Add Songs from Spotify
Select your favorite music from the Spotify interface, click and hold to drag them to the green plugin with a plus icon on the right of the TuneFab Spotify Music Converter.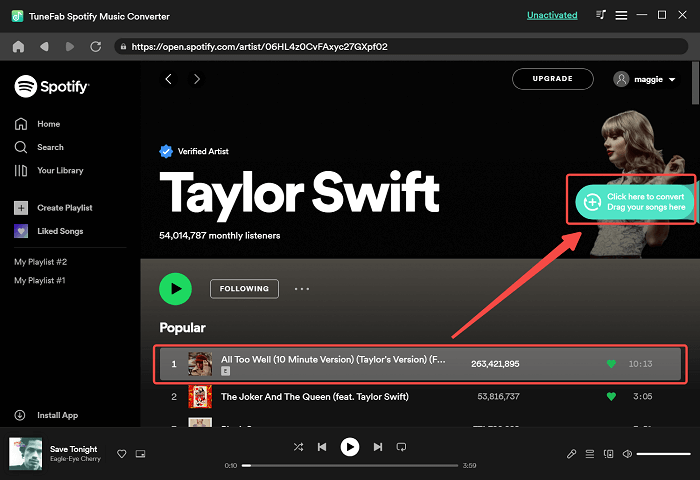 Step 3. Select MP3 as Your Output Format
It is easy to choose the music formats on TuneFab Spotify Music Converter. When you've added the song you want to download from Spotify, click on the download arrow next to "Output Format" and select the format you want in the drop-down list. For Windows, you can get MP3, M4A, FLAC, WAV, AIFF, and ALAC.
After that, just select the song and click "Convert All" and then they will be downloaded simultaneously.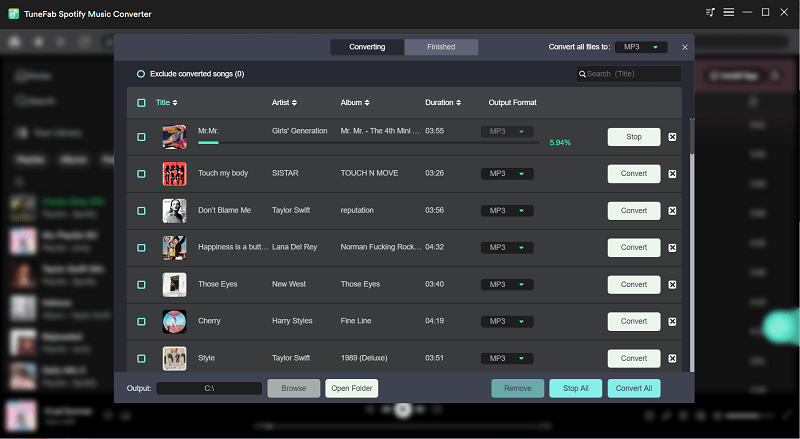 To avoid failing in converting, please note that it's better to stop playing songs on Spotify when converting songs on TuneFab Spotify Music Converter. And after a while, you can get Spotify songs converted and saved to your desired audio format. To view the converted files, click the "Finished" button in the center of the main interface and then you can enjoy Spotify music in MP3 files with ease.
😆Pros:
● Download songs from podcasts, albums, playlists, tracks, and artist pages with links as you like; ● Batch download Spotify links to MP3 files with URL automatic detection; ● Default 35X or even faster conversion speed is available for both Windows and Mac; ● Personalized settings of bitrate or sample rate to output in proper file size and retain high music quality (128, 256, 320 kps available); ● Preserve audio ID3 tags and metadata info for more convenient library management; ● 6 general music output formats provided, including MP3, M4A, WAV, FLAC, AIFF, and ALAC. ● Allow you to tweak output location, preset output tracks archive, and file name before downloading.
🙁Cons:
● Full features will be accessed after upgrading to the registered version.
Download Spotify Link to MP3 with Open-Source Tool
Another open-source tool that can help you download Spotify link to MP3 completely for free is by using spotDL. Because spotDL would use the programming method to help you download music from Spotify, it can work stably. However, it is also a little complex if you are a new user or not quite familiar with the computer knowledge. But still, you can try to convert Spotify URL to MP3 following the steps below. Just read the tutorial now.
Step 1. You will need to install Visual C++ Redistributible. Then also get Python & FFmpeg installed as well. Remember to select "Add Python to Path" when you install it on your computer.
Step 2. After these items are well installed, now also get spotDL by entering the command below pip. For OSX/UNIX users, you need to replace pip with pip3 and python with python3 instead.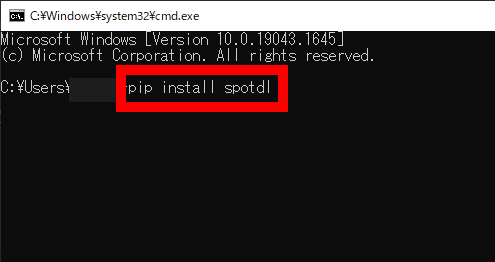 Step 3. Now, you can go install FFmpeg to your local directory too. Once this step is completed, you will also find the spotdl --download-ffmpeg file will successfully be downloaded to spotDL's installation directory.
Step 4. Now, you have added spotDL to Python. Next, type in "py -m spotdl web" and you can open spotDL in browser. Simply paste the Spotify link to the search bar and download Spotify link to MP3 for free with this tool!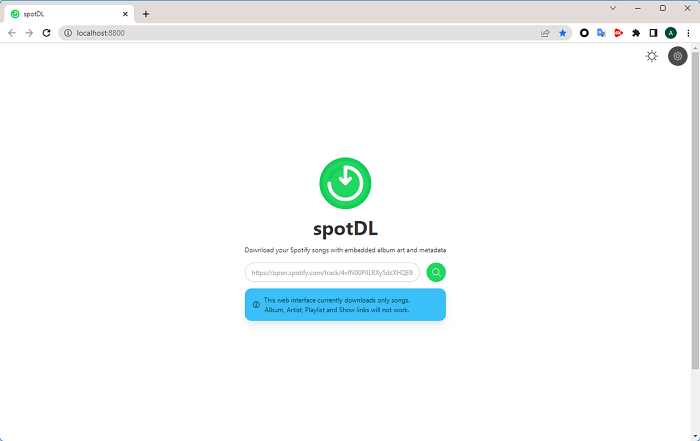 😆Pros:
● Offers Spotify URL to MP3 conversion totally for free; ● Provides stable and fast speed to download Spotify link to MP3; ● Runs smoothly on more desktop systems;
🙁Cons:
● The operation can be very complex for users without computer knowledge; ● It doesn't allow you to adjust quality to download Spotify music as MP3; ● Batch downloading function is not provdied;
How to Download Spotify URL to MP3 on Android/iPhone for Free
For mobile phone users, there are also free methods to let you download Spotify link to MP3 for keeping Spotify songs offline to play everywhere as you want. Based on whether you are using an Android or iOS device, you can choose the correct method below to do it in simple steps.
Download Spotify to MP3 via URL on Android
On Android, SpotiFlyer is a free app that provides cost-free and easy-to-use function to help download Spotify link to MP3 offline. However, compared with many professional Spotify converters like TuneFab Spotify Music Converter, SpotiFlyer doesn't provide the best 320Kbps to select downloading Spotify songs. Instead, you can only get the highest 128Kbps to save Spotify as MP3 files offline.
But instead of connecting your Android devices to computers to further process the music transfer, it is still convenient to download Spotify link to MP3 using this tool. Now, also see how to use it correctly.
Step 1. Firstly, you need to open Spotify app and copy Spotify link following the steps mentioned in Part 1.
Step 2. Then open SpotiFlyer and paste the Spotify URL to the search bar. When you click on searching and the app will provide the search results to you.
Step 3. From the search results, choose the songs you want to download as MP3. Simply tap the "Download" buttons next to them and you can download Spotify link to MP3 immediately.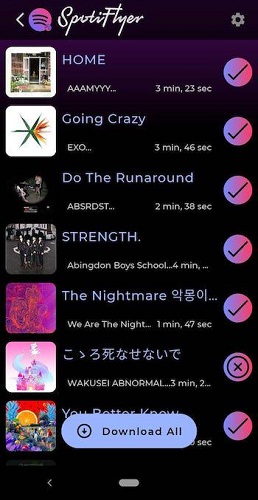 😆Pros:
● Offers free service without any cost needed; ● Provides a user-friendly UI to download music from Spotify as MP3 easily and quickly; ● Supports batch download function to save all songs from a Spotify playlist link at once; ● Saves ID3 information for Spotify downloads; ● Supports running on more device systems such as Android, Windows, Linux, and Mac.
🙁Cons:
● Only offers the best quality output options at 128Kbps; ● Downloading errors would frequently occur.
Download Spotify to MP3 via URL on iPhone
If you are an iPhone user, then don't miss Telegram bot to download Spotify link in MP3 format freely at no cost. Although the bot doesn't provide the highest 320Kbps quality for you to select just like SpotiFlyer does, as it has applied advanced programming methods to take resources from the original Spotify database, the output quality can still be maintained in good condition. Now, also read the guide and download Spotify link to MP3 using Telegram bot on iPhone.
Step 1. When you have installed Telegram app on your iPhone device, open it and search for the "Spotify music downloader" in the app directly. Open the bot as you find it from the search results.
Step 2. Then go to Spotify and select the music you want to download as MP3 files. Copy its Spotify link and then paste it to send to the bot in the chatting window.
Step 3. When the converted MP3 results are sent back to you, directly save the songs on iPhone to enjoy offline.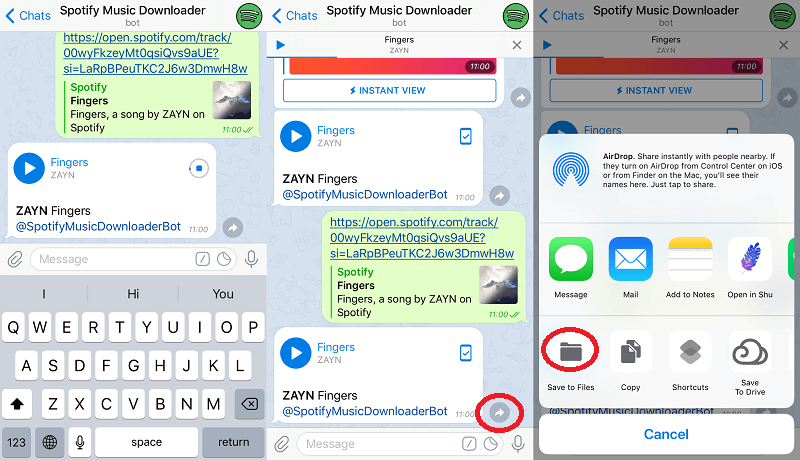 😆Pros:
● Allows to freely install and use on iPhone; ● Also works on Android phones; ● Doesn't need to subscribe to Spotify Premium to download Spotify link to MP3;
🙁Cons:
● The download failure would always happen; ● It only allows you to download 5 Spotify songs each time; ● The output quality can't be up to 320Kbps.
How to Download Spotify to MP3 Online for Free
If you don't want to install a software or any mobile application to download Spotify link to MP3, here also offers a free online Spotify link downloader, Spotidown.online, which will let you convert Spotify URL to MP3 online and download music to enjoy offline directly. As the tool is a web-based one, you can use it no matter you are using a computer, a mobile phone, or even a tablet. Now, learn how to download music from URL to MP3 with this online Spotify to MP3 converter on all devices easily.
Step 1. Copy the Spotify link of the music you want to download from the official platform first.
Step 2. Go to Spotidown.online in a web browser and then directly paste the copied Spotify link to the searching bar. Click "Download" and it will be converted immediately.
Step 3. When the converted MP3 file is provided, click "Download" and you can download music from URL for offline playback.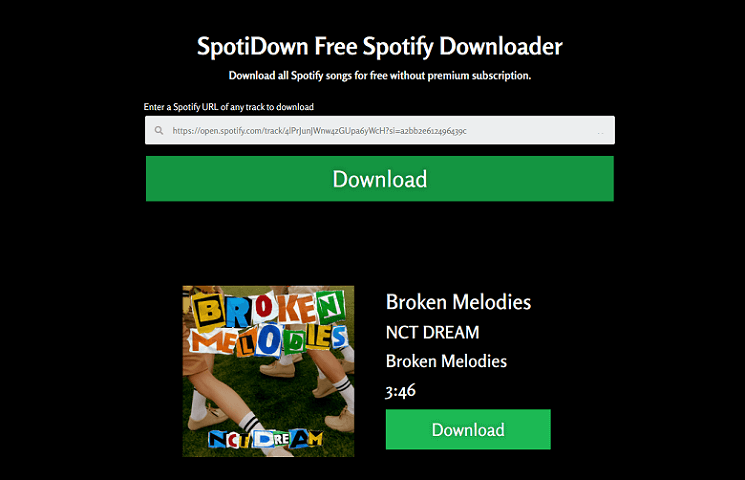 😆Pros:
● Doesn't need to install any software to download Spotify link to MP3; ● Offers the music download service completely for free; ● Saves ID3 information for the downloaded Spotify songs; ● The download speed is fast.
🙁Cons:
● There are many ads on the web pages; ● Doesn't allow to select output quality; ● Playlist download is not supported.
FAQs About Spotify Link to MP3
Q1: Is It Legal to Download Spotify to MP3?
It depends. But you are suggested to download Spotify to MP3 for personal offline playback. For one thing, some countries have legislated to limit users to download Spotify to MP3. In this way, copyright can be protected to some degree. For another, trying to copy Spotify URL to mp3 for commercial purposes will put you at risk.
Q2: What Difference Between Spotify Song, Playlist, and Album Links?
A Spotify song can be contained in different playlists and albums. Meanwhile, playlists are song lists created by users, while albums are generated by uploaders. A song link is like a code that makes it easy for software or devices to recognize what's in it. That is to say, if you share a link to a Spotify song, then the link will correspondingly display information about the song when it opens.
Q3: Can you link Spotify to an MP3 player?
If you are using a Spotify MP3 player, which can directly install the Spotify app on the device, for sure you can link Spotify to it and enjoy the music playback. However, if the MP3 players you are using doesn't have the network connection feature or can't install Spotify app at all, you can't directly link Spotify to play music on it. So if you want to listen to Spotify on MP3 players without Spotify installed, you will need help to download Spotify songs to MP3 using TuneFab Spotify Music Converter first and then transfer them to your MP3 players to enjoy offline.
Conclusion
Converting the Spotify link to MP3 is a mainstream method utilized by most Spotify downloaders to help people enjoy free music playback offline. But with TuneFab Spotify Music Converter, this manual process is realized in an automatic way, greatly facilitating productivity by downloading the Spotify link to MP3. Now the program offers a free trial. You can install it and try it now.
Was this information helpful?
TrustScore 2.5 | 35