Has it come up your mind that enjoying Spotify functions like skipping songs but just for free? If so then you can take a deep reading on this post. To fulfill the Spotify premium for Spotify Free users, you can get some Spotify Music Mod APK for help. However, when googling it, you must have found out that there are a great many.
In order to help you better make up your mind, we have downloaded some of them and tested out 3 effective Spotify Mod APK with no root for you. Now, just pick up your Android devices and follow the post below to get the suitable one for you.
Top 1. Spotify Music Mod APK from TutuApp Store
There is a Spotify Premium Mod APK from TutuApp Store, the aim of which provide the mod version of the paid apps like Spotify. For Spotify free users, you can download the TutuApp store on your Android devices and then get the Spotify Music Mod APK from it. After that, you can enjoy Spotify Music with various premium functions like blocking Ads.
Why do we recommend it as the top 1 Spotify Mod Premium APK?
#1 It is stable and easy to use.
#2 It is easy to get it installed on your Android devices even though you have changed the devices. Just one app store and then you can get it whenever you want.
#3 No virus and safe.
How to Use Spotify Mod Premium APK from TutuApp?
Step 1. Download TutuApp and install it on your Android devices.
Step 2. Uninstall Spotify on your Android phone and then get Spotify Music Mod downloaded and installed on your Android.
Step 3. Login Spotify Music Mod APK with your Spotify account and password.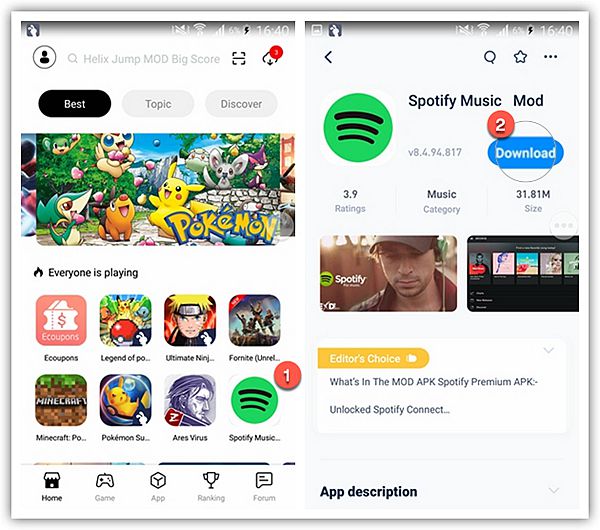 Is it simple and easy? Now, you can enjoy Spotify with no ads and unlimited skips but with no download functions. If you want to fix the download problem on Spotify Music mod, you can skip to the last part to get the answer. But if you want to seek out more Spotify APK mod for reference, you can keep reading the rest 2 Spotify music mod below.
Top 2. Spotify Mod APK from Trickscrunch
Spotify Mod APK from Trickscrunch is another kind of Spotify Mod APK, which is stable and update frequently. You can join their Telegram and then get the latest updated information with some incredible and helpful tricks. In other words, you can free from the updated problem and easy to get any help directly.
Just click to the link above and then get the Spotify mod APK downloaded and install on your Android devices. Afterward, you can enjoy Spotify premium functions at one click. However, it is also no downloading functions available. If you want to enjoy Spotify offline functions with Spotify Music Mod APK, skip to the last part to get your partner of Spotify Premium Mod.
Top 3. BestForAndroid Spotify Modded APK
BestForAndroid Spotify Modded APK is another Spotify Mod APK for Spotify Free users to enjoy the Spotify premium such as unlimited skips songs. But it is unstable and you need to wait for several days and even more for getting the updated version. The same as the other Spotify Music mod APK, it is hard to get the Spotify Music downloaded. To fix this problem, you need a professional Partners of Spotify Mod Premium Apps, which will be introduced in the next part.
Your Best Partners of Spotify Mod Premium APK: TuneFab Spotify Music Converter
As it is known to all that Spotify are under DRM protection, it is hard for Spotify Free and Premium users to download Spotify and remove DRM from Spotify Music. However, with some best Spotify Music downloader like TuneFab Spotify Music Converter to get all the Spotify Music, playlists, tracks, albums and more downloaded on your computer for transferring Spotify Music to your Android devices. Then you can enjoy Spotify Premium Mod APK with downloading functions.
TuneFab Spotify Music Converter: Best Spotify Music Downloader
#1 Convert Spotify songs, playlists, albums, etc to the plain music file format.
#2 Fully support the common music format, like MP3, M4A, WAV(Windows) and FLAC.
#3 Output high quality with all metadata kept, like ID3 tags.
#4 Adjust the size of the windows of the converter according to your needs.
#5 Default conversion speed is reach up to 5X.
#6 Get more from having a free trial.
Full Tutorial: How to Download Songs from Spotify for Free Effectively
Download TuneFab Spotify Music Converter From Here
Congratulations! You have successfully got your best Spotify mod premium APK downloaded on your Android devices with the best partner to get your Spotify music downloaded. Now start here to enjoy Spotify Music with premium functions without paying for Premium. If you have any problem with using Spotify, please let us know. Bear in mind that share it with your friends if you think it helpful for your friends. Enjoy!
Was this information helpful?
TrustScore 2.3 | 3