Spotify - "Spotify gives you instant access to millions of songs – from old favorites to the latest hits. Just hit play to stream anything you like."
Spotify is a comprehensive and popular station that provides music, podcast, and video streaming service. However, there are lots of limitation when listening to Spotify songs, like the DRM protections and no download-to-mp3 option. Hence, it is better to find other best Spotify alternatives for enjoying music better. Here is the top 6 list of amazing Alternative of Spotify Music and for taking into consideration.
Don't Miss:
Ultimate Guidance on How to Remove DRM from Spotify Music (2018 New)
CONTENTS
No.1 Apple Music
Apple Music - "45 million songs. Three months on us."
As stated above, Apple Music host 45 million songs and provide 3 months for Apple Music to have a try. During the three months, you can enjoy Apple Music the same as the subscribed users. First, you can try to download the music on your iPhone or from your iTunes. Second, you can enjoy 256Kbps music quality for all the Apple Music songs. Most importantly, it is no Ads disturbed when listening to Apple Music.
After free 3 months free trials, you can choose to keep on using Apple Music by subscribing as the member or not. There are 3 kinds of Apple Music membership to choose from. They are Students in the payment of $4.99/mo, Individual $9.99/mo and Family $14.99/mo.
Related Reading: Solved! How to Cancel Your Apple Music Subscription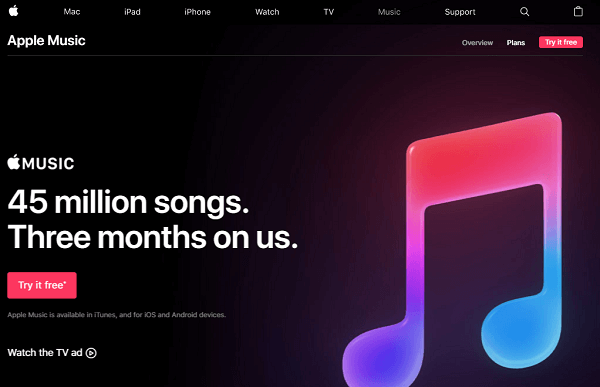 Pros:
a. No ads interrupting when enjoying Apple Music.
b. Membership option is varied.
c. Free Trial is longer than other streaming music services.
d. Allow setting the Equalizer.
e. Mini Player is available for setting when working busily.
Cons:
a. The downloading songs are protected.
b. No web player available.
You'll love it:
Flash Tips: How to Convert Apple Music to MP3
The Two Largest Competitors - Apple Music and Spotify
How to Adjust EQ Settings with Apple Music Equalizer
No.2 Deezer
Deezer - "Discover, enjoy, and share the music you love."
As a music streaming website, Deezer provides millions of music tracks, including pop music, classical music, hip-hop, rap, etc. There are two membership levels, paid and free respectively. Paid membership also has two options, $4.99 and $6.99 per month. The former is ad-free and equipped with a limited mobile app, while the latter allows you to enjoy full mobile features. If you pay for the register version, you can enjoy the sound of higher quality which reaches 320 kbps. Deezer is now available in more than 100 countries.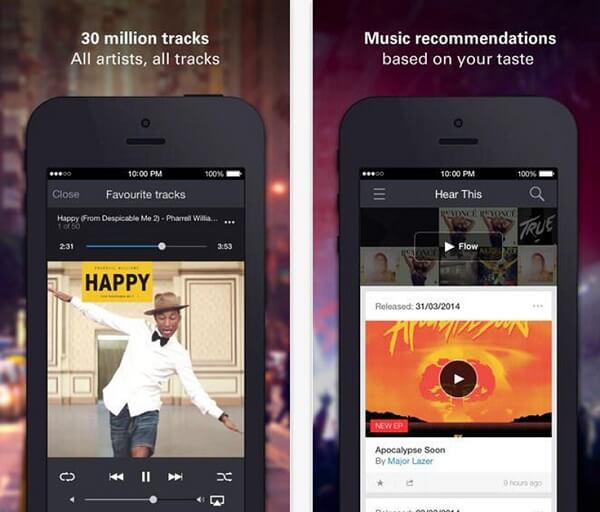 Pros:
a. Deezer has three membership levels, providing you with various features.
b. It is available in many countries.
c. Songs on Deezer website are of high quality.
d. Supported by a wide range of platforms.
Cons:
a. Not easy-to-navigate interface.
b. Limited music library.
c. Extra payment required for support on mobile devices.
No.3 Google Play All Access
Top 3 Spotify alternative we will introduce is Google Play All Access. It is the main product that Google developed to penetrate the streaming market. You can open Google Play All Access on your mobile phone and your computer. Google Play has abundant resources, including up to 20 million songs. Each track is of good sound quality.
Google Play All Access, however, does not provide a free version. To use Google Play All Access, you are required to pay $9.99 per month. To optimize your user experience, Google Play All Access allows you to build the playlist that is based on your interest and listening history.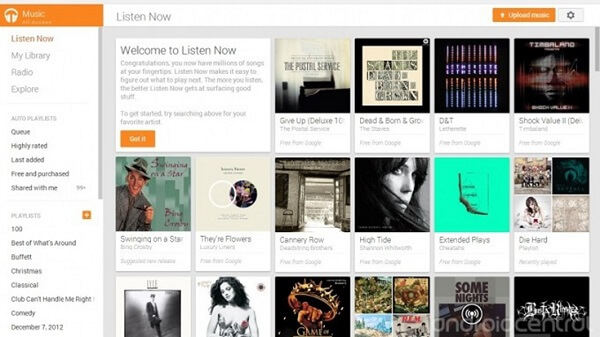 Pros:
a. Large music catalog.
b. High sound quality.
Cons:
a. Available only on the website.
b. Non-free.
No.4 Grooveshark
Grooveshark - "Listen to any song in the world for free and create a playlist in the new Grooveshark."
Other than cooperating with recording companies so as to contents from them, Grooveshark chooses to use contents uploaded by users. All music tracks in Grooveshark are uploaded by users, amounting to millions of songs. Like many kinds of music streaming websites, Grooveshark provides two versions, free and paid. The free version comes with ads. To block ads, you can be paid $5 subscription fee per month to get the full version. With the account, you can sign in Grooveshark anywhere, no matter on your computer or your portable device like iPhone 8/7s/7.
However, Grooveshark issued by several record companies due to rights infringement. Thus, if you attach great importance to legal access, Grooveshark is not your choice. Now, except few devices like Blackberry, Grooveshark App has been removed from Apple Store and Android stores. Grooveshark's sound quality varies from track to track due to the nature of the content.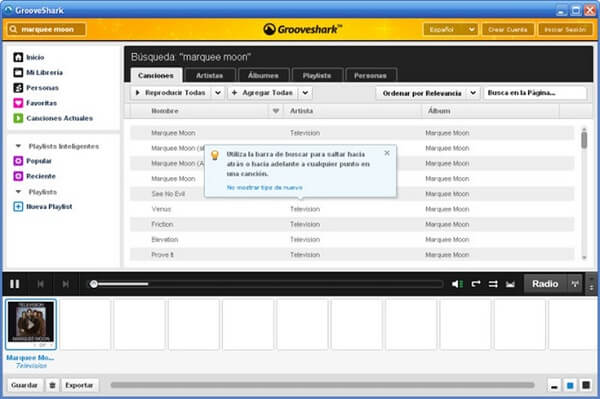 Pros:
a. Large music catalog.
b. Supported by Blackberry.
Cons:
a. Compromised sound quality.
b. Facing lawsuits because of music copyright infringement.
No.5 Last.fm
Last.fm - "Listen to free music and watch free videos with the largest music catalog online."
Last.fm, as its name implies, is a streaming radio station that allows users to enjoy music online. Since built, this website has been aligned with its concept, bringing together your favorite music services and join up listening, watching and sharing to connect your musical world. And the station provides music of good sound quality. However, the limitation is that you are not allowed to generate and customize playlists.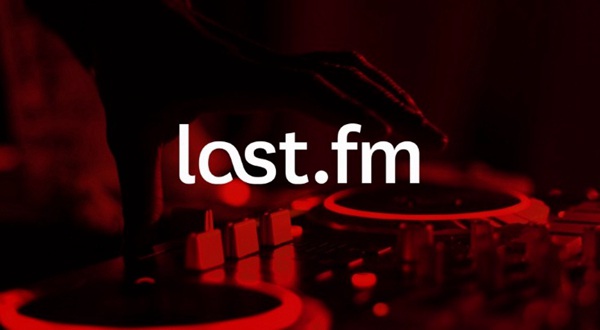 Pros:
a. Provides music of good sound quality.
b. Abundant music resources.
Cons:
a. Customization is not allowed.
No.6 Pandora Radio
Pandora Radio - "Listen to free music you will love."
Like Last.fm, Pandora Radio is also an online streaming radio site which consists of themed stations. The library of this site encompasses about 1 million songs. On Pandora Radio, you can build your own playlists. For the better experience, you can skip songs you don't like. However, you can only skip for certain times per hour. This site is only available in the U.S. now-but the team is working on bringing Pandora music service to other parts of the world.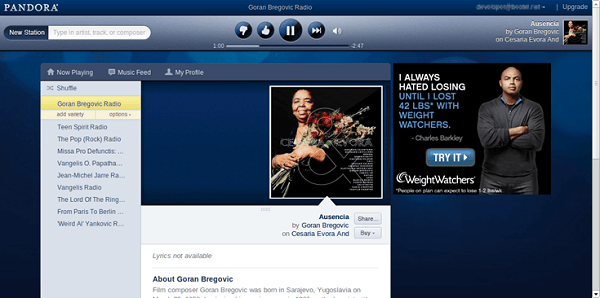 Pros:
a. Less expensive than many other music sites.
b. 1 million songs included.
Cons:
a. No customization.
b. Small music catalogue.
That's all. Actually, there are many other Spotify alternatives, such as Google Play Music. Just select the one that attracts you to enjoy music.
Was this information helpful?
TrustScore 1 | 1