Spotify app takes up your Windows/Mac/iPhone's available memory storage for 2 purposes:
To store temporary, or snippets of music for streaming (i.e. as cache). So when you press play, you hear the music immediately without interruptions.
To store downloaded music tracks so that you listen to them offline (This is for Premium users only).
So if you have installed Spotify app in your Windows/Mac/iPhone and other devices for long and have been a regular user, your device should have stored lots of caches, including offline playlists, albums, cover images, traces of recently listened songs, streamed tracks, etc. Owing to these cache files, you can quickly playback songs without streaming them from the server again. But this will take up lots of the hard disk space. If you want to relieve space for your device and speed up your app, you can clear Spotify cache from your Windows/Mac/iPhone following the quick and easy tips below.
CONTENTS
Part 1. Permanently Delete Spotify Cache from Windows
Mostly, after uninstalling the Spotify from your computer, some traces of the program still remain in your computer. To thoroughly clear Spotify cache and get rid of traces left around, you need to manually remove cache files from the cache folder.
Spotify cache files and local cache data are always kept inside the below folders:
1) Spotify Cache:
Windows: C:\Users\*USERNAME*\AppData\Local\Spotify\Storage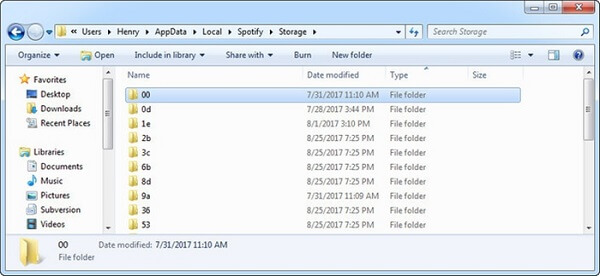 2) Clear "Local Files" Cache:
Windows: C:\Users\*USERNAME*\AppData\Roaming\Spotify\Users\username-user\local-files.bnk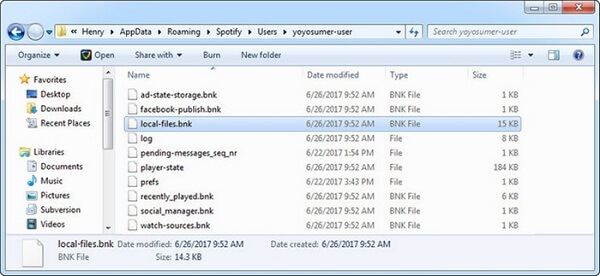 Part 2. Empty Spotify Cache Files from Mac Once for All
The folder which stores Spotify caches is big because cache data includes album covers and stuff of songs you have listened to the most. To clear Spotify caches, just delete the folder that stores cache files. This will not affect the operation of the program in your computer.
Generally, Spotify keeps its cache files as well as the local file in the following locations respectively:
1) To clear Spotify cache, please delete data in the below path:
Mac OS X: /Users/*USERNAME*/Library/Caches/com.spotify.client/Storage/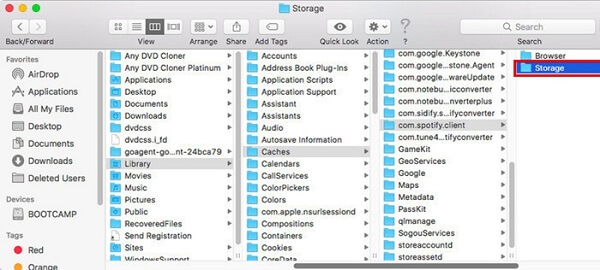 2) To clear "Local Files" cache, please delete the file in the below path:
Mac OS X: ~/Library/Application Support/Spotify/watch-sources.bnk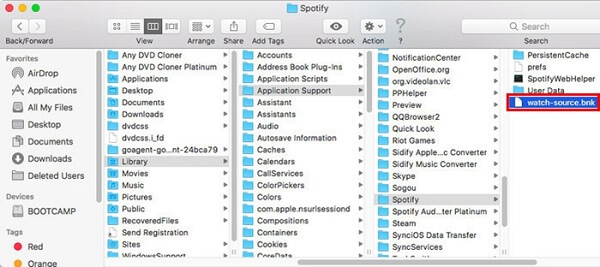 Part 3. Thoroughly Clear Spotify Cache Files from iPhone X/8S/8
It is undoubtedly that Spotify is a very attractive music service. However, it takes up a lot of space on your iPhone. In addition to deleting and reinstalling the app, it is another way to optimize the app so as to reduce its taken space. That is to update the app.
Tip 1: Delete and reinstall Spotify
Uninstalling Spotify and then reinstalling it in your iPhone can reduce its taken place amount. The reason is that once the Spotify app is deleted and reinstalled, it will download properly so unnecessary app caches will not be produced.
To delete and reinstall the Spotify app on your iPhone X/8S/8, please perform steps below:
Step 1. Go to the home screen and locate the Spotify app.
Step 2. Long tap on the Spotify app icon.
Step 3. When the "X" icon occurs, click it to delete the Spotify app.
Step 4. Go to App Store. Search the Spotify app. Then download and install it.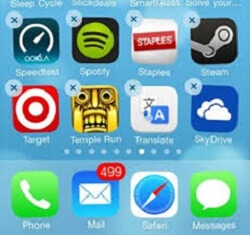 Tip 2. Delete Offline Playlists
Deleting offline playlist is also useful to clear Spotify cache and save space on your iPhone X/8S/8, etc.
To delete Spotify offline playlist, please perform steps below:
Step 1. Open Spotify app on your iPhone.
Step 2. Tap on the offline playlist title that you are going to delete from Spotify.
Step 3. Delete the selected playlist accordingly.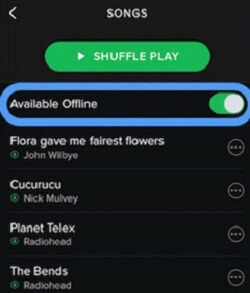 Tip 3. Reduce Spotify Stream Quality
To delete Spotify cache and accelerate the app significantly, you can reduce Spotify stream quality following the steps below:
Step 1. Go to "Edit" > "Preferences" > "Playback".
Step 2. Uncheck the "High-Quality Playback" option.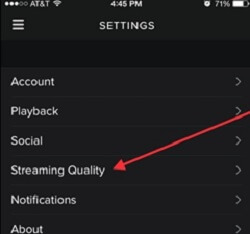 Tip 4. Update Spotify App in Your iPhone
Updating Spotify app can optimize your Spotify app go to relieve storage. So keeping the app updated is very important. There are two ways to update Spotify app. One is to switch on automatic updates so the app will automatically update. The other way is manual update.
Way 1: Switch on Automatic Updates
Go to Settings > Tap iTunes & App Store > Switch Updates on.
Way 2: Update Spotify Manually
Open the App Store > Tap Updates in the bottom right > Find Spotify and tap UPDATE.
Note: If Spotify isn't listed here, your app is on the latest version.
Part 4. Extended Reading: Download Spotify Music to Windows/Mac/iPhone
One day if you want to delete Spotify from your Windows/Mac/iPhone but keep the Spotify music on your local disk, you can download the tracks from Spotify app. And if you want to really own Spotify music and share Spotify music and video on Instagram story, you can remove DRM protection from Spotify music. To achieve goal above, TuneFab Spotify Music Converter can help.
Related Reading: Quick Ways to Listen to Spotify Offline for Free
Was this information helpful?
TrustScore 1 | 2