"I have downloaded some local files and played them on my iPhone, and everything was working perfectly, but after the latest update for Spotify, all of my local files Spotify not playing, it just simply greys out and the playlist automatically skips the music. I am having Premium account, the latest version for the iOS system, but just after this update it screws me up, can't even add new songs either! Please fix this bug."
The feedback above is from a Spotify user who found Spotify can't play local files, and some of you may also encounter the same issue. Although Spotify has enabled the feature for you to import local files to Spotify for playing, sometimes unexpected errors like local files Spotify not showing or not playing will occur. Then how to fix such problems to have a good experience?
In today's blog, we have collected 8 useful ways to help you fix Spotify local files not playing issue. If you also run into such a problem, find the appropriate solution to fix it now.
CONTENTS
Solution 1: Check Whether You've Enabled Local File Setting
If you find your Spotify local files not showing up after importing them to the software, you'd better first check whether you have enabled the Local Files setting on. By disabling the setting, Spotify will not show them to you. The following steps guide you how to turn on the setting to easily fix local files not showing up in Spotify:
STEP 1. Launch Spotify and click your profile image.
STEP 2. Navigate to "Settings" > "Local Files" to turn on the "Show Local Files" option.
STEP 3. Also move to the "Show songs from" section and enable all locations where you preserve the uploaded local files.
Once complete, return back to Spotify playlists and you will see the local files showing up now.
Solution 2: Check the Local File Format
Another possible reason causing Spotify local files not showing may probably be the format incompatibility. As Spotify supports streaming local music files of MP3, MP4, and M4P formats, when your files are encoded in other ones, Spotify would hide them and doesn't show them to you.
Hence, before uploading any local file to Spotify, you are recommended to double-check whether the format extension of the files is in .mp3, .m4p, or mp4. If not, you should convert them to Spotify's compatible formats first or the Spotify local files not showing error will occur.
Solution 3: Try to Add Local Files to Spotify Again
Another possible reason leading to Spotify local files not syncing problem may be that you do not upload local files to Spotify correctly. Therefore, you can try to add songs to Spotify again to ensure the complete music uploading, in order to fix the local files not showing up on Spotify error. Commonly, you need to finish 2 steps to add local files to Spotify and even enable the local files showed up across devices:
STEP 1. Upload local files to Spotify.
Go to Spotify desktop > Choose "Settings" > Find the "Local Files" section > toggle on "Show Local Files" > Click the "ADD A SOURCE" button to add the local files.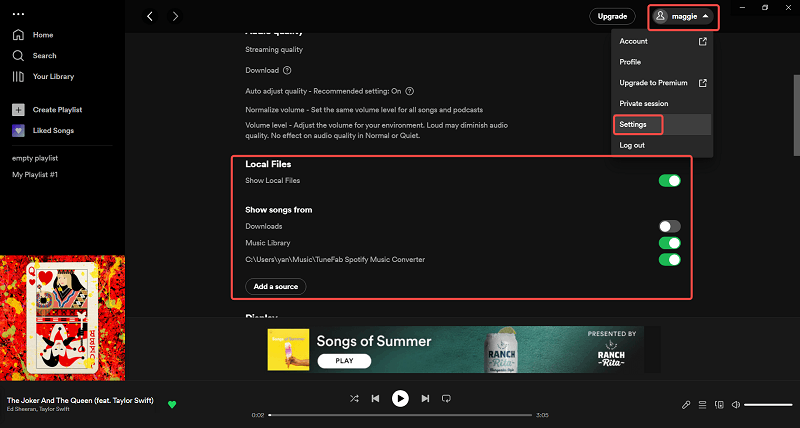 STEP 2. Add Local Files to A Playlist
Before starting to sync the local music files from computer to your mobile devices, you are required to add them to a playlist (or the music syncing will fail). Simply create a new playlist and import all local files you just uploaded to Spotify to it.
STEP 3. Sync Spotify local files across devices.
On iOS: Tap the "Home" icon > Tap the "Settings" icon > Tap "Local Files" > Switch "Show audio files from this device" on.
On Android: Tap the "Home" icon > Tap "Settings" > Switch "Show audio files from this device" on.
Then, the local music files are able to show up on more devices for you to stream now!
🏖 Note:
Make sure your device connects to the same Wi-Fi that your computer connects to, or you may fail to sync the local files. It can also solve Spotify local files not showing on the phone.
By processing the complete local files upload correctly, you not only fix the Spotify local files not showing errors, but also get them available on more devices! After that, you are available to enjoy the local file playback on different devices within Spotify without hassle!
Solution 4: Clear Spotify Cache
When your Spotify software is overwhelmed with cache data, it will get corrupted so leads to some unexpected errors such as the Spotify local files not showing problems. So the simplest way to fix the issue caused by cache data, you just need to clean it up and try to see if the local files can show up again. On computers and mobile phones, you are able to follow the steps below to do it properly.
On Computers
STEP 1. Click the profile image > "Settings".
STEP 2. Scroll down to "Storage".
STEP 3. Hit "Clear cache" to clean the data up.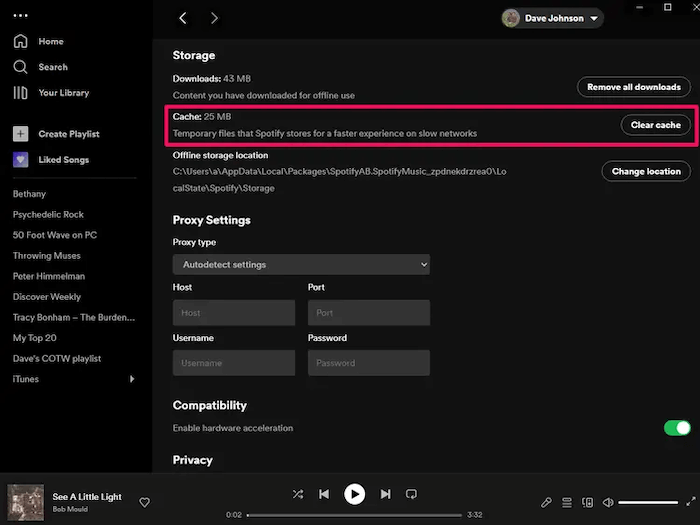 On Mobiles
STEP 1. Launch Spotify app and click the "Settings" icon in the upper-right corner.
STEP 2. Scroll to tap the "Storage" option.
STEP 3. Submit "Clear/Delete cache".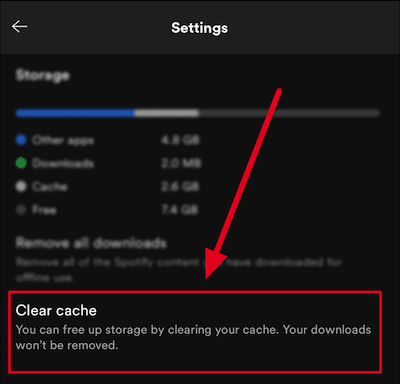 Solution 5: Relog in Your Spotify Account
Spotify local files uploading feature is available for Spotify premium subscribers. Hence, when local files not showing up on Spotify, you should consider whether you are using the account with valid Spotify premium subscription. If you have checked. The subscription status is active but Spotify still fails to show the local files for you. You are able to try re-logging in the account again, as sometimes Spotify will wrongly detect the account status and cause errors like this. After you log in, the local files may be able to play then.
Solution 6: Delete Index.dat in Spotify's Storage Folder
When you have gone through the above methods but still find Spotify not playing local files or even showing them up for you, you should probably look for whether the software has installed the index.dat file on your desktop. This document can cause Spotify data corrupted, so by deleting it, Spotify will rebuild the cache and help you to access local files again. Here is how to process it:
STEP 1. In Spotify software, go to profile > "Settings" > "Offline storage location" to see the storage location and whether Spotify software saves data on your desktop.
STEP 2. Follow the location path and then access the folder in File Explorer to find the Index.dat file.
STEP 3. Stop running Spotify and shut down the software in the background.
STEP 4. Simply delete the index.dat and then reopen Spotify again to check whether the local files can show up now.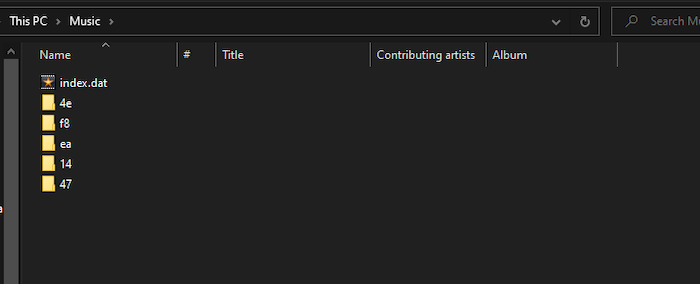 Solution 7: Reinstall Spotify to the Latest Version
The function of adding local files to Spotify is smoothly available on the newest version of Spotify, but it may not work well on the older version. So just check if your Spotify app is updated so this feature is not well compatible and performs properly for you. If yes, try to reinstall the newest version. Once the software is updated, the Spotify local files not playing error will automatically be solved.
Solution 8: Download Spotify to MP3 and Play Local Spotify Files on Another Player
When you have tried all methods above but Spotify local files are still failing to show up and play in the software normally, you can actually try to get Spotify songs out of Spotify software and save them as MP3 music files, then import them with the local files to play in other popular media players instead of using Spotify.
But to download Spotify to MP3 for playing on mainstream media players other than using Spotify, you will need help from TuneFab Spotify Music Converter to remove Spotify DRM and convert the songs to MP3 format properly. The software will ensure original music quality (up to 320kbps) to output Spotify music files in DRM-free status, making it possible for you to transfer the songs for playing in any media player you have installed. Despite this, with its powerful batch playlist download feature and 35X faster acceleration teches applied, you are able to grasp as many as Spotify playlists downloaded simultaneously without wasting much time.
📚 All Attractive Features of TuneFab Spotify Music Converter
• Integration with Spotify web player to download any resources as you like;

• Mainstream formats such as MP3, M4A, WAV, FLAC, AIFF, and ALAC available for selection;

• Quality customization feature available (up to 320kbps supported);

• Auto music downloads categorization feature equipped;

• Acceleration teches applied to ensure 35X or even faster batch playlist downloading performance;

• Full ID3 tags preservation.
Now, grasp the steps to save Spotify songs to computer for playing with local files on other media players without limitations now:
STEP 1. Install and Launch TuneFab Spotify Music Converter
Firstly, you need to hit the download button here to install TuneFab Spotify Music Converter. Once complete, launch the software and enter to log in the built-in Spotify web player to ensure the successful conversion.
STEP 2. Add Spotify Songs to the Converter
TuneFab Spotify Music Converter allows you to add Spotify Music to convert in 2 ways: drag and drop or click the blue icon "+" in the down-right corner. Both ways are easy. You just need to pick the songs or playlists you want to convert and add them to the converting list.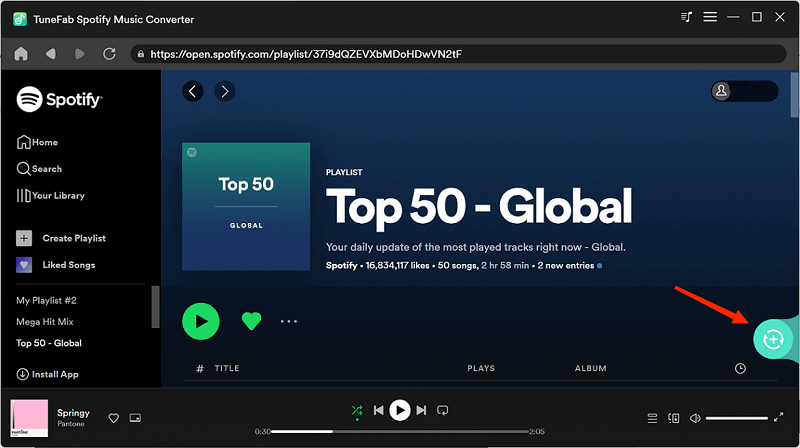 STEP 3. Select Output Format and Output Folder
On the converting page, you can select the output format before downloading Spotify songs. For further adjusting the output parameters, simply navigate to "Menu" > "Preferences" > "Advanced" to customize both sample rate as well as bitrate as you need (44.1kHz and 256 kbps are set by default, also the recommended ones).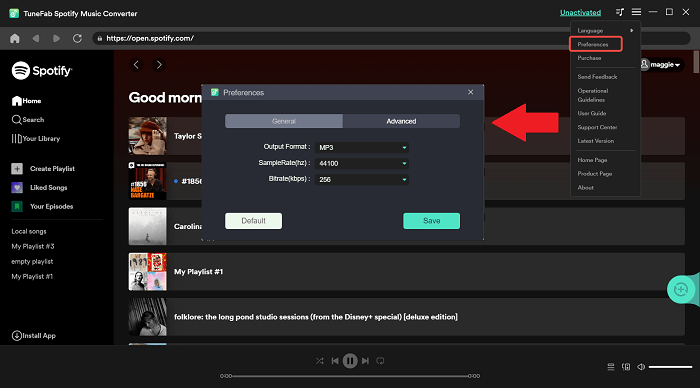 To easily find the converted items with your local files, you can select the output folder that stores your local files. Or you are available to tag to categorize the music downloads into different folders automatically as you need
Besides, you can also set tags to edit the file names of the output Spotify songs here.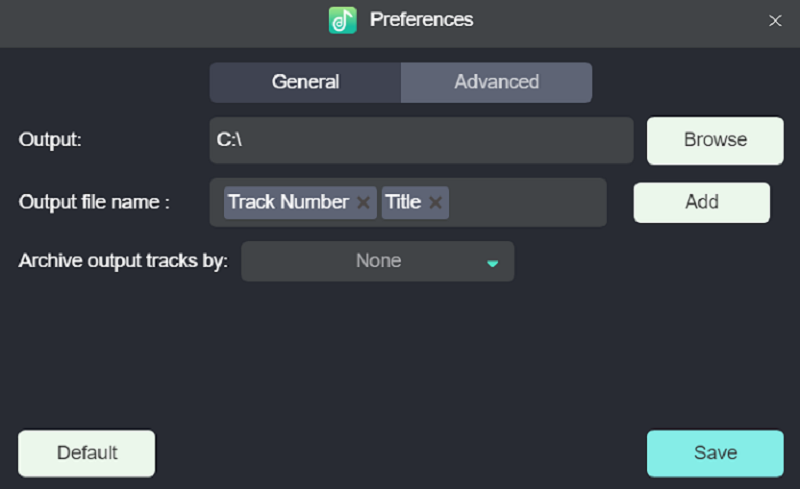 STEP 4. Wait for Conversion Completed
After choosing formats, you can start to convert them by clicking "Convert All". When the music has fully converted, just click to Finished to view all the converted music.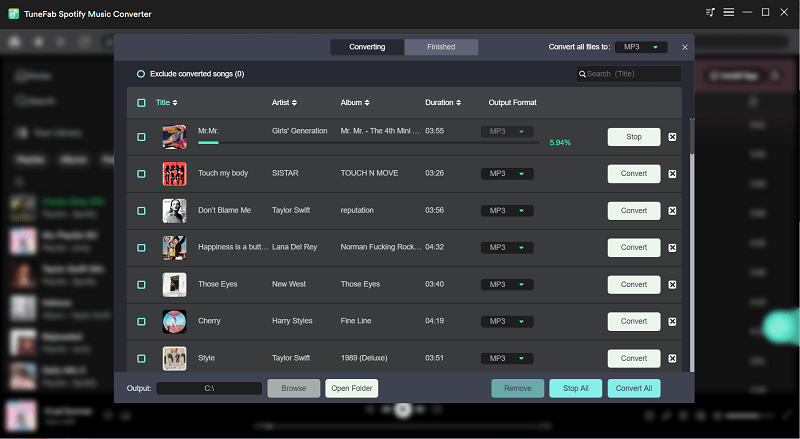 Conclusion
Local files not playing on Spotify can be annoying, but solutions are always available for you. And if you don't want to encounter the problem again and again, TuneFab Spotify Music Converter is a good assistant, and we highly recommend you to have a try. Hoping that this passage can be of some help to you!
Was this information helpful?
TrustScore 1.7 | 74