With tons of video players available for the Internet, choosing the right one that can play M4V files is not an easy task. Not to mention that some of the M4V files have copy protection, making it difficult to be recognized by some video players. With the more M4V video content available than ever before, which is the best M4V player for PCs or Android phones? – If you are curious about this question, you are in the right place.
Here are our top picks for the best M4V players of 2020 for Windows, Mac, Android, and more, ranging from light, easy-to-use players to highly configurable powerhouses, in order to meet your unique demands. Just check out the best video players you can download right now for playing your M4V movie collection.
CONTENTS
Part 1. Best Free Media Players for Playing M4V Videos (2020)
1. iTunes
Operating Systems: Windows, macOS
Pros:

It can play DRM-encrypted M4V videos

It works perfectly with Apple Devices

Powerful sync feature

A treasure trove of music, movies, and podcasts

Cons:

Supports limited video and audio formats

It can consume high CPU in Windows
When talking about which video player is compatible with M4V files, we usually suggest Apple iTunes. This is because the M4V container format is developed by Apple and used in video contents from iTunes Store. And as you may notice, iTunes movies and TV shows use .m4v file extension. M4V basically is an iTunes supported format. Therefore, iTunes is the optimum choice for playing either DRM-protected M4V files or DRM-free M4V files.
One of the greatest features of iTunes is that the software acts as the gateway to iTunes Store, which is home to a countless number of movies, songs, and podcasts for purchase. Also, it is a great organizer for your music and videos. When connecting your Apple device such as iPod or iPhone to the computer, you can use iTunes to transfer songs, images, and videos. It assists you in keeping your files organized.
But the downside of iTunes is also obvious. Limited file formats can be opened and played in iTunes. Besides, the program is better compatible with mac OS, which means the user experience can be annoying on other systems.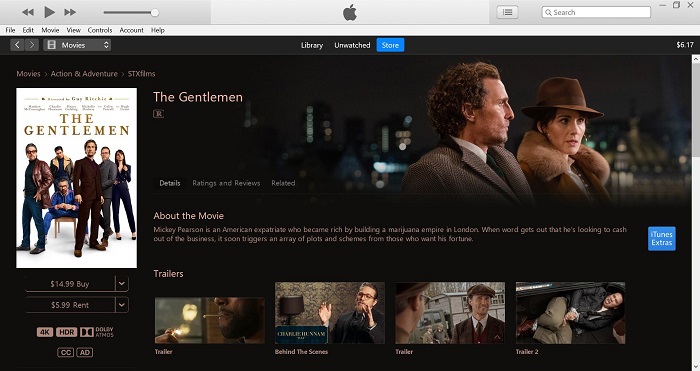 2. VLC Media Player
Operating Systems: Windows, macOS, Linux, Android, iOS
Pros:

Supports multiple video formats

Offers an impressive array of tools and controls

Available on almost all platforms

Receives frequent updates and has a large user base

Cons:

Contains many advanced features for newbies to figure out

Cannot play DRM-protected M4V files
VLC Media Player is one of the best media players known for its ability to handle almost any video you throw at it. As a versatile video player, it supports playing 360-degree videos, movies, and clips up to 8K resolution. Even some unusual codecs or formats can be recognized by this powerful video player.
What is more, VLC offers quite a few tools and features to improve your viewing experience. You can add filters or make some basic editing on your clips. Apart from that, VLC also supports network streaming allowing you to play videos from popular websites like YouTube. It even lets you capture your screen!
Besides, VLC works perfectly on almost all platforms such as Windows, macOS, iOS, and Android. It is often considered as one of the best M4V players for Android, as it comes without any ads or in-app purchases but equips with powerful features.
It is no surprise to see VLC gaining such massive popularity. But for users with a bunch of iTunes movies, the major disadvantage of VLC is that the software cannot play DRM-ed M4V videos. Still, it is possible to play iTunes Movies on VLC (More Information: M4V in VLC – How to Play iTunes M4V Videos in VLC Media Player) And it could be difficult for amateurs to access and apply some of the advanced features.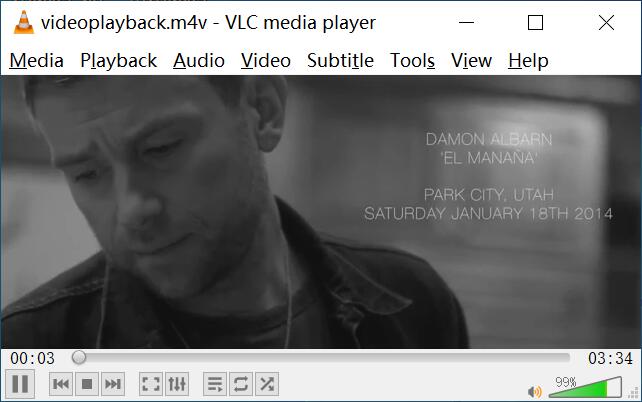 3. GOM Player
Operating Systems: Windows, Android

Pros:

Clean interface

Friendly to a wide variety of codecs

Supports screencasting

Cons:

Bundled with extra software

Available on limited platforms
GOM Player is another powerful video player that enables you to watch several video files saved on your Android or PCs. In addition to playing M4V (non-DRM) on GOM player, you can play most popular video formats like AVI, MKV, MP4, FLV, MOV, and more. It even has a codec finder service which lets you search for methods to play some uncommon codecs.
Also, it offers extensive advanced features for video playbacks, giving you pleasant viewing experiences. You can also use GOM player to cast a screen, allowing you to play M4V videos on a larger screen.
Besides, GOM Player has a useful subtitle finder allowing you to download lots of subtitles to enjoy movies and TV shows in your preferred language. Pitifully, this free media player only works on limited platforms and the download may come with some additional programs bundled in the installer.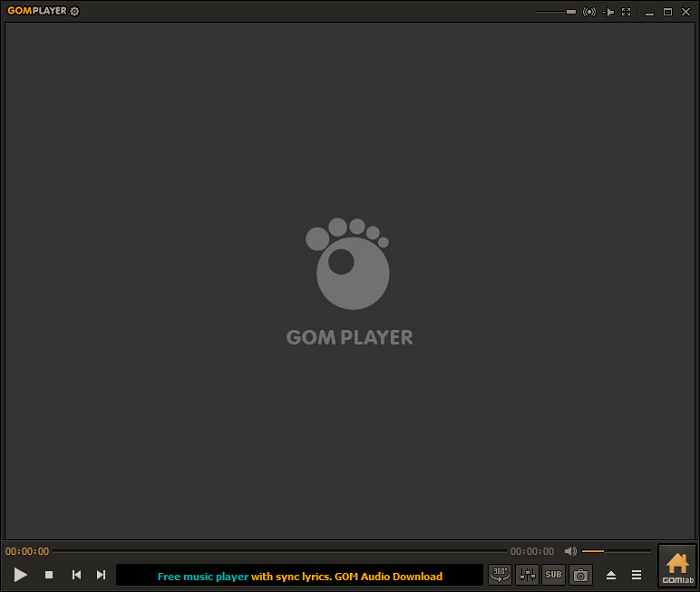 4. PotPlayer
Operating System: Windows
Pros:

Lightweight and clean interface

A wide selection of customization options

Constantly updates codecs

Cons:

Can be tricky to locate your needed features

Limited to Windows

Not open-source
Similar to VLC Media Player, PotPlayer is also an amazing media player with tons of features and specialties. When first launching the program, you are very likely to be astounded by the sleek UI design.
In addition, PotPlayer gives you a wealth of features and controls to adjust your playback settings. For instance, you can customize several shortcuts and hotkeys to access your frequently-used settings without a hitch. Also, it allows you to choose between sound cards, bookmark your favorite scenes, and preview them.
More importantly, when you throw a file format that is not already supported at this software, PotPlayer will automatically download the needed codecs so that you can continue to play your video. With a lot of features in this software, you may worry it may produce high CPU load. Surprisingly, PotPlayer is a lightweight software that can load faster than just about any other video player available in the market.
When it comes to its drawbacks, it is lesser-known that PotPlayer is free but proprietary software, which means you may not be able to create a version by using its source code to fit your needs. Also, it only available on Windows. After all, PotPlayer still is a powerful media player for PCs if you are seeking a VLC alternative.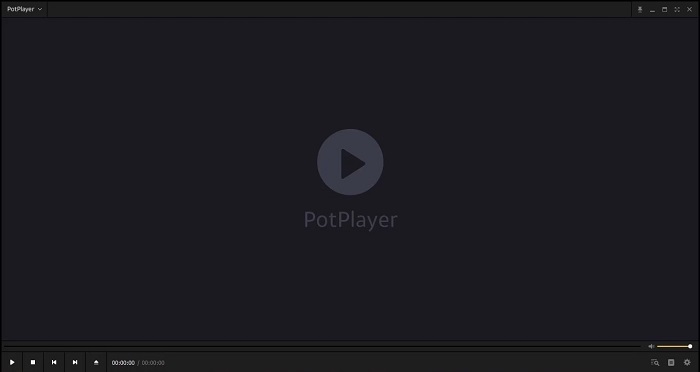 5. QuickTime
Operating Systems: Windows, macOS
Pros:

Perfectly compatible with iTunes files

Easy to use interface

Screen capture feature

Cons:

No longer provides Windows support of the program

Cannot recognize common subtitle files

Not supported some codecs
As it is bundled into macOS, QuickTime Player is always the default option for many Mac users. But if you are a frequent customer of iTunes Store, then you are advised to lean toward this media player because it enables you to play iTunes purchases with ease. Also, QuickTime Player is as intuitive as many other Apple products.
But the pitfall is that Apple officially ceased Windows support of QuickTime Player in 2016. Therefore, this program should be more favorable to Mac users who are immersed in Apple's ecosystem. But if you have plenty of video files with unusual codecs, you should be aware that QuickTime player may not have a playback support system for these files. And it cannot play some popular file formats such as AVI and FLV.
However, its amazing H.264 video compression technology greatly assists in delivering brilliant and crisp HD videos. Also, it should be a perfect M4V player in addition to iTunes for it is compatible with both DRM-free M4V files and DRM-encrypted M4V videos.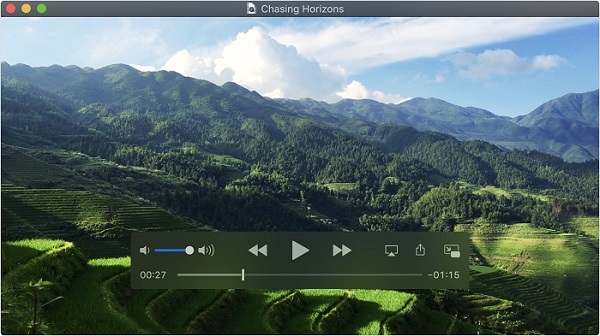 6. DivX Player
Operating Systems: Windows, macOS (not yet working on macOS 10.15)
Pros:

Perfect compatibility with videos that are encoded with DivX

Play videos with multiple audio and subtitle tracks in several formats

Great streaming support

Cons:

Some features are only available on its paid version

It may contain ads
DivX Player is the official video player released by DivX company and therefore, it allows you to play the DivX Media Format (DMF) with no hassle. Additionally, the free version of this software supports playing popular video formats such as MKV and HEVC up to 4K resolution.
Besides, with its convenient Resume Play feature, you can simply jump to the point where you left off. Furthermore, it can function as a streaming media player which enables you to stream music, videos to DLNA-compatible devices such as smart TVs, gaming consoles, tablets, Chromecast, and more.
But remind that this program also cannot work with M4V video with DRM protection. Although the free version is versatile enough to meet most of your needs, for those who care about cloud connect, the paid version can even sync videos from Google Drive and Dropbox.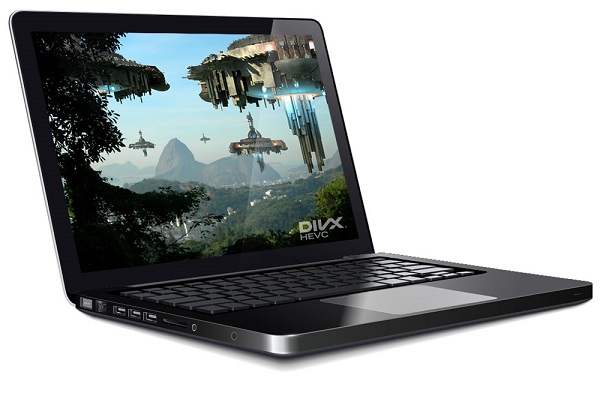 7. Plex
Operating Systems: Windows, macOS, Linux, Android
Pros:

Stylish and straightforward interface

Support multiple platforms

Powerful media management

Cons:

Not supports HTPC

Limited music supports
Plex is famous for providing global ad-supported video-on-demand content. Integrated with Plex's server software, Plex offers users with movies and TV shows from major studios including MGM, Warner Bros, Lionsgate, and etc.
But on its own, Plex is an awesome local media player as well. It lets you manage your large media collection such as movies, TV shows, music, and images in an organized way. Also, with its convenient sharing feature, you can easily share your server with others. You can also find Plex has a wonderful playback performance on devices such as Android, Xbox, PS3 and etc. All these can be achieved with a free account.
When it comes to content support, file types such as MP4, M4V MKV, AVI, and MPEG can be played without any bother. As for music support, the options may be fewer but acceptable. MP3 and M4A are usually supported for music playback. But audio formats such as FLAC or ALAC will be transcoded by your Plex Media Server to be compatible.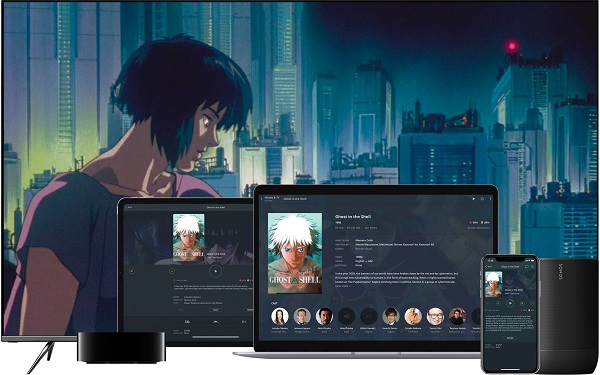 8. MX player
Operating Systems: Android, iOS, Windows
Pros:

Great support for popular formats

Useful playback features

Hardware acceleration

Cons:

Ad-supported

Support for DTS and AC3 audio is not available
The #8 entry on our list of best M4V players in 2020 is MX Player. This is the first Android player that applies multi-core decoding which enjoys an excellent performance. This is a powerful and popular M4V player for Android other than VLC for Android. It supports various swipe gestures and includes features like pinch to zoom and pan, and subtitle gestures.
Pitifully, MX player does not offer DTS and AC3 audio support due to licensing issues. And it contains some annoying ads in its app. Aside from that, MX player is overall a useful M4V player for Android.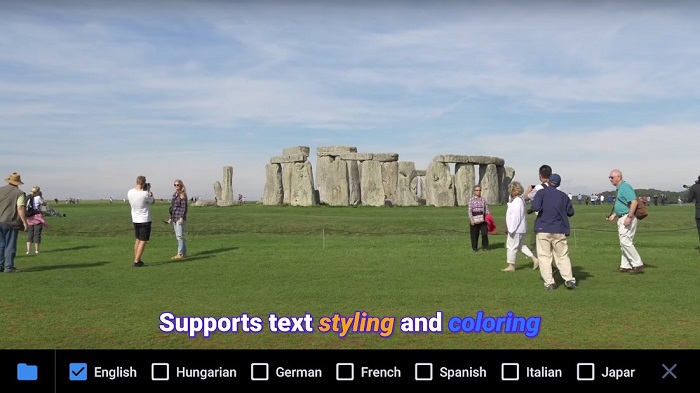 9. Video Player All Format (XPlayer)
Operating System: Android
Pros:

Broad formats support

Helpful gesture controls

Hardware acceleration

Cons:

Includes ads

Contains in-app purchases
As its name indicated, Video Player All Formats (also known as XPlayer) is a professional video playback tool. Basically, it supports all mainstream video formats including MKV, MP4, M4V, AVI, MOV, TS and etc. It is one of the most highly-rated Android M4V players in the Play Store. The helpful gesture controls allow you to easily alter volume, brightness and playing progress.
Also, 4K or Ultra HD video files can be played without any lag. And the app can sort your videos by name, date, and size helping you arrange your files systematically. The only thing that drags down Xplayer is its inclusion of some annoying ads, although you can remove it with an in-app purchase.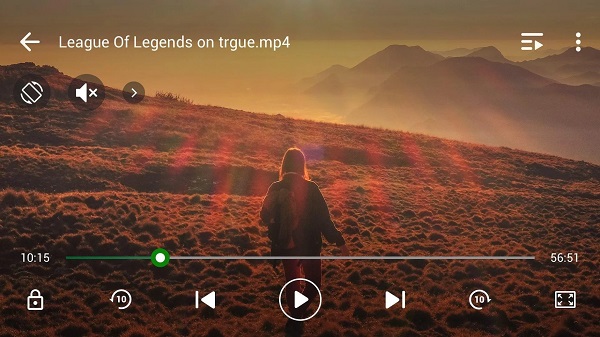 10. BSPlayer
Operating System: Android, Windows
Pros:

Hardware-accelerated video playback

Various playback modes

Customizable interface

Cons:

Contains ads

The recent update could be unstable
Another feature-rich M4V player for Android is BSPlayer. But be noticed that this player can only play unprotected M4V files. Aside from that, it has good format support and many neat features. For example, you can use its pop-out viewer which is convenient for multitasking.
In addition, BSPlayer has amazing support for subtitled files. It can automatically find the appropriate subtitle files online for your videos. As a lightweight player, it enables you to load a video at a fast speed while consumes little battery usage.
Its lite version is free but contains ads, which is a bit annoying and frustrating. However, it remains to be one of the best movie players for Android mobiles and PCs because it can handle most common formats as well as advanced formats like 4K.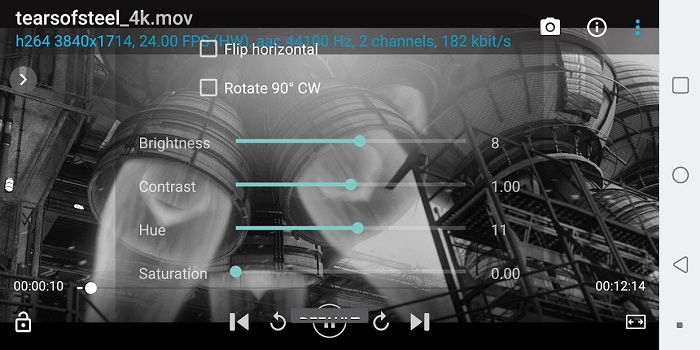 Part 2. What Should You Expect from a Great Media Player?
After viewing the best M4V players listed above, do you form a general idea of picking a suitable media player? Here are some essential factors you should take into account.
#1 Capable of running several codecs and file containers
#2 Deliver fantastic quality
#3 Intuitive and simple-to-use
#4 Feature-rich yet lightweight
Besides, as M4V files can be sorted by DRM-protected and DRM-free, you should keep in mind that videos attached to DRM protection such as iTunes movies can be opened by a few players.
These video players can open M4V files protected by Apple's FairPlay DRM:
And if you are looking for M4V players that enjoy outstanding performances on Android devices, we recommend you to try:
VLC For Android

GOM Player

Plex

MX Player

XPlayer

BSPlayer
Part 3. A Permanent Way to Smoothly Play iTunes M4V Videos
You've already known that iTunes M4V videos such as iTunes movies and TV shows are protected with DRM. Only iTunes and QuickTime can recognize these video files. Therefore, if you are considering to play your iTunes videos on some popular M4V players listed here, you should remove the DRM protection and convert the iTunes videos to a common MP4.
Here we provide you a useful way to get rid of the DRM from iTunes movies so that you can smoothly play iTunes M4V videos on some common and powerful media players like VLC and PotPlayer.
TuneFab M4V Converter for Mac/Windows is the exact tool that professionally handles the job of iTunes DRM removal. All your iTunes M4V videos will be converted to a common MP4 file while preserving lossless quality. The original AC3 audio tracks, subtitles, and closed captions can also be retained during the conversion. Give it a try!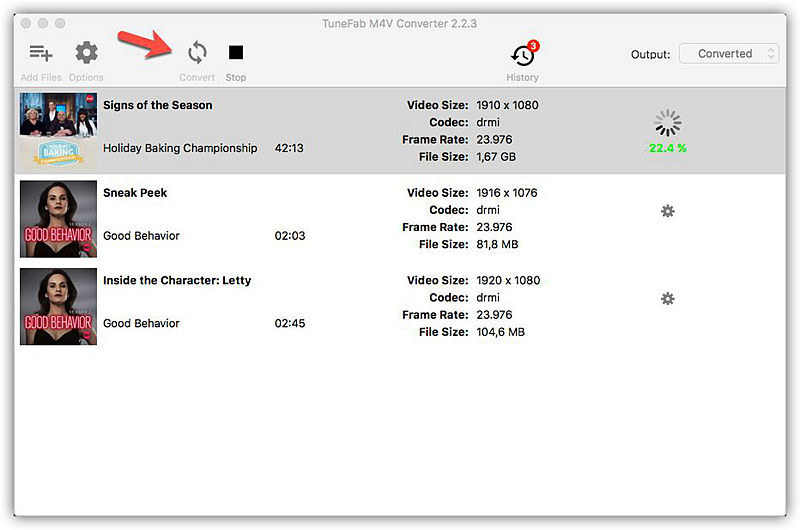 Was this information helpful?
TrustScore 5 | 49