Many people use iTunes to manage their movie collections. When it comes to importing videos to iTunes, it is always confusing about choosing the suitable formats that are compatible with iTunes. Also, you may wonder what is the format of an iTunes movie. Therefore, this article will cover all the information about iTunes video formats.
In addition to knowing the iTunes supported video formats, you can also learn some tips and tricks for video playback and conversion in iTunes. Read on to know more details.
CONTENTS
Part 1. What Are the Video Formats That iTunes Supports?
As Apple Support indicates, videos such as H.264 or MPEG-4 are compatible videos that iTunes can play. Essentially speaking, M4V, MOV, and MP4 are the video formats that are best supported by iTunes. These formats can perfectly work with both iTunes and QuickTime. Also, files in these formats can be easily and successfully added to the iTunes library. Below is some detailed information about these iTunes video formats.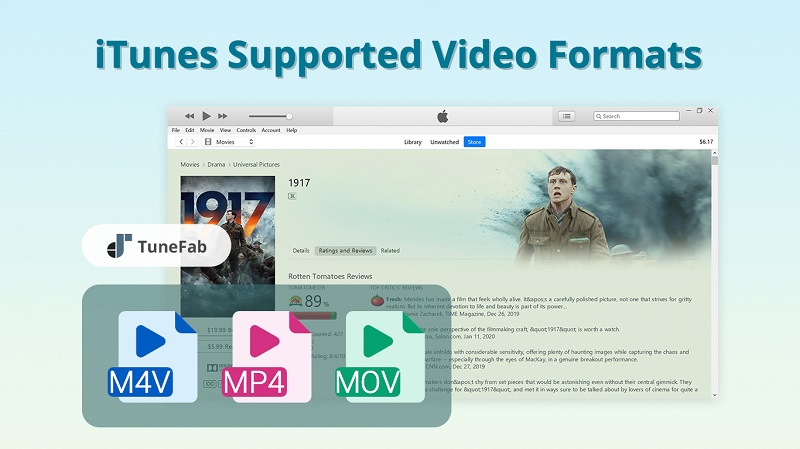 iTunes Movie Format: M4V
M4V is a file format commonly used for video files that are purchased and rented from iTunes Store. All of the iTunes movies, TV shows, and music videos are encoded in M4V format. Apple employs this format to prevent illegal distribution, therefore, M4V files are added with Apple's FairPlay copy protection. As a result, you can only watch these encrypted M4V videos on an authorized computer, and Apple devices like iPhone and iPad.
iTunes Compatible Format: MP4 and MOV
MP4
MP4 is an abbreviation for a MPEG-4 video file. When downloading a video from video streaming websites, it is usually wrapped in an MP4 container. Partly because this format can store multimedia contents like video stream, audio stream, subtitles, and images. Compared to other video formats, MP4 also enjoys nice compatibility. Almost all video editors, video players, and platforms support MP4. In addition to Apple products, you can play an MP4 file on Android, PCs, and TVs.
MOV
Also known as QuickTime File Format, MOV is a file extension proprietarily developed by Apple. It is also a MPEG-4 video container format frequently used in Apple's QuickTime program. A MOV file is likely to contain videos, video effects, multiple audio tracks, text, images, subtitles, and many other media contents. Therefore, MOV is also a popular format used in video editing software.
Part 2. What Is the Best iTunes Video Format You Should Use?
As it is noted above, there are three video formats working best in iTunes – M4V, MP4, and MOV. Therefore, you should be using these file formats if you want to add videos to iTunes and gain a good video playback experience.
Talking about the best video format for iTunes, I tend to convert videos to MP4 files. This is because MP4 is not only an iTunes compatible video format but also a typically lightweight format. What is more, as a popular container format, it can retain its HD quality during the compression process. Besides, MP4 enjoys great compatibility which enables it to be played on many other programs in addition to iTunes.
Therefore, the MP4 format should be a top choice to convert videos. After conversion, you can open and play MP4 files in iTunes. If you want to play movies and other videos in iTunes on PC but don't know how to do it, keep reading to learn how to add personal movies to iTunes and play them.
Part 3. How to Play Movies and Videos in iTunes on PC
To Play iTunes Purchased Movies / TV Shows / Music Video
STEP 1. Launch the iTunes app on your computer.
If you want to play something from your video library, choose Movies or TV Shows from the pop-up menu at the top left, and click the Library section.

To play a music video, you should choose Music from the pop-up menu at the top left, click Library, and then select Music Videos in the sidebar on the left.

STEP 2. Double click the video that you play, or just select it and click the play icon. The video will play in a separate window within seconds, and you can resize and move the window.

STEP 3. To control video playback, move the pointer anywhere over the playback window to make the controls panel appear. Then you can play/pause, or adjust volume and so on.

To Play Personal Movies / Videos in iTunes
STEP 1. Check the format of the video you want to add. Your video should be able to play in QuickTime, but notice that not all MP4 files will play in QuickTime. Also, if the file is an MKV, AVI, or WMV file, it needs to be converted to iTunes compatible video format.
STEP 2. Launch iTunes. If your video files are in the proper format, you can add these videos to your library. Choose Movies from the pop-up menu at the top left, and then you can see three sections in the Library sidebar on the left.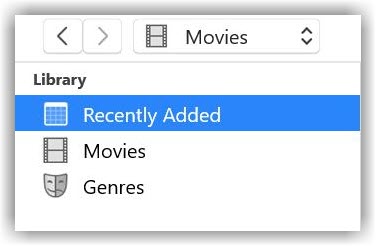 STEP 3. Choose File > Add File to Library or Add Folder to Library in the menu bar. Locate a file or folder, and all files it contains are added to your library. Then a new section Home Videos will appear in the Library sidebar.
Tips: You can also drag a file or folder from the desktop to the iTunes window to import it.


STEP 4. Now you can double-click to open and play your home movies in iTunes. To better manage your movie collection, you can right-click on the video in the Home Videos section and select Video Info. Then switch to the Options tab and use the Media Kind menu to sort your new videos into proper categories.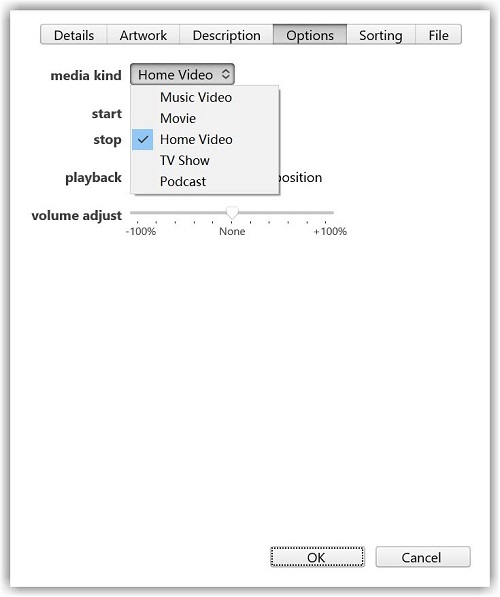 Part 4. Best iTunes Video Converter
iTunes can support only a few video formats. In addition, you should know that videos purchased from the iTunes Store can be only viewed in iTunes, QuickTime (on Mac PCs), and authorized Apple devices. In such inconveniences, dozens of iTunes users asked online if they can convert their iTunes videos to another format and transfer the video files to other portable devices for playback. The situation is, iTunes video isn't easy to work with. But fortunately, it is still possible to convert iTunes videos to other formats.
In fact, plenty of iTunes video converters can achieve the goal. And for the best video performance, it is usually advised to convert iTunes videos to MP4. TuneFab M4V Converter is a trustworthy and professional tool to help you out.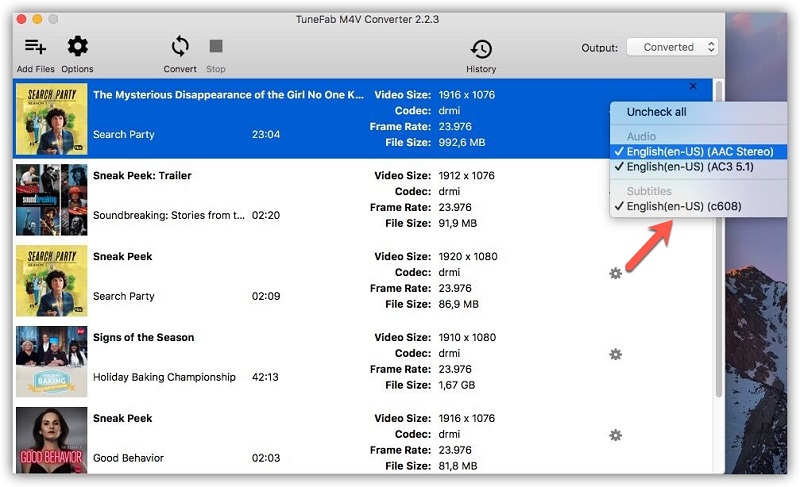 Watch this video tutorial to know more about how to convert iTunes M4V movies to MP4.
Conclusion
This is all about iTunes video formats. If you want to upload videos to iTunes, just make sure your video files are M4V, MP4, or MOV file format. These are the video type that iTunes accepts and can be smoothly played on iTunes. Other types of video formats should be converted to iTunes supported video formats (as it is mentioned: M4V, MP4, and MOV) in order to play in iTunes successfully.
Was this information helpful?
TrustScore 2.3 | 3