iTunes is not just a program to manage your music collection. Over the years, it has evolved into a one-stop shop providing users with music, audiobooks, movies, and TV shows. However, video contents like movies on the iTunes Store are encoded as an M4V file protected by Apple's FairPlay DRM. In other words, these iTunes M4V movies can only be played on iTunes or Apple devices authorized with the Apple ID that is used to buy movies.
Some people may consider if there is a way to convert iTunes M4V Movies to MP4 because iTunes is not that user-friendly. Also, the limited device compatibility of iTunes videos is actually inconvenient.
And this can happen to anyone. For instance, one day when you buy or rent a movie from iTunes, and it turns out the iTunes Movie can only be opened with iTunes or Apple devices. But the reality is, you are using Android devices or some other non-Apple products. All you want is to watch this iTunes movie on any devices other than PCs with iTunes player. But the DRM simply prevents you from doing that. Really annoying, right?
Therefore, for those who want to convert iTunes movies to MP4 for saving a copy, this article will show you an easy method to achieve this goal.
CONTENTS
Part 1. iTunes M4V Format and MP4
You've already known that an M4V file is used to store video downloaded from iTunes store and M4V is the format of iTunes movies. You may wonder if M4V is the same as MP4 or what are the differences between M4V and MP4. In fact, both formats are multimedia containers that can store data like video streams, audio streams, subtitle streams, and advanced interactive content. The main difference between M4V and MP4 is that MP4 is more popular and widely used than M4V.
This is because MP4 is accessible across all platforms, while M4V is limited exclusively to Apple devices for the FairPlay DRM copyright protection hinders users to play the file on other devices or media players to prevent piracy. Therefore, if you change an M4V to MP4 by manually changing the extension name, this file is still not compatible with your devices or media player. Only unprotected M4V files can be recognized and played on your computer or other devices.
(Visit M4V vs. MP4: Differences and Conversion to learn more details.)
Besides, although iTunes provides you an option to convert your iTunes movies, protected files cannot be converted to other formats.
Then, is it really impossible to watch iTunes movies without iTunes? Definitely not. If you got the right tool to convert your iTunes M4V files to MP4, you can enjoy the videos across multiple platforms. Keep on reading to know about a useful M4V to MP4 converter to help you out.
Part 2. Best M4V to MP4 Converter to Convert iTunes M4V Movies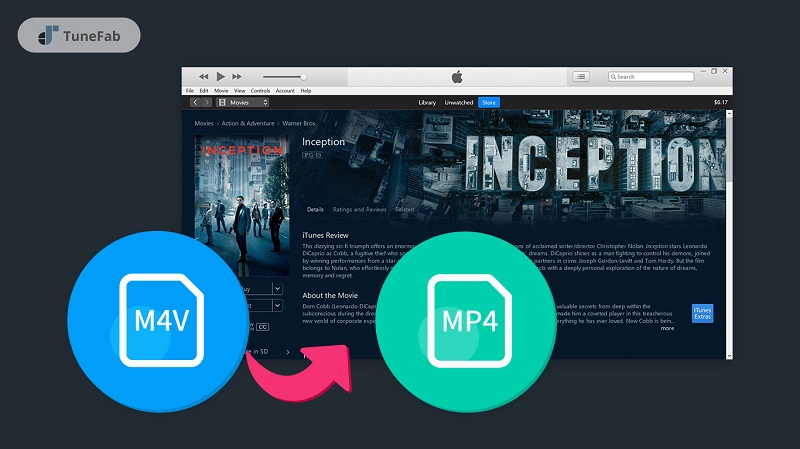 As you may find many M4V to MP4 converters doing a good job in converting unprotected M4V files to MP4, few of them can convert DRM-protected iTunes M4V videos. Therefore, it is highly recommended for you to try TuneFab M4V Converter
TuneFab M4V Converter is a professional software designed for converting iTunes movies, TV shows, and music videos to high-quality MP4 videos. One of the highlights of TuneFab M4V Converter is that it assists you to convert your iTunes M4V files to a nearly lossless MP4 file at a fast speed.
It supports converting iTunes video to MP4 in 1080p Full HD and 720p HD.

It is able to keep Dolby 5.1 soundtracks, subtitles, closed captions, and audio descriptions.

It has a batch conversion feature allowing you to convert multiple iTunes movies/TV shows to MP4.
If you are interested in the differences between TuneFab M4V Converter and other common iTunes movie converters, we've created a full list of the best iTunes movie converters for you to check out.
>> 6 Best iTunes Movie Converters You Need to Try [Honest Reviews]
Part 3. A Simple Guide to Convert M4V to MP4 on Mac/Windows
The following is all about how to convert iTunes movies or iTunes TV shows to MP4 on Mac or Windows using TuneFab M4V Converter.
STEP 1. Launch TuneFab M4V Converter and Add M4V Files
After installation, launch TuneFab M4V Converter, and iTunes will be connected to launch automatically. On the interface, click on "Add Files" on the top left to select your purchased or downloaded iTunes movies, TV shows, or music videos.
You are able to choose multiple iTunes M4V videos at a time. Then Click on "Add" on the bottom right to proceed.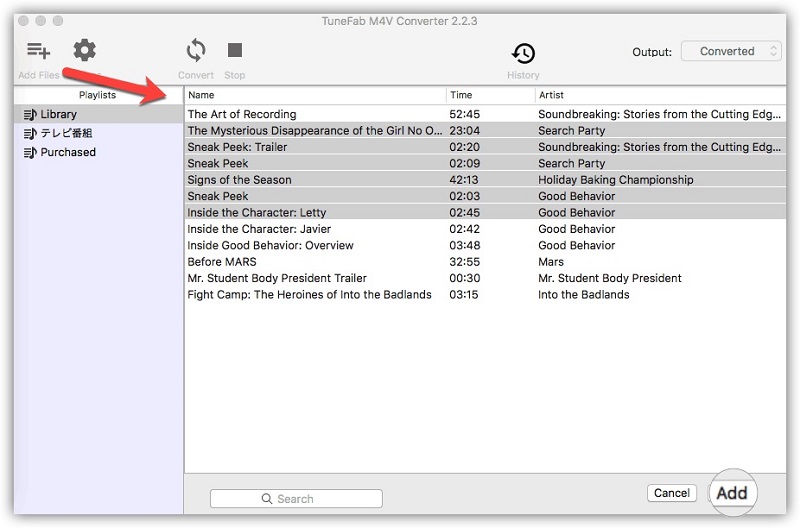 STEP 2. Adjust Output Settings
The default output format for your iTunes M4V files is MP4. Click on the gear icon and you can select to preserve your desired audio tracks and subtitles.
Note: Make sure the movie or TV show that you want to convert is downloaded and stored on your computer. In addition, your rental iTunes movies or TV shows can be converted on Mac while you are using the free trial version, but not on Windows.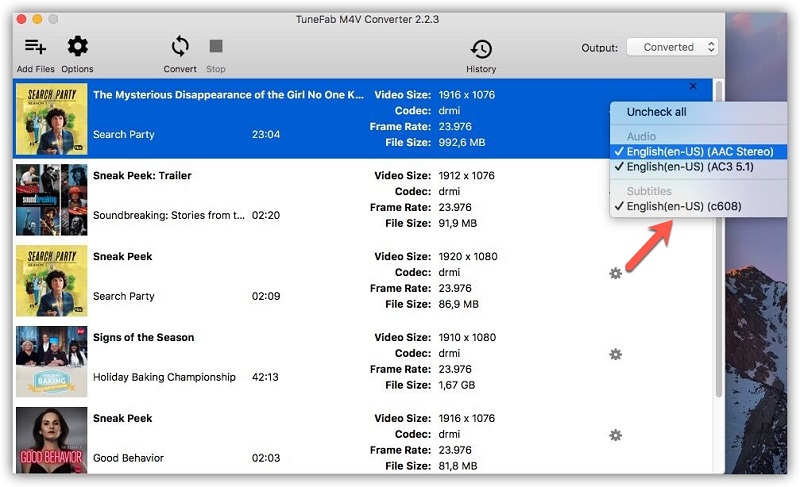 STEP 3. Convert iTunes Movies/TV Shows to MP4
Now click on "Convert" on the menu bar to start converting M4V to MP4. The conversion time will be varied according to the length of time of your selected iTunes movies/TV shows. It usually takes 30 to 40 minutes to convert a 2-hour long movie to MP4.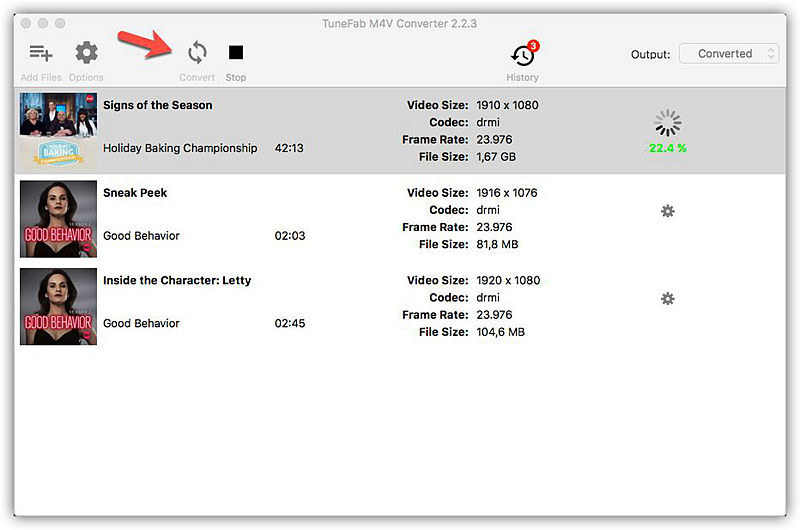 When the conversion is over, you can get some DRM-free iTunes movies or TV shows as MP4 files and watch these iTunes movies or TV shows on any device you like.
Watch a Video Tutorial About How to Convert iTunes M4V Movies to MP4
Conclusion
With TuneFab M4V Converter, it is possible and convenient to convert iTunes M4V videos to MP4. After a quick conversion, you can play the converted iTunes movies or TV shows on platforms like Windows and Android. Just give a try and don't forget to share this article with your friends if you find it useful.
Was this information helpful?
TrustScore 2 | 4