When you download movies from the iTunes store, you will find that you cannot watch the video content outside the non-Apple device or unauthorized devices. The reason for this is that movies from the iTunes store are encoded in M4V formats. To prevent movies from being illegally distributed, Apple protects these contents by embedding Apple's FairPlay DRM copy protection into M4V files.
M4V files can only be used on a device that is authorized to play them. If you want to play M4V files on other devices, then you need to remove DRM and convert the video contents into common video formats like MP4, and AVI. In this article, we will introduce you to how to achieve this goal with the help of a converter.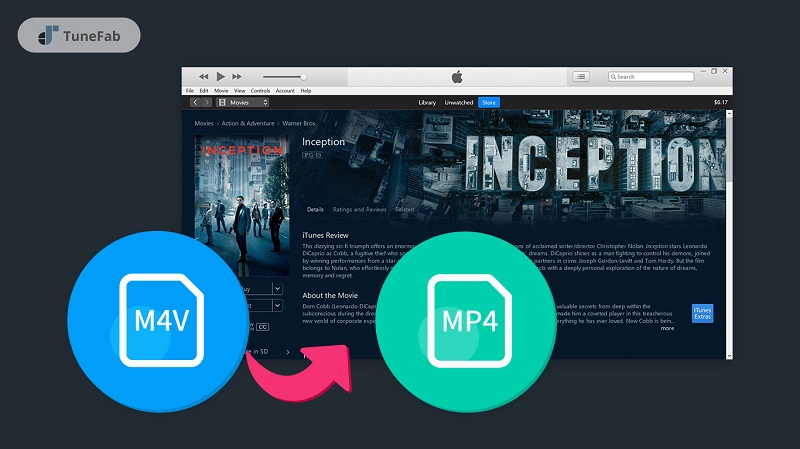 CONTENTS
How to Convert Protected iTunes M4V Movies to MP4 Easily?
Common format converters are not able to convert DRM-protected M4V. You need to ask for the help of a professional converter to remove DRM and change video formats. TuneFab M4V Converter is a good choice for you. With this advanced iTunes video converter, you can convert iTunes M4V movies, TV shows, and music videos into MP4 videos while preserving their original quality.
Here are some main features of this converter:
● Keep the original Dolby 5.1 soundtracks, multilingual subtitles, closed captions, and audio descriptions in the output MP4 files by default
● Convert iTunes movies and TV shows to MP4 with 1080p Full HD or 720p HD quality
● Play your purchased iTunes video files on whatever devices you like

In the following sections, you will get to know how to convert iTunes M4V movies to MP4:
STEP 1. Launch TuneFab M4V Converter and Select M4V Files
Launch TuneFab M4V Converter after installation. Then click on "Add Files" on the menu bar to select your purchased or downloaded iTunes movies, TV shows, or music videos and add them to the list. You can also add multiple iTunes M4V videos at a time. Next, click on "Add" at the bottom to proceed.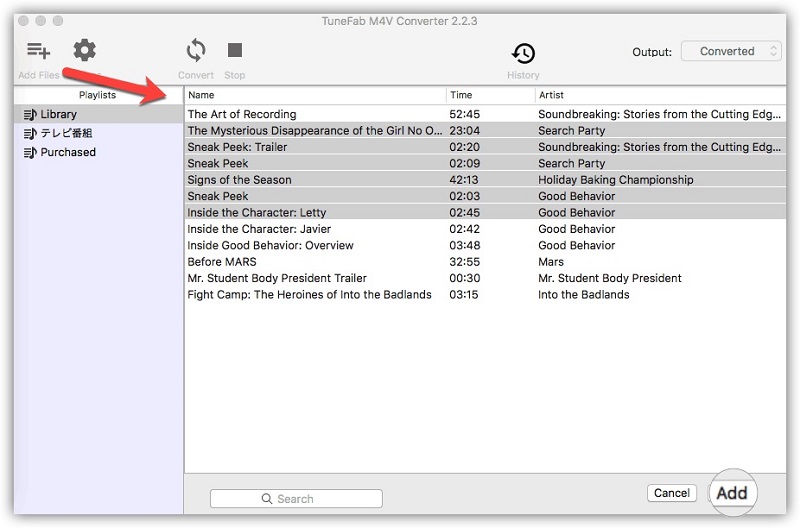 STEP 2. Reset Output Format
After converting, your iTunes M4V files will turn into MP4 by default. If you want to preserve your desired audio tracks and subtitles, just click on the gear icon to reset.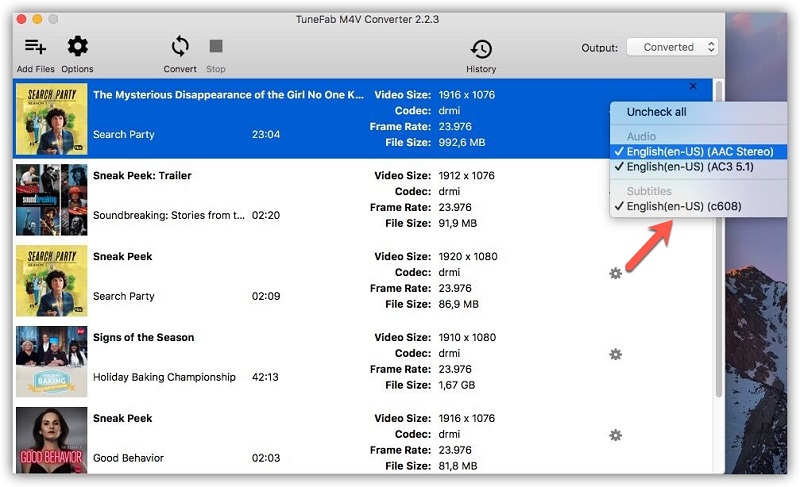 STEP 3. Convert iTunes M4V Video to MP4
You can now begin converting M4V to MP4 by clicking on the "Convert" button on the menu bar. The conversion time will vary depending on the length of the iTunes movies and TV shows you choose. The conversion of a 2-hour-long movie to MP4 usually takes 30 to 40 minutes.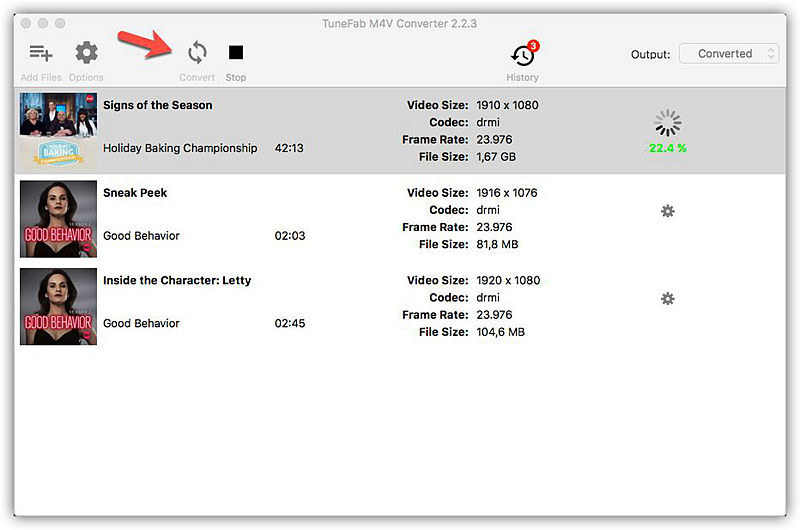 Once the conversion is complete, you can enjoy some iTunes movies or TV shows as MP4 files on any device, without having to worry about DRM.
How to Convert Protected M4V to MP4 by Recording?
Movies and TV shows downloaded from the iTunes store are not able to be played on non-Apple devices due to DRM protection. So, you may try to remove DRM and convert the M4V movie into a regular video file that you can play it nicely on any advice. Besides the method introduced above, you can try other methods to help you convert M4V files to MP4. One of the methods is to use FonePaw Screen Recorder to record video files.
FonePaw Screen Recorder is a multifunctional screen recording software that you can record anything on screen with audio and a webcam. There are over 20 built-in recording functions, such as game recorder, window recorder, etc.
● You can capture screen activities for any situation, such as recording online meetings, recording lectures, etc.
● There are versatile recording modes for you to choose from, such as capturing Internet videos, capturing audio online, capturing wonderful game clips, etc.
● There are over 20 smart features, such as customizing the recording area, making real-time annotations, etc.
● You can edit the video after recording, such as cutting the video, compressing the video to a smaller size, etc.

Now, let's see how to use this software to record M4V to MP4:
Step 1. Set Up Recording Preferences
Click the buttons on the main interface to adjust the preferences.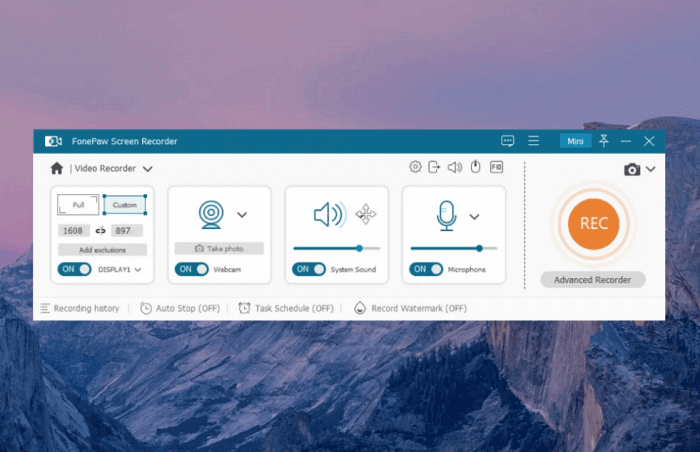 Step 2. Start recording the screen
Press the "Rec" button to record the screen of your computer.
Step 3. Preview, Edit, and Save Videos
After recording, you can edit the videos and convert them into different formats without quality loss.
FAQs About Converting Protected M4V to MP4
Can You Convert iTunes Movies to MP4 with VLC or HandBrake?
No, you can't. Because iTunes movies are M4V files DRM protected, VLC or HandBrake doesn't have the feature of removing DRM. They can only convert DRM-free M4V files into MP4. If you want to convert the protected M4V into MP4, you need to ask for the help of the TuneFab M4V Converter.
How to Download Movies from iTunes?
1. Open iTunes and launch it.
2. To access the Movies area of iTunes, choose Movies from the drop-down menu in the top left corner of the screen. If it isn't chosen, click the Store button in the top-middle of the screen.
3. Browse the available movies and find a movie that interests you, click its thumbnail image to enter into the information page.
4. Click on the Buy or Rent button and sign in with your Apple ID.
5. Click the Download button located under the poster.
Conclusion
In this article, we introduce you to two methods to convert iTunes M4V videos to MP4. One is to use TuneFab M4V Converter, and the other is to use FonePaw Screen Recorder. After conversion, you can play the downloaded movies or TV shows on any device you like.
Was this information helpful?
TrustScore 1.8 | 13