Apple Music is an awesome music streaming service that provides more than 60 million songs for the audience. It is not doubt that Apple Music is one of the best music streaming services around the world, but it doesn't mean that it has no drawbacks. Usually when you have been using the Music app for a while, you will start facing all sorts of annoying issue, such as "Apple Music not loading library" or "Apple Music is stuck at syncing library". (Related Reading: most reported Apple Music problems & solutions)
Situation A - "It seems that Apple Music is stuck on loading library. I open the Music app after I restore my iPhone X and it always shows "Loading Library", "Loading Playlists" in the music section. How can I fix it?"
Situation B - "My Apple Music library is suddenly stuck at loading. When I go to 'For You/Browse/Radio/Search' tabs, it keeps showing the "Loading Library" spinning wheel. I tried leaving my phone on for hours but still nothing changes."
Now you should know that you are not the only one who have this Apple Music trouble. Wondering if there is a solution to fix it? You've come to the right place! Here're are the 9 possible solutions that we suggestion. Try out and see if they are useful!
CONTENTS
Why Apple Music Is Stuck at Loading or Syncing Library?
You probably feel clueless when this issue suddenly appears, and then become frustrated when you've done everything you can think of yet the issue remains. Yes, same here. That is exactly why we want to write this post, to help you figure out what happen and most importantly, what to do next.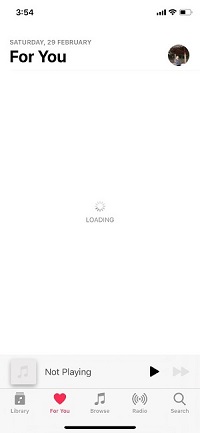 Let's first take a look at the possible factors that might causes the Apple Music not loading issues.
You have a large music library, and it always takes forever to load the music library every time you open Music app.

Your internet connection is unstable or unusable.

A bug after installing the latest version of iOS.

You've switched to another Apple ID.

You've just renewed your Apple Music membership.

Not enough memory on your device. (It causes the issue that most of the albums won't load artwork)
Then, how to fix the issue exactly? The followings are the overview of a few solutions to fix the Apple Music won't load library bug:
Restart your iPhone or Android smart phone

Check your network connection

Turn Sync Library off and on

Reset all settings

Search a song in library then play it

Sign out of iTunes and App Store then sign back in

De-authorize computer and re-authorize it again

Do nothing and wait until the next day

Use an alternative music app
You might already try some of the solutions above, if that's case, you can go to Most Reported Apple Music Problems & How to Fix Them to get more fixes. If not, continue reading this post because we will show you how to perform each of the solution step by step in the next parts.
9 Solutions to Fix Apple Music Library Won't Load
Solution 1: Restart your iPhone or Android smart phone
To Restart iPhone X or 11: Press and hold the volume button and side button for 2 seconds > swipe the "Slide to power off" to turn off the device > press and hold the side button to turn your iPhone back on. (Learn how to restart iPhone SE, 8, 7, 6, 5 or earlier.)
To Restart Android: Press the power button on your Android phone for at least 2 seconds> tap "Restart" option on the screen to reboot the device.
Solution 2: Check your network connection
If you are streaming Apple Music online via Wi-Fi or cellular network, make sure the network connection is stable and fast. You can use this way to test your network: open another app on your phone such as Facebook to see if it can load the content successfully. If not, then try turn on and off the airplane mode (Settings > Airplane Mode) to refresh the network connection on your device.
Solution 3: Turn Sync Library off and on
If you have a large music library, it might take longer time, faster speed and larger storage space to upload or sync your music library across your devices. When Apple Music is stuck at syncing your library, try fix it by turning "Sync Library" (Go to Settings > Music > turn on Sync Library). You can also use this method to fix issues like Apple Music Library Missing or Apple Music Item Not Availabe.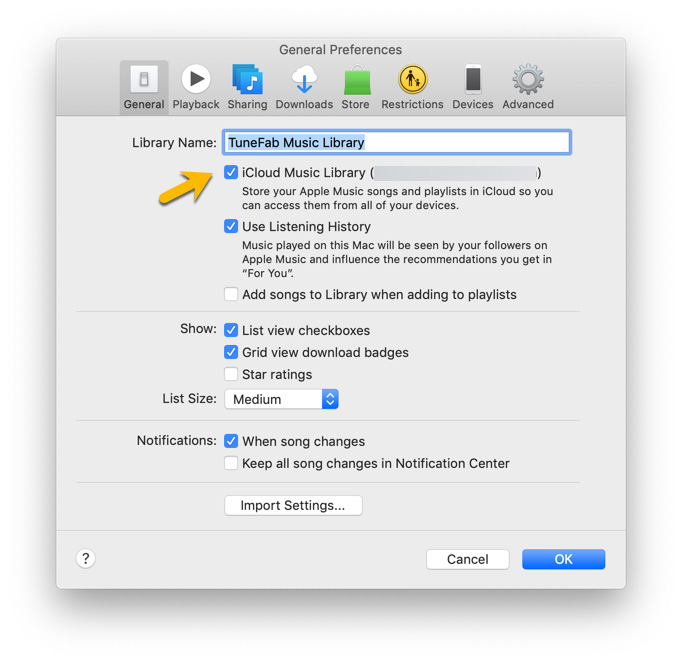 Solution 4: Search a song in library then play it
This solution is provided by a user who had experienced the similar issue previously. Before you try this method, make sure that your device is connecting to internet.

Solution 5: Sign out of iTunes & App Store then sign back in
Another solution that you may want to try is sign out and in iTunes & App Store. Apple Music is a service that requires Apple ID verification. When there is an error in connecting your Apple ID with the Apple Music server, you are not able to access your Apple Music services. Here is how you can solve this issue:
On your iPhone/iPad/iPod touch: Settings > iTunes & App Store > Apple ID > Sign Out > Sign in with the Apple ID and password.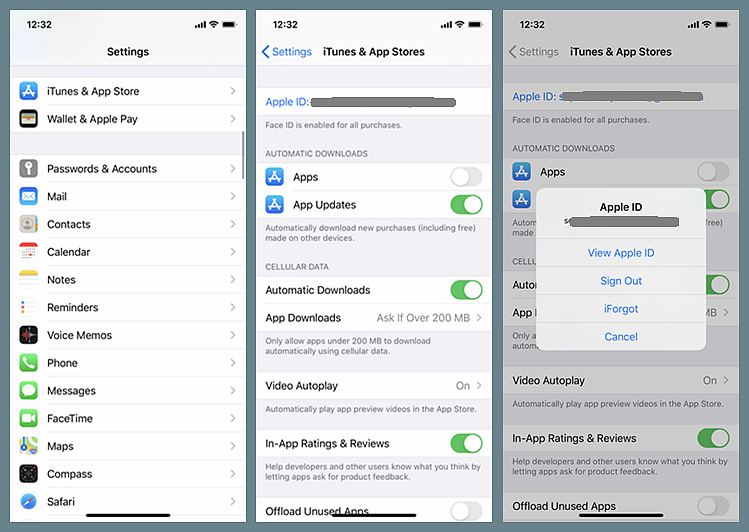 Solution 6: Deauthorize computer and reauthorize it again
Sometimes you might have trouble accessing your music library in iTunes from a Windows or Mac computer. We recommend you try to de-authorize your iTunes account on the computer first and then authorize it again. iTunes will be automatically syncing your music library.
Also, you should make sure that Sync Library is turned on:
On Mac: Open Music app > Music > Preferences > General > select Sync Library and turn it on > click OK.
On PC with iTunes for Windows: Open iTunes > Edit > Preferences > General > turn on Sync Library > click OK.
Solution 7: Reset your iPhone/Android Phone
Still unable to resolve this annoying problem? You can try resetting your device to factory settings. This can basically fix almost all issues on your iPhone. But you'd better backup your iPhone data first before you start the resetting process in case of data loss.
Solution 8: Do nothing and wait till the next day
When all solutions fail, the only thing that you can do is leave it alone and wait until the next day. Hopefully the issue will be disappeared like it doesn't exist at all.
Solution 9: Use an alternative music app
Using an alternative music app such as Spotify seems like a great idea too. Compared with Apple Music, Spotify supports more platforms and it also offers a free version which allows you to stream millions of songs for free. (Want to know more differences between them? Check out this post - Apple Music vs Spotify comparison)
Conclusion
It's common to run into all kinds of troubles when listening to music online, such as music not loading, music not playing smoothly, etc. If you have enough storage space on your iPhone, I highly recommend that you download and store the Apple Music songs on your iPhone, then you can play them whenever you want without bugs or errors.
Was this information helpful?
TrustScore 1.9 | 70