There are many streaming services popping out on the radar nowadays. Getting unlimited access to music at a lower price is offered by various streaming services. Two of the most talked-about streaming services are Apple Music and Amazon Music.
Perhaps you have a vague idea that there will be many key differences between Apple Music and Amazon Music but can't tell in detail. They both differ in many cases such as pricing, catalog, quality, compatibility, etc. In 2021, Apple Music has even launched Spatial Audio with Dolby Atmos and also brought Lossless Audio to consumers. In the meanwhile, Amazon has also taken the Amazon Music HD to the subscribers of Amazon Music Unlimited at no charge. Therefore, they must perform much better than before, but which one is better?
Now go ahead with this article, and find out the differences between Apple Music vs. Amazon Music to pick the best streaming service.
CONTENTS
1. Pricing
Apple Music has always been providing subscription plans for individuals, students, and families consisting of 6 members. The price for the individual plan, student plan, and family plan is $9.99, $4.99 and $14.99 respectively. It is an acceptable price in the arena of streaming services, and giving monthly payment for unlimited access to music is better than paying for single albums offered on iTunes.
Apple also offers a free trial period of 3 months, where you will be able to enjoy the streaming service of Apple without paying a penny. Note that if you don't like the service or don't want to continue the service after three months, you can just unsubscribe from the service. What's more, new subscribers with eligible Apple Music devices (such as AirPods, HomePod mini, or Beats) can get Apple Music free for 6 months.
Amazon Music, on the other hand, offers you 4 types of subscription plans including Amazon Music Free (ad-supported), Prime Music, Amazon Music Unlimited. And Amazon announced that it would no longer charge extra for Amazon Music HD, which means you'll get lossless Music that previously cost $14.99 per month.
In the following, we've made a comparison table that shows the price differences between Apple Music vs. Amazon Music Unlimited. Take a look and find out the information you need below.
 
Apple Music
Amazon Music Unlimited
Free Trial
Free for 3 months.
Free for 6 months for new subscribers with eligible devices
Free for 30 days.
Student Price
$4.99/mo
$4.99/mo
Individual Price
$9.99/mo
Prime customers: $7.99/mo
Non-Prime customers: $9.99/mon
Family Plan
$14.99/mo,
Unlimited access for up to 6 people
$14.99/mo,
Unlimited access for up to 6 people
Music Catalogue
90 million songs
75 million songs
Exclusives
Voice Plan, Spatial audio with Dolby Atmos, Siri control, Stream ad-free music
Dolby Atmos, Echo devices with Alexa controls, DJ mode
Intuitively, Apple Music seems to share a similar price plan with Amazon Music Unlimited. However, Apple Music provides a longer free trial with an even much richer music library than Amazon Music Unlimited. Therefore, based on the cost performance, Apple Music does a better job.
Verdict: Apple Music wins.
2. Music Catalog and Curated Contents
Apple Music has over 90 million tracks that are licensed. Before you subscribe, Apple Music will first ask you about your preferences while you sign up for the subscription. Then it will curate the favorites and find you the best choices according to your requirements. By using Apple Music, you will see how impeccable it is at categorization. They can find you the best music from all over the world, which will perfectly suit your mood. The only problem with Apple music is that it is not good at finding localized music and often fail to organize songs according to your locality.
Amazon Music has over 75 million tracks and lots of stations from which you can also buy albums according to your preferences. Though almost all the features are similar to Apple Music, it will allow you to find new releases and update them about future releases. The playlist on Amazon Music doesn't vary every single day. As a result, you will not need to update the playlist every single day.
Another difference between the music catalog of Apple Music and Amazon Music is that Amazon Music provides you access to purchase albums from the digital store. On the other hand, Apple Music has also taken steps to save the private collections for their stores only, such as the albums of Taylor Swift, Frank Ocean, and rap duo PNL, which can result in a hike in the number of subscribers as well.
It's worth mentioning that the stations from Apple Music are more likely to perform as a standard and digital radio station. While Amazon Music has imported "DJ Mode" to their streaming services where you can access music stories from artists, commentary from music insiders, and so on.
Verdict: Draw
3. Highest Music Quality
Both Apple Music and Amazon Music offer several audio quality options, and they provide lossless and Hi-Resolution Lossless audio as well.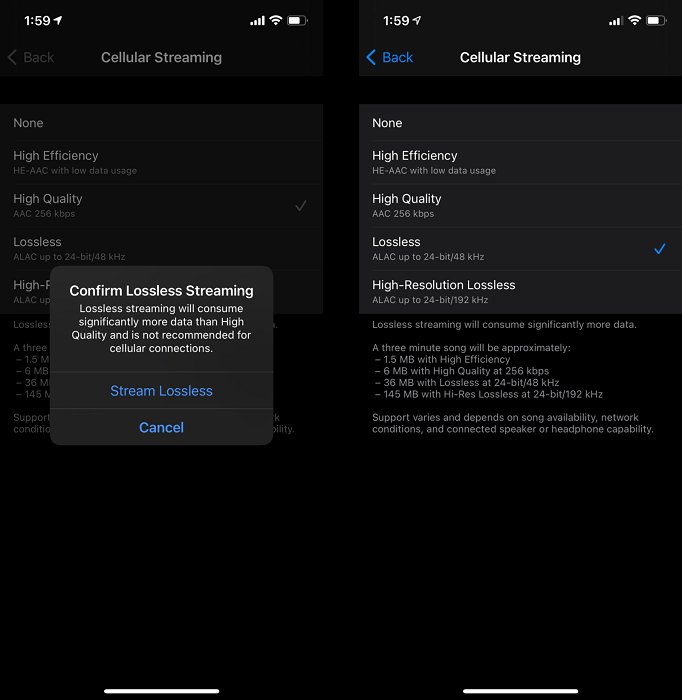 Generally, Apple Music streams at 256 Kbps, 44,100 Hz in AAC format, and consumes about 60 to 120 MB of data per hour. On the other hand, Amazon Music is likely to consume about 150 MB of data per hour in the "Standard" setting. Therefore, its "Data Saver" setting option will be an ideal choice for those who want to conserve their data plans.
Amazon Music HD vs Ultra HD

HD tracks

Ultra HD tracks

Bit depth

16-bit

24-bit

Sample rate

44.1 kHz

44.1 kHz to 192 kHz

Bit rate

850 Kbps

3730 Kbps.
You may also notice that both Apple Music and Amazon Music stream high-resolution lossless audio at 24 bit, 192 kHz. In terms of audio quality, they have made great improvements compared with standard quality. However, when you try to change Apple Music quality settings to High-Resolution mode or that in Amazon Music, you should pay attention that 100 lossless tracks take up around 1GB of memory space, not to mention the data it will consume. Therefore, unless you have purchased an unlimited data plan or are connected to Wi-Fi, you're recommended to choose "High Quality" of Apple Music or "Standard" of Amazon Music.
Verdict: Draw
4. Apple Music vs Amazon Music: Device Compatibility
Although Apple Music now supports Android phones and tablets, it is more compatible with its own eco-system. It works pretty well on Apple devices, such as iPhone, iPod touch, iPad, Apple TV, Apple Watch, and HomePod. You can also stream Apple Music through iTunes on Mac/PC, Android devices, CarPlay, Sono systems, and on Amazon Echo products.
What's more, if you're an Apple Music subscriber and you have purchased Amazon Echo products or Alexa-enabled Sonos speakers at the same time, you can set up with the Amazon Echo App on your IOS or Android device first. Then ask Alexa to play songs, playlists, and more from Apple Music.
Note: Apple Music for Alexa is available in limited countries - Austria, Australia, Brazil, Canada, France, Germany, India, Ireland, Italy, Japan, Mexico, New Zealand, Spain, United Kingdom, and the United States. And make sure you have updated to the latest IOS before you play Apple Music with Alexa
As for Amazon Music, it is available on nearly any platform. Here is a breakdown of the devices that can play Amazon Music:
iPhone and iPad

Android

macOS and Windows PC

Amazon Echo

Web browser

Car: Android Auto or Apple's CarPlay

Amazon Fire TV

Amazon Fire Tablets

Others: Roku, Sonos, Polk Omni, Bose, HEOS, Definitive Technology, and PlayFi
As discussed above, we can conclude that the device compatibility of Amazon Music is versatile compared to Apple Music as Apple Music is more often used with Apple devices.
Verdict: Amazon Music wins
5. Exclusive Features
Most of the features in Apple Music and Amazon Music are the same, such as music discovery, offline playback, unlimited song skips, curated playlists, karaoke-style lyrics, voice control, etc. Let's find out the exclusive features of both services to help you make a better decision.
Apple Music's Unique Features:
Beats 1 live radio

For You – personalized algorithmic playlists

iCloud Music Library

Replay

Voice Plan (New)

Spatial audio with Dolby Atmos (New)

Siri control

Stream ad-free music
The most sharable feature here must be Voice Plan and Spatial audio with Dolby Atmos. Apple Music Voice Plan is a streaming service designed for use with Siri. It allows you to access 90 million songs with your voice. What surprises most is that you can get personalized music experiences by simply asking Siri to "Play something chill" or "Play the dinner party playlist". There are hundreds of new mood and activity playlists created.
Refer to Spatial audio with Dolby Atmos, it is a revolutionary and immersive audio experience that brings you the experience of sitting directly in the middle of a symphony orchestra. It is supported on Apple devices like Apple TV, iPhone, iPad, AirPods Pro、AirPods Max, Mac, etc. Also, Apple Music is making the entire catalog of more than 90 million songs available in lossless audio at no additional cost. That means subscribers of Apple Music will be able to hear exactly the same thing that the artists created in the studio.
Amazon Music's Unique Features:
Seamless integration with Echo devices

Exclusive songs called Amazon Original

Amazon Music HD which provides lossless streaming quality
Voice control of Amazon Music called Alexa Controls came out very early. You can request Alexa to play or pause music and even create playlists, streaming from any eligible Echo or Fire TV device.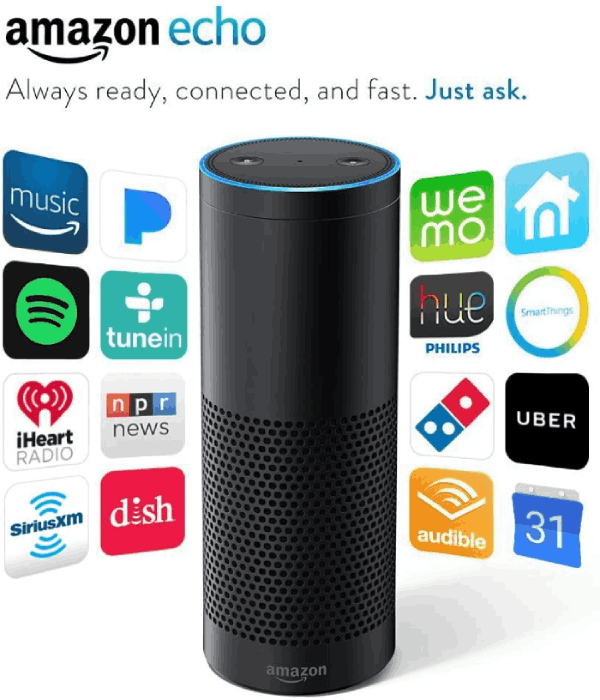 Verdict: Apple Music wins.
6. Social Sharing
Apple Music will allow you to listen to music socially as well. For example, if you like a song or an album, you can share it with a friend of yours who is also on the same platform. There is also a feature on this streaming service, and that is, you can look at the list of songs your friends are hearing. Through this streaming service, you can keep a connection with your friends and family members as well.
Amazon hasn't launched any connecting social service among its users. There is a way to share the link of the song you hear via messages, but you cannot directly share it through the service even if your friend is using it.
A clear comparison of social features between Apple Music and Amazon Music is that Apple Music has access to social sharing, which is not available in Amazon music. In this way, Apple Music is the winner in the case of Social Features.
Verdict: Apple Music wins.
7. Web Player
Apple Music used to require iTunes installation, but after 7-month since Sept. 2019, it finally officially launched a web player in April 2020. The web-based player of Apple Music allows you to surf the music from almost any browser on your computer, tablet, or phone. But some important features such as time-synced lyrics is missing in Apple Music's web player.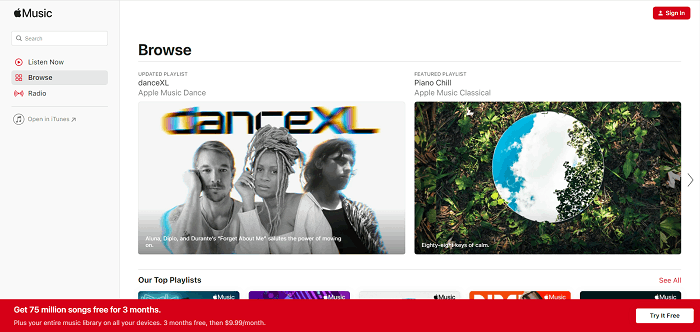 Amazon Music already has a built-in web player that was designed to support Amazon Music from computers as well. As there is a subscriber base of millions, it needed to be efficient from the very beginning.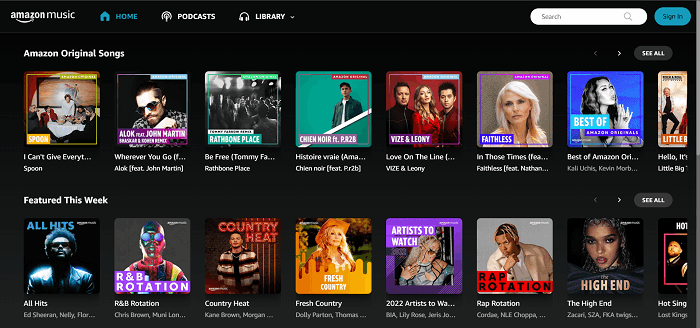 What's more, there is no ad during the playback in this player even in a free trial on Apple Music. On the contrary, you need to tolerate the ad-supported songs for free on the Amazon Music web while streaming.
Verdict: Draw.
8. Apple Music vs Amazon Music: User Interface
Personally speaking, the white tone Apple Music player is more concise and it looks lively and bright. The user interface of Apple Music is quite different from the other streaming services. The main features of this streaming service are arranged in a straightforward layout, which could be easily understood. The tabs on this application are adequately arranged so that you can find everything easily. More importantly, it launched the time-synced lyrics feature in April 2020. If you were interested enough and paid attention to this feature before, you could find out how difficult the breakthrough is. It allows you to follow along as you listen to your favorite songs on iPhone, iPod touch, Android, iPad, and Apple TV. You can also report missing or incorrect lyrics on Apple's official website.
Library – is the section where you can find the collection of music

Brower – is the section where you can browse with your desired keywords

For You - is the section where you can find the playlist that you arranged according to your reference

Radio - is the section where you can listen to the local radio stations
Though there are still some problems with the desktop application, the mobile app looks like a seamless one.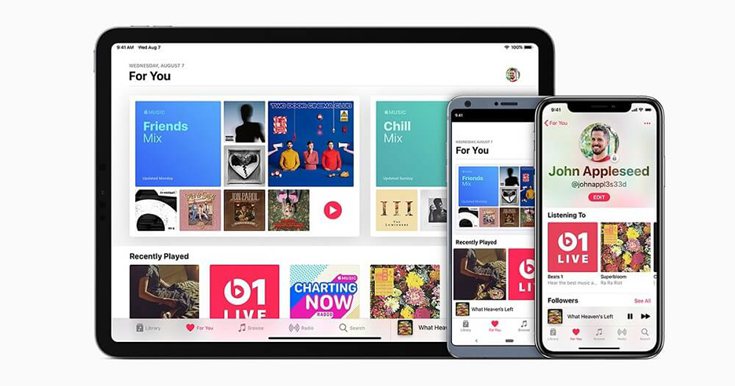 The user interface of Amazon Music is black. And it is researched that the interface works very slowly. It can hang while streaming music or trying to search for new keywords. Like Apple Music, it also has four parts: Browse, Recent, My Music, and Store.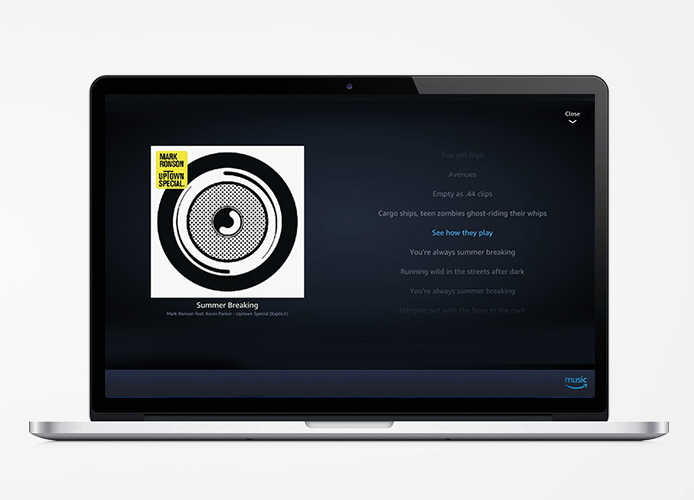 There is also another feature named Artist Page, which is designed for you to choose your favorite artist. When you feed in the name of your favorite artist, then a big picture of him will be portrayed in the corner, and the albums and songs will be under his view. This is the most loved section of Amazon Music.
If you want to find some new music in a hurry, you will find that the organized-by-genre layout of Amazon Music's "Find" page might attract you more. However, to be honest, there is little practical difference for the most part.
Verdict: Draw.
9. Apple Music vs Amazon Music: Country Availability
Apple being an efficient and famous streaming service, is currently operating in more than 100 countries. As Apple devices are well-known worldwide, people using Apple devices are more attracted to this streaming service as they can stream from their phones or pads easily.
Amazon is available in only 28 countries, including the Prime membership. As Amazon is still a beginner to enter the streaming services, that is the reason for its unavailability in many countries.
In this case of country availability, Apple Music wins because it is available in more than 100 countries, which is a significant achievement for this streaming service.
Verdict: Apple Music wins.
10. Final Verdict: Is Amazon Music better than Apple Music?
| | | |
| --- | --- | --- |
|   | Apple Music | Amazon Music Unlimited |
| Price Plan | √ |   |
| Music Catalogue | √ | √ |
| Music Quality | √ | √ |
| Device Compatibility |   | √ |
| Exclusive Features | √ |   |
| Social Features | √ |   |
| Web Player | √ | √ |
| User Interface | √ | √ |
| Country Availability | √ |   |
| Total | 8 | 5 |
Through the scorecard above, you could see a rough result about the review this time. Both streaming services have their qualities. Some qualities of Apple music are higher than that of Amazon Music, but there are sections where Amazon music tops. However, in my opinion, Apple Music wins over for significant reasons. Not only because it owns overwhelming victory on the music catalog, but also for its aesthetic user interface.
Nevertheless, this is always about personal preferences. If you're a Prime member, you can get a lower subscription price to get Amazon Music Unlimited. When you're eager for hassle-free curated content, you should never miss Apple Music. If you have already invested in speaker devices from either of them, you could consider the compatibility between different devices. Obviously, Amazon Music works better in this section. Provided you have purchased a series of Apple products, Apple Music is the natural choice for a better ecosystem experience. Last but not least, combining both the music quality and overall sound experience, Amazon Music and Apple Music is of the same strength.
Was this information helpful?
TrustScore 3.6 | 10