Are you facing the frustrating issue of missing your favorite music in Apple Music Library? You invest time and effort in creating a collection of your favorite songs, only to find them vanish into thin air. But don't worry! It is not hard to fix such common Apple Music problems.
In this article, we will tell you how to restore the Apple Music Library and guide you through the step-by-step process. Whether it's a simple setting error or a subscription issue, you will get music back. Let's dive in!
CONTENTS
Why Is My Apple Music Library Gone?
Before jumping into the solutions, it's important to understand why your Apple Music library disappeared. The reasons that may lead to this circumstance are as follows:
• Accidental deletion or removal: You might have deleted your music files or moved them to a different location.

• Storage problem: There might not be enough space on the iPhone/Mac.

• Issues with your Apple ID: Sometimes, using a different Apple ID can cause your library to disappear.

• Problems with your Apple Music subscription: Expired subscriptions may lead to your music disappearing.

• Syncing errors: Your library might not be synced between devices properly.

• Downloading failure: Songs might not be downloaded from the cloud successfully.
How to Restore Apple Music Library on iPhone/Mac
The causes for the disappearance of Apple Music Library may be different for each person. You can troubleshoot each issue in order. If the previous method doesn't solve the problem, then skip to the next one.
Now, let's explore the solutions one by one.
📌 Note:
Before moving into the fix steps below, please make sure that your Apple device is updated to the latest system and check Apple Music's system status (since routine App maintenance may affect its availability).
Fix 1: Check Your Apple Music Settings
You can start by checking your Apple Music settings, to see if you have enabled your iCloud Music Library successfully. Follow the steps to reconfigure the Apple Music settings.
On iPhone:
Step 1. Open "Settings" and find "Music". Hit it.
Step 2. Ensure that the "iCloud Music Library" option is enabled on your device. This setting allows you to access your music across all devices.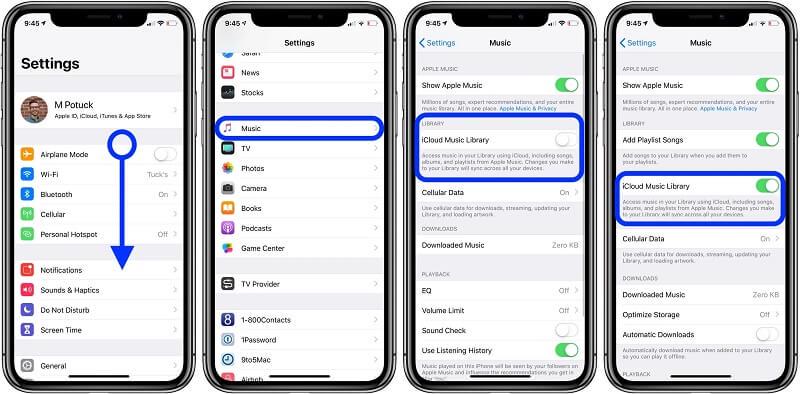 Step 3. Then your device will retrieve the Apple Music library in the Music app.
On Mac:
Step 1. Open iTunes and click "iTunes" in the top left corner.
Step 2. Click "Preferences", and then you'll see a tab named "General".
Step 3. Check the box next to iCloud Music Library. You can also turn on "Show Apple Music Features," "iCloud Music Library" and "Add Playlist Songs" to cover your bases.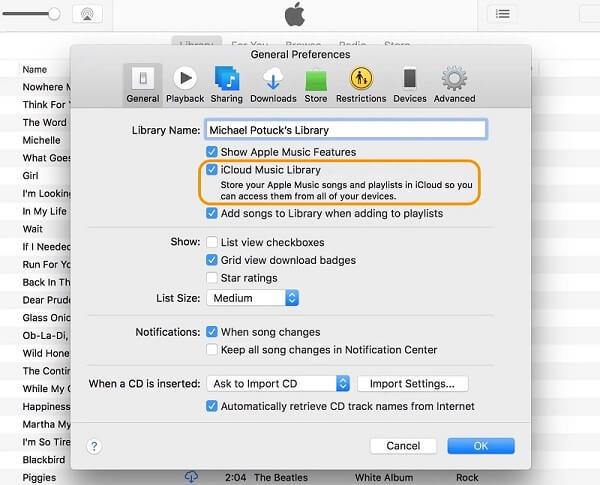 Fix 2: Check Your Apple ID
Verify that you are logged in with the correct Apple ID associated with your Apple Music subscription. Sometimes, even if you haven't changed your account settings, you may have inadvertently logged out of your account. All you need to do is to log in to Apple Music again.
Step 1. Head to "Settings" and click "iTunes". Check if the app is using the correct account.
Step 2. If the account seems fine, try logging out and signing back into the correct iTunes account to retrieve Apple Music. If it's not the right Apple ID, just log out of it, change it to the correct ID, and log back in again to see if it works.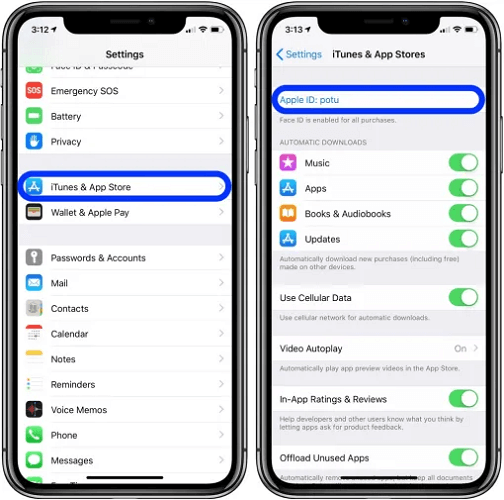 Fix 3: Check Apple Music Subscription
Ensure that your Apple Music subscription is active and up to date. If your subscription has expired or encountered billing issues, it can affect your access to the library:
On iPhone:
Step 1. Open "Settings", tap your profile picture, then hit "Subscriptions".
Step 2. Tap "Apple Music" to check the details about your Apple Music subscription, including the renewal date and price. If you find your subscription has expired, renewing it might be the solution here.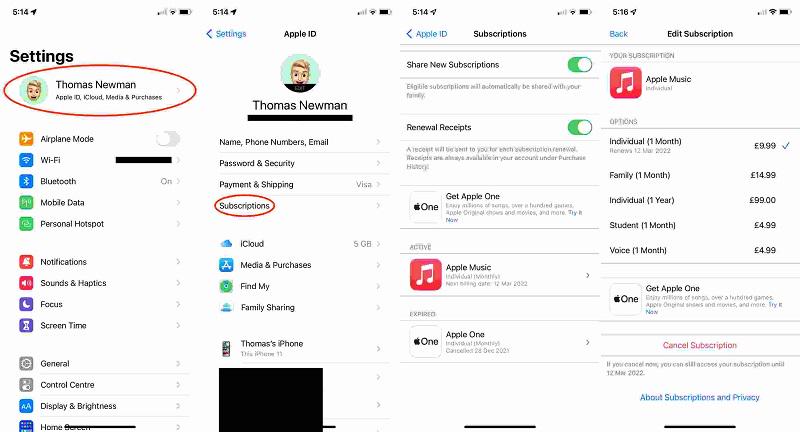 On Mac:
Step 1. Open the "App Store", and click your profile picture.
Step 2. Click "Account Settings". On the popping-up page, scroll to "Subscriptions", and click "Manage".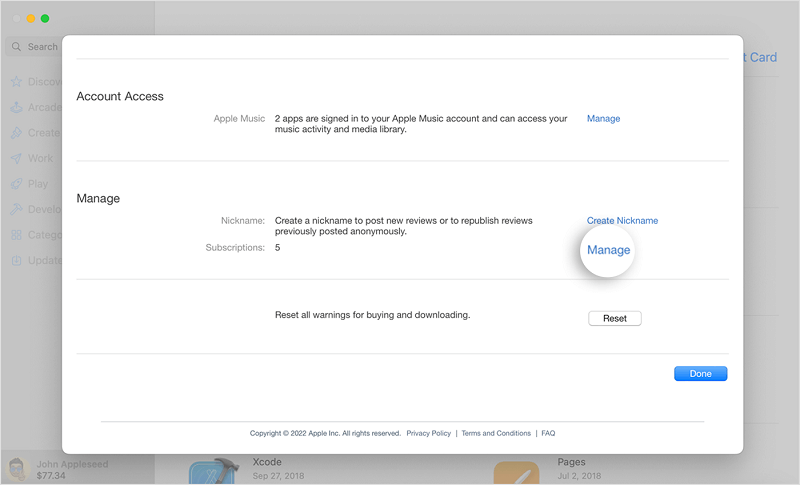 Step 3. Find Apple Music Subscription, and click "Edit" next to it. You can now check or change your Apple Music subscriptions.
Fix 4: Re-Sync Your Apple Music Library
In certain cases, syncing errors can cause your library to disappear, especially if your Internet connection is down. To fix this, you'll need to manually re-sync your library
On iPhone:
Step 1. Go to "Settings" on your device. Scroll down and find "Music". Tap into its page.
Step 2. Find the "Sync Library" option. Toggle off the option for a few seconds, and then re-enable the toggle. Then you just need to wait for a while for it to sync Apple Music to iPhone.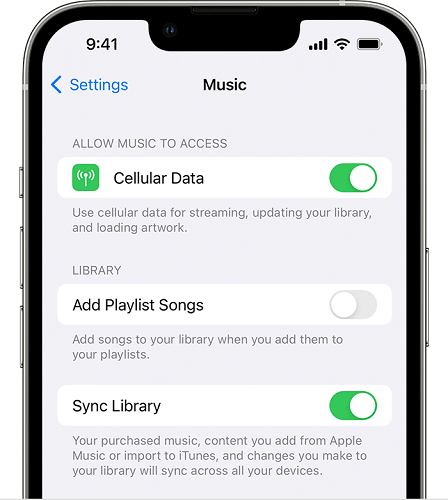 On Mac:
Step 1. Open the Apple Music app. Then hit "Account" on the menu bar.
Step 2. On the new page, choose "File" > "Library" > "Organize Library". Then select Consolidate files.
Step 3. Choose "Music" > "Settings or Music" > "Preferences". Here, select the "General" tab. In this category, enable the "Sync Library" toggle and click "OK". After that, just wait for your music library to sync.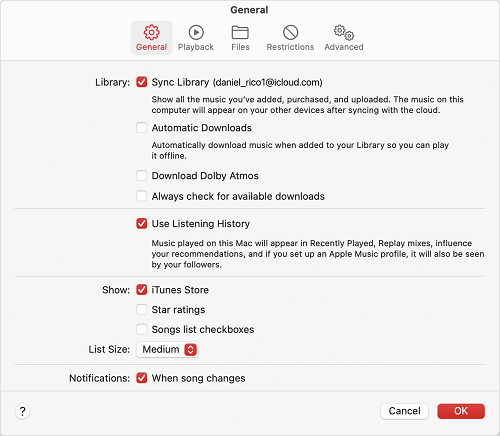 Fix 5: Get Music Back on iTunes
If you had previously downloaded Apple Music music onto your computer but mistakenly deleted the albums, you can simply re-download them to your library
On iPhone:
Step 1. Open the iTunes Store app. For iPhone, tap the More button at the bottom, then hit "Purchased". For iPad, tap "Purchased".
Step 2. Choose "Music", then find the music that y
Step 3. Tap the download icon next to the song or album to re-download it.
On Mac:
Step 1. Open iTunes or the Apple Music app. On the menu bar at the top of your window, click "Account" > "Purchased".
Step 2. Click the "Not in My Library" tab. Find the music that you want to redownload. Then click the download button to restore it to your library.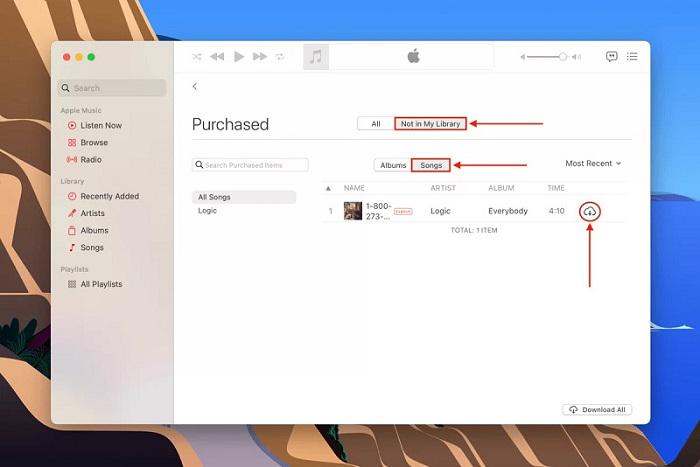 Tip: How to Restore Apple Music Library After Subscription Ends
When your Apple Music subscription expires, the downloaded music will be automatically deleted from your device because the iCloud Music Library is turned off. So you can't restore your Apple Music Library directly unless you resubscribe to Apple Music and re-download your music again.
In case your Apple Music subscription ends, and you want to keep your music accessible, you can use a professional tool like TuneFab Apple Music Converter. With it, you can get Apple Music free forever, and keep your songs permanently even after your Apple Music subscription ends. This software allows you to remove DRM from Apple Music songs/playlists/albums/etc. and convert them to universally compatible formats like MP3. By doing so, you can continue enjoying your favorite tunes even without an active subscription.
Conclusion
Losing your Apple Music Library can be frustrating, but with the above solutions, you can restore your beloved music effortlessly. Remember to check your settings, Apple ID, and subscription status. Additionally, don't forget the option of using TuneFab Apple Music Converter to retain your music after your subscription ends. Get ready to dive back into the world of your favorite music and enjoy the rhythm all over again!
TuneFab Apple Music Converter
Convert Apple Music as MP3 files to resetore after subscription ends
Was this information helpful?
TrustScore 1.7 | 12