Most of you may be familiar with Apple Music, a popular music streaming service that lets you listen to over 50 million songs on your iPhone, iPad, iPod touch, Android, PC, or Mac. Although you can enjoy this app, considering similar platforms like Amazon Music or Spotify which need subscription fees, you may want to know if Apple Music can always be available without payment.
If you have considerable expertise in Apple Music, you may have known the answer. If not, this passage is designed for you. This guide will not only tell you the answer but show you how to get Apple Music free trials, and even teach you how to keep Apple Music after the free trial. If that's what you're interested in, just spend a few minutes reading through this guide.
CONTENTS
Part 1. Is Apple Music Free?
The answer is easy to get and you may have known it: No. Apple Music requires a subscription fee to access its music library, costing $9.99 per month for an individual plan, $14.99 per month for a family plan, and $4.99 per month for a student plan. Does it mean you cannot get Apple Music free?
Not exactly. Apple Music offers some free trial plans to you for your better thinking to pay for it or not. Therefore, you can try Apple Music free in some ways. Just go through the following texts and get the method for Apple Music's free trial!
Part 2. How to Get Free Apple Music (3 Ways)
In this part, you will know 3 ways to get Apple Music free trials for 1 month, 3 months or 6 months.
Join 1-month Free Trial
The most regular free plan for Apple Music is the 1-month free trial. If you've never tried Apple Music before, you can join the free subscription in different ways: from iTunes on your Windows PC or Mac or from the Apple Music app on your iOS devices such as iPhone, iPad, or iPod touch. Here we take the iPhone as an example.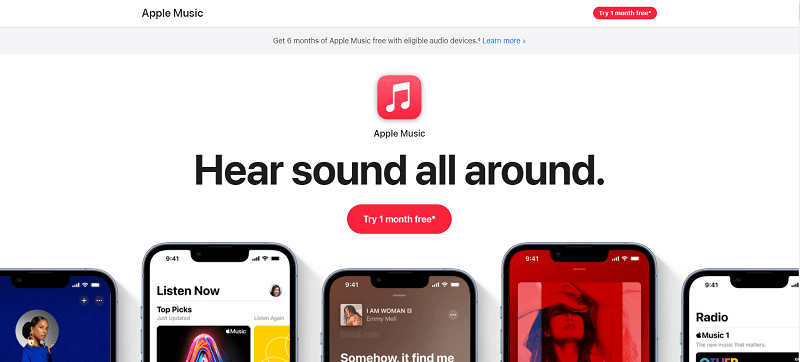 Steps to Sign Up for Apple Music 1-month Free Trial:
1. Open the Apple Music app on your iPhone, iPad, or iPod touch.
2. Tap "For You" and click "Try it Now".
3. Choose a subscription plan: Individual, Family, or University Student, then click "Start Trial".
4. Click "Use Existing Apple ID" and sign in with your Apple ID and password.
5. Confirm the billing info and you can start enjoying Apple Music for free for 1 month.
Get a 6-month Free Trial
Not many know that there is a 6-month free Apple Music trial available for students. Actually, that's a special back-to-school offer from Apple Music, and students can get six free months of service from July 9 to September 26, 2019. If you missed the offer this year, you can wait for next year's back-to-school season and see if Apple will offer the same 6-month free trial again.
Besides, In Feb. 2021, Apple Music decided to offer a 6-month free trial to student subscriptions, as long as you could verify your account as a student account before April 30th, 2021. Therefore, if you have done it, you can use the verified account to enjoy Apple Music free for half a year. Also, after your trial comes to an end, remember to cancel it, or you will have to pay $4.99 per month for Apple Music.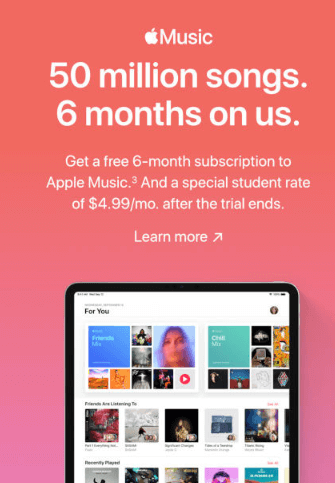 Get an Extra 3 Months of Apple Music Trial
Lots of users are wondering if it is possible to get another Apple Music free trial again under the condition that they've already used the trial before. Well, that's impossible to get another 3 months trial with the same method as an individual.
But you can get an extra 3 months of free subscription by using the Family Sharing plan. That being said, if one of your family members sign up for the free trial of Apple Music Family plan, he or she can share the free trial with you and 5 other family members. Then you all can enjoy Apple Music for free.
Part 3. How to Keep Apple Music Songs After Free Trials
Having Apple Music songs for free on trial is amazing, but time will finally run out. It may not be pleasant when you have to face the due day.
What happens when Apple Music trial ends
When the free trial is over and you don't renew your subscription, then all the Apple Music songs you download within the free trial period will disappear. Even if you download the songs as local files you won't be able to play them because they are DRM protected. Then, do you have to pay for Apple Music?
Luckily, we have the solution for keeping Apple Music songs even after a free trial. You can use a tool like TuneFab Apple Music Converter to convert Apple Music songs to high-quality MP3, M4A, AAC or FLAC files. You can save the converted songs permanently and play them on any device without restriction.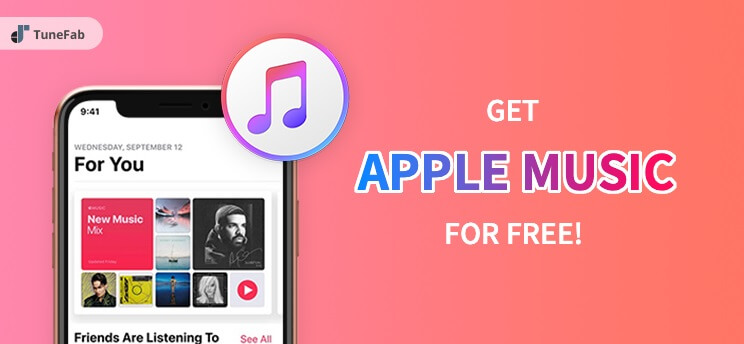 Requirements to get Apple Music for free forever:
● An Apple Music subscriber (Free trial or Premium)
● A Windows PC or Mac available
● iTunes or Music app installed
● TuneFab Apple Music Converter downloaded (If you want to get DRM-free Apple Music songs)
Steps to keep Apple Music songs playable with TuneFab Apple Music Converter:
Step 1. Download, Install and Launch TuneFab Apple Music Converter
Launch the software on your computer and it will automatically display all your music files stored in Apple Music library and iTunes library.
Step 2. Select Apple Music Songs from Playlist
Choose a playlist and select the songs you want to keep forever. You can choose the entire playlist if you like because this software is capable of batch conversion.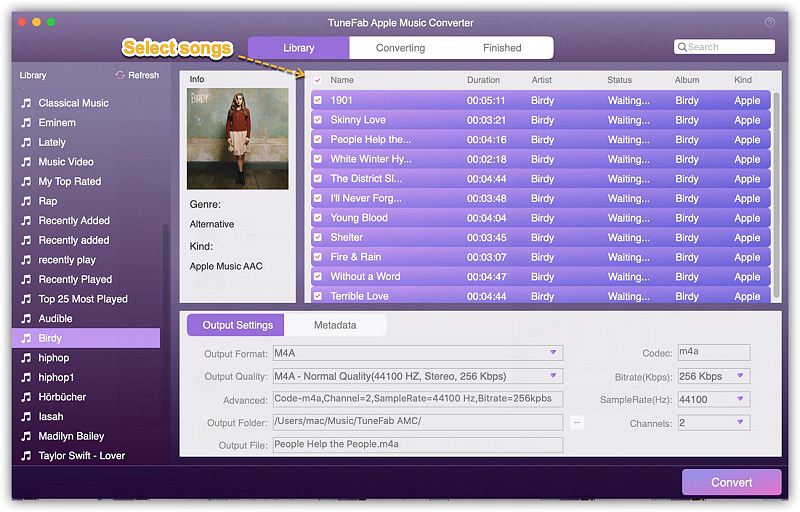 Step 3. Choose Output Format for Apple Music
Go to "Output Settings" and select an output format from the given options, such as MP3, M4A, FLAC, AAC, AIFF, etc. You can also customize conversion speed, codec, bit rate, sample rate, etc.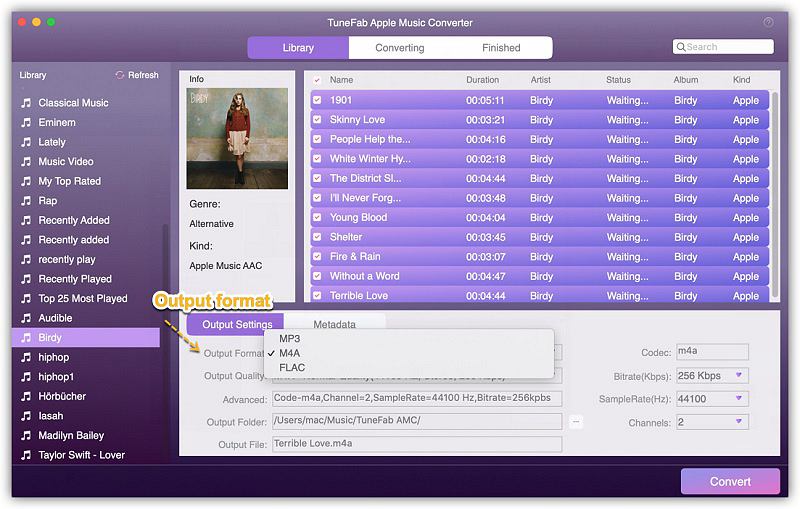 Step 4. Start Conversion and Get Apple Music Forever
Click on "Convert" button to start converting Apple Music to MP3 or other audio formats. Once the conversion is finished, you can find the converted songs on the output folder.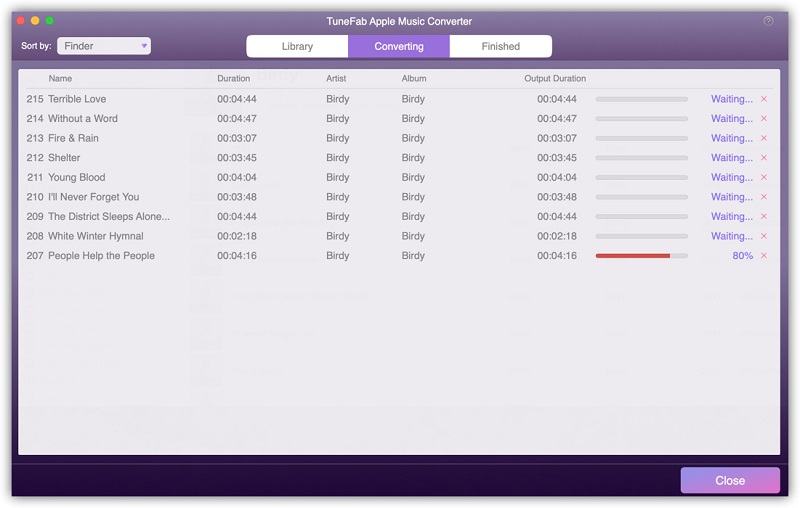 Tips: How to Cancel Apple Music Trial?
You are free of charge during the free trial, but once the it is over and you don't remember to cancel it manually, Apple will renew the subscription for you and automatically charge you the regular fee according to the plan you choose. So, cancel your Apple Music subscription anytime before your free subscription ends if you don't want to get charged by Apple monthly.
On iOS
Step 1 Open the Music app on iPhone, click on For You section at the bottom of the screen.
Step 2 Tap at the Profile button at the upper right corner, and tap at Manage Subscription. You will then be directed to your Apple Music membership page.
Step 3 Choose your Apple Music subscription plan and tap at Cancel Subscription.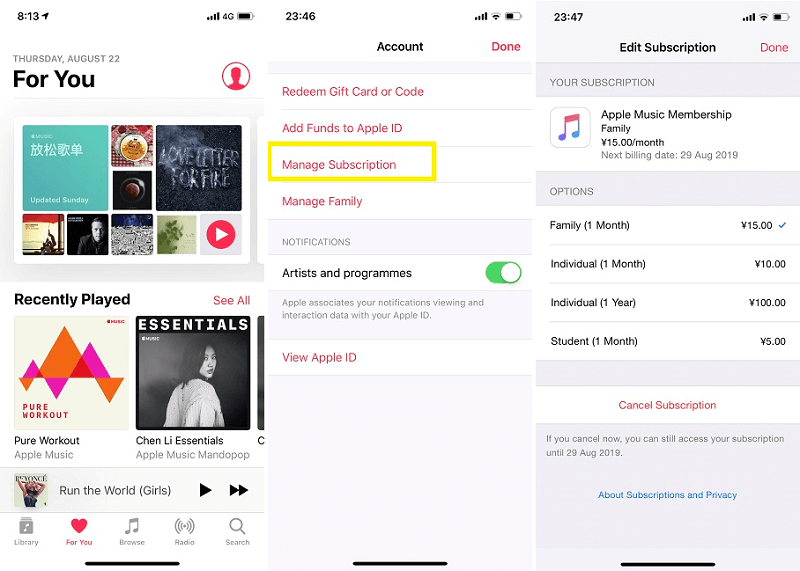 Step 4 Confirm your cancellation by taping the Confirm button. Even if you have successfully unsubscribed Apple Music, you can still use the service until the end of the free trial.
On PC/Mac
Step 1 Launch iTunes on your Windows PC or Mac.
Step 2 Click at Account at the top of the menu bar, then choose View My Account.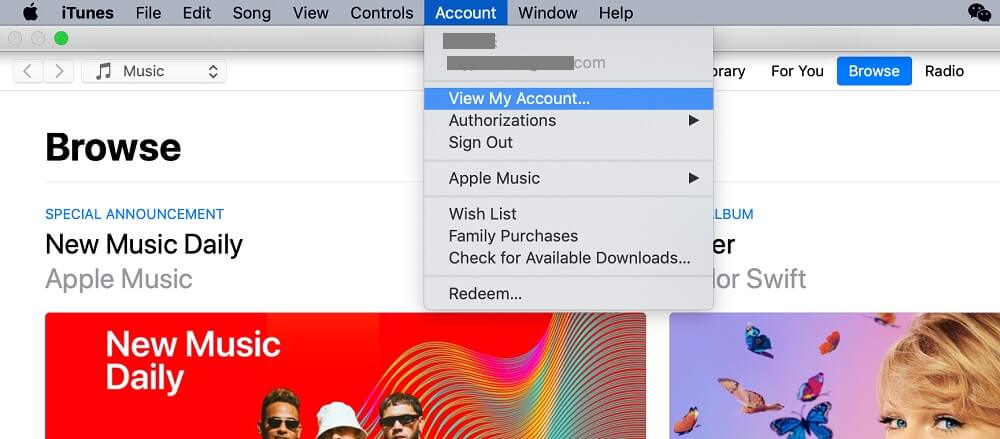 Step 3 Log in with your Apple ID and password and you will see the Account page. Scroll to Settings > Subscriptions and click on the Manage button.
Step 4 Find your Apple Music membership and click Edit.
Step 5 Select Cancel Subscription and tap at Confirm button to finish the cancellation.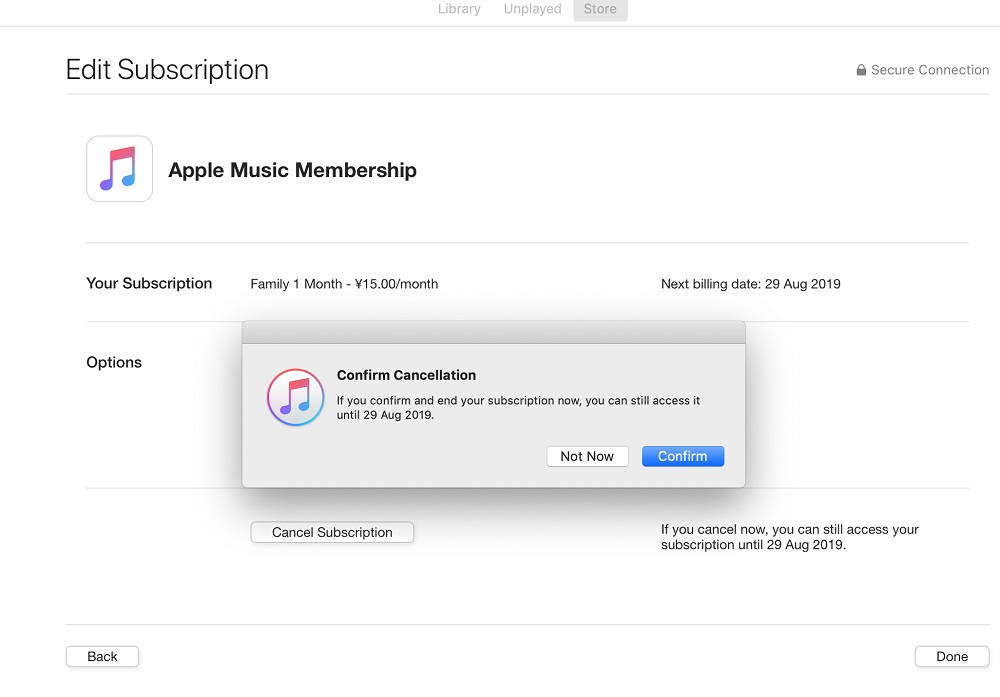 That's it. If you haven't got an Apple Music free trial yet, follow the method above and start your free subscription plan. And with TuneFab Apple Music Converter, you can convert all your Apple Music songs to DRM-free files during the free trial period. By doing so, you can still listen to Apple Music songs for free even if you cancel the subscription after trials.
Was this information helpful?
TrustScore 2.2 | 5