Book enthusiasts can't be more familiar with Audible as it obviously has become the most important source of fantastic audiobooks and podcasts. When you're out and for work or for a trip, you'd love to have Audible audiobooks with you on your way, but unfortunately, not all places have good Internet access, and your data traffic isn't always adequate. At this point, you may want to download Audible books to your phone so you can listen to them offline as you like.
So, can you download Audible books to your phone? Certainly yes, and pretty easy. In this article, full tutorials about how to download Audible books to iPhone and Android will be listed. What's more, you can even find a way to solve protected Audiobooks in AA/AAX formats problems in the post.
CONTENTS
Part 1. Buy Audible Books Before Downloading
As you already know, Audible generally offers online audiobook streaming. As long as you're signed into your Audible account, you'll be able to read and select your favorite books to buy, as well as choose whether to pay for a Premium membership to unlock the full library of books and advanced services. However, it's important to note that no matter how you use Audible, you can only download audiobooks that you have paid for. See how to do it below.
Step 1. Sign in to your Audible account in the Audible App on your phone. You can also use your PC to open the Audible website on the browser.
Step 2. Choose the audiobooks you want to buy and click "Add to Basket". If you have an Audible coupon, you can click "Buy Now with 1 Credit" and your coupon will be automatically used for the purchase.
Note:
If you are using an Audible App on an Android phone, you need to turn to the "Discover" tag before searching for books.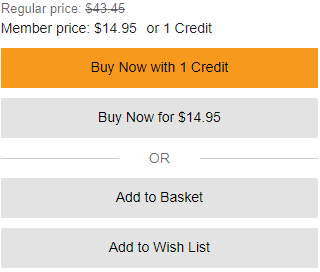 Step 3. Check if relevant purchase details are correct, click on "Proceed to Checkout" and complete the purchase. Once you complete the purchase, you will receive an order confirmation email. Then, you can find the purchased audiobooks in your "Library".
Part 2. Download Audible Books to Phone with Audible App
After purchasing, you can install and launch the Audible App on your iPhone/Android, and then download Audible books to play them offline on the App. Here is the step-by-step guide for you to follow.
Step 1. Click "Library" and Start Downloading
When you've installed the Audible app on your iPhone/Android phone, just launch it and click "Library". You can see all the purchased items here and click the download icon to start downloading.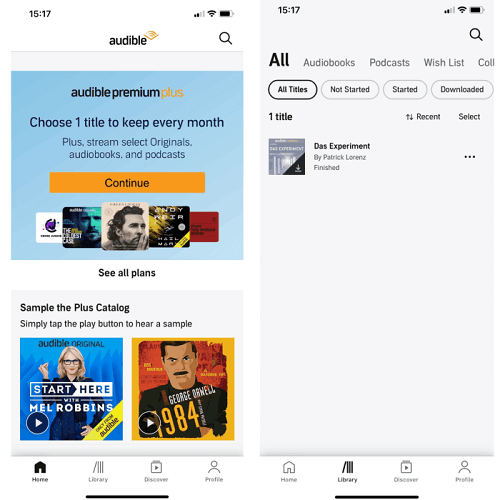 Step 2. Customize Download Settings
To better control the download quality of Audible books, you can change Audible download quality to "Standard" or "High" via "Profile" > "Data & Storage".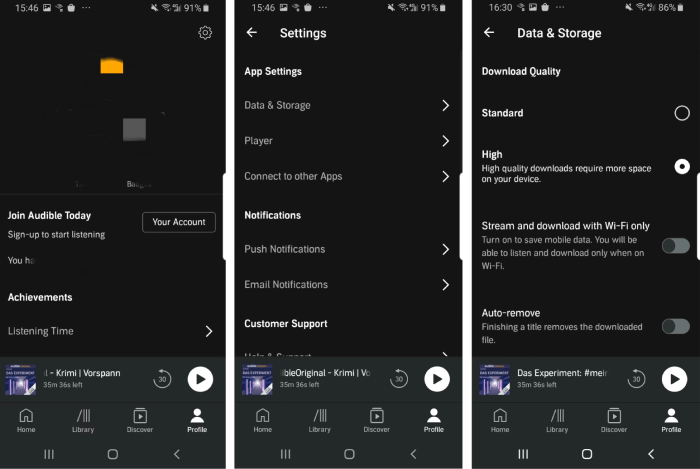 Part 3. Download Audible Books to Phone via Audible Converter
Through the part above, you already know how to download Audible books to your phone using the Audible App. However, you may find it hard to share those downloaded Audible books with others or open them on another platform other than Audible App. That's because all downloaded audiobooks from Audible will be in AA/AAX DRM-protected format.
So, if you want to listen to Audible books on your own player software or share them with your friends and family, you'll need to convert the downloaded Audible books to MP3 or other mainstream formats using a professional program, such as TuneFab Audible Converter. This versatile tool has advanced technology to unlock encryption and download Audible books into MP3, M4A, FLAC, and WAV. Then, you can transfer them back to your phone for free listening and sharing.
Key Features of TuneFab Audible Converter:
● Removes DRM protection from Audible AA/AAX audiobook files in one click.
● Batch converts Audible books to MP3, M4A, FLAC, and WAV formats without quality loss.
● Automatically splits Audible books into multiple segments by duration or chapters.
● Supports up to 60x faster conversion speed while keeping ID3 tags and chapter info.

Step 1. Convert Audible AA/AAX to MP3
Because TuneFab Audible Converter is a computer program, you will need to download your selected Audible books to your Windows/Mac computer first.
After you get the downloaded Audible AA/AAX files, you can launch TuneFab Audible Converter on your computer, and easily drag them into the program to convert Audible books to MP3 (Click for more details).
Step 2. Import Audible Books into Android/iPhone
After you get the converted MP3 files of Audible books, you can import them back to your phone from your computer for free offline listening or share them with others.
For iPhone:
There are 2 ways to transfer your downloaded Audible books to your iPhone, according to the computer you use.
● If you are using a Windows PC, the suitable tool to sync Audible files to your iOS devices is iTunes. You can install and launch iTunes on Windows, click "Add folder to Library" from the iTunes File menu, and choose your audiobook files to upload to your iTunes library. Once finished, the audiobooks will automatically sync to your iPhone.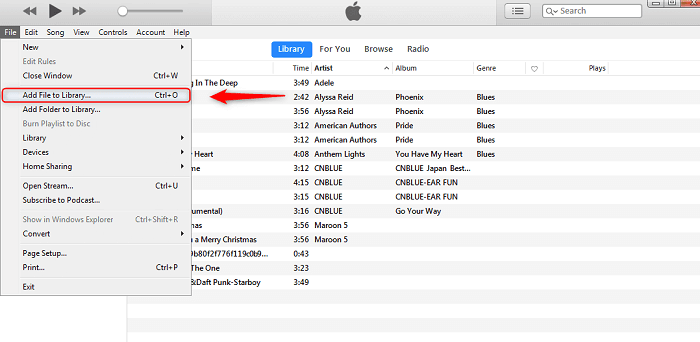 ● If you are using a Mac device, the simplest way to send Audible files to iPhone is AirDrop. Just set it up and take your iPhone next to your Mac, enter "Finder" > "AirDrop" on your Mac, drag the files to the tag, pick the profile on the list to "AirDrop", and then click the popped-up icon on your iPhone to "Accept" to receive the Audible books.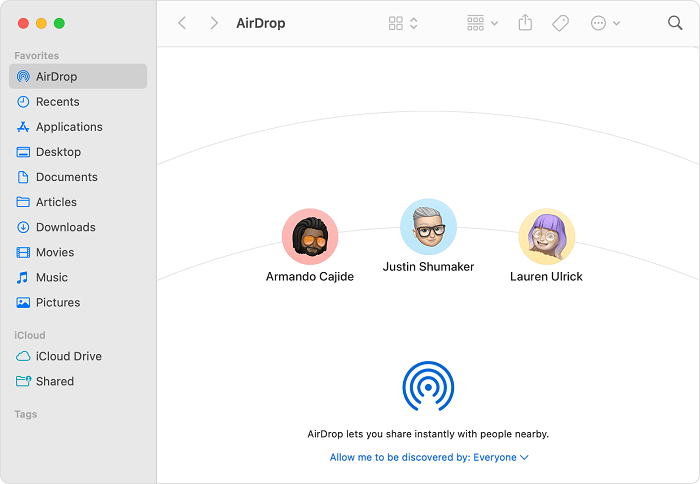 For Android:
The way to import Audible books to Android phones will be much easier. No matter you are using a Windows or a Mac computer, you can directly transfer files to your Android wired. To do this, just connect your computer to your Android using a USB cable. Then, open the folder of your Android, and drag/copy and paste the Audible book files to the folder.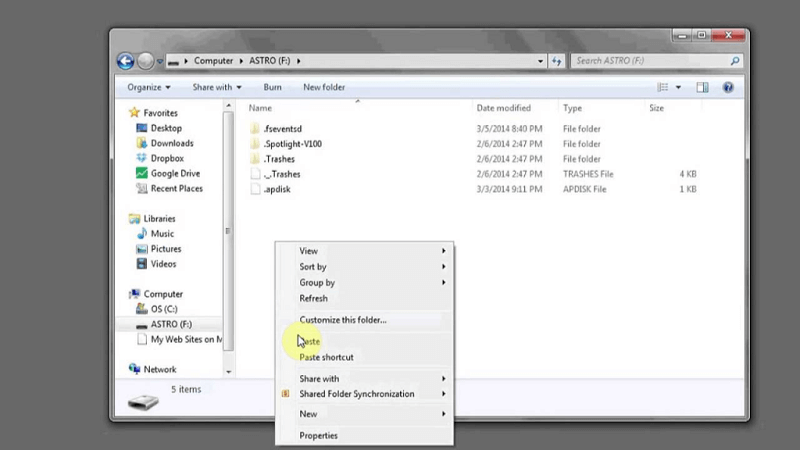 FAQs About Downloading Audible Books to Phone
Q1: Why Can't I Download Audible Books on My Phone?
If you find that you can't download Audible books or don't see the "Download" icon on the Audible App on your phone, then maybe the version of the Audible App you're using is too old. So in this case, you can check if your Audible App is the latest one. If not, try updating to the latest version and see if that solves the problem.
Step 1. Launch the App Store on your iPhone or Open the Google Play Store on your Android phone.
Step 2. Locate to "My Profile" icon, and click "Updates" to find the Audible app. If there is an update available for Audible, tap "Update".
Q2: Can I Play an AAX File without Audible on My Phone?
Unfortunately, the answer will be no. The only way to play AA/AAX files on your iPhone or Android phone is to open them with Audible, since AA/AAX files are actually the extensions provided by Audible Official to DRM-protect their audiobooks.
If you still want to do so, you can consider using TuneFab Audible Converter, to convert your downloaded Audible AA/AAX files into common formats like MP3, then transfer them to your iPhone or Android to play them directly without Audible.
Summary
After reading this post, you have the way to download Audible books to phones in different ways, which is very easy to handle. If you want to share your downloaded Audible books with others or transfer them to another device for convenient offline listening, you can consider TuneFab Audible Converter as an advanced option for a better user experience.
TuneFab Audible Converter
Convert protected AA/AAX Audible books to DRM-free MP3 files
Was this information helpful?
TrustScore 2.1 | 7