It's no secret that Apple Music streams songs at the excellent and high-fidelity sound quality, but chances are you're not getting the highest music quality from Apple Music due to the default playback setting on the music app.
Sometimes you may notice that the music doesn't sound as good as it should be, and you can easily tell the difference even if you are not using high-end audio equipment like high-res headphones or a hi-re music player. If that's the case, you should probably check if the "High-Quality Streaming" option is enabled in the music setting. It's a hidden feature that will not be activated when you are streaming music with your mobile cellular data.
Don't worry, this article aims at guiding you on how to improve Apple Music sound quality with the easiest tricks so that you can always be able to listen to music at the high-resolution level.
Before we get to the tutorial, let's learn more about the max audio quality of Apple Music first.
What Quality Does Apple Music Stream?
Apple Music uses the AAC (Advanced Audio Coding) format encoded at 256 Kbps, with a sample rate of 44.1 kHz, which sounds as awesome as the near-CD quality.
But if you are listening to music under different network connections, you will get different sound quality correspondently.
Playing from Wi-Fi connection: Apple Music streams its tracks at 256 Kbps AAC, which is the highest quality available.

Playing from cellular data: Apple Music streams tunes at a lower quality bitrate (128 Kbps AAC) by default to reduce data usage on your mobile device.
There's no option for you to adjust music quality in iTunes for macOS or Windows because Apple Music uses AAC with up to 256 Kbps by default.
However, when it comes to iDevice or Android device, you can manually enable the High-quality Streaming features which allow you to get the best sound quality even when you're using the cellular network. But activating this feature will use more mobile data and may take longer for the songs to start playing.
So, if you have an unlimited data plan or don't care much about your cell phone bill, then follow the tutorials below to play high fidelity Apple Music all the time.
How to Enable High Quality Apple Music on iPhone/Android
It only takes a few clicks then you can listen to music in the best quality.
On iPhone
Step 1: Open the Settings app, scroll down, and click Music.
Step 2: Tap at Cellular Data and allow Apple Music to use both WLAN & Cellular Data.
Step 3. Toggle on the High-Quality Streaming option, then you can always stream music at the highest quality.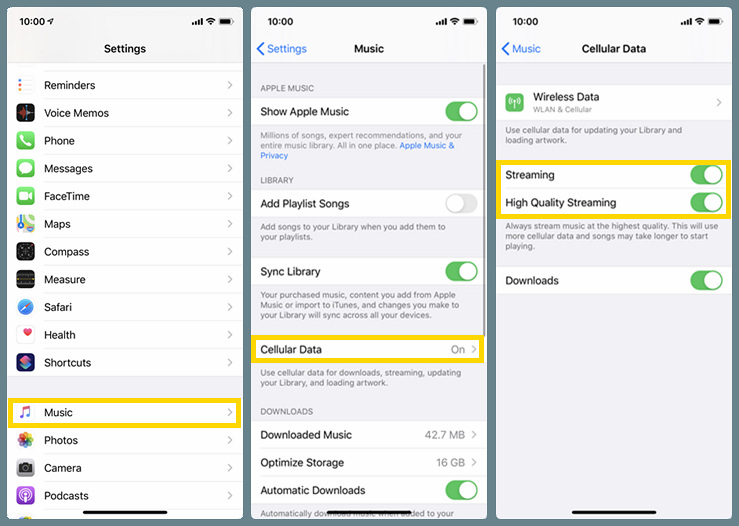 On Android
Step 1: Open the Apple Music app and select Menu > Settings.
Step 2: Go to Playback and tap both Use Cellular Data and High Quality on Cellular to on (green). After that, you can change stream quality from default to high-quality.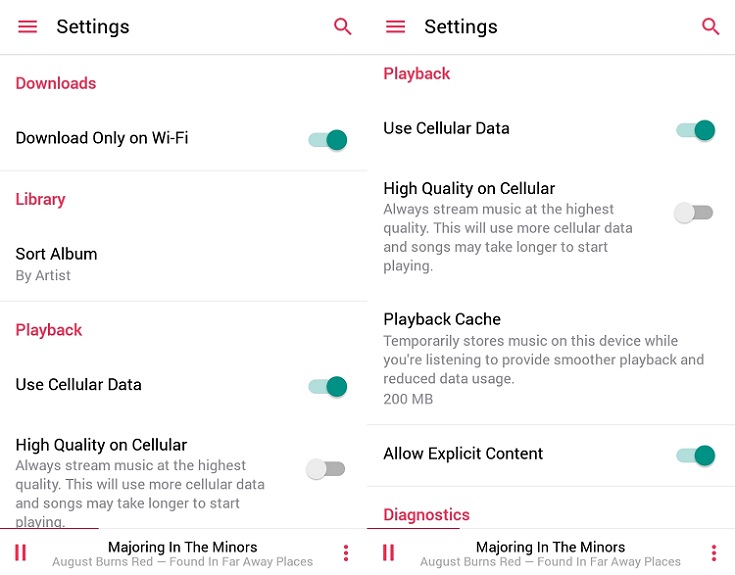 How to Adjust Sound Quality through Apple Music EQ Settings
Another method to make Apple Music sound better is to customize EQ settings in your iPhone or iPad's Music app. Unfortunately, you will find no equalizer in the setting of the Apple Music app for Android, which has been replaced by the Android system one.
For iOS users, the Apple Music app has a built-in equalizer that provides you with different EQ presets including Acoustic, Classical, Dance, Deep, Hip-Hop, Jazz, Latin, Bass Booster, Piano, Pop, R&B, Rock, and many more. You can make your Apple Music sound different by choose the presets you like.
Adjust Apple Music Equalizer on iPhone
Step 1. Open the Settings app and tap at Music.
Step 2. Scroll down and tap EQ.
Step 3. Select your favorite sound effect from the list of EQ options, then you can play Apple Music at your personalized sound quality.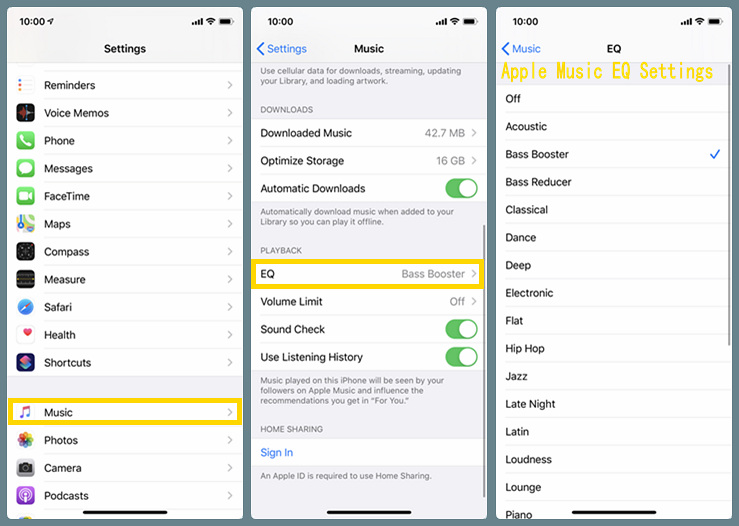 Tips: Some of you may be not satisfied with the sound effects offered by Apple Music's default equalizer, if that so, you can always look for other powerful Apple Music equalizers that can provide more fine-tuned presets and customizable features.
Related Tips: Is Sound Quality Better on Apple Music or Spotify?
Apple Music's max audio quality is set to 256 Kbps while Spotify is 320 Kbps. Although Spotify has a higher bitrate than Apple Music, it's still difficult to tell which of them sounds better because they are using a different audio format.
Apple Music

Spotify

Audio Format

AAC (iTunes Plus)

Ogg Vorbis format

Music Quality

256 kbit/s (high quality bitrates)

24 Kbps (low quality)

96 Kbps (normal quality)

160 Kbps (high quality)

320 Kbps (extreme quality, Premiums only)
That's it. If you have other ways that can boost the sound quality of Apple Music, feel free to let us know in the comments! Hope this article will be useful to you. Enjoy!
Was this information helpful?
TrustScore 3.3 | 69