The Apple Music Family Sharing feature brings families of up to 5 members together and allows them to share access to various Apple services, including Apple Music, Apple Books, and more. However, you might encounter some issues with Apple Sharing, such as your Apple Music family sharing not working after joining a family, or certain family members can't get access to the Apple Music catalog.
Therefore, in order to fix the family sharing Apple Music not working issue, you might as well try out the following 10 methods to solve the problem in this post, including a way to use an Apple Music converter to download the songs you like as local MP3 files to share with your family offline, and don't need to turn on "Family Sharing".
CONTENTS
Fix 1: Check If You Have Set Up Apple Music Family Sharing Correctly
Normally, setting up Apple Music Family Sharing can be done on both mobile devices and computers. In general, if you've done it correctly, you can successfully get your plan shared. To make sure you haven't missed anything, you can check your process according to the steps below:
Step 1. Go to the settings and click your profile to reach your Apple ID settings.
Step 2. Scroll down until you see "Family Sharing", click it, and then hit "Add Member".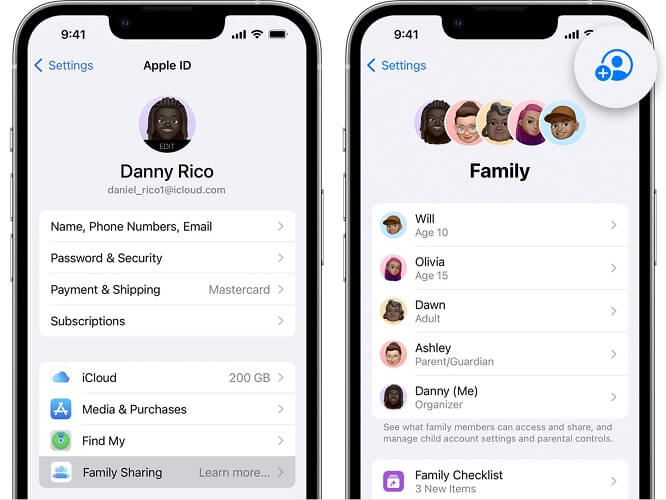 Step 3. Hit "Invite People" and send the invitation to the person you wish to share your Apple Music. You may choose to send it via Airdrop, Messages, or Mail. After you enter the recipient's address and send the invitation, you will see a notification saying that "this person has been added as your family member". Go back to your profile, you will see the member you added.
Step 4. From "GET STARTED", hit "Apple Subscriptions". Tap on "Apple Music" and you will see the information about adding your whole family for USD 2 more. Hit "Upgrade" and finish the payment. After which, you will be able to invite your family via messages, or create an account for a child.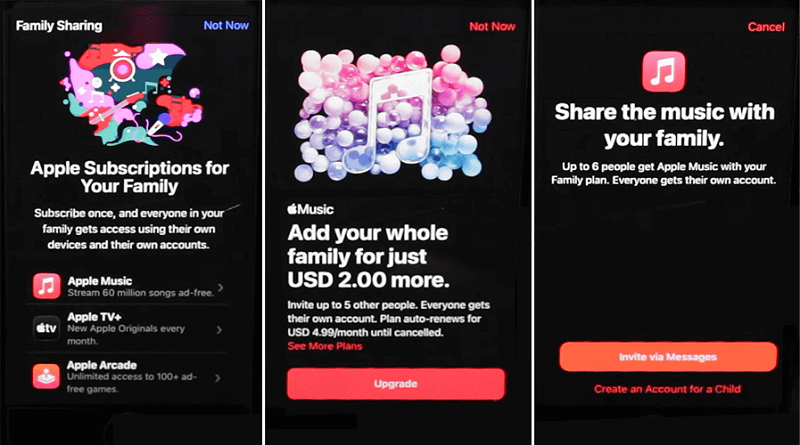 Fix 2: Make Sure Your Devices Are All Set in the Same Country
If the person you want to add and you are using Apple Music settings in different countries, it may also cause failure to share your Apple Music with him. To check your country settings, you need to go to "Settings > General > Language & Region > Region". After changing the region to the same one, you can now try again the sharing steps to share your music with group members.
Fix 3: Make Sure You've Used the Same Apple ID
If you have created more than one Apple ID, the first thing you should try to fix Apple Music not sharing with family members is to check if you use the same Apple ID as you used for joining Apple Music Family Plan to set up Family Sharing and add your family members. Here comes the guide on how to verify the Apple ID on iOS and Mac devices.
On iOS device:
Tap the "Settings" icon > your account name to go to the Apple ID interface. On the interface, you can see the Apple ID information that you use on a particular device.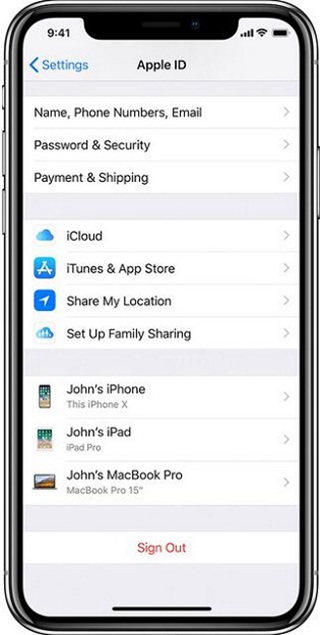 On Mac:
Click on the Apple logo in the top left corner, then select "System Preferences" and click on "iCloud". Now, you can check the details of your Apple ID.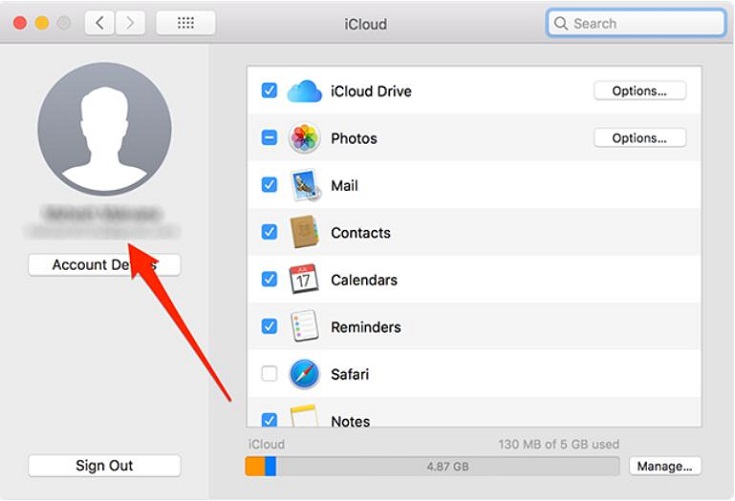 If the ID is not the one that you use for purchasing an Apple Music subscription, then log out and log in with the correct ID.
Fix 4: Enable Apple Music on SHARED FEATURE List
Family Sharing allows users to share not only Apple Music but also photo album, Apple Books, App Store purchases, etc., so if you run into the problem of Apple Music Family Plan not working, check if the family organizer has chosen "Apple Music" after setting up Family Sharing by following the below guide.
Step 1: Go to "Settings" > your name.
Step 2: Tap "Family Sharing".
Step 3: On the "SHARE FEATURES" list, make sure you've turned on the "Apple Music" option. If not, then enable the option.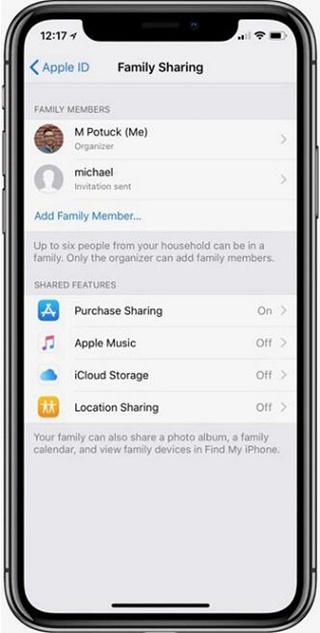 Fix 5: Make Sure Family Members Sign in to Apple Music, iCloud, and iTunes with the Same Account
Except for checking whether you log in with the same Apple ID as the one that you use for joining Apple Music Family Plan, family members are supposed to ensure they sign in to Apple Music, iCloud, and iTunes with the same account. Also, make sure the account is the one to which the family organizer sends an invitation. You can find and confirm these settings under "Settings" > "Family Sharing" on your Apple devices.
Fix 6: Sign out and Re-sign into Your Apple Music Account
Though you don't know why Apple Music Family Sharing not working exactly, you can always try to sign out of your account and then log back into your account.
On iOS mobile devices, go to "Settings" > your name, then tap "Sign Out" at the bottom of the Apple ID screen. After that, sign back in with your account.
On Mac devices, open iTunes, click on "Account" on the menu bar and select "Sign Out" from the list, then click on "Account" again and select "Sign in" to sign in with your account again.
Now, check whether your family members can get access to Apple Music with their accounts. If not, then try the below fixes.
Fix 7: Remove and Then Re-add Your Family Members
If you can't share Apple Music with some of your family members, then your problem might be caused by an error occurring when you add members to your Apple Music Family Plan, therefore, try to remove them and add them to your Family Plan again.
Step 1: On your iOS device, tap "Settings" > your name > "Family Sharing".
Step 2: Select the family member who has the problem with Apple Music Family membership not working and tap the "Remove" icon.
Step 3: After that, repeat step 1, tap "Add Family Member" and select the person you want to add to Family Plan.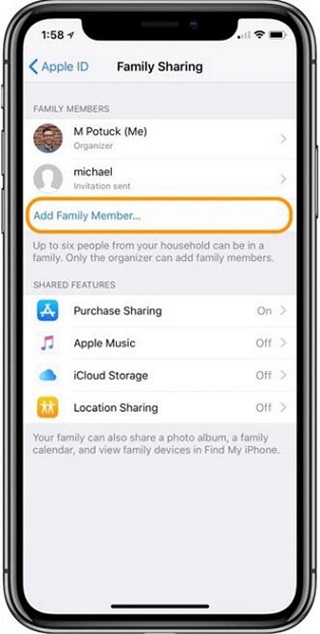 Fix 8: Try Again When Apple Music Trial Period Is Over
For family members who are still in the Apple Music trial period, they will not be able to access your Apple Music Library until their trial ends. Once their trial expires, you can try again the steps mentioned above, to turn the Apple Music Family Sharing feature back on, and see if it works properly.
Fix 9: Contact Apple Music Support for Help
If you've already tried all the above solutions, but Apple Music Family Plan not working still exists, then ask Apple for help. Simply go to Apple Support, scroll down, and click on "Get support" and the corresponding option, then either talk to Apple support by phone or start a chat session with Apple support.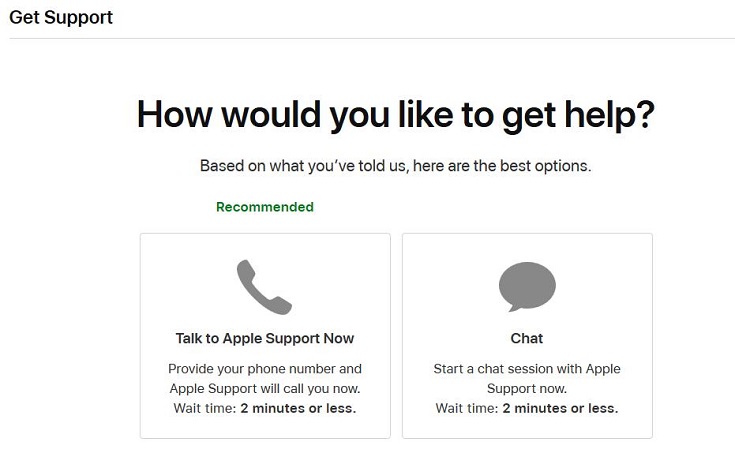 Fix 10: Share Apple Music Without Family Sharing
If you still cannot fix Apple Music not sharing with family by following the above solutions, you can consider sharing Apple Music in another way. For example, downloading Apple Music to MP3 with a professional Apple Music downloader, and then sharing the music with your family members without the limitations of the "Family Sharing" feature.
TuneFab Apple Music Converter is the tool to achieve this. It is an all-in-one software for downloading Apple Music to common formats such as MP3 and M4A, removing DRM from Apple Music, and extracting audio from the whole Apple Music library. More importantly, conversion speed can be up to 5X and all ID3 tags can be preserved.
Step 1: Launch Apple Music Downloader
Click on either download button to download TuneFab Apple Music Converter and then install it on your computer. This app is compatible with both Mac and Windows computers. After your install it, launch it and log in to it with your Apple ID so that it can reach all music from your plan.
Step 2: Add Apple Music for Conversion
Navigate to your playlist or search for new songs you wish to share from the browse page, and then drag the song/playlist/album to the "Plus" plugin to add them to the convert list.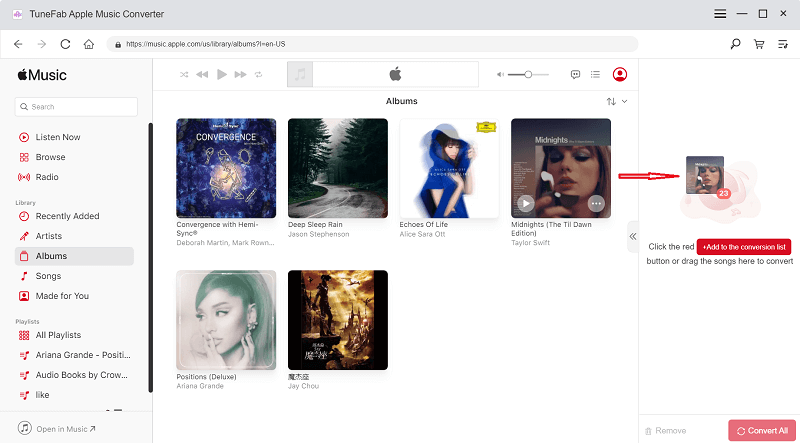 Step 3: Set Output Preferences
Go to "Output Settings" from the top and select MP3, M4A, AAC, etc. from the output format list.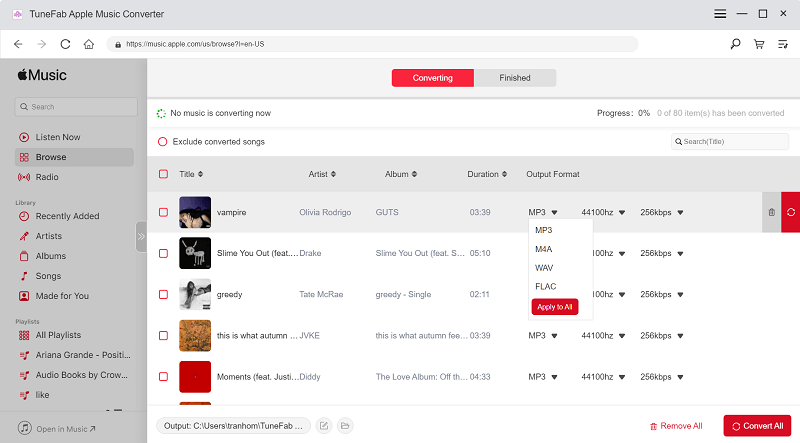 Step 4: Save Apple Music to PC
Click on the "Convert" button on the top menu to start the conversion. All DRM-free Apple Music songs are saved in the output folder, you are free to share them with your family members (for personal playback).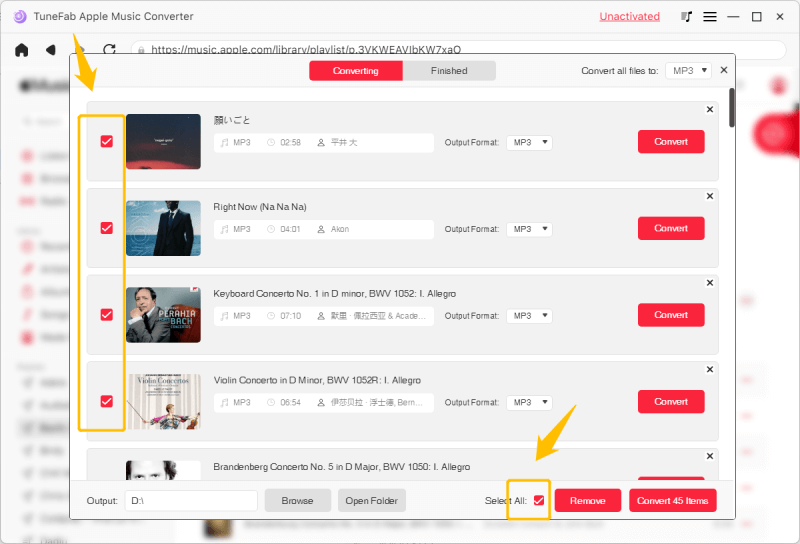 FAQs About Family Sharing Apple Music Not Working
Q1: How to Join an Apple Music Family Subscription?
The invitation to join the Apple Music Family Subscription is usually sent to you via email or text message. You can easily accept or decline the invitation directly from your device. If you miss the invitation, follow these steps to find it back:
● On iPhone/iPad/iPod Touch: Turn to "Settings", tap "Your Name/Apple ID", then enter "Invitation".
● On Mac devices: Enter "Apple Menu" > "System Settings", then click "Family".
After the "Invitation" page is displayed, just follow the instructions on the screen. You may be asked to confirm your account information and opt into any features or services that your family has set up.
Q2: How to Invite Members to Join Apple Music Family on Mac?
As mentioned in Fix 1, after you create and set up your Apple Music Family Group, you can invite others to join the group. The steps are also very easy to follow.
Step 1. On the "Settings" page, enter "Family", then you can find the "Add People" icon at the top.
Step 2. Then, you can invite members to join, or customize other settings options on this page. To check the status of an invitation, you can tap the name of the inviter directly on the "Family" screen.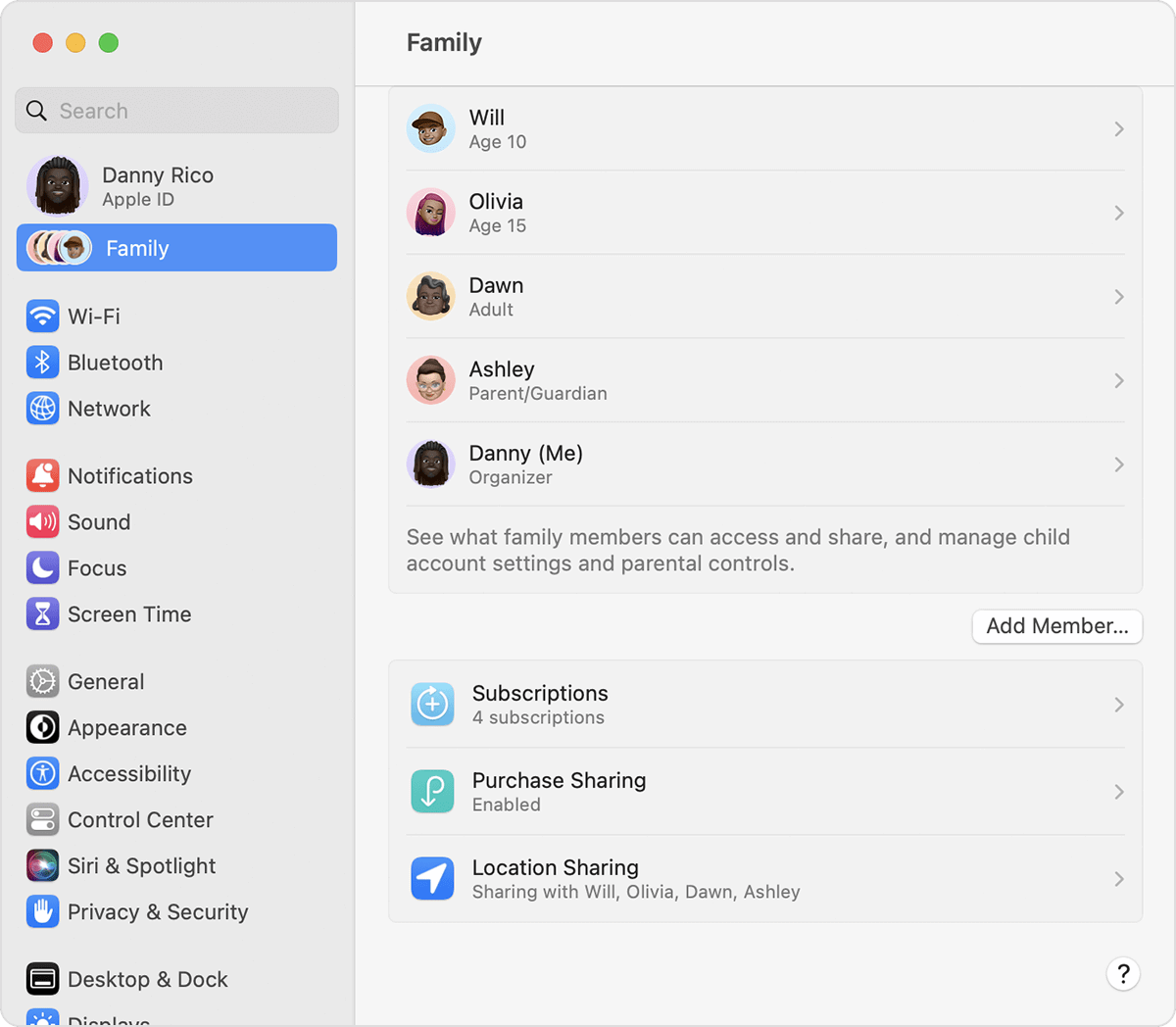 Tips:
If you have more than one Apple ID, you can invite each account to join the group so you can share purchases with your family with other Apple IDs.
Conclusion
This post lists several effective solutions to address issues with Apple Music Family Sharing not working properly. Should you require it, please bookmark this article for future reference in case of necessity. Alternatively, you can consider using TuneFab Apple Music Converter as mentioned earlier to download Apple Music as local MP3 files for offline music-sharing without turning on the family sharing feature. Hope this post will fully meet your needs.
TuneFab Apple Music Converter
Convert Apple Music to MP3 to share with your family offline
Was this information helpful?
TrustScore 1.7 | 46
Copyright © 2022 TuneFab Software Inc. All rights reserved.