Spotify is a top-level streaming music service around the world, offering 90 million tracks for users to listen to. However, only Spotify Premium members, who pay $9.99 per month for a subscription fee can enjoy all music and download the music for offline playback. It is might be a little bit expensive for you to afford it for years. But there are some available workarounds that can help you hack Spotify Premium and even Spotify downloads.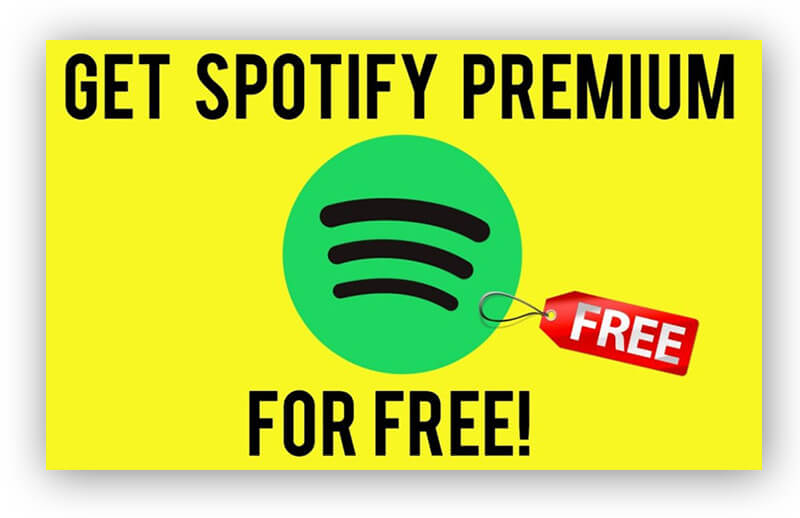 To begin with, let's take a look at what Spotify Premium can do:
1. Enjoy the whole library of Spotify which contains 90 million songs
2. Skip unlimited tracks while listening to music
3. Download the tracks for offline playback on 3 authorized devices
4. High-quality music tracks
5. Get rid of Ads in the App
Are you interested in the privileges above? Just read the following contents and learn how to get Spotify premium free.
CONTENTS
Part 1. Hack Spotify Premium Offline Feature on PC - MP3 Download
The first method here is not typically hacking the Premium membership. But this is also a great way to enjoy the Spotify Premium privileges such as downloading music from Spotify free for listening to music offline and playing songs in high quality without ads at all. Besides, even if you subscribe to the Spotify Premium membership, you still can't keep the premium privileges forever unless you keep renewing. Moreover, the songs downloaded from Spotify are coded under the restriction of DRM. You cannot copy or move them to other places.
To hack the Spotify download function and listen to songs on Spotify with no ads, you can try a powerful third-party tool. TuneFab Spotify Music Converter is a Spotify downloader that can download Spotify Music as MP3 or other formats for offline listening. After which, you can add the downloaded songs to your playlists and enjoy them without ads.
Other Features of This Tool:
● Convert Spotify songs to MP3, M4A, FLAC, WAV
● Batch download Spotify single songs/albums/playlists
● Download songs up to 320kbps at a fast speed
● Keep all ID3 tags including the song title, artist, and cover art
● Work for both Spotify free and premium users
Follow the steps below to hack Spotify premium download feature:
Step 1. Download TuneFab Spotify Music Converter
Click the button to download TuneFab Spotify Music Converter, which can run smoothly on Windows and Mac. Choose the right version for your computer.
Step 2. Install and Launch the Software
Follow the instruction for installation and then launch TuneFab Spotify Music Converter. You can see the interface that is similar to Spotify web.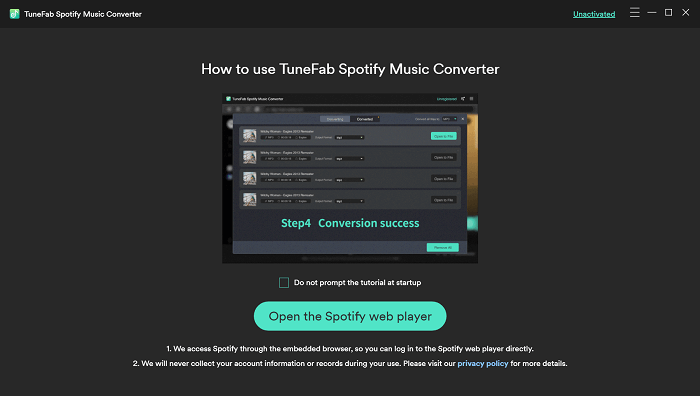 Note:
In the latest TuneFab Spotify Music Converter, the Spotify Web Player has been embedded. Simple login your Spotify account and you can enjoy the convenient Spotify conversion features brought by TuneFab.
Step 3. Open Spotify Playlist to Convert
Click "Preferences" and then "Advanced", and choose one from four provided formats, such as MP3, M4A, WAV, and FLAC (Here we choose MP3 as an example).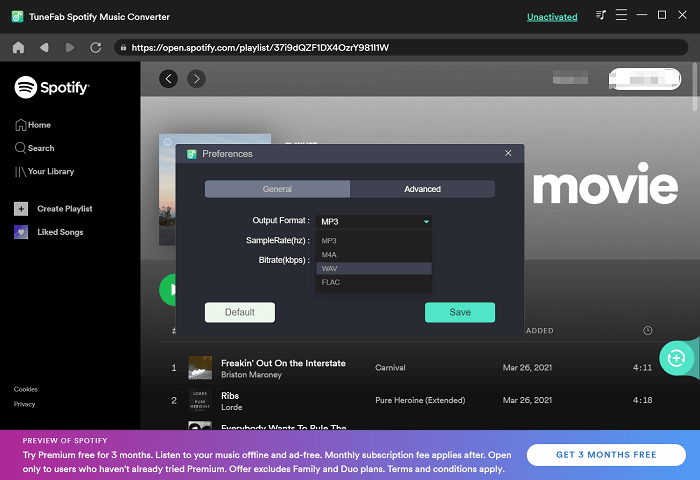 Step 5. Choose Output Folder
Click "Preferences" > "General", and you can select an output folder on your computer apart from the default one.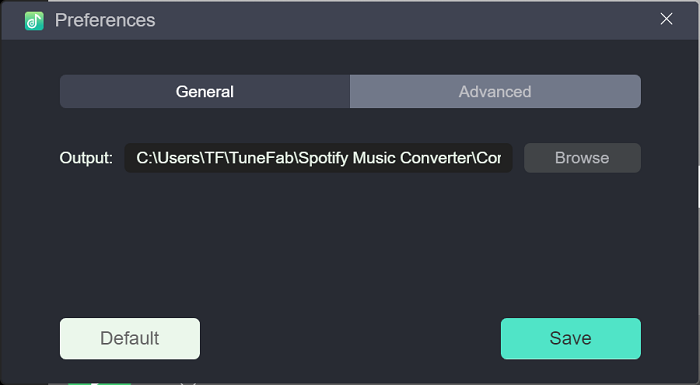 Step 6. Start Converting Spotify Song to MP3
Click the "Convert" button to start converting the songs to MP3. If you have added a bunch of songs, just wait for a second to get the process done. When the conversion is finished, you can go to the folder to check these songs.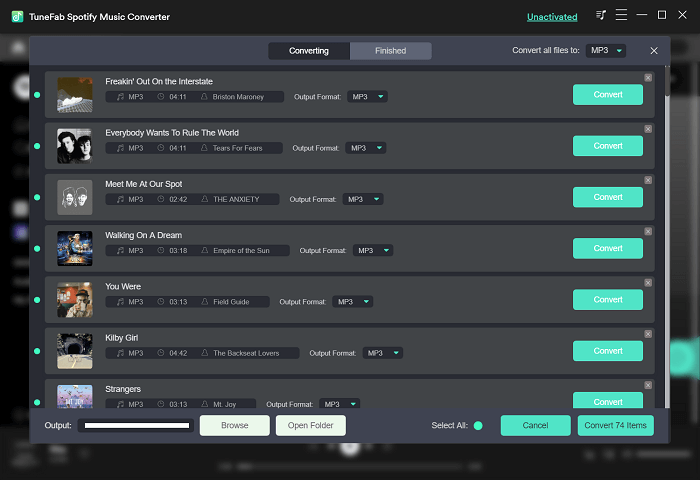 Tip: If you wish to listen to them on Spotify without ads, you can add the output folder as a local source on Spotify, after which you can also add them to your playlist.
How to Hack Spotify Premium for Free on Android
Want to get hacked Spotify on your phone? In this part, you can read two ways to hack Spotify on Android phones. But you should be told that the two ways may not be stable enough in contrast to the first Spotify downloader.
Hack Premium of Spotify with Spotify Premium MOD APK
Spotify Premium MOD APK is a modified version of the original application by some developers. With it, you can use most features of the Premium subscription. And you don't need to update the application for it is the final version now.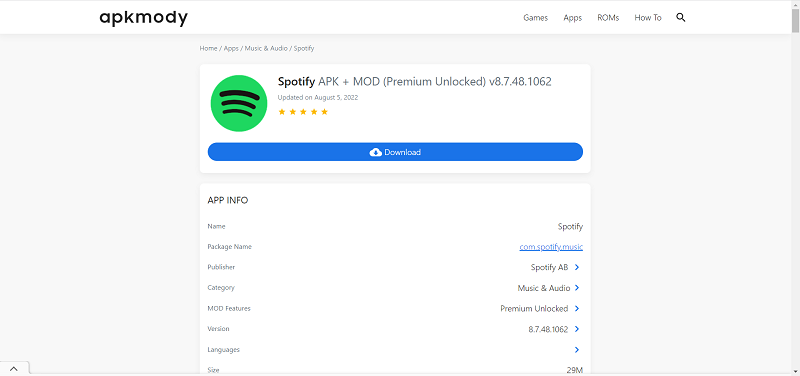 Note:
Some server-side features still require payment to use. If you are signing up for a Premium plan, you can download music locally. Otherwise, you cannot download songs still.
Step 1. Before you download the app, you have to uninstall the original Spotify.
Step 2. Download the app on the website above.
Step 3. Open the app and log into your account when the installation is finished.
Get Spofity Premium for Free with Spotify Lucky Patcher
Spotify Lucky Patcher is a tool that can hack the in-app currencies, resources, and any other item that usually requires you to spend some real money using a credit card. And Lucky Patcher enables you to get all of that free.
Therefore, you can use it to hack Spotify premium for free. Sadly, Spotify Lucky Patcher is still only available on android phones. If you have an android phone, you can follow the steps below to listen to Spotify for free.
Step 1. Download Spotify Lucky Patcher
On your mobile device, you can download Lucky Patcher and then install it.
Note: You need to enable the app installation from unknown sources through the Android security menu to install the app on your device.
Step 2. Tap Spotify Icon
If you have successfully installed Lucky Patcher, then tap to open it and then choose the Spotify icon.
Step 3. Apply Process
Tap on "Open Menu of Patches" and then "Custom Patch", which you need to apply. Next, the process may be daunting for your process, and you don't have to abort it.
Step 4. Go to Spotify App
Open the Spotify app, if the "Shuffle All" option disappears, then the process is completed.
Step 5. Final Settings
Go to the "7 Days Trial" option and then tap on the subscription button. Then go to the "Settings" option of your mobile device to change the date. Just set the date back to whenever you want. Now you have Hacked Spotify Premium successfully and you can enjoy the advantages of Premium for an extended period.
How to Hack Spotify on iOS by Installing Spotify++
What is Spotify++? Do you remember the Spotify MOD APK introduced above? The two are similar. They all are modified versions of Spotify that can help users access the premium service for free. The difference is that Spotify++ works on iOS devices.
If you have downloaded Spotify with an account signed in, you'd better uninstall Spotify on your iPhone first when you propose to try the following ways for unnecessary errors.
Note:
You can follow the steps to clear your Spotify memory:
1. Go to "Settings"> "Safari"> "Clear History and Website Data".
2. Next, go to "Settings"> "General"> "Profile" to check if there's anything related to Spotify.
Use Tweakbox to Hack Spotify Premium for Free
Step 1. Open Safari and visit the web of Tweakbox.
Step 2. Install the installer mentioned above on your iPhone.
Step 3. Go to the home screen, and open Tweakbox for loading.
Step 4. search for Spotify++ on the Tweakbox app.
Step 5. After you install Spotify++, you can log into your Spotify account and Spotify Premium for free.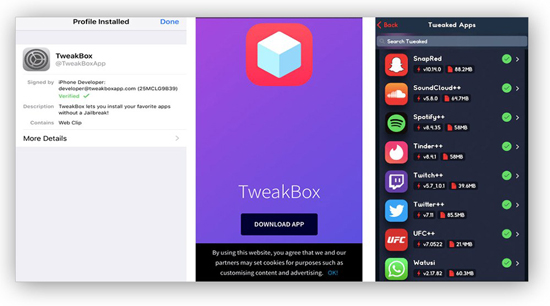 Hack Spotify Premium with Modzilla.io.
Step 1. Open Safari and visit Modzilla.io.
Step 2. Search for "Spotify++" on this website.
Step 3. When you see the result, click get next to the app icon.
Step 4. Touch the "Share" icon on Safari, and select "Add to Home Screen". Then you can open it.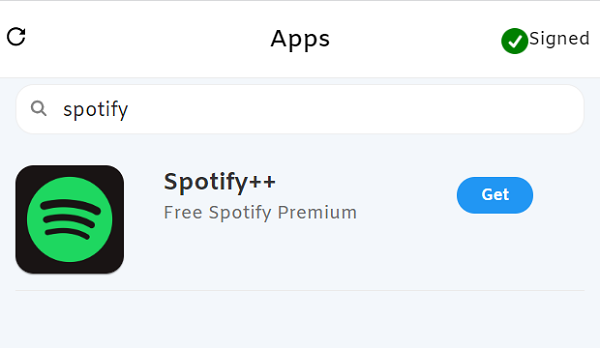 Conclusion
As you can see, there are various approaches in line with different devices. But you are highly recommended to take the first measure – using TuneFab Spotify Music Converter to get the Spotify download feature.
As for the reason, it is easy to understand that using unofficial apps to access premium free is likely to lead to your account being hacked. And other worse security issues may happen as well. But TuneFab Spotify Music Converter is 100% clean and safe and committed to providing users more individual assistance to make more music heard.
TuneFab Spotify Music Converter
Hack Spotify Premium Downloads to MP3
Was this information helpful?
TrustScore 2.2 | 99