Spotify, allowing users to create, edit, and share playlists and tracks on social media, provides music and podcast streaming service for many countries. However, it is not available everywhere. There are less than 60 countries in the world where Spotify is available. But all content you can listen to depends on your account and your network. Does it mean that you can use your Spotify account in that region anymore? No, you can easily unblock Spotify actually.
Reasons Why You Are Blocked from Spotify
Spotify updates its content every day and it's different among countries. But overall, you are blocked due to two reasons:
A.Region Restriction.  Spotify is only available in limited countries from Europe, the Americas, and Asia. If you have a US account, and you find some tracks greyed out when you are in Japan, it means that the right holder of those songs doesn't permit the service.
B. Network Reasons: There are different reasons why Spotify won't load, for example:
- A school blocks IP addresses to protect traffic servers.  
- An organization uses firewalls to ensure security.
- A public area network uses a web proxy to ban certain apps or platforms.
No matter which condition you are in, there's an available way for you to unblock Spotify – Using a VPN.
Step-by-step Guides to Unblock Spotify with A VPN
You can unblock Spotify by using a VPN. With the help of a VPN, you can bypass geographical restrictions and firewalls and link to a proxy server, so that you can access from a different location without being detected or blocked. In addition, VPN services will provide you with more anonymity, privacy and better online security. The steps to unblock Spotify via a VPN are as follows.
Step 1. Download and Install
Download the VPN you want to use on your device and install it.
Step 2. Choose a VPN Device
Launch the VPN, then click "Home" from the pop-up menu and select "All Services' to select a VPN-free server in the country where Spotify is available.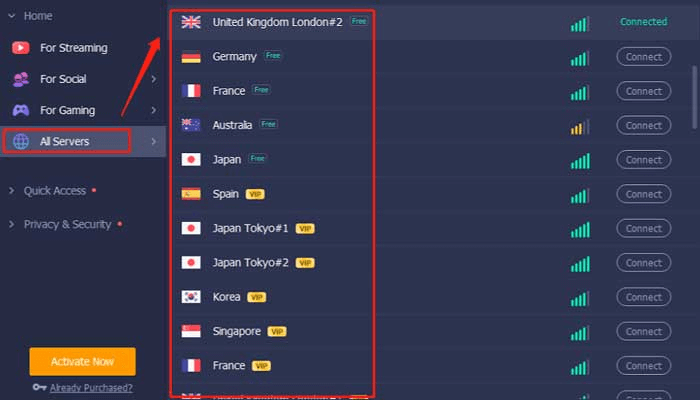 Step 3. Connect to Spotify for Unblocking
After choosing the region, you can go back to the main menu to tab the red circle button for connection. When the red circle turns blue, you can get Spotify unblocked with the VPN.
How to Unlock Spotify Without Using A VPN
If you want to unblock Spotify without the help of a VPN, then you can choose to use a proxy server. Actually, a proxy server works similarly to a VPN, they are just different from an end-user perspective. A proxy server will connect you to a new server with a new IP address so that you are allowed to have an unblocked Spotify account. Follow the steps to unblock Spotify with a proxy server.
Step 1. Visit the Spotify login page, then click "Setting> Proxy Setting".
Step 2. Choose the "No Proxy" option under "Proxy Types" to disable the proxy.
Step 3. Log in to your Spotify account again, and you will find the problem fixed.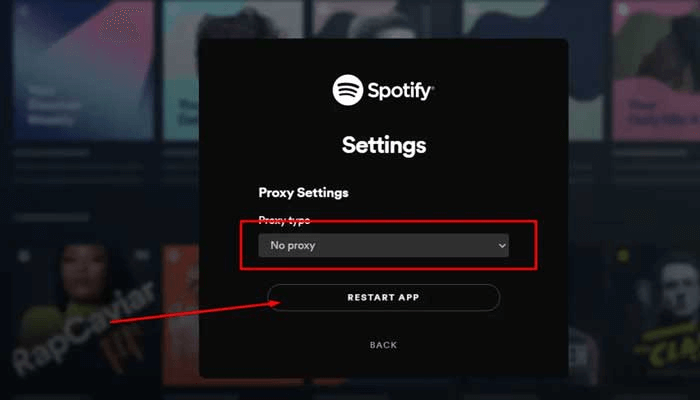 3 Recommended VPNs for Unblocking Spotify
When choosing the best VPNs to unblock Spotify, we primarily consider the speeds they offer and their network of servers. What's more, consideration was also given to privacy protections the VPNs offer and customer support. After our testing, here we recommend the three best VPNs for you.
NordVPN – Double VPN for Strong Censorship Laws
Best for: If you consider security and safety more, then NordVPN may be your best choice.
NordVPN has more than 5,300 servers in 60 countries. This vast network allows you to access the entire Spotify library without any restrictions. During the test, NordVPN regularly provided high speed for all activities, including browsing, downloading, and streaming content. We can listen to our favorite music and podcasts on Spotify without any distractions.
What's more, it provides users with a dedicated server and static IP, making NordVPN ideal for unblocking other streaming services.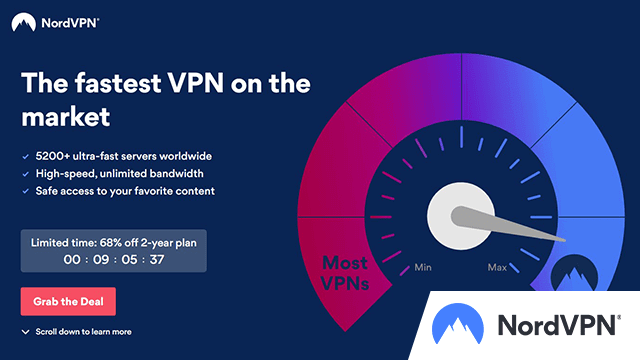 Pros:
- Provide double VPN for strong censorship laws;
- Provide users with high speed for all activities;
- Offer users a dedicated server and static IP;
- Encrypt all your data using the best protocols;
- Doesn't keep any logs of your internet activity;
- Support 30-day money-back guarantee;
Cons:
- Provide slower speed in the advanced mode.
Surfshark – Cheapest Plan Among the Top VPNs
Best for: If you're looking for an affordable VPN service that unblocks Spotify quickly, then you can choose Surfshark.
Surshark provides more than 3,200 servers across different continents, mainly in Europe and the Americas. Spotify in the US usually has all the latest music that can be easily accessed once you unlock Spotify using Surfshark. Surfshark supports P2P traffic, so you can download content from other platforms in addition to using Spotify.
In addition, it uses industry-leading encryption protocols to protect all of your Internet activity. So, not only does it open Spotify for you, but it also doesn't track your Internet activity!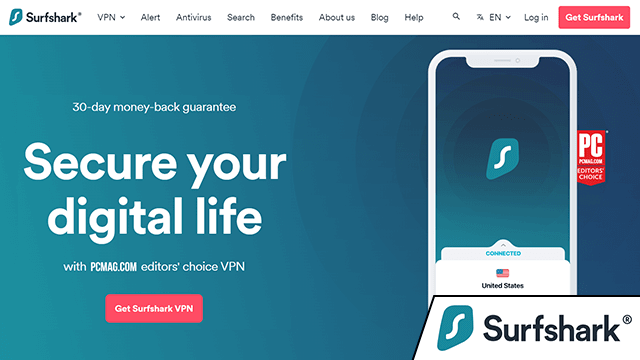 Pros:
- Provide the cheapest plan among many VPNs;
- Can easily access the Spotify in the US;
- Support P2P traffic for downloading content from other platforms;
- Offer encryption protocols to protect all of your Internet activity;
- Provide a 30-day money-back guarantee.
Cons:
- Provide relatively slow speed to unblock Spotify.
ExpressVPN — Fastest Connection Speed
Best for: Those who want to unblock with the fastest connection speed.
ExpressVPN has more than 3,000 high-speed servers in 94 countries all over the world, making it easy to bypass geographic restrictions and access Spotify or Soundcloud from anywhere. ExpressVPN can also unplug the most popular video streaming sites, and you can use up to five simultaneous connections on one account.
Meanwhile, ExpressVPN provides military-grade 256-bit encryption, split tunneling, DNS leak protection, a kill switch, and a strict log-free policy. And its 24/7 live chat will ensure you get a reply within seconds to help you solve problems.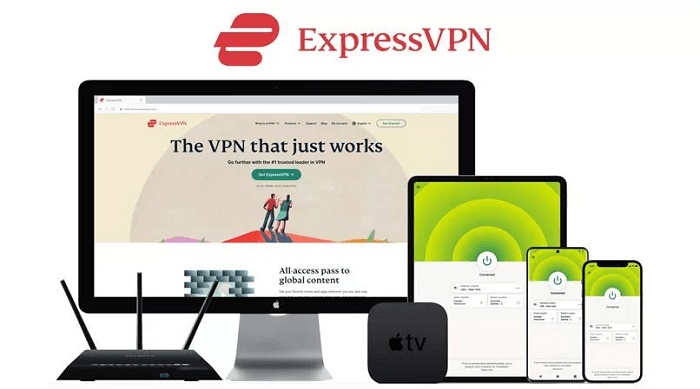 Pros:
- Provide relatively fastest connection speed;
- Support compatibility with most platforms;
- Provide military-grade 256-bit encryption, etc.
- Offer 24/7 live chat to help you;
- Ensure privacy and security.
Cons:
- Provide a more expensive price than its competitors.
Final Words
This article introduces you to two ways to unlock Spotify with VPN or without VPN, you can choose either of them to unblock your Spotify. In the meantime, if you want to choose the VPN method, this article also recommends the three best VPN options for you to choose from. Just select one way to have a try! And if you wish to keep your Spofity contents forever to avoid being blocked again, try using TuneFab Spotify Music Converter to get your favorites downloaded.
Was this information helpful?
TrustScore 2.7 | 13