Videos that people downloaded are most in the format of M4V, MOV, AVI, and MKV, but they seldom figure out the differences among those formats and thus compatible issues may happen to them. So, before watching a video, you need to know its format and choose the right player that compatible with the video. This article will make a comparison between M4V, MOV, AVI, and MKV from the file type, their pros and cons, etc. and convert M4V to the other three formats for you to watch those videos flexibly.
CONTENTS
Part 1. The Comparison Between M4V, MOV, AVI, and MKV
1. Details of M4V
Description
Developed by Apple, M4V is a MPEG-4 file container that usually employs H.264 video codec and AAC or Dolby Digital to contain video and audio streams. The M4V is the default format for iTunes videos. In other words, videos that downloaded from the Apple iTunes Store are all wrapped in this container.
Pros & Cons
Portable devices that support M4V are Apple products like the iPhone, iPad, and iPod. But it is not widely used and protected by FairPlay DRM (Digital Rights Management).
Programs to Open M4V Files
iTunes, QuickTime Player, Corel VideoStudio Pro X7 Ultimate.
Related Information
Now that M4V has this troublesome restriction, you are likely to get frustrated when faced with problems in playing M4V videos on non-Apple devices such as Andriod smartphones or tablets. Fortunately, this guide can help you handle the problem:
How to Play iTunes M4V on Android Phone and Tablet
2. Details of MOV
Description
Also developed by Apple, MOV is a common multimedia container file format that stores different types of media data. The MOV format is not only the default format for QuickTime but also one of the iTunes supported video formats.
Pros & Cons
MOV supports more codecs that are not supported by M4V and the codecs usually can work better on MOV than M4V. But it may lead to playback issues with some devices if the codec used in the MOV container is too odd to be recognized.
Programs to Open MOV Files
QuickTime Player, VLC media player.
Related Information
M4V vs MOV: Which Is the Better Format for Exporting?

3. Details of AVI
Description
AVI is a Windows-based multimedia file container format that is developed by Microsoft. As one of the most popular video formats, AVI files can contain both audio and video data in a file wrapper that allows synchronous audio-with-video playback.
Pros & Cons
AVI is well compatible with most Windows-based media players and devices but it doesn't work very well on Mac/iOS-based devices.
Programs to Open AVI Files
Windows Media Player, Adobe Flash Professional CC, etc.
4. Details of MKV
Description
MKV, the file format for Matroska Multimedia Container, is an open standard, free container format, a file format that can hold an unlimited number of video, audio, picture, or subtitle tracks in one file.
Pros & Cons
It supports H.264/AVC for optimum HD content, Blu-ray rips, and HD video playback. But the file usually takes up large space.
Programs to Open AVI Files
VLC Media Player, Final Media Player, KMPlayer, etc.
Related Information
M4V vs MKV: How to Choose Between Them?
After comparing M4V, MOV, AVI, and MKV, we can know these formats better. They all have different features and their corresponding player to open them. If you have the interests of converting M4V to MOV, AVI, or MKV, just keep reading.
Part 1. Convert M4V to MOV, AVI, MKV as Needed
When it comes to converting M4V, the tool appears from your mind maybe VLC, Handbrake. But they are only able to convert unprotected M4V videos and have no capability to deal with DRM-ed(protected) M4V. So, what you need is TuneFab M4V Converter which is the iTunes DRM removal to help you crack DRM and convert M4V to MP4. It surprises many users cause it can preserve audio tracks and multiple subtitles after converting. Also, it has 30X fast conversion speed. The followings are the simple steps to use it.
Step 1. Click "Add Files" to Import M4V Files
Click "Add Files" to import your M4V files.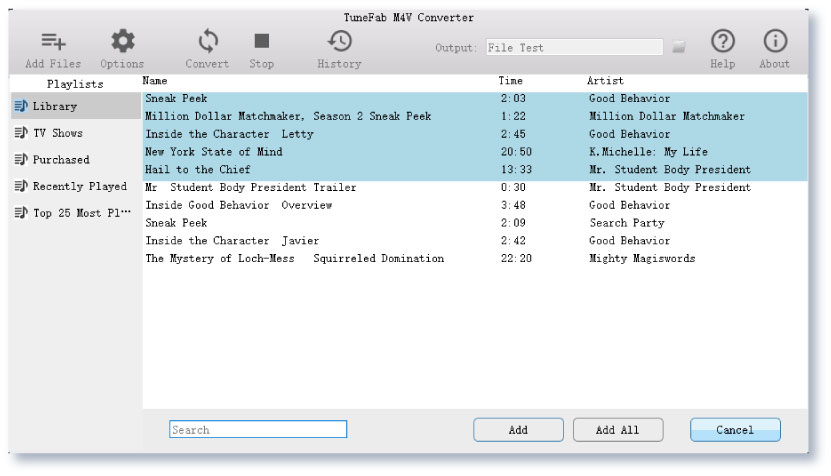 Step 2.
Go to the Setting to Select Audio Tracks and Subtitles
After the files are imported successfully, you can click the setting button to select audio tracks and subtitles.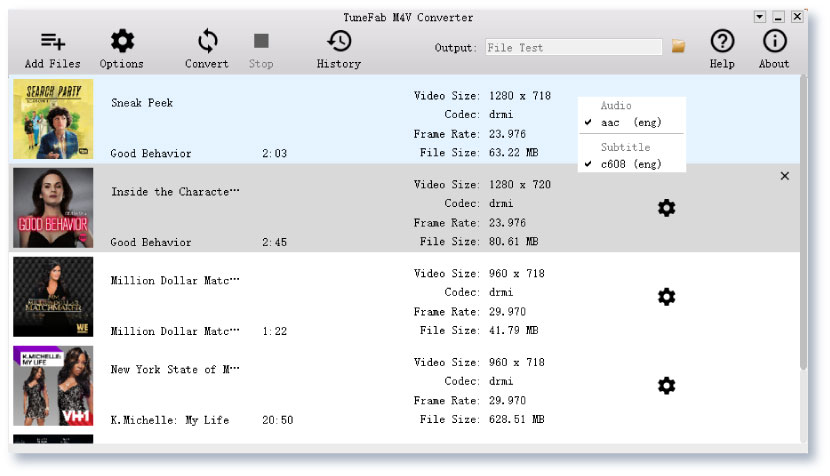 Step 3. Start the Conversion
Now you can click "Convert" to start the conversion.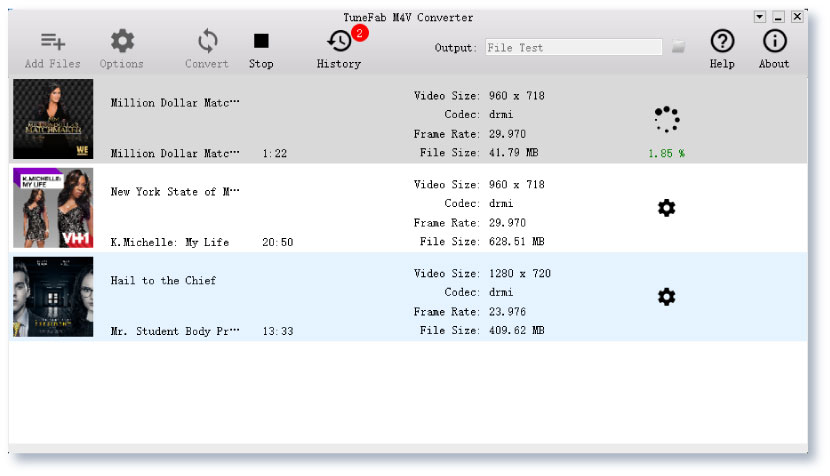 Once the conversion from M4V to MP4 completed, you can follow the next bonus guide to convert M4V to MOV, AVI, MKV:
Easy Solution to Convert iTunes M4V to MOV Format
How to Convert iTunes M4V Video to AVI
Was this information helpful?
TrustScore 1 | 3