Comparing to buying movies on iTunes, renting movies from the iTunes Store is more of a cost-effective option considering you may just want to watch the movie once. Also, if you choose to rent a movie, you don't have to risk wasting money on a potentially crappy movie which will just take up storage space on your devices.
Needless to mention that sometimes some iTunes rentals are only charged $0.99 and offering you a smooth experience. The whole renting process is pretty simple and will not bring any hassle to you. This article is writing to those who wonder how iTunes movie rentals work and want to give it a try. It contains a step-by-step guide on how to rent movies on iTunes and some matters needing attention to your iTunes movie rentals.
CONTENTS
Part 1. Preparation Before Renting Movies on iTunes
iTunes Store provides a variety of movies available to rent. Once you pick a movie for a watch, the first thing to remember is that an Apple ID with a valid credit or debit card on it is a must to rent movies from Apple.
Also, since iTunes is replaced on macOS 10.15 Catalina by three apps: Apple Music, Podcasts, and Apple TV, the renting process will be a bit different. Therefore, you should use suitable software to rent and watch iTunes movies depending on the devices and operating systems you are using.
Besides, there are also some system requirements to rent and watch iTunes rentals. For computer users, you should use iTunes 10 or above. And if you want to rent and watch movies on iOS devices, iOS 3.1.3 or later version is a requisite.
Devices that can Watch Rented Movies from Apple
An iPhone, iPod Touch, or iPad with iOS 3.1.3 or higher

An Apple TV or a smart TV that has the Apple TV app

A Mac

PCs that can run iTunes

An iPod Classic and iPod nano (3rd – 5th generations)
Locations to Rent iTunes Movies
On macOS 10.15 Catalina: Apple TV app

On macOS 10.14 Mojave and earlier version: iTunes

iOS devices: Apple TV app (iOS earlier than 10.2 should go to Videos app)

Windows PC: iTunes
How Much Are iTunes Movies Rentals?
In fact, the price of iTunes rentals is set by movie studios. The actual prices and currencies vary according to item and country or region. Take the US iTunes store as an example, if you patiently wait for a sales deal, they can be only at $0.99. And there's also a section on the iTunes Store that provides movies that are under $3, which sometimes contains some blockbusters for renting. Such a decent deal, right?
The price may also be charged differently according to the image quality provided. Both HD and SD versions are available for rent. SD movies are usually at a lower price. As you choose the Also Available in SD option, you may see the price changed. But for some movies, the SD versions are the same price as HD.
Therefore, whether to rent an SD movie or an HD is depending on what devices you are using. For instance, SD should be more satisfactory for iPad than HD. But if you want your iPad to feed an HD television, HD can also be a desirable option.
Part 2. How to Rent A Movie on iTunes?
As it is mentioned above, you can rent iTunes movies on your computer or iOS devices. However, your rented movies are only available on one device at a time. Therefore, if you rent an iTunes movie from iTunes on your computer and sync it to either your iPhone or iPad, the rental will vanish from your computer.
Besides, movies or TV shows rented from your Apple TV or smart TV cannot be downloaded and can only be watched on the exact Apple TV you rent them. But for users who rent movies on iOS device or Mac, Apple actually allows you to use AirPlay if you want to watch your rented movies on your Apple TV.
Therefore, for your convenience, you should rent the iTunes movie or TV shows on the device you plan to watch.
How to Rent Movies from iTunes on Windows?
STEP 1. Find an Apple Movie to Rent on iTunes.
Launch iTunes on your computer, and then click the drop-down arrow on the navigation bar, and go to the Movies tab. Select Store and you will access to the iTunes Store. You can either search the specific movie that you want to rent on the search bar or just browse through the iTunes Store to find a movie that you are interested in.

STEP 2. Open the Information Page of a Movie.
Click any movie icon to open its information page. Here you can learn about all the information including trailers for the movie, cast, introduction, and of course, the prices to buy or rent the movie. Notice that new releases may only display a purchase price, but usually, a date that rentals will be available is shown on the page.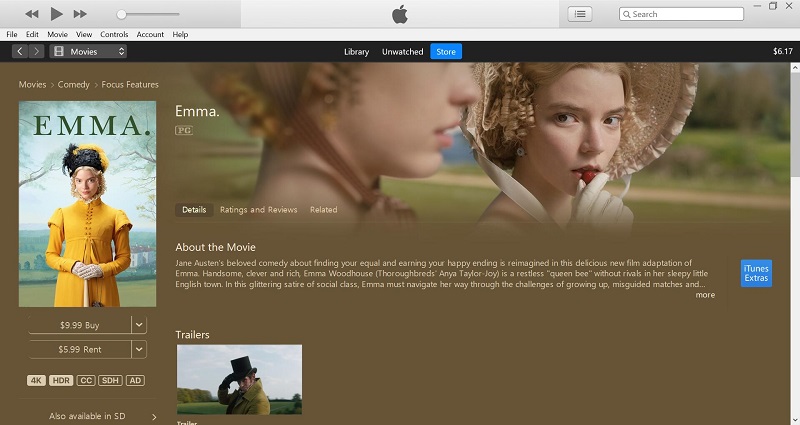 STEP 3. Click the Rent Button to Rent a Movie.
Choose the version you want to rent. HD version will contain more features such as 4K, closed caption, and Dolby 5.1 sound. And then enter your Apple ID and password, iTunes will charge your account, after that, the rental will become available.

How to Rent Movies from the Apple TV App?
Note: macOS 10.15 users and iOS 10.2 (or higher version) users should go to the Apple TV app and follow the steps below to rent iTunes movies.
STEP 1. Open the Apple TV app on your device, then look for the movie that you want to rent. On iOS devices, you can either tap on Watch Now > MOVIES to browse through different genres of movies or directly tap on the Search icon on the menu bar to find the specific movie you want to watch.
STEP 2. Not all movies are available to rent. Therefore, if you can rent it, there will be two options. Tap the Rent option and enter your Apple ID and password. If it is your first time renting a movie on the Apple TV app, you'll be prompted to accept the Terms & Conditions.
STEP 3. After you successfully renting a movie, you can check your rentals in the Library tab.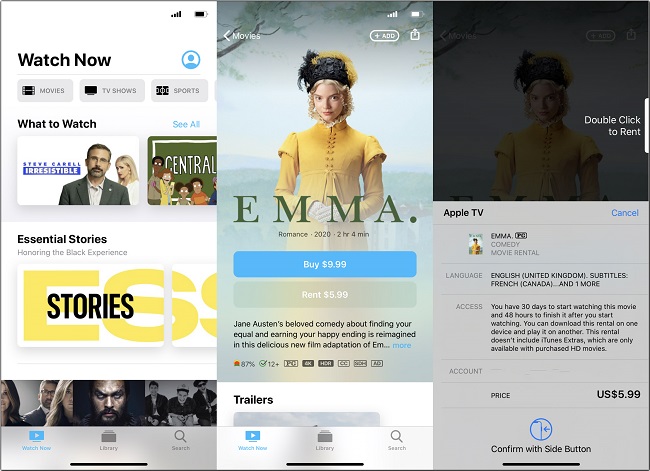 Where to Watch iTunes Rented Movie After Renting It?
Before you watch your iTunes rental on your device, make sure you have authorized your computer with the Apple ID that you used to rent movies, or signed in the Apple ID on the Apple TV app.
In iTunes on your PC
Go to the Movies tab and then click the Rented tab at the top of the iTunes window. If you don't see the Rented tab, then there aren't any current rentals associated with the Apple ID that you're signed in with.
On your iPhone, iPad, or iPod touch
Go to the Library tab and look for rentals. If you don't see any rentals, then it is likely that you haven't sign in the account which you use for renting movies.
Part 3. FAQs on iTunes Movie Rentals
"How Long do iTunes Rentals Last?"
There are two time-limits you should keep in mind after renting an iTunes movie. A rented item expires 30 days after you make your purchase or 48 hours to finish watching it after you begin playing it, whichever comes first. Expired rentals are deleted automatically.
Once your rental expires, you'll have to rent it again. But you can watch the movies as many times as you like during the 48 hours after you pressing Play.
Besides, when you click the play button on your movie, iTunes will ask you to confirm that you are ready to watch and give you a reminder that you have a limited time to watch the movie. And iTunes player provides you with multiple onscreen control such as fast forward and reverse. Most movies also include a menu of chapter bookmarks and language and captioning options.
"Can You Purchase an iTunes Movie After Renting It?"
Perhaps you are curious if iTunes offers you an option to purchase the movie that you just rent. However, this option is not available on iTunes. The renting option can be considered a tactic to promote sales of the movie. In other words, if you still want to purchase the movie, you can only go back to the iTunes Store and purchase at full price.
"Can You Download and Watch iTunes Rented Movie Offline?"
You can stream or download your rental if you rent it on the iTunes store or on your iOS device. But as it is mentioned above, you can only have iTunes rentals on one device at a time. That said, you can move the movie between devices, but it will only appear on one device. To download your rental, just open the Library and tap or click the cloud icon so as to watch the movie offline.
"Can You Extend the Period of iTunes Rentals?"
You may think that 48 hours are still not enough for watching your iTunes rentals and want to get a longer iTunes rental period. Here is a feasible solution that allows you to keep your iTunes rental movies forever. TuneFab iTunes M4V Converter is able to help you convert iTunes rental movie to a popular MP4 format. And therefore, you can watch iTunes movies on non-Apple devices such as Android mobile and tablet, Xbox, PS4, and etc.
Capable of removing DRM from iTunes purchased and rented movies, TuneFab iTunes M4V Converter is your helpful tool to backup your iTunes movie collections while preserving all subtitles and audio tracks.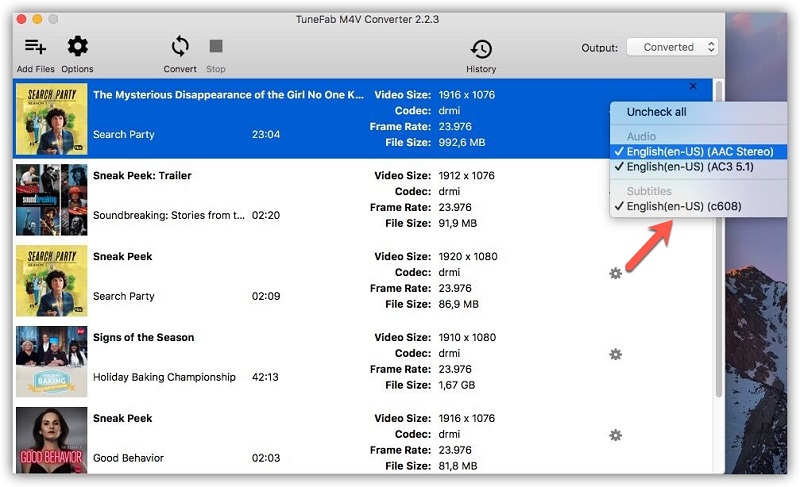 Final Words
This is all the information on iTunes rentals that you should not miss. Hope it is helpful for you to rent movies on iTunes. And don't forget to share this article with your friends if you find it useful.
Was this information helpful?
TrustScore 5 | 49