Thinking about personalizing your smartphone, setting a unique ringtone will definitely be the first thing you want to do. Although iOS and Android have provided lots of default ringtones for directly using, you may still want to hear your favorite song ringing up when someone calls. So, will it be possible to use the tunes from the commonly-used music streaming such as Amazon Music as ringtones on smartphones?
The answer is positive! All you need to do is to use professional music converters like TuneFab Apple Music Converter to remove their DRM restrictions and you can set any Amazon Music songs as ringtones as you like. Keep scrolling download for detailed steps!
1. Can You Use Amazon Music for Ringtones
Songs downloaded from Amazon Music can't directly be used as your phone ringtone. Because they are DRM protected and can only be played on the Amazon Music app without providing a separate music file in normal format. Amazon Music does provide a download feature for Amazon Music Prime and Amazon Music Unlimited members to save the songs offline on the official app. And it's possible to find the downloads in a folder on your computer or an Android phone. But if you try, you will find that they are not playable on other players.
However, you can get rid of the restriction and convert Amazon Music to a file that's of ringtone-compatible format via a professional Amazon Music Converter, then make ringtones out of them. After that, you can set your own ringtone easily.
2. How to Make Ringtones from Amazon Music
Ripping songs from Amazon Music has limitations, let alone setting them as ringtones on mobile phones. But it's not impossible and it can be easy actually. Before we get it started, you can generally view the basic logic for setting Amazon Music songs as ringtones:
1. Pick an Amazon Music song from the official platform and rip it to the supported ringtone format.
2. Cut the song to the available ringtone length, then transfer it to your mobile phone.
3. Set the Amazon Music song as a ringtone on your phone.
* Take Your Amazon Music Outside the App
Firstly, to get the Amazon Music downloaded as a music file bringing the songs outside the app, you need the help from TuneFab Amazon Music Converter, a professional converter developed to download Amazon Music songs in common audio formats such as MP3 and M4A.
It can convert all the Amazon Music songs and podcasts, including those provided for Amazon Music Prime, Amazon Music Unlimited, and Amazon Music HD users. This software is one of the best converters for Amazon Music available for both Mac and Windows containing great features as follows:
● Supports common formats such as MP3, M4A, WAV, and FLAC
● Downloads Amazon tracks, albums, podcasts, and playlists in bulk
● Keeps the high sound quality to save the converted Amazon Music songs
● Saves all ID3 metadata while downloading the Amazon Music songs offline
● Allows users to adjust the audio parameters such as SampleRate and Bitrate before starting the conversion
● Provides 5X faster speed to download Amazon Music songs in batch
Here are the steps to download Amazon Music for ringtones:
Step 1. Run TuneFab Amazon Music Converter and Sign in
Firstly, download and install TuneFab Amazon Music Converter on your computer. Then launch the software and you can enter the home page of the in-built Amazon Music web player. You should sign in using your Amazon Music account.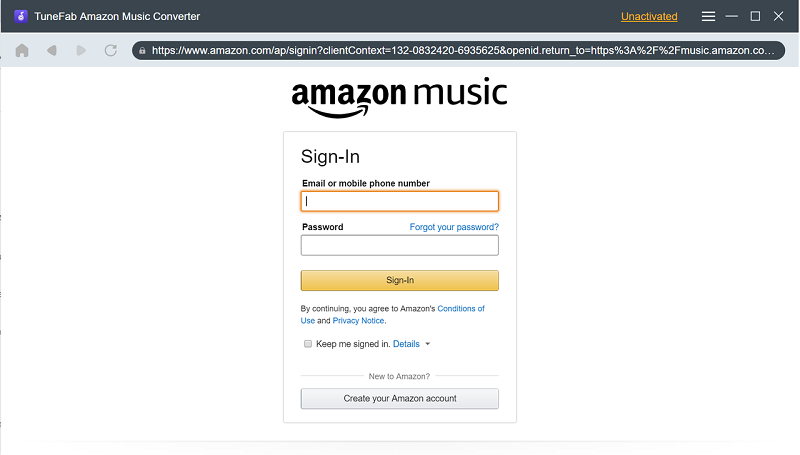 Step 2. Convert the Amazon Music Songs for Ringtones
You can search for the Amazon Music song that you want to set as a ringtone on your phone now. When you find it, directly drag it to the blue plus button on the right side, and TuneFab Amazon Music Converter will convert the song for you. You can also select to open an Amazon Music playlist and click the "plus" button to convert a whole playlist at once.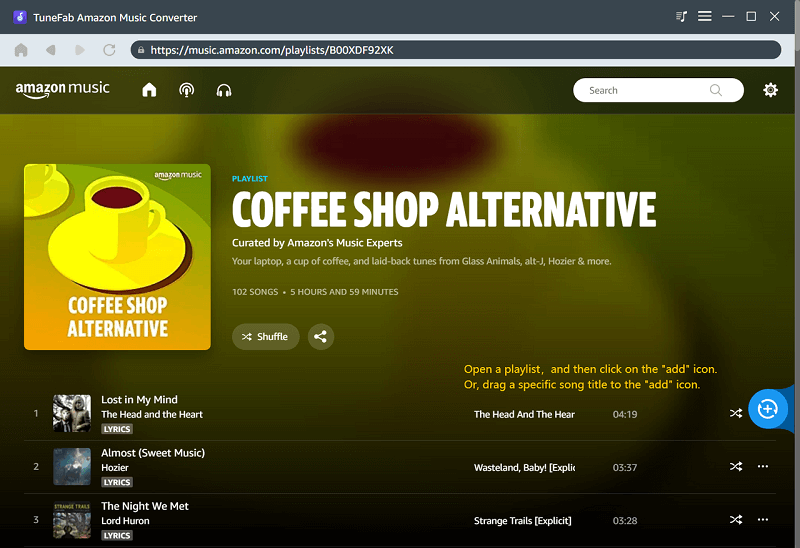 Step 3. Select MP3 or M4A Output Format
Now, you need to select an output format to download the Amazon Music song. It is recommended to convert it to MP3 if you are going to set the Amazon Music as an Android ringtone. For adding a custom ringtone to your iPhone, M4A is a better choice.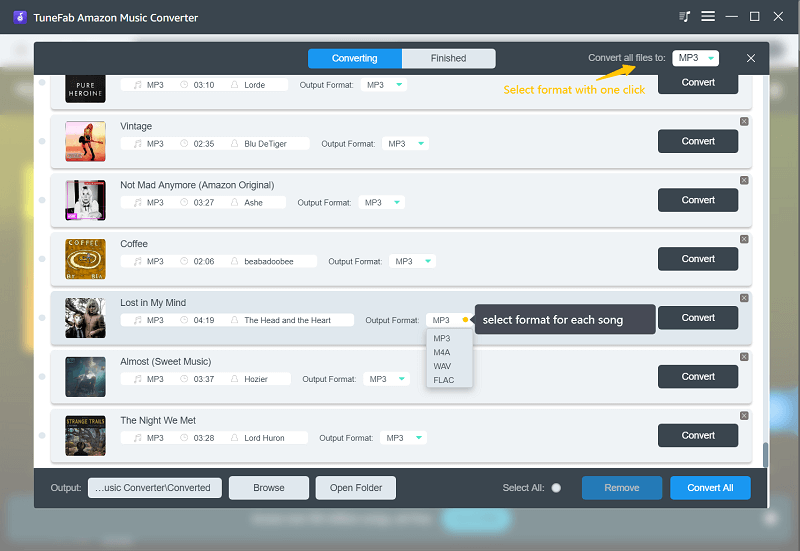 Step 4. Download Amazon Music Out of the App
Finally, directly press the "Convert All" button to start downloading the Amazon Music as the common music file. After TuneFab Amazon Music Converter finishes the conversion, the song will be saved outside the Amazon Music platform and ready for ringtone creation for your phone.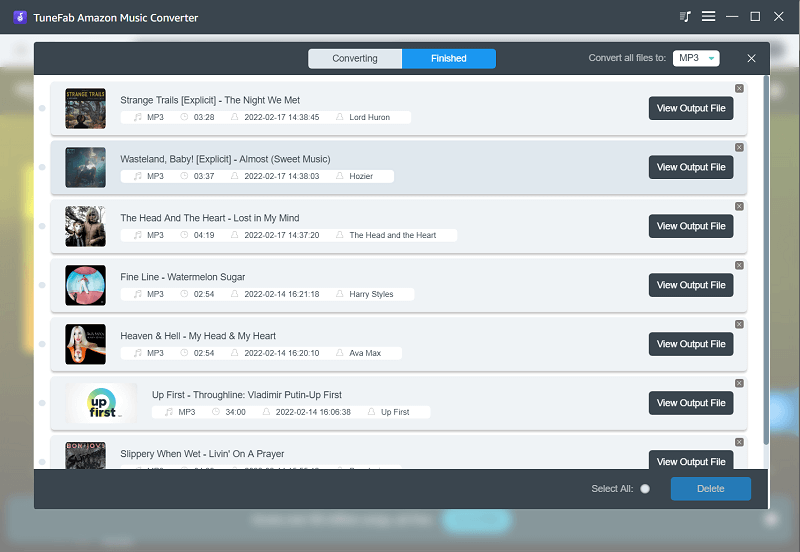 * Set Amazon Music as iPhone Ringtone
When the Amazon Music song is downloaded, you can transfer it to your iPhone and flaunt it to your friends after making your own ringtone. Now I will show you how to set Amazon Music as a ringtone on iPhone. Before you do it with me, you need to install iTunes on your computer first and then transfer the file to it.
Step 1. Get iTunes running on your computer, and directly add the downloaded Amazon Music file to your iTunes Library.
Step 2. Right-click on the song you want to make a custom ringtone from and hit "Get info" / "Song info". Navigate to "Options" and set up the ringtone duration by adding the start time and stop time.
Step 3. Select the song again, then go to "File" on the menu bar, and select "Convert" to "Create AAC Version" for it. iTunes will create an M4A ringtone file for you.
Step 4. Now, select the ringtone created and drag it to your desktop for saving. You should change their extension from .m4a to .m4r now, to let them be supported by your iPhone.
Step 5. Connect your iPhone to the computer with a USB cable. Then you can directly drag for adding the Amazon Music ringtones to "Tones" under "Devices" on iTunes.
Step 6. On your iPhone, go to "Settings" and open the "Sounds & Haptics" option. You can see the added Amazon Music in "Ringtone" and set it as your personalized ringtone now.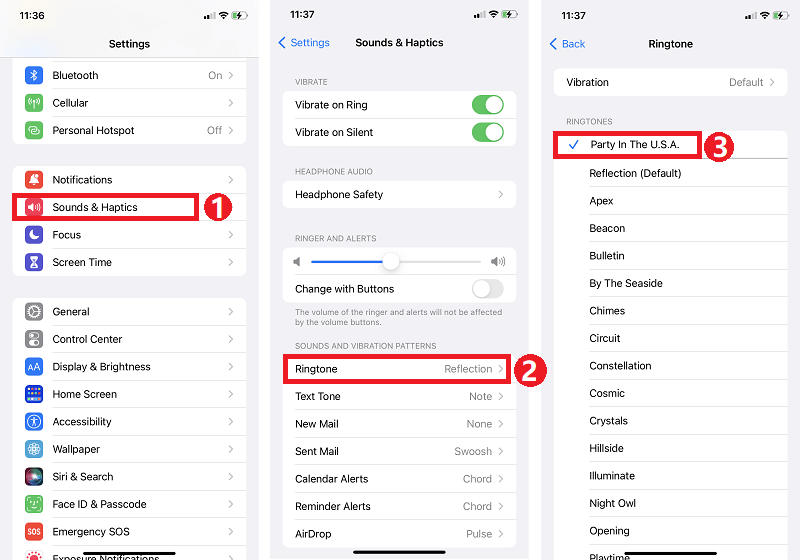 * Use Amazon Music for Ringtones on Android
Using a USB cable to connect your Android mobile phone to the computer, you can also directly drag the downloaded Amazon Music songs to the device easily. Then you can set the Amazon Music as ringtones on your mobile phone.
Step 1. On the Android mobile phone, go to "Settings" and select the "Sounds and vibration" option.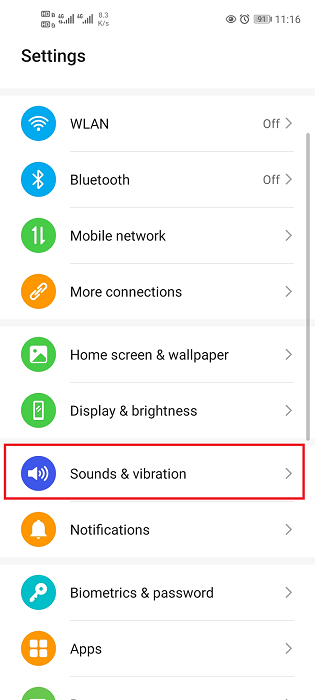 Step 2. Select "Ringtone", and you should choose the SIM card first before setting the ringtone. If you have two cards, the ringtone of each can be different.
Step 3. Tap "Music on device", then search for the created ringtone file with its title and tap on it. Congratulations! You just successfully used Amazon Music as your Android ringtone!
Bonus: An Easy-to-use Ringtone Maker to Create Custom Ringtones
There is a bonus tip for people who need a ringtone maker to customize the custom ringtones for iPhones before transferring them. This reliable ringtone maker is FonePaw DoTrans.
FonePaw DoTrans helps to create ringtones for iPhone in an easy process. After downloading the Amazon songs, people can use FonePaw DoTrans to adjust the music files making it perfect to set as ringtones on iPhone. This software is easy to use. You just need to follow the provided steps here to make ringtones for iPhone easily without using iTunes anymore.
Step 1. After downloading FonePaw DoTrans on your PC, open the software and go to its "Toolbox".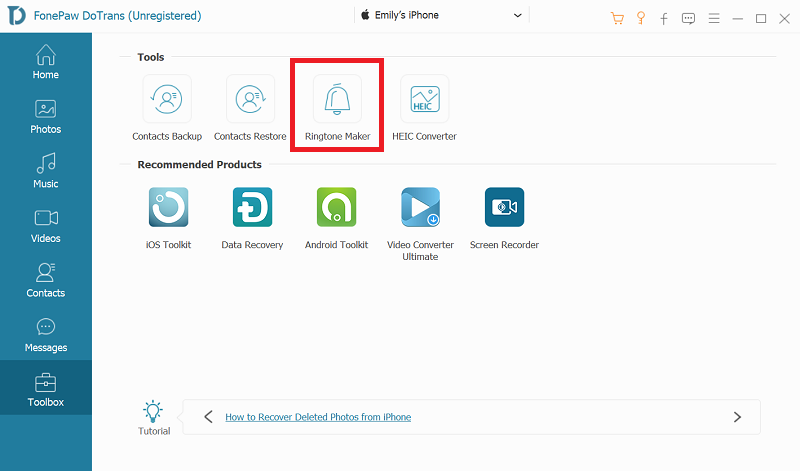 Step 2. Select "Ringtone Maker" provided in the toolbox. Then choose "Add file from device" or "Add file from PC" for importing the downloaded Amazon to the ringtone maker for adjusting.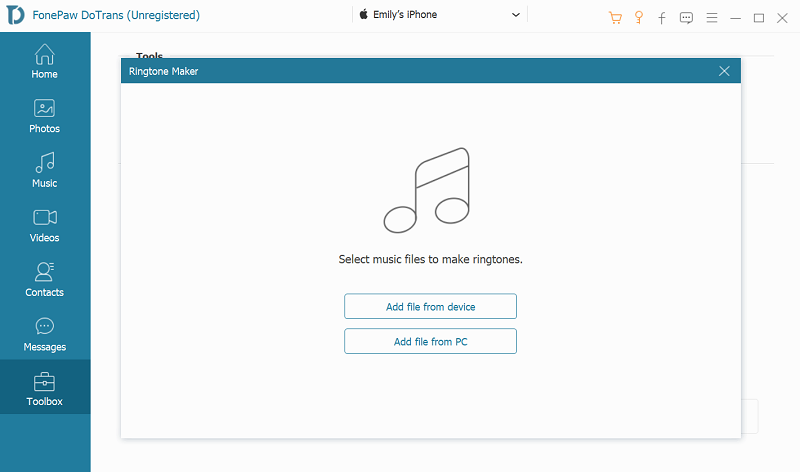 Step 3. Now you can set the starting and ending point for the ringtone based on your need. When you feel the ringtone has been adjusted to be perfect, press the "Generate" button and the ringtone can be successfully created. Then you can transfer it to your iPhone for settings as a custom ringtone.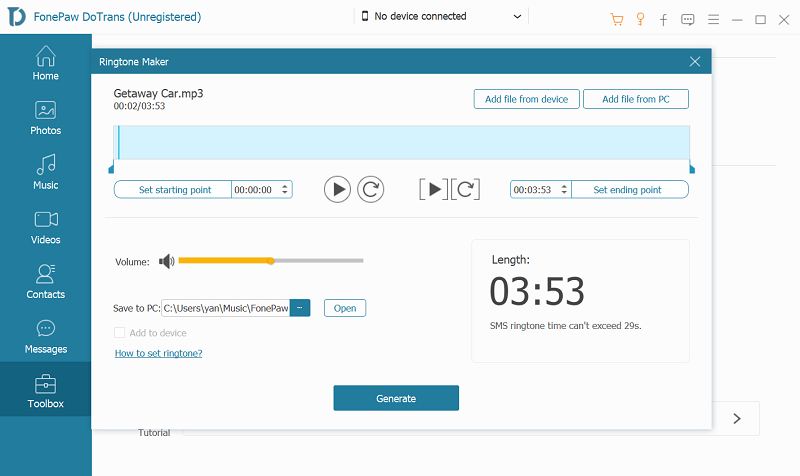 Conclusion
When getting help from TuneFab Amazon Music Converter, it becomes easy to set Amazon Music as ringtones on both iOS and Android mobile devices. Whether the Amazon songs of Amazon Music Prime or Amazon Music Unlimited, TuneFab Amazon Music Converter helps you download them for customizing as ringtones freely. Now, have a try if you also get an Amazon song that you want to set as a ringtone!
Was this information helpful?
TrustScore 1 | 1