As a subscriber of Amazon Prime Music, you may want to make the most of over 100 million songs. In this case, you can see music files posting questions like "Can you burn Amazon Prime Music to CD?" or "Can I burn a CD from Amazon Prime Music?" on Quora and Reddit. What's the answer? Let's find out here.
Other than purchased Amazon songs, streaming music is DRM-protected with restrictions such as in-app playback and availability. Luckily, we've found proven ways to download streaming songs in MP3 and burn Amazon Prime Music to CD with ease. Then, you can enjoy your collections in the car or on any device you want. Now, prepare all the tools, and let's unveil the magic here.
1. Tools You Need Before Burning CD with Amazon Music
Before we go any further, it would be better to follow the tutorial and do it in person. Therefore, you may want to prepare all the things as follows and grasp an idea of how to burn Amazon Prime Music to CD in the following.
1. An Amazon Music downloader - to convert the streaming Amazon Music such as Amazon Music Prime/Unlimited/HD to MP3 files;
2. A CD Burner - to burn the Amazon Music files from the local folder to a CD disc;
3. Audio CDs - for preserving the burned Amazon Music.
NOTE: CDs created by CD burning software contain both audio CDs and data CDs. For using to play the music elsewhere such as in a car, you should burn the Amazon Music to audio CDs instead of data CDs.
2. Download Amazon Prime/Unlimited/HD Music as MP3 for Burning CD
TuneFab Amazon Music Converter is a top-rated Amazon Music downloader that enables you to get rid of DRM protection and rip songs from Amazon Music to MP3 for offline high-res playback. Then, you can burn CD from Amazon Music and enjoy your favorite songs on any player, car audio, speaker, computer, etc. Better yet, it works for all subscriptions, including the free trial.
Explore More Amazing Features:
Batch Conversion - Convert multiple songs or all the songs in the album/playlist with a simple click.

Ultra-Fast Speed - Boost the whole process at 5X faster than ever and only take seconds to get one song.

DRM-Free Formats - Support a range of output audio formats like MP3, M4A, WAV, and FLAC.

Lossless Music Quality - Allow custom output quality at up to 320kbps bitrate and 48kHz sample rate.

All Catalog Covered - Download all genres of songs, albums, playlists, mixes, podcasts, and stations.

Easy Management - Keep media info like song title, album, artist, and album cover during the conversion.
With an in-built Amazon Music web player, it takes no effort to convert Amazon Music to MP3 in a few steps. Then, you can jump into 3 methods to burn Amazon Prime Music to CD afterward.
STEP 1. Log in to Amazon Music
Launch TuneFab Amazon Music Converter when the installation process is completed. Then, hit the "Open the Amazon web player" icon on the screen and log in to the Amazon Music account.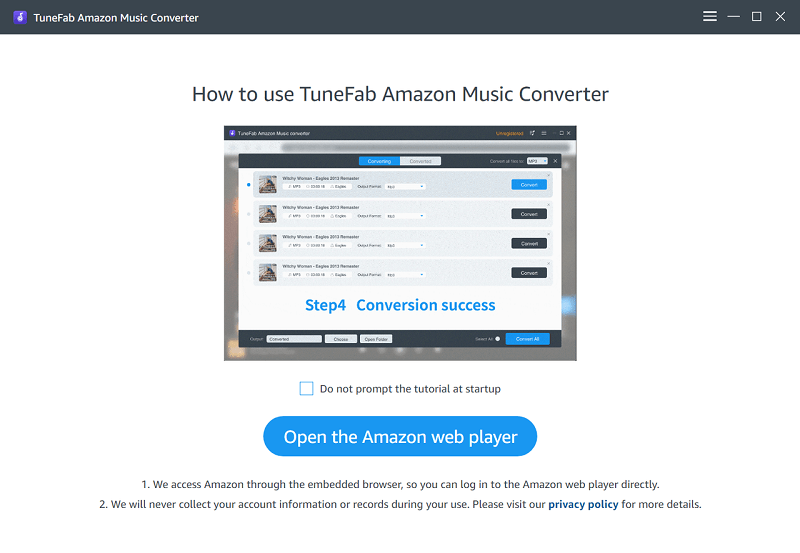 STEP 2. Select Amazon Music Songs
To download one song, you may directly drag it to the floating "+" button. To download the entire playlist/album, you may drag the cover to the button. After that, the software will start fetching data from Amazon Music.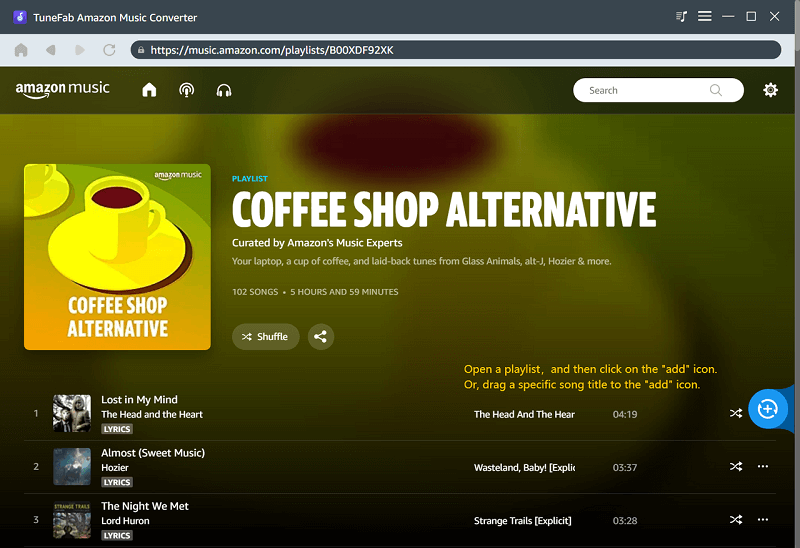 Option Step: Customize Output Quality
Go to the "Hamburger" icon and choose "Preferences" in the drop-down menu. In the "General" tab, change the output path if needed while determining the output format, sample rate, and bitrate in the "Advanced" tab. When done, click "Save" to proceed.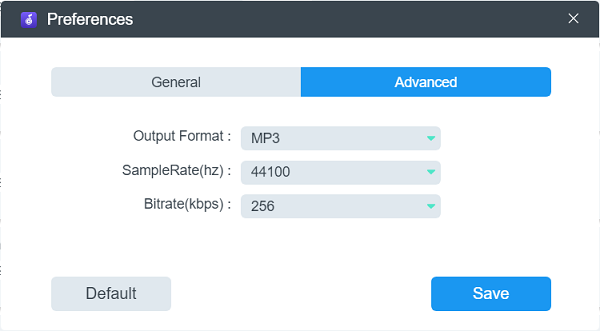 STEP 3. Convert Amazon Music to MP3
Finally, simply click the "Convert All" icon in the lower-right corner to start downloading Amazon Music offline. The process will be completed within a short period efficiently.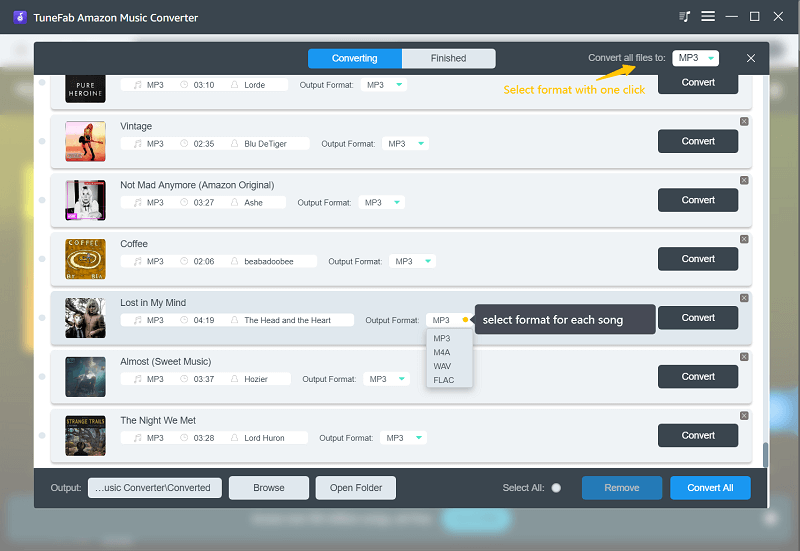 3. Burn CD from Amazon Prime Music in 3 Ways
After you saved Amazon Prime Music offline in MP3, it's time to burn CD from Amazon Prime Music. There are 3 freeways to burn Amazon Prime Music to CD with Windows Media Player, iTunes/Apple Music, and VLC media player. Just go for a preferred one and get started.
Method 1: Burn CD from Amazon Music Downloads via WMP
For Windows users, Windows Media Player will be an ideal option as you don't require to install extra software to process the Amazon Music to CD burning process. Simply follow the guide to get it completed now.
STEP 1. Insert a blank disc into the optical drive that is connected to your Windows PC.
STEP 2. Launch Windows Media Player on PC, then on the right side, select "Burn".
STEP 3. Hit the "Burn options" and select to burn an "Audio CD". Then, import the downloaded Amazon Music songs to Windows Media Player.
STEP 4. Simply tap the "Start Burn" icon, and it will start to burn Amazon Prime Music to CD.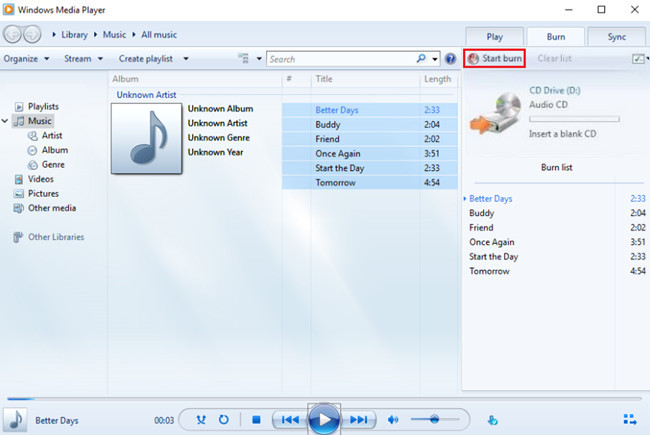 Method 2: Burn Amazon Music to CD with Apple Music/iTunes
For Mac users, you can directly use Apple Music to manage the iTunes library and burn a CD from Amazon Prime Music. However, if your Mac is running the system before macOS Catalina, use iTunes instead. Now, let's get the rope below.
STEP 1. Insert a blank disc into an external drive or Apple SuperDrive while connecting it to your Mac.
STEP 2. Open Apple Music and navigate to "File" > "New" > "Playlist". After that, name the playlist and transfer Apple Music songs to the iTunes library.
STEP 3. Click "File" and select "Burn Playlist to Disc". Then, the "Burn Settings" window will show up.
STEP 4. Click the "Burn" button and start to burn the playlist of Amazon Music songs to CD.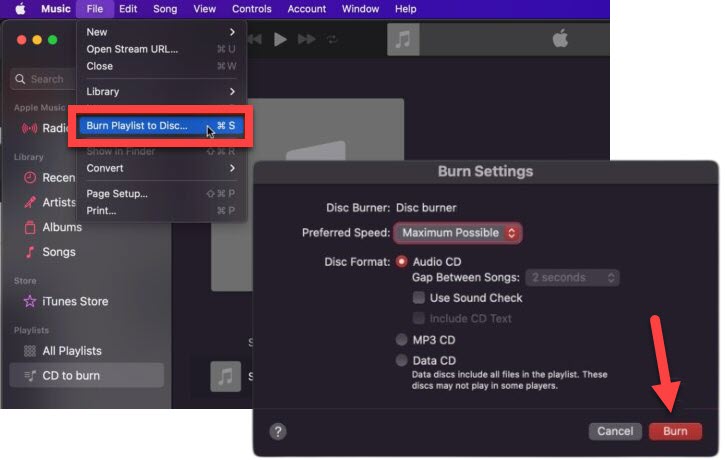 Method 3: Burn CD with Amazon Music Songs via VLC
VLC media player is also a handy tool to burn songs to a CD with the original quality. As you may not be familiar with the whole procedure, you may check out the step-by-step tutorial and learn how to burn a CD from Amazon Prime Music with VLC below.
STEP 1. Insert a black CD disc into the optical drive in your Windows/Mac. Then, launch VLC media player.
STEP 2. Go to "Media" > "Convert/Save", and switch to the "Disc" tab. After that, select "Audio CD" and click "Browse" to choose the blank CD disc.
STEP 3. Click the dropdown menu beside "Convert/Save" and then the "Convert" button.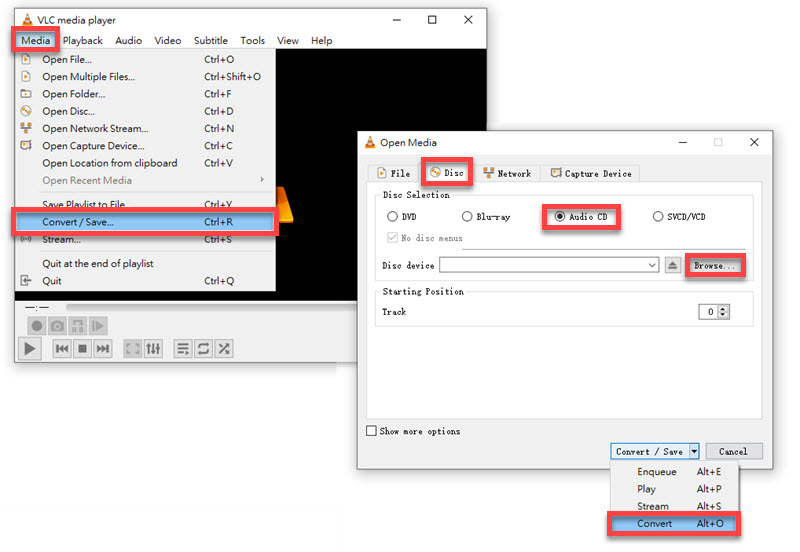 STEP 4. Select the "Tool" icon to bring up the "Profile edition" window. Next, switch to "Audio codec" > "Audio" and adjust parameters like Codec, Bitrate, Channels, and Sample Rate. Don't forget to click "Create" to keep the changes.
STEP 5. Finally, click "Browse" to select the downloads of Amazon Prime Music and hit the "Start" button to burn Amazon Prime Music to CD.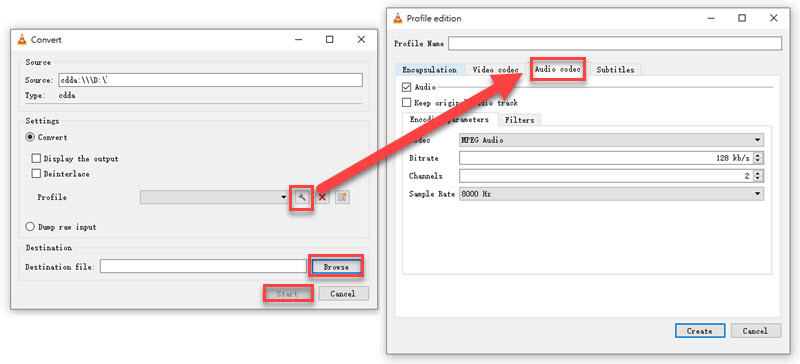 4. FAQs About Burning Amazon Prime Music to CD
Still have some lingering questions in mind? No worries. Check out these answers to some frequently asked questions about burning a CD from Amazon Prime Music.
Q1: How to burn purchased songs from Amazon Music to CD
Actually, if you've purchased songs on Amazon Music, you can directly download Amazon music to MP3 or Zip of multiple songs in an album. What you need is just go to "LIBRARY" > "SONGS" > "Purchased" and click "┇" > "Download" to download purchased songs. Then, you can follow the tutorials in the "Burn CD from Amazon Prime Music in 3 ways" part to burn Amazon Prime Music to CD.
Q2: How to import songs from CD to Amazon Music?
In some cases, you may want to import a CD to Amazon Music instead. If so, you can take advantage of the Windows Media Player to rip songs from a CD and then upload music to Amazon Music. You should be aware that this way doesn't work for protected CDs. Now, let's see how it works.
STEP 1. Insert the CD into your Windows PC and run the Windows Media Player.
STEP 2. Click "Rip" > "More Options" > "Rip Music" and choose "MP3".
STEP 3. Then, select "Track" > "Track of Audio" and click the "Rip" button to rip songs from a CD to MP3.
STEP 4. Now, log in to your Amazon Music account on the web or in the app. Then, go to your "Profile" > "Settings" > "Automatically Import Music from".
STEP 5. Now, select to import MP3 files from the library of Windows Media Player, and it's all done.
Q3: What's the maximum number of Amazon Music songs can you store on a CD?
At most, a CD can store up to 99 tracks while each track can keep up to 100 indexes. However, this is an ideal situation. As a rule, the typical storebought CD can hold almost 600 MB or 700 MB of information. Meanwhile, most MP3 songs may be around 3 minutes in length at between 2 MB and 5 MB. Therefore, you should be able to store about 200 songs on a CD disc.
After reading this post, you must have an idea of how to burn Amazon Prime Music to CD. Actually, the main obstacle is converting DRM-protected songs from Amazon Prime Music to MP3s. Luckily, with the help of TuneFab Amazon Music Converter, you can download unlimited songs, playlists, and albums on Amazon Music and enjoy high-quality offline listening anywhere, let alone burn Amazon Prime Music to CD for free. Now, why not leverage your subscription and make your exclusive CDs?
Was this information helpful?
TrustScore 1 | 1