Over the years, streaming music has played a more important role in people's daily life. For music mads, listening to music is a must-have activity every day. When Amazon has provided high-quality music streaming services to all its dear users, it brings a great palace to discover songs and podcasts for enjoying to kill time, making our digital life to be more colorful.
In this article, the latest 2022 tips and tricks for better using Amazon Music will be comprehensively introduced to help boost your music streaming experience via the platform. Now, let's get started!
CONTENTS
1. What is Amazon Music
Like Spotify and Apple Music, Amazon Music also provides an online music streaming service, equipped with a music library covering the music of all categories. It could be a palace for music lovers to discover any type of music based on personal tastes.
Amazon Music Subscriptions
Amazon Music offers 4 subscriptions to users, each of which will deliver slightly different features for subscribers while accessing the music resources. They are:
Amazon Music Free

Amazon Music Prime

Amazon Music Unlimited

Amazon Music HD
The full comparison chart is provided here to help you distinguish these 4 plans launched by Amazon Music:
Amazon Music Free

Amazon Music Prime

Amazon Music Unlimited

Amazon Music HD

Subscription required?

×

√

√

√

Available amount of songs?

Select playlists and thousands of Stations

2 million songs

90 million songs

90 million songs

Ads-free?

×

√

√

√

Music streaming quality?

SD only

SD only

SD, HD, Ultra HD, and Spatial Audio

HD, Ultra HD, and some in 3D studio sound

Offline playback available?

×

√

√

√

Supported devices?

1 device at once

1 device at once

Individual plan: 1 device at once
Family plan: up to 6 devices at a time

1 device at once
Amazon Music Supported Platforms
Currently, Amazon Music provides desktop software, web player, and mobile apps, which enable users to access the streaming service on many mainstream platforms and devices, including:
Desktops: Windows, Mac, Web Browsers

Mobile phones: Android, iPhone

Tablets: iPad, Kindle Fire (pre-installed), Android.

TVs: Fire TV (preinstalled), Android TV/Google TV, Roku

Echo Devices
2. Get Started with Amazon Music
To boost the music streaming efficiency and convenience, Amazon Music won't require a complicated setup process for new users to get familiar with. If you have signed up for an Amazon Music account and are ready to get started with the service, the following guide is absolutely able to help.
Discover Music Content
No matter you are using the web player, desktop software, or Amazon Music app for mobile, after login into the account, you are able to land on the "HOME" screen, and here will allow you to discover music content of all types. With the advanced algorithm, Amazon Music will recommend the most trending and popular songs based on your listening habits. Additionally, simply type in the keywords of the music category or the title of an album, single, or artist name in the upper-right search bar, you will be navigated to the corresponding results within seconds.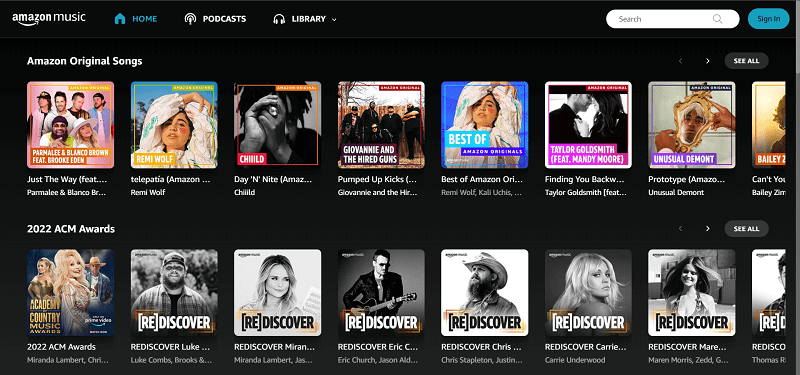 On the Amazon Music mobile app, simply hit the three-dots icon and select the "Add to My Music" or "Add to playlist" options to save the song for streaming later when you discover any song you prefer.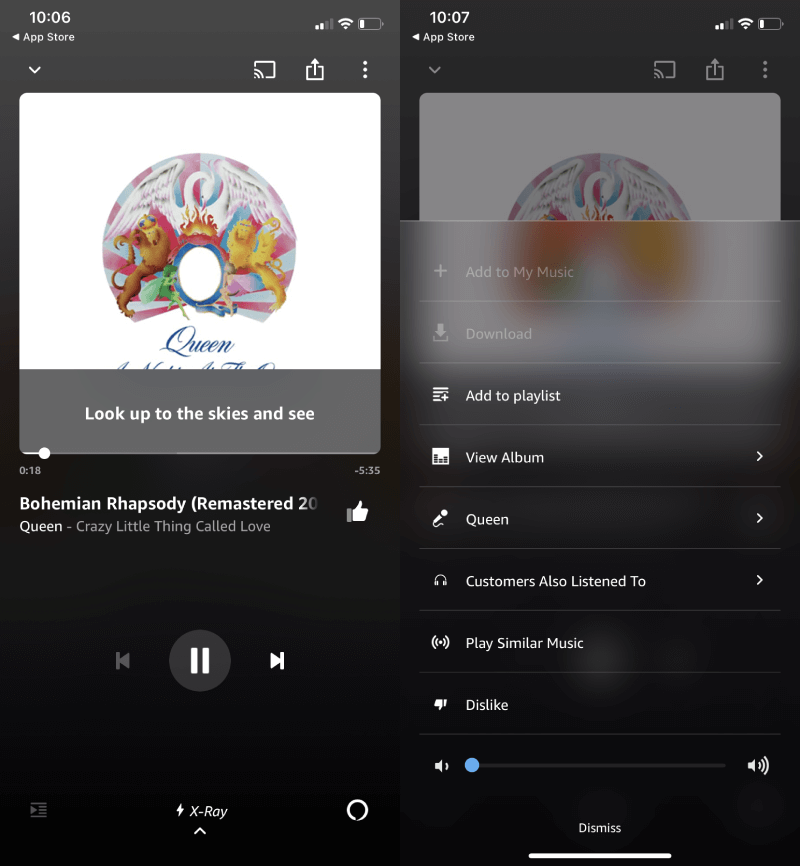 How to Download Amazon Music for Offline Playback
If you are a subscriber or Amazon Music Prime, Unlimited, or HD, you get the right to download Amazon Music for offline streaming on Android or iOS apps (this is a premium feature for subscribers).
Amazon Music sets no limitation on the amount of downloading songs. So when you access the music you desire to download for offline streaming in Amazon Music iOS or Android apps, simply hit the "More Options" icon and submit "Download", then the song can be downloaded to "Library" for offline playback.
Remember to turn on the "Offline Music" mode in "Library" for accessing them.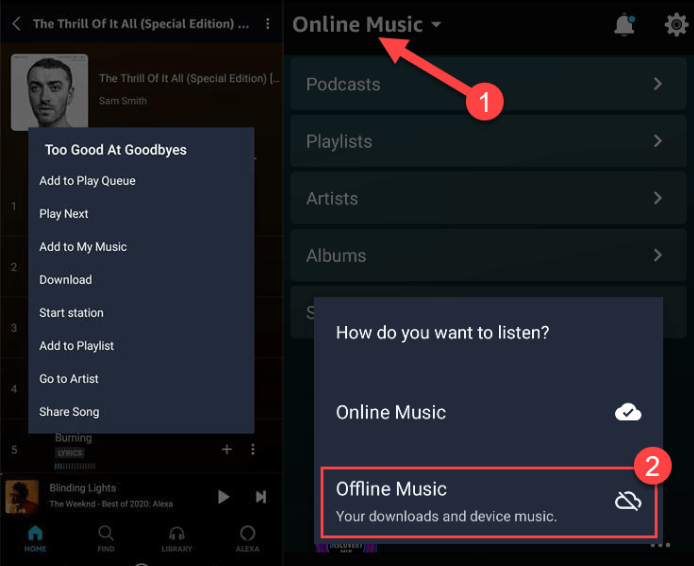 How to Download Amazon Music on Computer
When Amazon Music free users are not available to use Amazon Music offline (even the subscribers can only activate the download functionality on mobile apps), you may wonder if there is any other way to download Amazon Music on the computer.
TuneFab Amazon Music Converter empowers the accelerated performance to rip any Amazon Music in MP3, M4A, WAV, FLAC formats without hassle. No matter you are an Amazon Music Free, Prime, Unlimited, or HD user, the software is able to overcome the account limitations and help download all Amazon Music for offline streaming.
Highlighted Features of TuneFab Amazon Music Converter
Available for all Amazon Music users to download any song and podcast offline;

Mainstream formats such as MP3, M4A, WAV, FLAC supported;

Accelerated 5X faster speed to batch process Amazon Music download;

Customizable audio parameters to enable better music quality;

Original ID3 metadata and 100% lossless quality preserved.
Designed with an intuitive interface, TuneFab Amazon Music Converter only requires several easy steps to process the Amazon Music download. Now, let's check how to download Amazon Music offline on the computer via TuneFab Amazon Music Converter.
STEP 1. Launch TuneFab Amazon Music Converter and submit the "Open the Amazon web player" icon to enter the built-in Amazon Web player.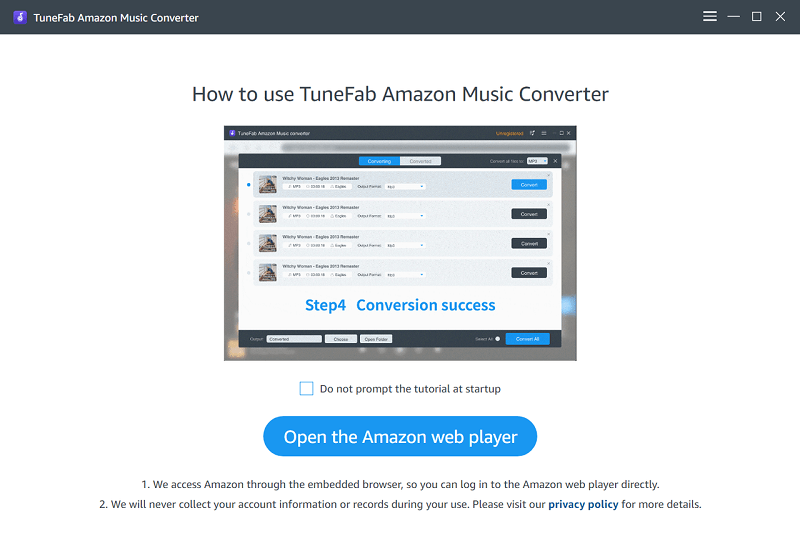 STEP 2. When you have navigated to the Amazon web player in TuneFab Amazon Music Converter, log in to your Amazon Music account, or you would fail to download songs successfully.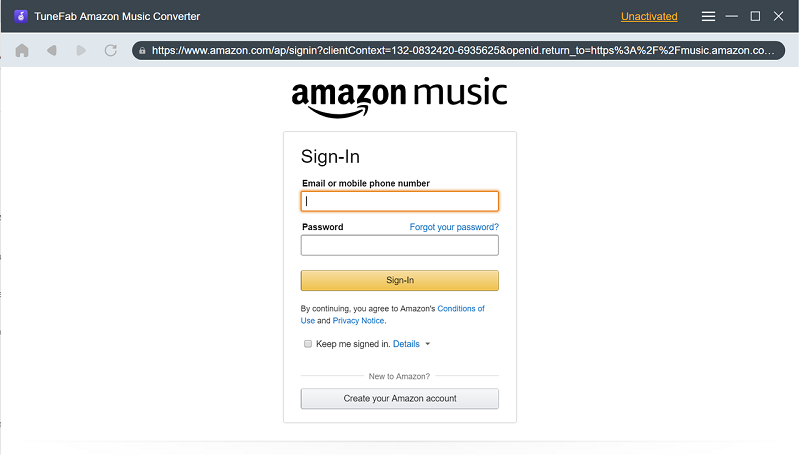 STEP 3. When you have a login, directly open an Amazon Music playlist and hit the floating "+" icon, the playlist will directly be converted. Additionally, it is available for you to drag a single to the "+" icon for converting as well. The smart TuneFab Amazon Music Converter will avoid adding the same song twice.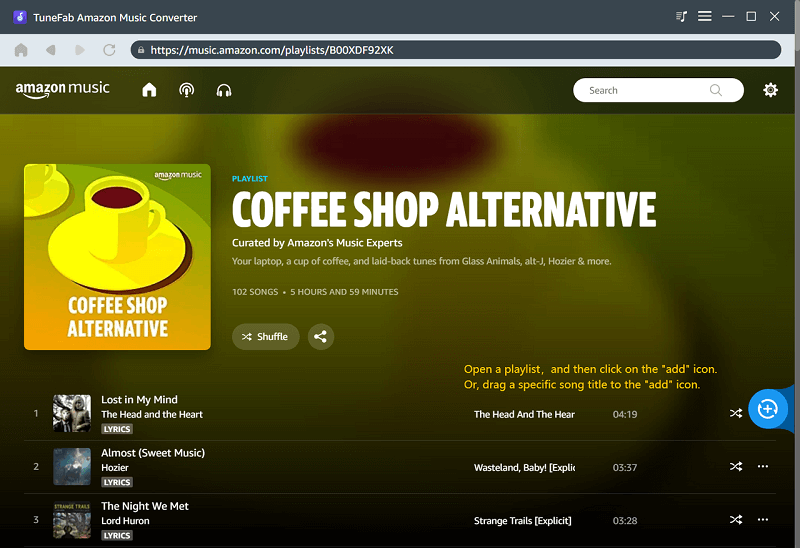 Step 4. It is available for you to select on output format for all songs in the upper-right "Convert all files to" drop-down menu. Or you are able to change other parameters such as the sample rate and bitrate in "Menu" > "Preferences" > "Advanced" additionally.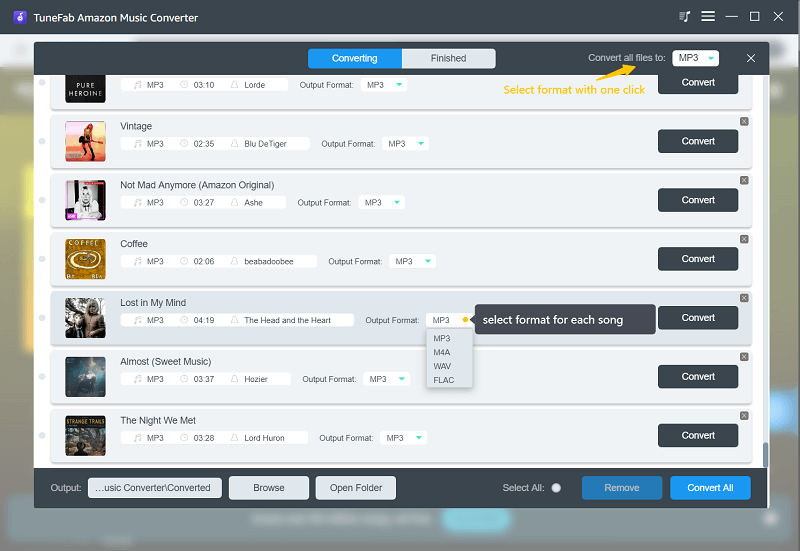 Step 5. When the settings are all completed, directly tap the "Convert All" cion to start downloading the selected Amazon Music offline. TuneFab Amazon Music Converter will complete the process within a short period. Just wait for it to complete patiently.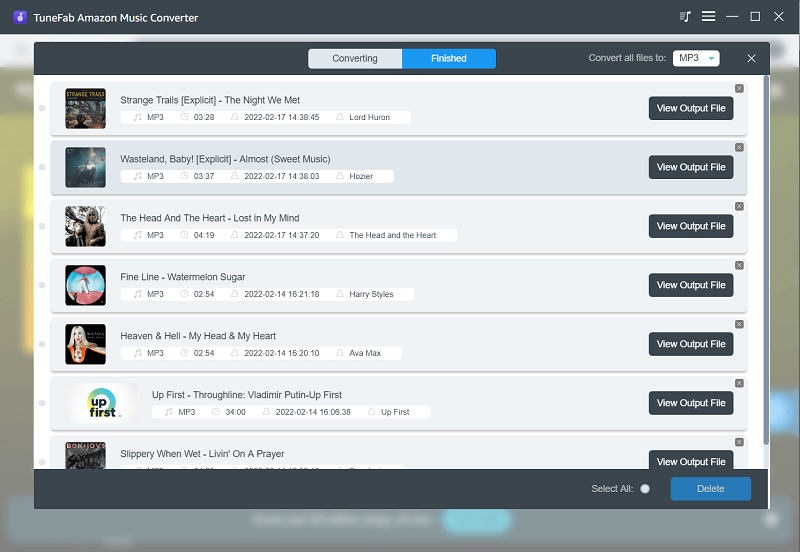 3. Advanced Tips for Using Amazon Music
Despite the basic Amazon Music using functionality, here are more advanced tips you are able to refer to for having a more enjoyable music streaming experience with the platform.
Use Your Voice to Control Playback on Echo
When Amazon Music also supports the music playback on Echo devices, it means that users are able to control the music playback with voice commands. Here are some useful commands you are able to apply for interacting with Alexa to control the Amazon Music playback through Echo:
"Alexa, play [song title or artist name or album name]."

"Alexa, play [emotion or genre or holiday] music."

"Alexa, play brand new music."

"Alexa, play [station name]."

"Alexa, play new [genre]."

"Alexa, play some music." (Anything from your library)

"Alexa, play a playlist." (Any playlist in your library)

"Alexa, play the song of the day."

"Alexa, what's playing right now?"

"Alexa, who sings this song?"

"Alexa, skip this song."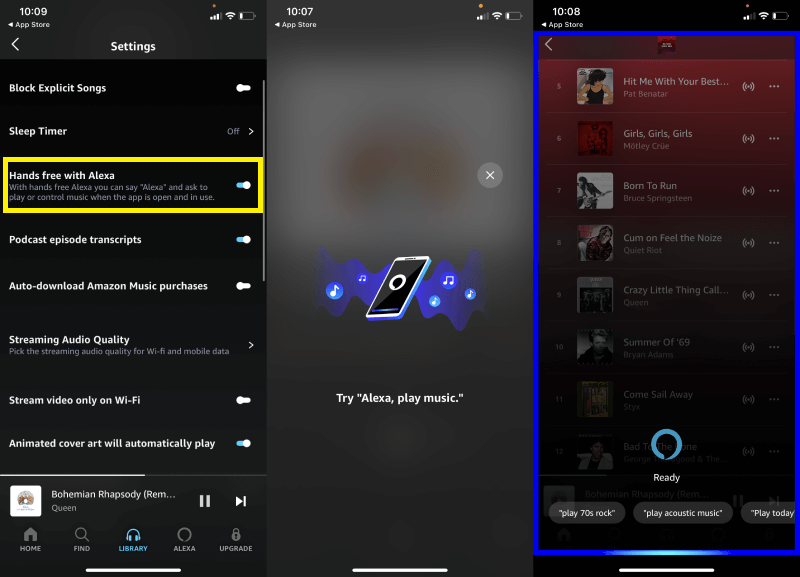 Playing Amazon Music in Cars
If you are a driver, Amazon Music offers a delighting functionality to help you enjoy the music playback in the car with only one click. Users are able to turn on the "Car Mode" using the mobile apps to activate it. Users can enjoy the playlists, radio stations, and all top albums while driving with ease.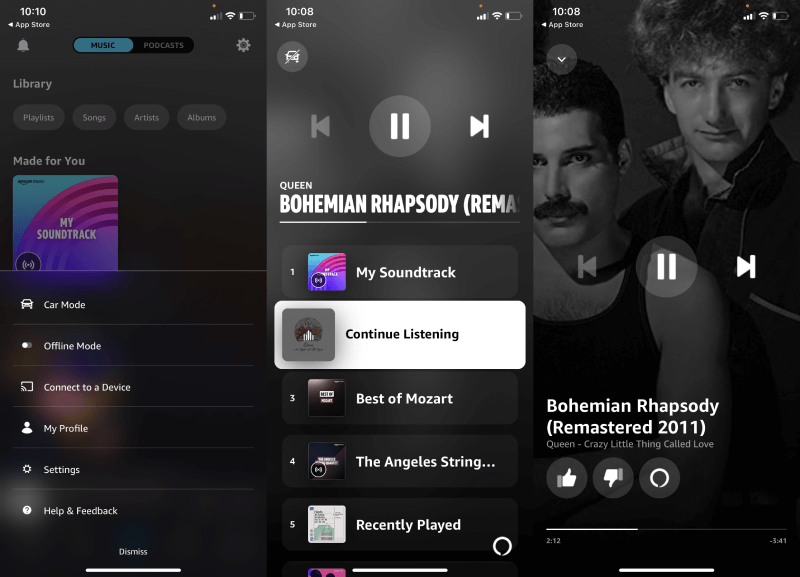 Manage with Your Previous Purchased Music
For your previously purchased music, users are allowed to add them to Amazon Music for enjoying the playback continuously. You just need to navigate to "Settings" in Amazon Music app for enabling the "Auto-download Amazon Music purchases" (iOS) or "Automatic Downloads" (Android) on, then the purchased songs will be added to Amazon Music for streaming offline.
NOTE: Simply tap the "Refresh My Music" at the bottom when you fail to access the purchased music after syncing them to the library.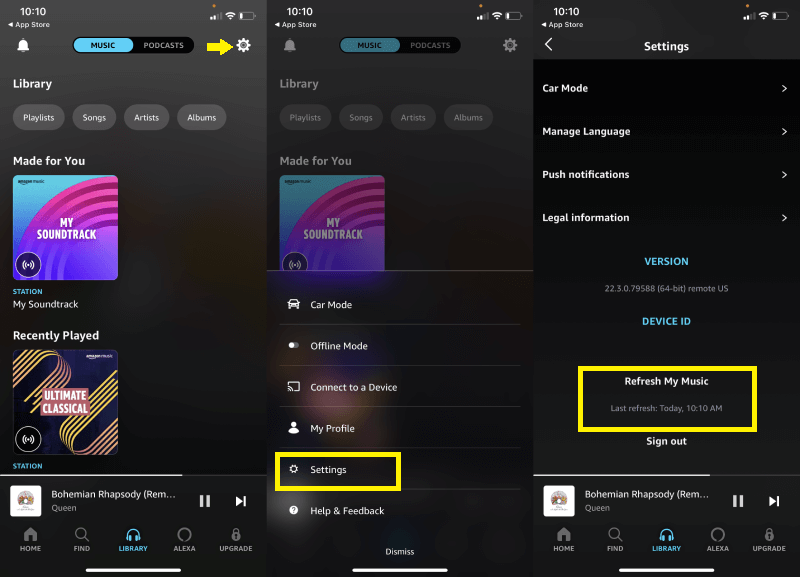 Final Words
After going through these useful tips and tricks surrounding Amazon Music, you are sure to find better ways in enjoying the music streaming services provided by the platform. If you consider this blog helpful, also share it with your friends! Thanks again for your great support!
Was this information helpful?
TrustScore 2.4 | 16
Copyright © 2022 TuneFab Software Inc. All rights reserved.