As there are more and more awesome music streaming platforms provided, Amazon Music also grew its loyal user group around the globe. Nevertheless, Amazon Music has divided its music database into modules based on the subscription status of users' accounts. Take the download feature as an example, Amazon Music Free users are prohibited to download the songs for offline streaming. Even for the subscribers of Amazon Prime or Amazon Music Unlimited plans, the music download feature is only available in mobile apps.
Therefore, to bypass such obstacles and fulfill the Amazon Music download for facilitating a more flexible streaming experience, this post is going to guide you on the ways to download Amazon Music on any device. Please scroll down to continue reading if you also need help.
TuneFab Amazon Music Converter
Download Amazon Music Prime/Unlimited/HD to MP3
Part 1. How to Download Amazon Music Songs on Computer
In this part, I am going to show you how to download Amazon streaming music and purchased Amazon digital music. Currently, you can download them to your computer from the official Amazon Music desktop app. And you can also download your purchased songs on a browser without installing other software.
Download Amazon Songs from Amazon Music Desktop App
Amazon has launched its desktop Amazon Music player for both Windows and Mac operating systems, from which you can easily download Amazon streaming music to your computer. But you need to be aware that only if you subscribe to Amazon Prime can you download songs on the Amazon app. Moreover, if you have purchased song Amazon digital songs without being an Amazon Prime member, you can also download your purchased songs on it.
Download Streaming Amazon Music
Step 1. Download the Amazon Music desktop player on your computer.
Step 2. Log in to Amazon with your account.
Step 3. Search for the song you want to download or navigate to your playlist, then hit the download button to get them downloaded. If you just want to download a single song, click on the three dots at the end of the song, and hit "Download".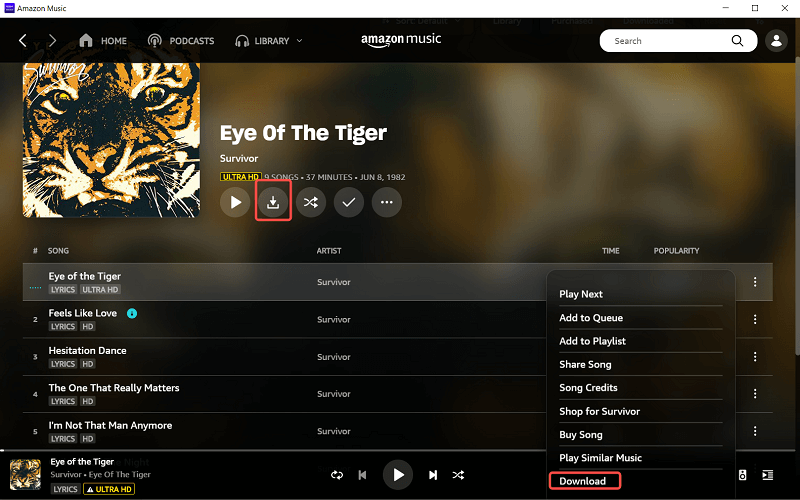 Download Purchased Amazon Music
Step 1. After downloading and installing the Amazon Music app, log in to it.
Step 2. Hit "Library" at the top and select "Music".
Step 3. Navigate to the "Song" tab and hit "Purchased".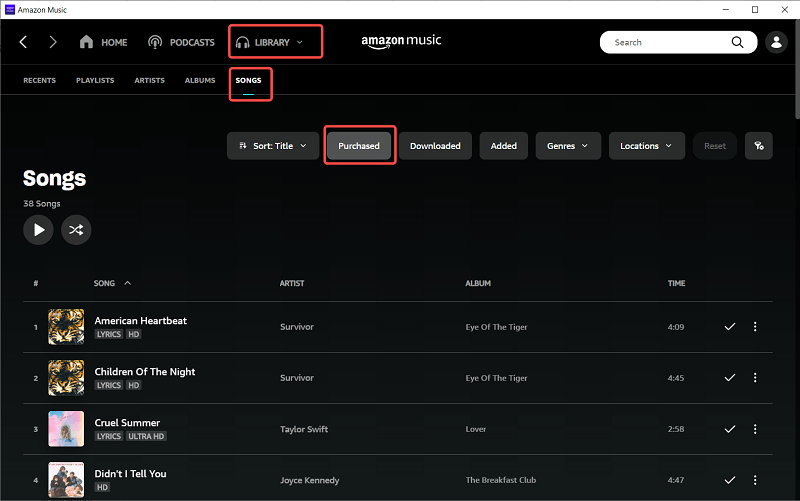 Step 4. Click on the download button and you can get your purchased Amazon music downloaded.
Download Amazon Songs from Amazon Web Player
On the Amazon website, you can purchase Amazon digital music and download them directly. If you want to download digital songs that you purchased before, the guide below can help.
Step 1. Open the Amazon web player and navigate to Library > Music > Purchased. Click this link and you can directly go there.
Step 2. Hit the three dots on the right of the song and select the "Download" button the download it to your computer.
Part 2. How to Download Tracks from Amazon Music to Phone
When people subscribe to Amazon Prime or Unlimited plan, they retain the right to download Amazon songs for streaming offline on mobile devices (both Android and iOS available). For those who are new as Amazon Music subscribers, and also the others who consider participating, this simple guidance pre-shows the manipulation of downloading Amazon Music tracks on mobile after completing the subscription.
Download Amazon Music via Android App
You can download and install the latest Amazon Music app on your Android device in Google Play Store. As the application is properly installed, you only need to follow the procedures below to download Amazon Music for offline streaming inside the Android app.
Step 1. Launch Amazon Music app on Android devices.
Step 2. Search for the song or playlist you wish to stream back offline.
Step 3. Press the three-dots button, you will discover the Download option to download the track.
Step 4. When the songs are downloaded, turn to Library >> Offline Music to stream them offline immediately!
Please note that the Download option is only available when you have subscribed to Amazon Music Prime and Unlimited.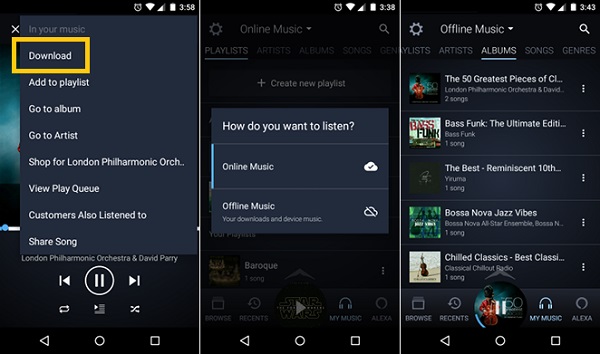 Download Amazon Music Using iOS Device
The manipulation to download Amazon Music to iOS devices such as an iPhone or an iPad is similar. You just need to follow the easy procedures described below:
Step 1. First, install Amazon Music mobile application from App Store and launch it.
Step 2. Type in the keywords for searching the title you wish to download.
Step 3. Tap the three-dots menu icon and select the Download option to save the song offline on your device.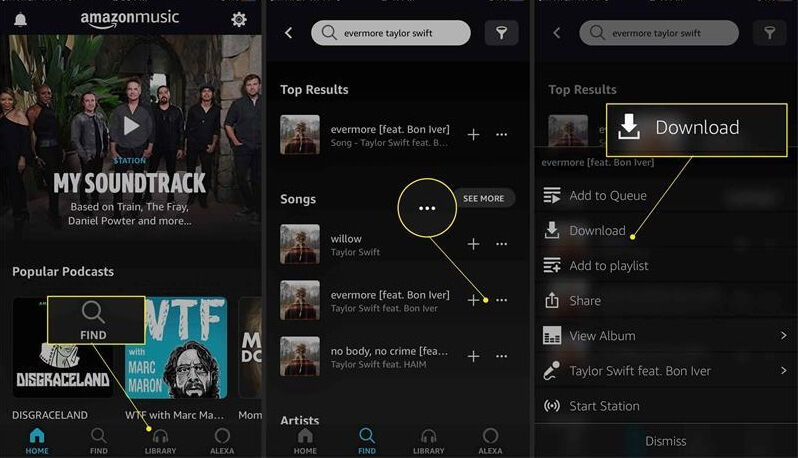 When the Amazon Music track is downloaded, you can switch to Library and tap the Settings button to enable the Offline Music mode for streaming the songs offline.
Part 3. How to Download Amazon Music on Windows & Mac Without Membership
Nevertheless, the frustrating fact of the brilliant Amazon Music download feature is only provided for Amazon Music Prime and Unlimited users. Moreover, songs downloaded on the Amazon Music app can only be played on it. You can't move, edit or make them your phone ringtone at all. In these cases, you can seek help from a Amazon Music downloader that can let any Amazon user convert Amazon Music to MP3 or other common digital formats.
Best Amazon Music Downloader at a Glimpse
Fortunately, with the assistance of an excellent Amazon Music Downloader, downloading songs from Amazon Music for streaming offline on Windows and Mac is just as easy as a piece of cake. In the following, TuneFab Amazon Music Converter will be introduced to your thoroughly.
It provides an obstacle-free path for people to easily download any content from Amazon Prime, Unlimited, and HD Music to the universally-supported encoders such as MP3, M4A for streaming offline. It will preserve the original sound quality to export the audio files, also with ID3 metadata information retained.
Furthermore, plus the batch conversion feature, TuneFab Amazon Music Converter facilitates higher music download productivity by speeding up the conversion speed to 5X faster. In this way, people can swiftly download Amazon Music for offline streaming without wasting much time and effort but with high quality.
Download Songs/Playlists/Podcasts from Amazon Music to MP3
When you get more familiar with the functions of TuneFab Amazon Music Converter, it's time for you to experience the handy manipulation to try downloading content from Amazon Music. Through this detailed guidance, you will walk through how to download songs/playlists/podcasts from Amazon Music to MP3 for keeping offline for permanently streaming even without Amazon Music Prime or Unlimited subscriptions on desktops.
Step 1. Install TuneFab Amazon Music Converter and Activate
First, please install TuneFab Amazon Music Converter and open the program on your computer. Subsequently, as the program is launched, there will pop up a registration window for activating the registered version with the purchased license key. For first-time users, we strongly recommend skipping the registration and experiencing the free trial at first.
Step 2. Enter Amazon Web Player and Sign in
When you skip the registration and turn to the welcome page, tap the Open the Amazon web player for reaching its embedded web player. Subsequently, please sign in to the web player with your Amazon Music account.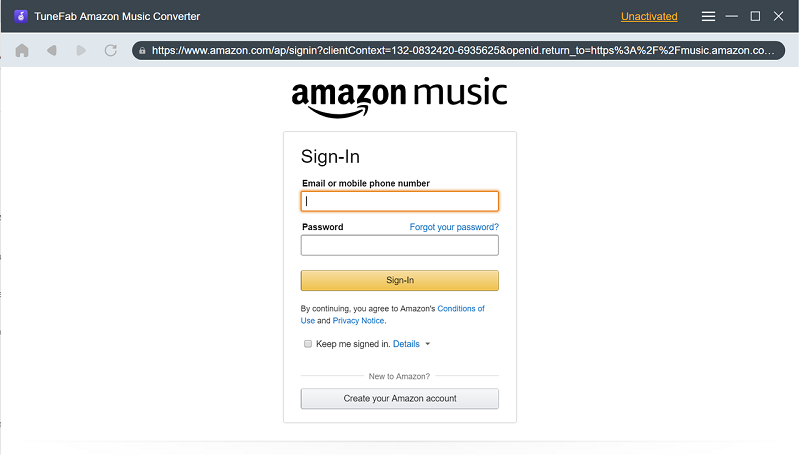 Step 3. Convert Amazon Song/Playlist/Podcast
In this step, people ought to reach the song, playlist, or podcast in the Amazon Web Player. When you open the playlist or podcast, directly tap the plus button to convert the whole songs/episode list. For a single music or podcast episode, people can also drag it to the plus button for converting solely.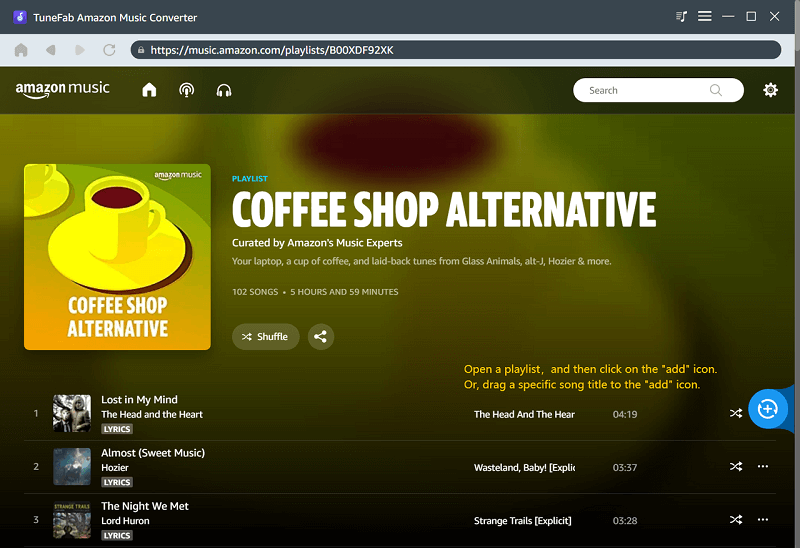 Step 4. Configure Output Settings
TuneFab Amazon Music Converter allows people to select Output Format to convert all Amazon songs at once. Furthermore, by turning to Preferences, there also offers the options to customize both SampleRate and Bitrate. Based on personal preferences, people can configure customized output settings to convert the Amazon Music.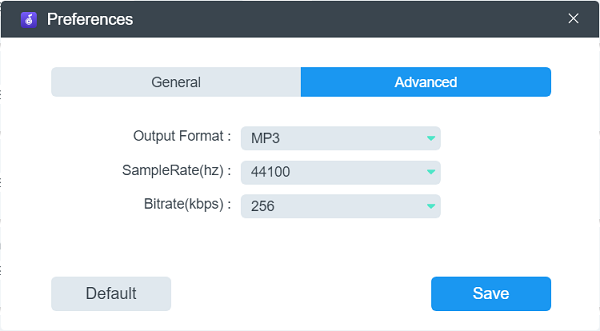 Step 5. Download Amazon Music on Desktop
Eventually, when the songs are selected and the output settings are completed, directly proceed to download them by clicking on the Convert All button. The songs will be added to the Converting module for batch converting at once.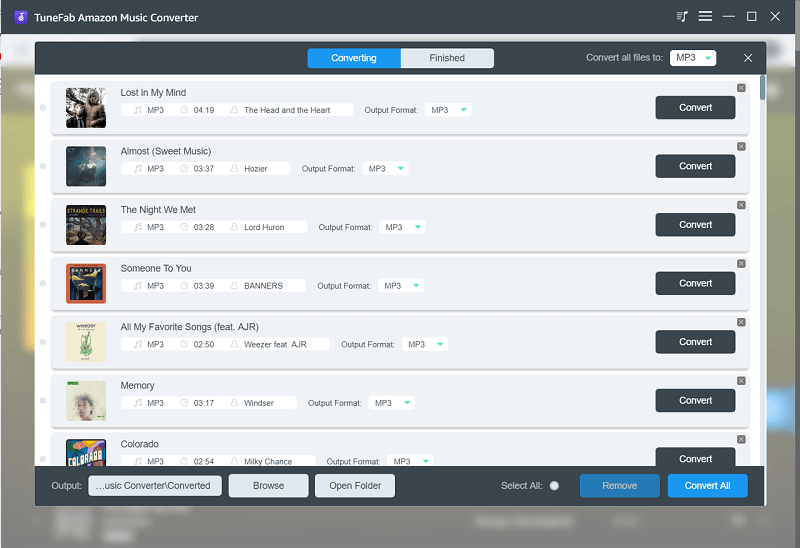 Step 6. Access Offline Amazon Music on Desktop
It takes a short while for TuneFab Amazon Music Converter to complete the download. When it completes, turn to Finished in the converter and directly click on the View Output File to open the output folder. Then you can enjoy the offline Amazon Music on desktops without any restriction!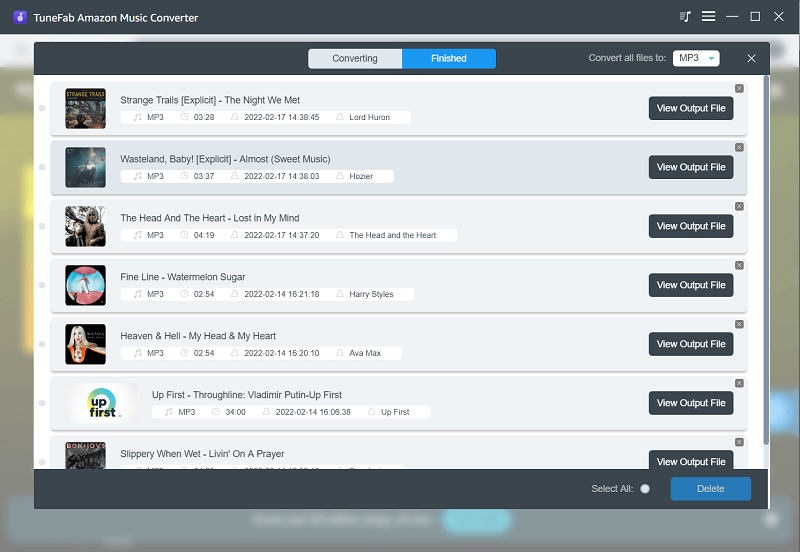 FAQ About Downloading Amazon Music
What Will Happen If I Cancel Amazon Music Subscription?
Please notice that you will gain all the benefits related to the subscription plan after making the payment successfully such as the download feature. However, when the subscription is expired, the downloaded titles saved in your offline music library will be grayed out, then you won't be permitted to playback the songs offline anymore unless the subscription is renewed.
Can You Still Upload Your Local Music to Amazon Cloud Player in 2022?
No. Amazon no longer provides the online service Amazon Cloud Player on April 30, 2018. You can't upload local files to it anymore.
Can You Download Amazon Music Without Prime Membership?
You can't download Amazon streaming music on its app if you don't subscribe to Amazon Prime. But you can purchase and download digital Amazon songs without upgrading to it.
If you wish to download Amazon Prime music without paying, you can turn to TuneFab Amazon Music Converter which is able for every Amazon user to download Prime music to their computer for free.
Final Words
No matter what devices you are using, like a mobile phone or a computer, there is still a way to download Amazon Music offline for streaming more flexibly. Based on your needs, you can choose to subscribe to Amazon Music Prime, Unlimited, or utilize TuneFab Amazon Music Converter to download Amazon Music offline on desktop. I believe that you can surely enjoy the best Amazon Music streaming experience now!
Was this information helpful?
TrustScore 2 | 4