On Amazon Music, you can discover music categories of all sorts to enjoy with the best sound effects. However, avoiding music buffering becomes a problem when your device's Internet connectivity is not reliable.
To cope with circumstances like this, some of you wonder how to download Amazon Music to iPhone or other portable devices to stream offline, getting rid of the dependence on network connection. Therefore, the post today will concentrate on figuring out this problem. Next, you will be guided through all helpful solutions to download Amazon Music on iPhone. Please scroll down and read if you need.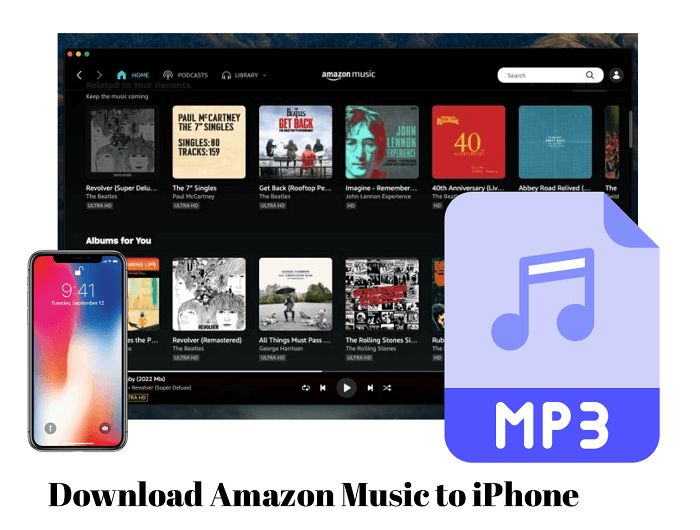 Method 1: Download Songs on Amazon Music on iPhone
On Amazon, there provides two types of music content. One is the streaming media, while the other is the purchased items provided in Amazon Music store. To download Amazon Music on iPhone, you need different methods to cope with these two Amazon Music types. Please continue reading the manipulation guide to see how.
Download Music to iPhone with Amazon Music APP
If you wish to download Amazon Music streaming resources on iPhone, the Amazon iOS application provides the default download options for those who have subscribed to Amazon Music Unlimited and Amazon Music Prime. Therefore, if you are already a user of these two subscription plans, you can download Amazon Music songs for streaming offline directly. Here's the manipulation guide on how to download Amazon Music to iPhone with subscription:
Step 1. Run the Amazon Music app on your iPhone. Please login to your account with Amazon Music Unlimited or Amazon Music Prime subscription.
Step 2. Subsequently, please browse and select the song, album, or playlist you wish to download to your iPhone for streaming offline.
Step 3. Once access to the title or album, tap More Options >> Download, then the music will be saved offline in no time for you.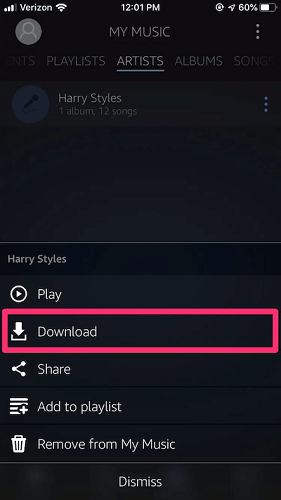 Subscribing to Amazon Music Prime or Unlimited doesn't mean you receive free controls on the music downloads. Instead, you are still restricted to stream the downloads on only one device within the Amazon Music app at a time. Meanwhile, the offline music library is not accessible all the time - once you cancel the subscription, you no longer have the right to play the downloaded Amazon Music titles anymore.
Download Purchased Songs on iPhone via Browser
For the purchased music from the Amazon online store, the music download manipulation can be different. As these independent music files are sold in MP3 format, you can directly download the purchased ones to your iPhone with any other subscription plan. Please see how to do it following the procedures as follow:
Step 1. On your iPhone, run a browser and turn to Amazon's official website.
Step 2. Once logging in your Amazon Music account, go to the music library and select the purchased Amazon songs.
Step 3. Right-click on the highlighted songs and confirm Download to save them offline.
Step 4. When the Amazon Music download completes, check the downloaded files on your iPhone and start the music streaming offline without Internet connectivity freely!
Method 2: Download Music from Amazon Music to iPhone as MP3
It is obvious that even the official feature provided by Amazon Music, there exist some downsides. Nevertheless, by downloading Amazon Music to iPhone as MP3 files, these restrictions will all be removed, and you can even play them offline without Amazon Music app installed or being limited by Amazon's streaming regulations mentioned above. For such a purpose, TuneFab Amazon Music Converter is what you are longing for.
Best Way to Download Amazon Music to MP3 on iPhone
By inviting the official Amazon Music web player into the program, TuneFab Amazon Music Converter functions in an effortless way to download all Amazon Music contents, regardless of music titles of Amazon Music Prime, Unlimited, or HD for you. It can bypass the download and music streaming obstacles brought by Amazon Music, and export Amazon Music downloads to MP3 and other popular formats in DRM-free status.
Meanwhile, the program will retain both the original sound quality and full ID3 metadata information, ensuring both the enjoyable music playback experience and convenience in managing them. When you get the downloaded Amazon Music MP3 files and import them to your iPhone, then you are free to enjoy their streaming locally with any installed player on your devices.
To sum up, you can get the following benefits to facilitate your Amazon Music streaming on iPhone with TuneFab Amazon Music Converter:
● Built-in Amazon Music web player - by applying the official Amazon Music web player to the program, you only need to sign in and browse the songs to download directly. It also ensures higher conversion success rate.
● Compatible with all Amazon Music content - the program supports downloading all songs without restrictions, regardless of Amazon Music Prime, Amazon Music Unlimited, and the Amazon Music HD titles, you can download with the program.
● Popular formats such as MP3 provided - the program also provides popular encoders such as MP3, M4A, WAV, and FLAC to select, ensuring the music downloads can be supported by almost all the devices and players.
● Lossless sound quality guaranteed - the program enables customized SampleRate as well as Bitrate to export Amazon Music songs the way you like. It offers up to 320Kbps to select, ensuring original music quality for your offline music streaming experience.
● ID3 Metadata retained - while processing the Amazon Music download, all the ID3 metadata information will be kept accompanying the downloaded songs, which greatly helps you to recognize and manage the local music library easily.
● 5X faster download efficiency - equipped with both 5X faster downloading speed and the batch download feature, the program brings higher productivity for you to save a bulk of Amazon Music songs offline within a short period.
Next, please take one more minute to learn how to download Amazon Music to iPhone with TuneFab Amazon Music Converter:
Step 1. Log into Amazon Music Web Player in TuneFab
First, please complete the program installation. Then you can open TuneFab Amazon Music Converter and enter the built-in Amazon Music Web Player to log in utilizing your Amazon Music account.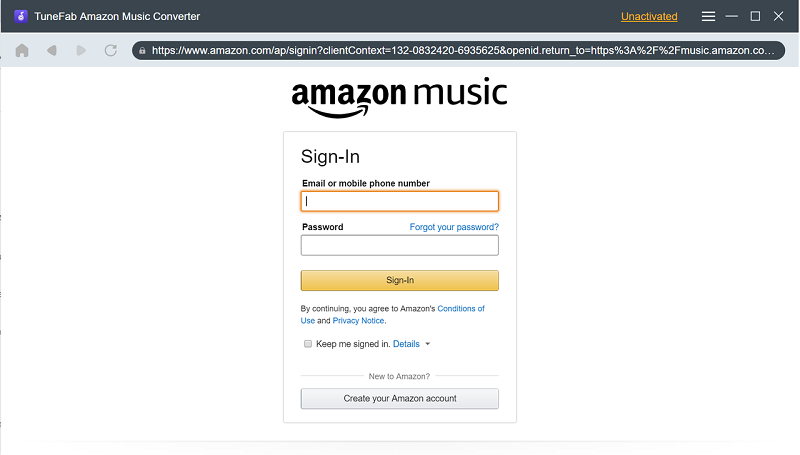 Step 2. Select Amazon Playlists to Download
After login, feel free to browse any Amazon Music playlist you like to get ready for the download. Once access the items you wish to save offline, simply drag them to the Add button aside for proceeding the conversion.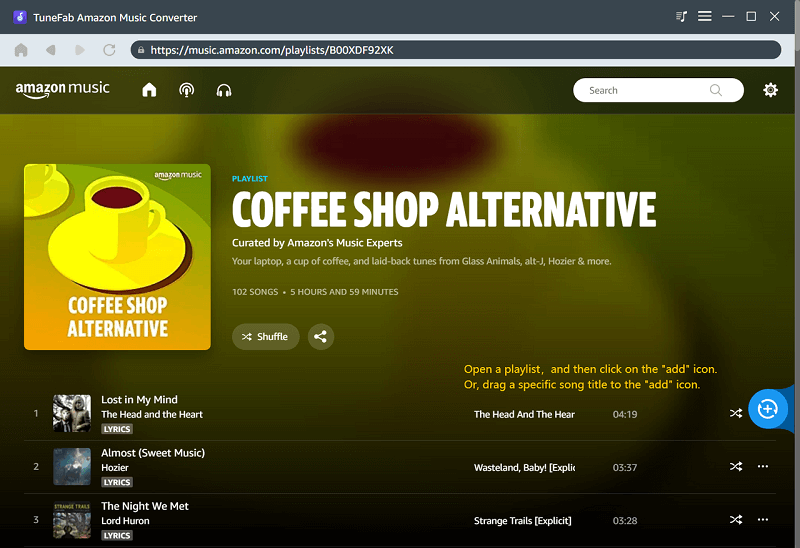 Step 3. Configure Output Parameters
Please turn to Menu >> Preferences and customize the output parameters before exporting the Amazon songs to have a great streaming experience on iPhone. You can personalize the Format, SampleRate, and Bitrate here freely.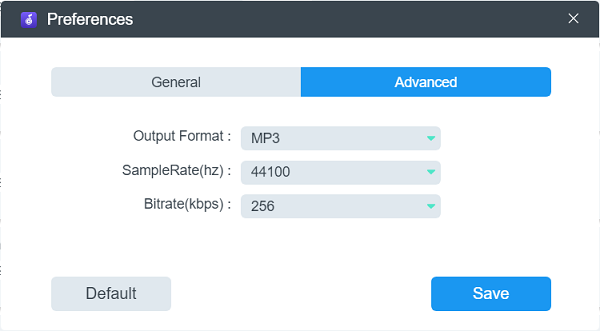 Step 4. Download Amazon Music Playlists
After completing the output settings, congratulations! There has only one more step left! Please tap the Convert All button now, and TuneFab Amazon Music Converter will proceed to download all Amazon Music songs for you in no time. Wait for a moment and the downloads will be ready for you to transfer to iPhone!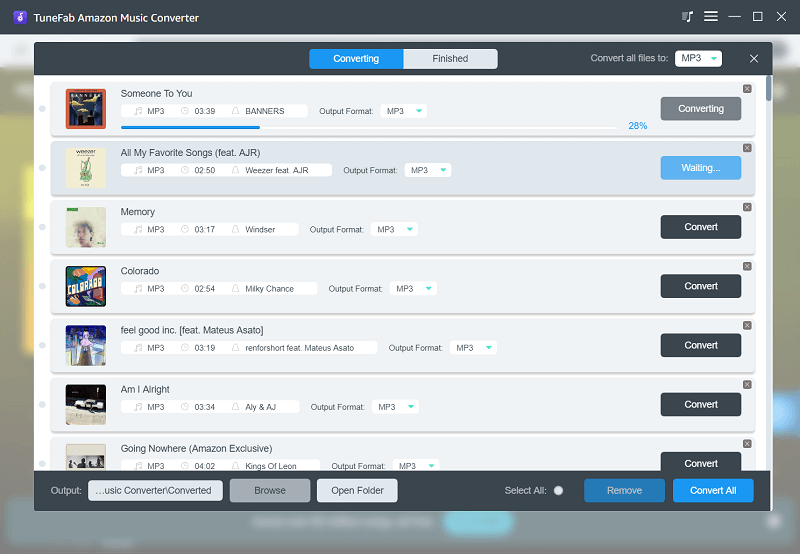 Once the conversion is completed, please turn to the Finished module to access the downloaded items in the program. Simply by tapping the View Output File button, the output folder will be launched, then you can continue to transfer them to your iPhone for streaming offline! Please keep on reading.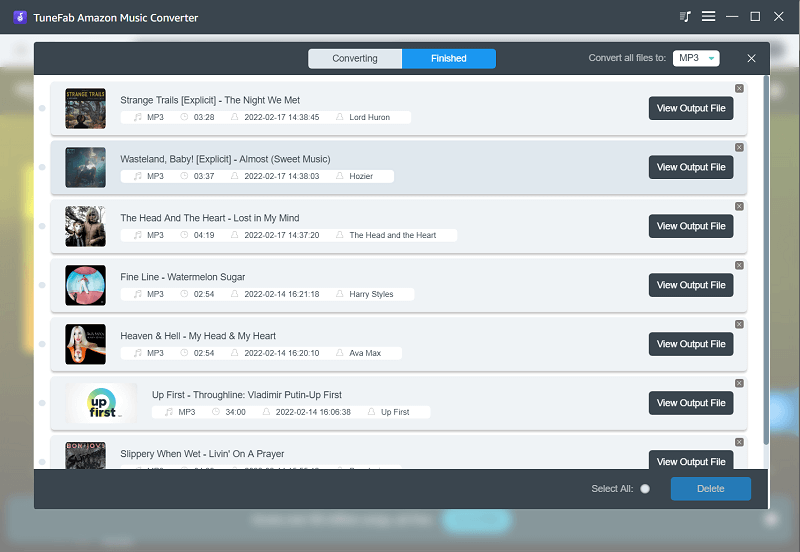 How to Sync Amazon Music to iPhone
After completing the Amazon Music download with TuneFab Amazon Music Converter, now you transfer the MP3 music files to your iPhone. To process this, you need assistance from iTunes. Then by following the procedures below, you can complete it within minutes. Please take a read:
Step 1. Open iTunes on the computer.
Step 2. Turn to the Music tab and select File >> Add File to Library to Library to import the downloaded Amazon Music files to iTunes.
Step 3. Connect your iPhone to synchronize with iTunes. Simply by tapping the Sync option, all imported Amazon Music songs will be transferred to your iPhone in no time.

FAQs about How to Download Amazon Music to iPhone
Here are two more FAQs surrounding how to download Amazon Music to iPhone. If you still get some confusion, please read and see if they can help you out.
Where is downloaded Amazon Music stored on iPhone?
When you download streaming music from the Amazon Music app, it will automatically create cache and store on your iPhone. You need to follow this Amazon Music download location to access them.
Why can't I download Amazon Music on my iPhone?
If you have upgraded to be a Amazon Music premium subscriber but still fail to download Amazon Music to iPhone, please check whether you are running into the following issues:
● Your device's Internet connectivity is bad
● Your iPhone is out of storage to keep more Amazon Music downloads
● Too many caches corrupt your system and lead to the download error
● Your Amazon Music app is outdated and needs to update
● Your account is not verified as a premium one so the download function is not available for you
…

Based on these common reasons resulting in Amazon Music download errors, you can seek corresponding solutions to get them fixed:
● Reconnect to a faster Wi-Fi network
● Free up your iPhone storage
● Clear device cache
● Update the Amazon Music app to the latest version
● Sign out and log in your Amazon Music account once again

Hope your problem can be fixed now!
Conclusion
If you have been a subscriber of Amazon Music Unlimited or Amazon Music Prime, you can download Amazon Music on iPhone using the official app directly. However, for free users or those who wish a free way to play Amazon Music outside the application, TuneFab Amazon Music Converter will surprise you with its outstanding features. It is recommended to try it.
Was this information helpful?
TrustScore 5 | 49