How to make your listening experience with Spotify more interesting and personalized? Spotify has now launched a real DJ mode! It uses the newest OpenAI technology to analyze your listening history on Spotify, guess your preferences, and provide a curated lineup of music and artists based on its understanding of your music tastes and favorite music genres. The DJ playlist is picked just for you and can be changed or refreshed at any time according to your feedback.
Before the launch of this new Spotify AI DJ mode, you may have been using the free crossfade function to adjust the transition between songs to create your party music DJ playlist. But now, you can have different options to get a DJ experience according to your device. How to make it happen? Scroll down for the full tutorial!
Contents
Method 1: Enable Spotify AI DJ Mode on iPhone/Android
This popular and personalized AI guide can be easily found on your iOS/iPhone or Android device. If you want to randomly find some new, pleasant melodies and create a brand-new playlist, wake him up and enjoy your exclusive music time.
💡 Note:
Before using, make sure that the Spotify DJ Mode function is available in your current region. This feature is now available in 50 markets around the world, including the U.S., Canada, the U.K., Australia, etc. Also, you need to log in to Spotify with a Spotify Premium account.
Update your Spotify app to the latest version, and follow the instructions below.
Step 1. Open Spotify on your iPhone or Android smartphone, and press the "Music" tab on the top left. A blue card will show up and greet you. This is your exclusive AI DJ.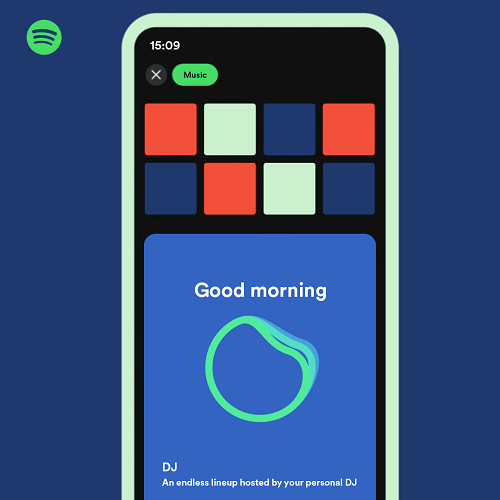 Step 2. Press the triangle "Play" icon and let the DJ do the rest! You can listen to music that the AI picks for you. You can pause or skip when listening. If you don't like the song it recommends, press to "skip" the song, and the DJ will adjust its playlist to meet your needs based on your feedback.
Method 2: Turn on Spotify DJ Mode Free
As mentioned above, you need a Spotify Premium account to enable Spotify DJ Mode. Is it possible to have this DJ Mode for free? If that's what you are looking for, try Spotify Crossfade Mode. It enables smooth transitions between songs so that you can listen to them without any breaks, just like listening to mixed songs played by a DJ.
💡 Note:
You can enable the "Playback" function with a free Spotify plan, but it does have some limitations. For example, only Spotify Premium subscribers can enjoy ad-free offline playback. Even if you turn on Crossfade mode, the ads will still interrupt you.
How to Get Spotify DJ Mode on Desktop via Crossfade
Step 1. Launch the Spotify desktop app on your PC.
Step 2. Select your DJ playlist, or create a new one.
Step 3. Press the gear icon to go to "Settings". Scroll down to find the "Playback" section. Turn on the "Crossfade songs" option.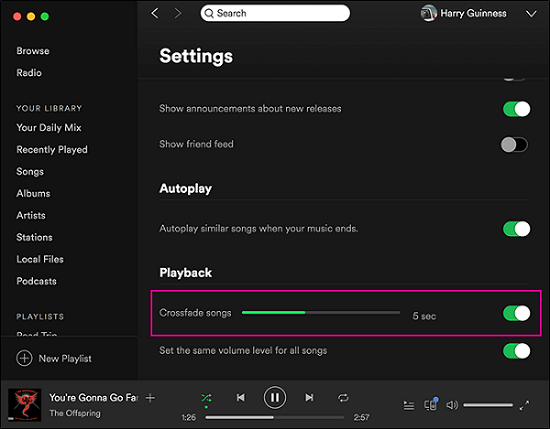 Step 4. Decide how long the transitions should be between two songs. You can try different transition times to test your favorite mode. It can be as long as 12 seconds.
How to Get Spotify DJ Mode on iPhone/Android via Crossfade
Step 1. Launch the Spotify app on your iPhone/Android smartphone.
Step 2. Go to "Home" > "Settings" page. Tap to enter the "Playback" section.
Step 3. Turn on the "Gapless Playback" function to enable the "Crossfade" function.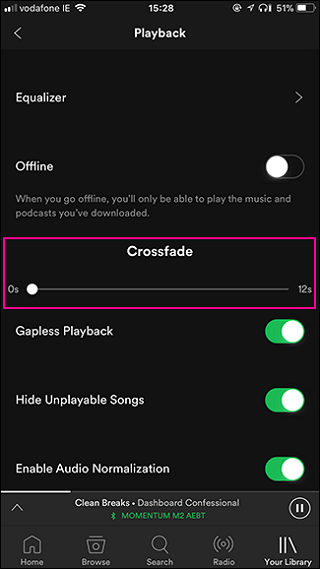 📌 Tips:
If you are creating a playlist for a party or an event, use the Equalizer in the "Playback" section to adjust the sound effects in music to find a sound you like.
Tip: Download Spotify Playlist to MP3 to Play on Any DJ Software
Although your Spotify AI DJ will analyze your favorite songs and add some DJ effects for you, it is not actually a professional DJ function and is available only for Spotify Premium users. For Crossfade users, if you don't have Spotify Premium either, the experience can be even worse due to those ads between songs.
How about importing Spotify music to Virtual DJ or other professional DJ software? If that's also what you are considering, you need to download your Spotify playlist as local files first.
The question is, how to download Spotify music to MP3 for free? All Spotify content is encrypted. Even if you are a Premium subscriber, you can only download Spotify music and listen to it within the App. So, you need to remove the DRM restrictions and rip them to open-source MP3 or other mainstream formats. The professional TuneFab Spotify Music Converter.
👍 Key Features of TuneFab Spotify Music Converter:
• Multiple Output Formats. It rips Spotify singles/playlists/albums to open-source common audio formats including MP3, M4A, FLAC, WAV, AIFF, AAC, and ALAC even without Premium.

• Support High Batch Download Speed. It supports batch conversion at 35X faster speed, making your downloading an efficient one.

• Keeps Lossless Quality. It allows you to download Spotify songs with the original sound quality, guaranteeing your high-quality listening experiences.

• Maintains Metadata and ID3 Tags. It preserves ID3 tags and metadata information for easier management.
TuneFab Spotify Music Converter features a built-in Spotify web player so that you can easily find your playlists on it. It is compatible with both Windows and Mac computers. Its user-friendly interface makes it one of the best Spotify downloaders for computers. Here are the step-by-step instructions.
Step 1. Download, Install, and Launch the TuneFab Spotify Music Converter
After downloading and installing TuneFab Spotify Music Converter, click to Open the Spotify web player, and log in to your Spotify account (do not require Spotify Premium).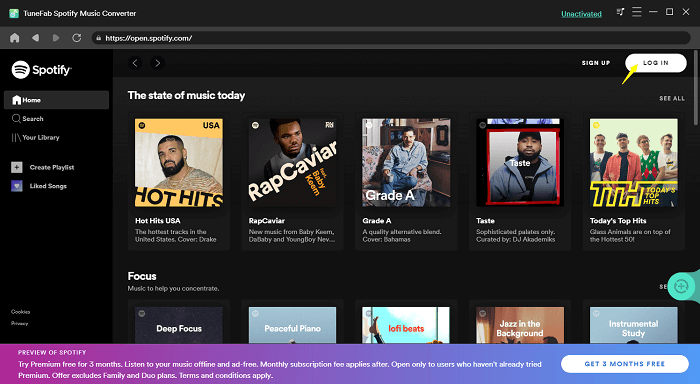 Step 2. Select Songs to Be Converted
Once you've logged in with your Account, you can see your own music playlists. Just drag and drop the songs you want to convert to the green floating icon with a "+" icon. You can drag one single song or put the whole playlist on the converting list.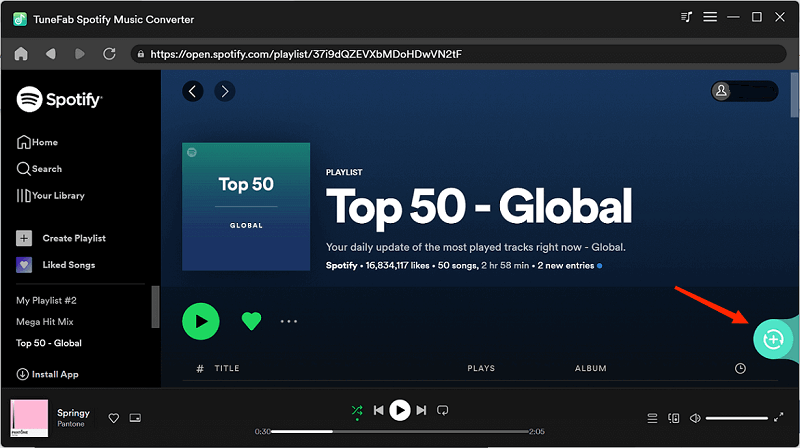 Step 3. Confirm Output Parameters
Click the upper right "Convert all files to" option on the menu and choose your preferred output format. You can decide the output format for the whole playlist or confirm one by one next to each song.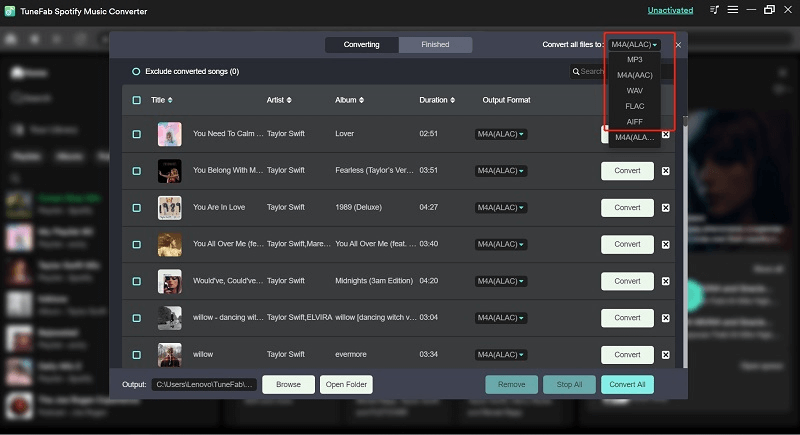 Or, you can go to the "Settings" > "Preferences" tab to set up the default output formats and audio quality.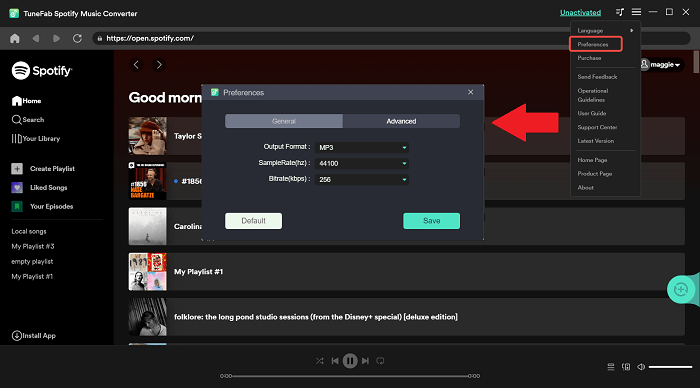 Step 4. Click to Download Spotify Music
Press the "Convert All" button and start the conversion. TuneFab Spotify Music Converter supports 35x faster speed download, you can just wait for the conversion process to finish.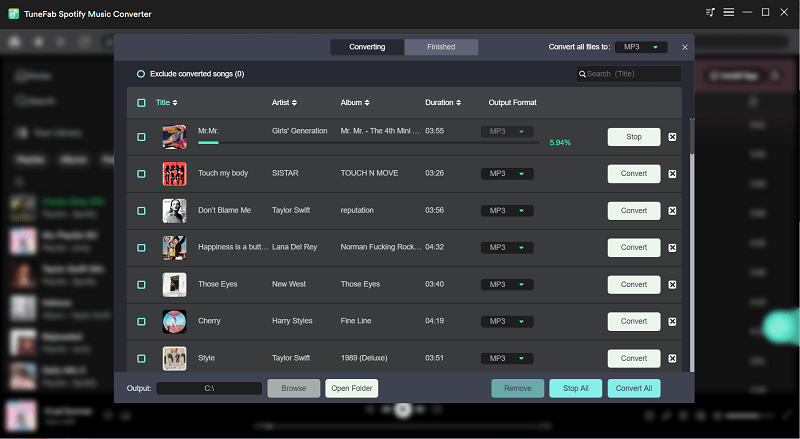 All downloaded music can be viewed on the "Finished" tab. Click the "View Output File" to locate the music files. You can press the triangle "Play" button next to the song to play it directly.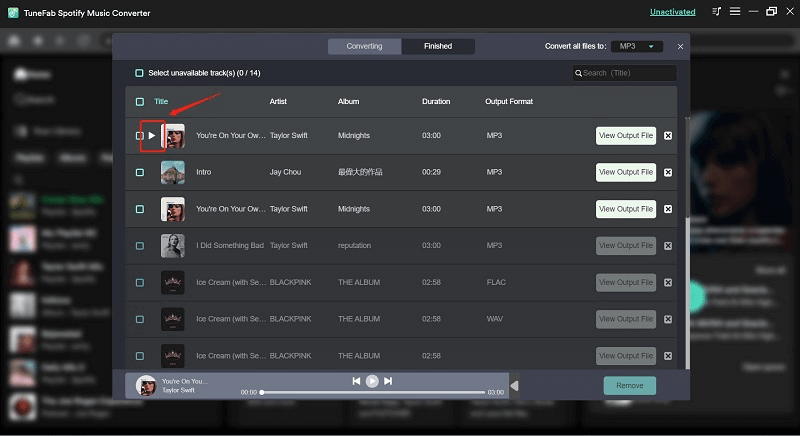 The whole download process is done. You can now import your favorite Spotify songs to any other DJ software for more professional DJ functions. Your exclusive Spotify AI DJ is in your pocket!
FAQs About Getting Spotify DJ Mode
Q1: Does Spotify DJ Mode Only Work for Premium?
Unfortunately, the answer is YES. You must have a Premium account to try this new Spotify AI mode if it is available in your region. Or, you can use the professional TuneFab Spotify Music Converter to download Spotify music to your own device, then add downloaded songs back to Spotify to use the Spotify Crossfade function, which resembles DJ mode.
Q2: Why Can't I Find Spotify AI DJ Mode on My Phone?
That may happen in several situations. First, you need to update your Spotify to the latest version. Besides, this Spotify AI DJ feature is not available worldwide. You need to make sure it is available in your current region. And then, go to Settings on your Spotify to check if you have enabled the Playback function. Log out and log in back to refresh your Spotify account to check again.
Conclusion
This new Spotify DJ Mode aims to put an AI DJ in your pocket, and it is great enough for Spotify Premium users! You can try to use it according to our instructions above.
But if you want to try more professional DJ functions, we still recommend you download Spotify songs and import them to third-party DJ software especially when you want to create your own party playlists. Use TuneFab Spotify Music Converter to remove Spotify DRM protection and download Spotify music to MP3 files. Then, you can put the music to any DJ software, and be the party DJ yourself!
TuneFab Spotify Music Converter
Batch convert Spotify songs to MP3 for any DJ software
Was this information helpful?
TrustScore 3 | 4