"How do I play Spotify on Virtual DJ?"
Although Spotify empowers the largest music database with the music of all categories, unfortunately, Spotify is currently no longer available on Virtual DJ, leading to the difficulty of adding or using Spotify with this program.
You might think of downloading Spotify and importing it to Virtual DJ. However, because Spotify songs are restricted by DRM, the downloaded Spotify music can only be listened to in the Spotify app and cannot be added to Virtual DJ.
In today's post, in order to help you use Virtual DJ with Spotify, we found TuneFab Spotify Music Converter, the most reliable and professional program for you to remove DRM from Spotify songs and rip them with lossless quality, making it possible for you to import them to Virtual DJ and listen to Spotify songs with it.
CONTENTS
1. Does Virtual DJ Work with Spotify?
If you want to use Spotify with Virtual DJ directly, that will come to vail. That's because Spotify is no longer available in DJ apps (except Pacemaker) since July 1, 2020. Therefore, you're not allowed to use Spotify straight to Virtual DJ for song mixing.
Note: Even though you can import your Spotify playlist to Deezer and open them in Virtual DJ, the process is extremely complicated and both Deezer and Virtual DJ will charge you for this service.
Some of you may ask, how if I download Spotify songs first and then import Spotify to Virtual DJ? Unfortunately, this is also a big No! Although Spotify has provided the offline music download function for subscribers of Spotify Premium, it would become unfeasible.
Because all Spotify songs are encrypted with DRM which prevents Spotify songs from being mistakenly distributed or used for commercial purposes, making it a failure to import Spotify to Virtual DJ.
Alternatively speaking, if you want to play Virtual DJ Spotify, you will need a way to remove DRM from Spotify songs first. Therefore, today in this article, the best Spotify to Virtual DJ converter will be recommended to solve all your trouble, which is able to download Spotify playlists to MP3 in 4 steps and import downloaded songs to Virtual DJ without hassle.
If you are using Spotify with Virtual DJ for personal use and without making benefits, it would be legal to do so.
2. Best Free Software for Virtual DJ Spotify Integration
In order to remove Spotify DRM and get protection-free Spotify songs in Virtual DJ, as mentioned in the very beginning, you can turn to the powerful DRM removal program, TuneFab Spotify Music Converter to help.
TuneFab Spotify Music Converter is ranked as the best Spotify music downloader, designed with the official built-in Spotify web player for dragging and downloading all Spotify OGG Music to DRM-free MP3, WAV, FLAC, AIFF, M4A, AAC, ALAC formats without a premium subscription required.
We like the lossless output quality of Spotify songs which is up to 320kbps and batch conversion to download multiple Spotify songs at 35X faster speed so that import most Spotify songs to Virtual DJ and enjoy them with a superior listening experience on Virtual DJ. Lots of functions are available for both Spotify Free and Spotify Premium below:
Main Features of TuneFab Spotify Music Converter
• Download Spotify singles, playlists, albums, and podcasts to PC without Spotify Premium.
• Support removing DRM restriction from Spotify songs in one-shot.
• 35X default super fast conversion speed.
• Universally-supported audio formats are provided to select: MP3, WAV, FLAC, AIFF, M4A, AAC, ALAC.
• Bitrates and sample rates can be freely personalized according to your needs.
• ID3 tag preservation for all Spotify downloads to help you have better management offline.
• Preset output settings to archive downloaded tracks.
3. How to Download Spotify to Virtual DJ (4 Steps Only)
As TuneFab Spotify Music Converter is well designed with an intuitive interface, it is possible for you to process Spotify DRM removal and download Spotify to Virtual DJ with only 4 pretty-easy steps. Please walk through them and try by yourself:
Step 1. Log in to Spotify Web Player in TuneFab
Download TuneFab Spotify Music Converter and then install it on your computer.
Once entering the built-in Spotify web player, please log in to your Spotify account (Both free and premium accounts are supported). After that, you can use the browsing or searching feature to discover any Spotify song you wish to import to Virtual DJ in the web player.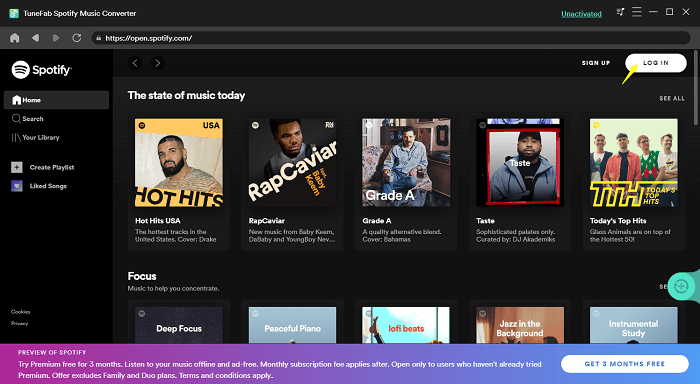 Step 2. Select Playlist from Spotify for Virtual DJ
Now, simply select a Spotify playlist you want to download and play with Virtual DJ. Simply open it and click on the green bubble icon that is always located on the right side of the screen.
Then TuneFab Spotify Music Converter will automatically analyze the playlist for you in seconds. After that, you can directy search the songs you want or sort the conversion list by song title, artist, album, or duration to change the conversion order, so that you can convert the one you like most first.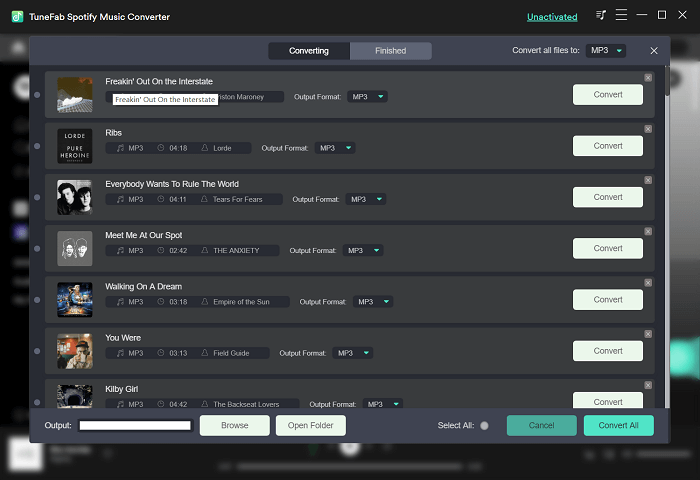 Step 3. Select the Output Files Format
After adding the music to your converter, now you can just hit to Menu button to customize the output settings, like output file format under the Preferences page.
By choosing Advanced, then you can choose the audio file formats from MP3, WAV, FLAC, AIFF, M4A, AAC, ALAC to export Spotify songs in DRM-free status offline. Here, we highly recommend the format MP3/M4A that can preserve ID3 tags for better management. What's more, you can define the file title for the downloaded audio and automatically archive your downloaded songs in folders.
Tips: As for the music parameters, it is recommended to select a bitrate 256Kbps and sample rate 44100Hz, which can highly match the original Spotify music quality. This will be the best option to mix Spotify with Virtual DJ.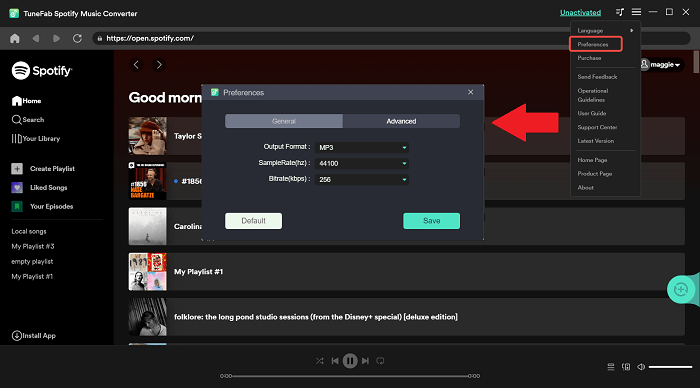 Step 4. Get DRM-free Spotify for Virtual DJ
Now, just click "Convert All" or "Convert X Items" to get the whole conversion running.
When the whole conversion is finished, then you can get DRM-free Spotify Music on the destination path. After that, you can import and play Spotify on Virtual DJ directly.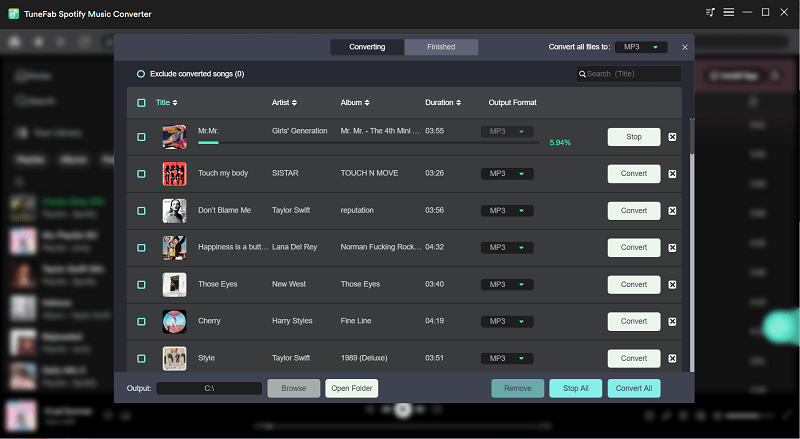 4. How to Import Spotify to Virtual DJ Library
After you download and save music from Spotify by TuneFab Spotify Music Converter, you can add them to Virtual DJ's music library. It supports playing back songs from your computer memory, iTunes, and hard drive. Scroll down to get how to import Spotify to Virtual DJ for streaming in the program:
Step 1. Install and enter into the main interface of Virtual DJ.
Step 2. Head to the "Local Music" menu. Here you can import the audio files from "My Music", "My Videos", "Hard Drive" and so on.
Step 3. Drag the converted music from your output folder and drop the music onto the A-line of Virtual DJ. Then you can use Virtual DJ with Spotify songs.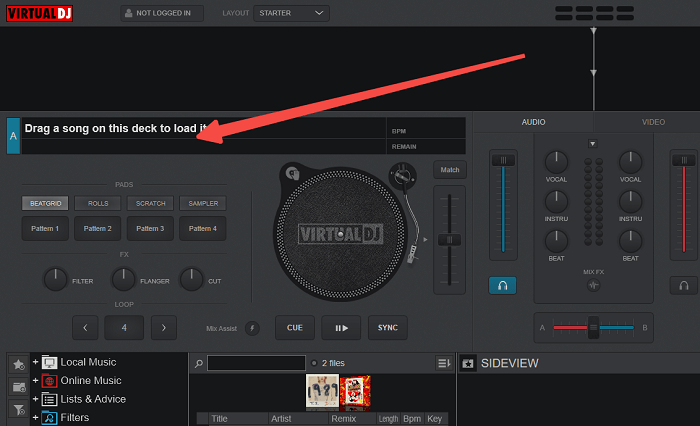 Tips: If you are to manage a list of Spotify with Virtual DJ, you can create a playlist for them under the "Lists and Advice" option.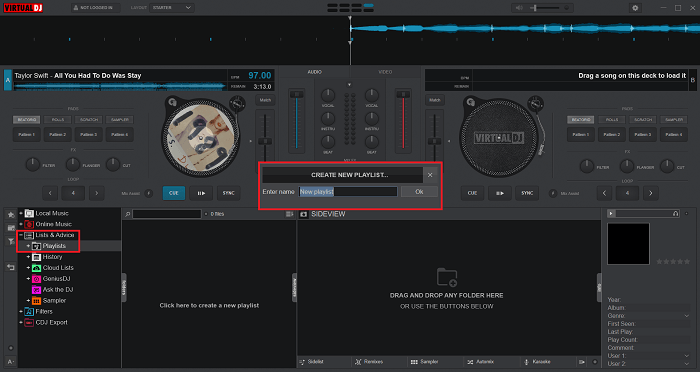 Then directly drag the downloaded Spotify songs from the output folder to the playlist.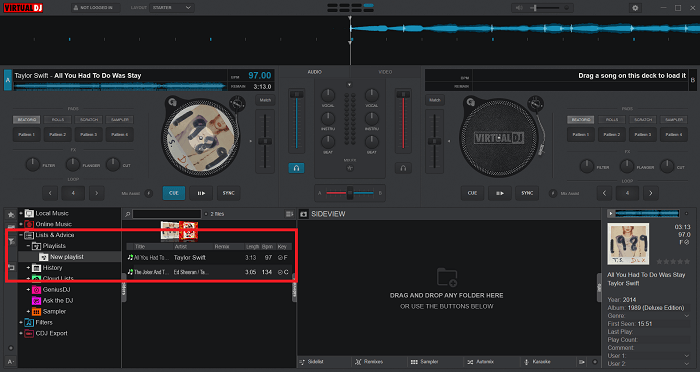 5. FAQs About Virtual DJ with Spotify
Here are more tips about Virtual DJ with Spotify to enable you an awesome music creation experience. Please check.
Is Virtual DJ Good for Beginners?
Although Virtual DJ is widely used by DJs from all over the world, no matter how professional they are, Virtual DJ is still perfectly designed for DJ beginners. It does support easy mixing and it can finish most of the work itself, but this kind of automation feature will limit you when you start diving into deeper mixing and the finer details in different places.
What Music Services Work with Virtual DJ?
You're able to access 3 huge online video, Karaoke, and music pools after you respectively subscribe to iDJPool, VJ-Pro, and Digitrax. In the meantime, after the initial setup on Virtual DJ, you can integrate with the 5 music streaming services including Beatport, SoundCloud, Tidal, Deezer, and Beatsource.
How to Play Spotify with Virtual DJ Without Local Files?
Virtual DJ supports connection with SoundCloud. So, if you really hate to store bunches of music files on your phone or your computer, you can upload the Spotify songs to SoundCloud and use Virtual DJ with Spotify songs via SoundCloud.
But you need to be aware that you must keep them uploaded privately and for personal use. It will be illegal if you make benefits with any Spotify content.
How Do I Get DJ Mode on Spotify?
When Spotify has enabled a DJ Mode feature officially, you can make song crossfades using Spotify DJ mode with equalizer in one shot. You can preset the crossfade of two songs for up to 12 seconds via "Home > Settings > Playback > Crossfade" on the Spotify app.
But it's noted that getting DJ mode on Spotify requires you to a Spotify Premium, which is frustrating for Spotify-free users. Also, Spotify's DJ mode is not really Spotify DJing. So if you want to mix your Spotify tracks in-depth, you'll still need the help of virtual DJ software.
And to use Spotify on Virtual DJ, as mentioned before, you need to use the best Spotify converter, TuneFab Spotify Music Converter to remove DRM from Spotify, and download Spotify songs for free. Then, you can import Spotify music to Virtual DJ for flexible listening.
Is There a DJ Program That Works with Spotify?
Replacing Virtual DJ, if you wish another alternative DJ program which can directly work with Spotify to play songs to it without restrictions, Mixonset AI DJ app is the one you can try.
As it can seamlessly work with Spotify, SoundCloud Free, Apple Music, and TIDAL, you can create awesome music with it no matter for having a patty or just for fun in spare time.
Conclusion
That's all for today. Virtual DJ as the best kit for DJ beginners welcomes all of you to try this utility with the free or paid version. However, it's not that easy for DJs to use Virtual DJ with Spotify.
Now you can try TuneFab Spotify Music Converter to convert Spotify to Virtual DJ supported formats with stable and high-quality outputs. Its super high speed on downloading Spotify albums, playlists, and podcasts will become a great help when you need to deal with a plethora of songs.
Just click on the download button and enjoy your unlimited Spotify journey from here.
Was this information helpful?
TrustScore 3.3 | 50