"How do I play Spotify on Virtual DJ?"
Virtual DJ is one kind of DJ software that can mix songs by applying effects, crossfading from one side to the other, etc. Unfortunately, Spotify is currently no longer available on Virtual DJ, leading to the difficulty of adding or using Spotify with this program. In order to help you use it with Spotify, we found the best tool for you to rip music from Spotify with lossless quality. Then you can enjoy using Virtual DJ with Spotify.
CONTENTS
1. Can You Use Virtual DJ with Spotify?
If you want to use Spotify with Virtual DJ directly, that will come to vail. That's because Spotify is no longer available in DJ apps (except Pacemaker) since July 1, 2020. Therefore, you're not allowed to use Spotify straight to Virtual DJ for song mixing. Even though you can import your Spotify playlist to Deezer and open them in Virtual DJ, the process is extremely complicated and both Deezer and Virtual DJ will charge you for this service.
In fact, if you just need to make song crossfades, Spotify DJ mode with equalizer can directly help you. You can preset the crossfade of two songs for up to 12 seconds via "Home > Settings > Playback > Crossfade" on the Spotify app. But the easiest and best way to DJ with Spotify will be DJing on Virtual DJ with your local Spotify songs.
However, even if you perfectly download songs from Spotify and try to import them to Virtual DJ, it would become unfeasible because all Spotify songs are encrypted with DRM which prevents Spotify songs from being mistakenly distributed or used for commercial purposes.
Today in this article, the best Spotify to Virtual DJ converter will be recommended to solve all your trouble, which is able to download Spotify playlists in 4 steps and import downloaded songs to Virtual DJ without hassle. If you are using Spotify with Virtual DJ for personal use and without making benefits, it would be legal to do so.
2. Best Free Software for Virtual DJ Spotify Integration
Since Spotify doesn't work with Virtual DJ anymore, to enjoy Spotify songs on Virtual DJ, you need to rip music from Spotify and import downloaded songs to Virtual DJ. TuneFab Spotify Music Converter is the best Spotify music downloader which is designed for downloading and converting Spotify Music to audio formats such as MP3, M4A, FLAC without premium. We like the lossless output quality of Spotify songs which is up to 320kbps so that you can enjoy most with Virtual DJ. Lots of functions are available for both Spotify Free and Spotify Premium below:
TuneFab Spotify Music Converter for Spotify Free & Spotify Premium
● Download Spotify singles, playlists, albums, and podcasts to PC without Spotify Premium.
● Support removing DRM restrictions from Spotify songs.
● 5X default super fast conversion speed.
● Various audio formats are selectable: MP3, WAV(Windows), M4A, and FLAC.
● Bitrates and sample rates can be chosen according to your needs.
● ID3 tag preservation is provided for a better management.
Tip:
You don't need to download the Spotify application on your PC! That's because the powerful TuneFab Spotify Music Converter supports analyzing Spotify playlists directly after you sign in to the built-in Spotify web player.
3. How to Download Spotify to Virtual DJ (4 Steps Only)
Step 1. Install TuneFab Spotify Music Converter and Login Spotify
Download Spotify Music Converter on your computer and then install it on your computer. Log in to your Spotify account in the web player embedded in TuneFab Spotify Music Converter. After that, you can run it for downloading Spotify music and then get ready to use Spotify with Virtual DJ.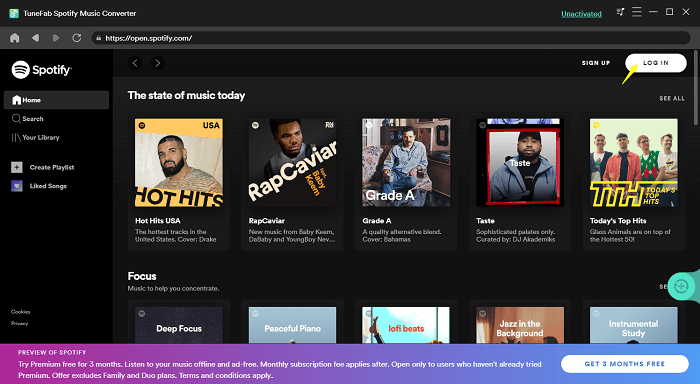 Step 2. Analyze Spotify Playlist
Now, simply select a playlist you want to convert. Open it and click on the green bubble icon that is always located on the right side of the screen. Then TuneFab Spotify Music Converter will automatically analyze the playlist for you in seconds. After that, just select the Spotify songs in the list for preparing the conversion.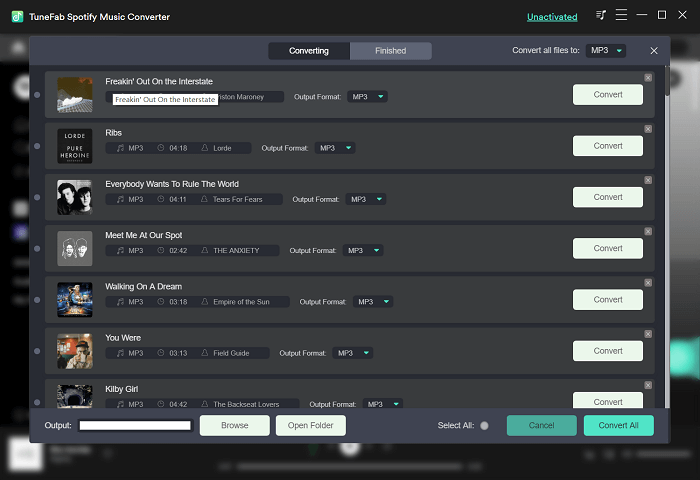 Step 3. Select the Output Files Format
After adding the music to your converter, now you can just hit to Menu button to customize the output settings, like output file format under the Preferences page.
By choosing Advanced, then you can choose the audio file formats from MP3, M4A, WAV or FLAC. Besides this, you can DIY your output folder by choosing the General tab under the options settings.
Here, we highly recommend format MP3/M4A that can preserve ID3 tags for better management, and music parameters with bitrate 256Kbps and sample rate 44100Hz that can highly match the original Spotify music quality. This will be the best option to mix Spotify with Virtual DJ.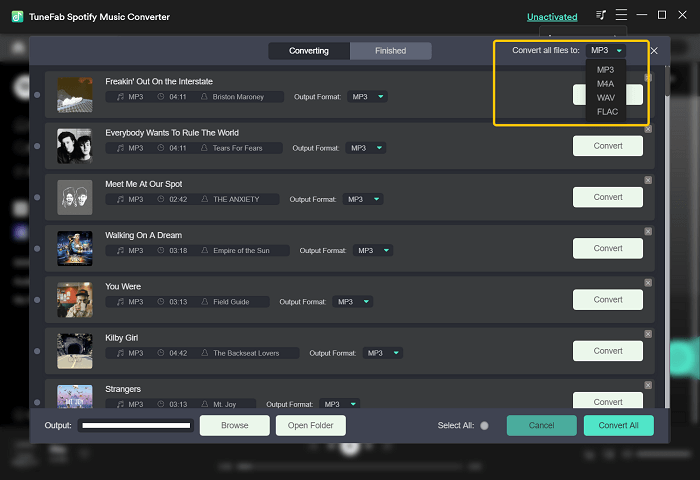 Step 4. Convert Spotify Music to MP3
Now, just click "Convert All" or "Convert X Items" to get the whole conversion running. When the whole conversion is finished, then you can get Spotify Music on the destination path. After that, you can get started to play Spotify on Virtual DJ.
4. How to Import Spotify to Virtual DJ Library?
After you downloaded and saved music from Spotify by TuneFab Spotify Music Converter, you can add them to Virtual DJ's music library. It supports playing back songs from your computer memory, iTunes, and hard drive. Scroll down to get how to import Spotify songs on your local folder to the Virtual DJ program.
Step 1. Install and enter into the main interface of Virtual DJ.
Step 2. Head to the "Local Music" menu. Here you can import the audio files from "My Music", "My Videos", "Hard Drive" and so on.
Step 3. Drag the converted music from your output folder and drop the music onto the A-line of Virtual DJ. Then you can use Virtual DJ with Spotify songs.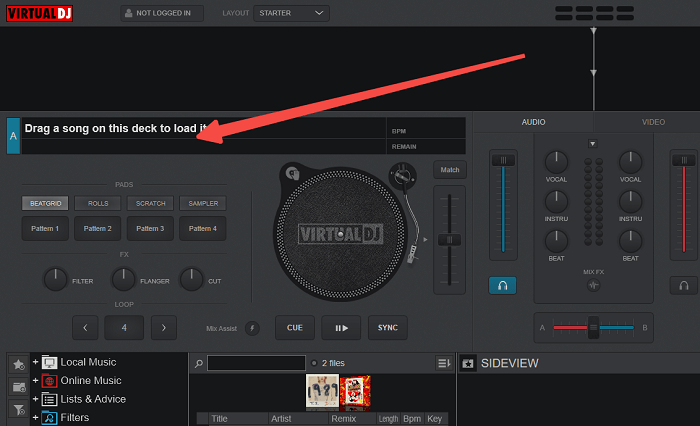 Tip: If you are to manage a list of Spotify music with Virtual DJ, you can create a playlist for them under the "Lists and Advice" option.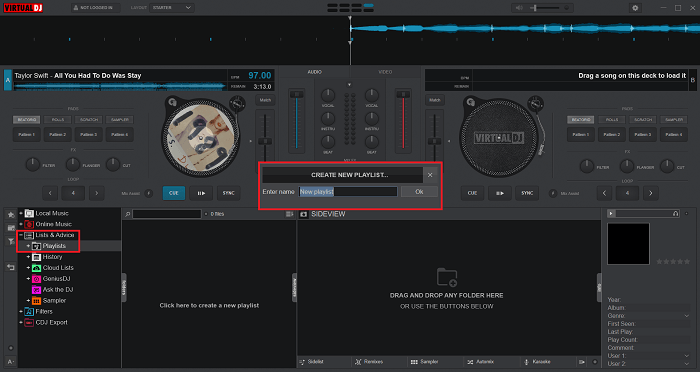 Then directly drag the downloaded Spotify songs from the output folder to the playlist.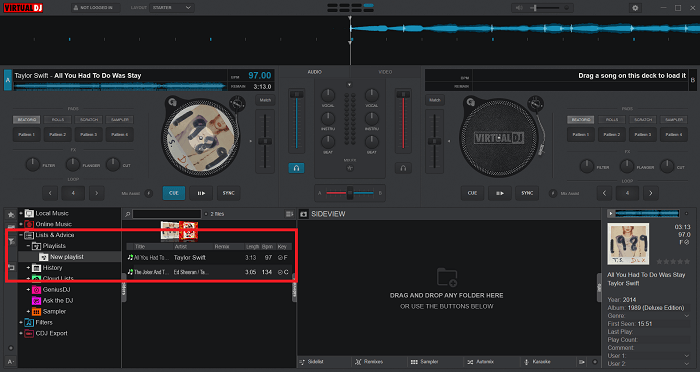 5. More Tips on Spotify DJ Mixer - Virtual DJ
Is Virtual DJ Good for Beginners?
Although Virtual DJ is widely used by DJs from all over the world, no matter how professional they are, Virtual DJ is still perfectly designed for DJ beginners. It does support easy mixing and it can finish most of the work itself, but this kind of automation feature will limit you when you start diving into deeper mixing and the finer details in different places.
However, the good news is that Virtual DJ provides a totally-free version for every beginner. And you're always recommended to use the web-based tool but not the desktop application as it may lead to some malware or else.
More importantly, with the help of TuneFab Spotify Music Converter, you can easily start your journey as a DJ with all your favorite songs.
Attention:
Please notice converting Spotify songs for commercial purposes or distributing them to any other people may cause an infringement of the copyright law.
What Music Services Work with Virtual DJ?
You're able to access 3 huge online video, Karaoke, and music pools after you respectively subscribe to iDJPool, VJ-Pro, and Digitrax. In the meanwhile, after the initial setup on Virtual DJ, you can integrate with the 5 music streaming services including Beatport, SoundCloud, Tidal, Deezer, and Beatsource.
How to Play Spotify with Virtual DJ Without Local Files?
Virtual DJ supports connection with SoundCloud. So, if you really hate to store bunches of music files on your phone or your computer, you can upload the Spotify songs to SoundCloud and use Virtual DJ with Spotify songs via SoundCloud. But you need to be aware that you must keep them uploaded privately and for personal use. It will be illegal if you make benefits with any Spotify content.
Conclusion
That's all for today. Virtual DJ as the best kit for DJ beginners welcomes all of you to try this utility with the free or paid version. However, it's not that easy for DJs to use Virtual DJ with Spotify. Now you can try TuneFab Spotify Music Converter to convert Spotify to Virtual DJ supported formats with stable and high-quality outputs. Its super high speed on downloading Spotify albums, playlists, and podcasts will become a great help when you need to deal with a plethora of songs. Just click on the download button and enjoy your unlimited Spotify journey from here.
Was this information helpful?
TrustScore 3.3 | 44