In Spotify music, there is only a "Share" button in Spotify which you can only share music or playlists to the social platform like Facebook, Twitter, Skype, Telegram but not your designated friend. Therefore, share Spotify with Email to your friend will be the second-to-one way to discover new bands and enjoy more about music. So here come the problems. What are the practical steps to email Spotify music to your friend? Which measures will be the best choice to email the playlist? In order to solve these issues, here is the instruction to you.
CONTENTS
Part 1. Share Spotify Music via email
You can directly email Spotify music to your friend by copying the Spotify playlist link. It is easy to operate and understand, all you need is an email and the playlist link.
Step 1. Copy playlist link
Open Spotify and go into your playlist, click the round button, choose "Share" > "Copy Playlist Link" to get the link.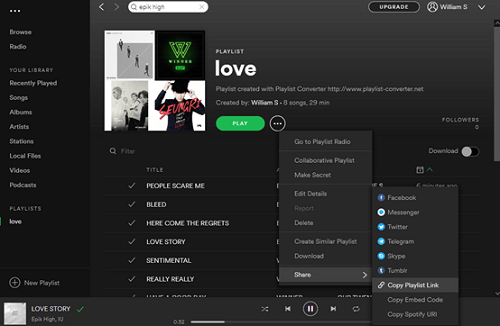 Step 2. Write an email
When writing an email to share Spotify music to your friend, straightly paste the playlist link in your email and send it to your friend. After your friend receives your email, he or she just needs to click the link then he or she can enjoy your shared songs.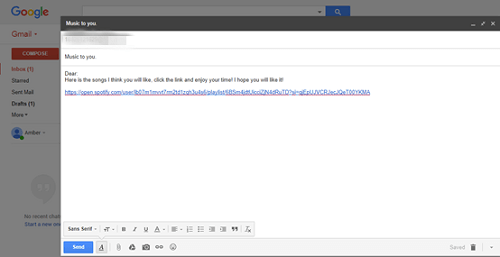 With these two simple steps, you can email Spotify music to your friend easily. But it will be a better experience if your friend is using Spotify music. So if your friend who doesn't use Spotify music, he or she may feel unaccustomed. Moreover, you should be careful to copy and paste the correct playlist link when you write your email, or your friend can't get the right playlist. Refer to these problems, any good ideas? Let's move to the next part.
Part 2. Share Spotify Music with TuneFab Spotify Music Converter
You can directly email Spotify music to your friend in the form of attachments at the end of your email. In this way, you have to download the songs first. By doing so, it will be both convenient for you and your friend, especially your friend who without Spotify music, he or she can also enjoy your Spotify music. You just have to own a helpful Spotify Music converter to download music. And TuneFab Spotify Music Converter is strongly recommended.
By using TuneFab Spotify Music Converter, you would be free to download any songs from Spotify without worrying about whether they have subscribed for the premium versions. Information such as title, artist, album, etc. of the songs converted from Spotify would save these for you. It allows you batch converting multiple Spotify songs with a single click. Besides, it allows you to convert one or more Spotify playlist at once with the fastest conversion speed provided. Can't wait to get further details? Now, let's try it free with the operation steps!
Step 1. Download and install TuneFab Spotify Music Converter
Please download the installation package then follow the instruction to install it on your PC. After that, run it to enter the main interface.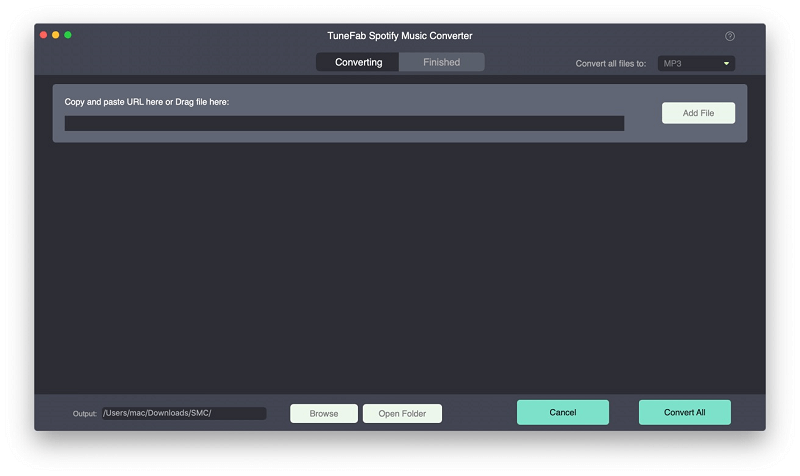 Step 2. Add Converted Files
When you Click "Add Files" in the converter, you can see there are two ways of adding files.
For the users of the desktop of Spotify, you can directly drag songs from Spotify into the converter.
For the users of Spotify web player, you can copy and paste the relevant links into the search bar.
What's more, you can add batch files according to your needs for it supports convert bath files at the same time.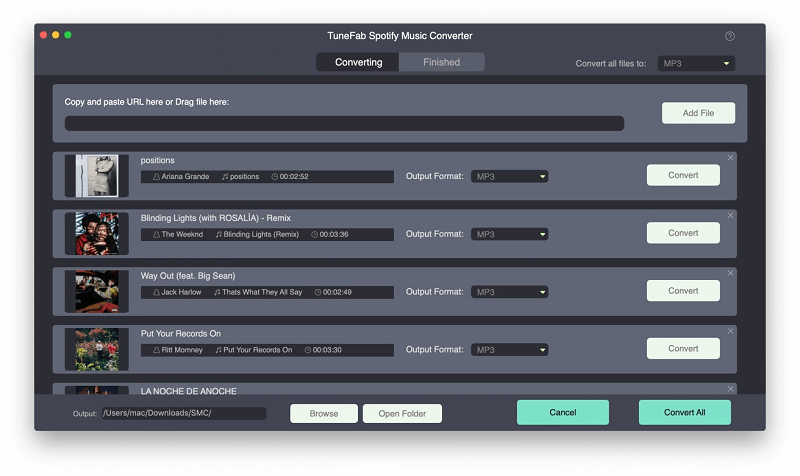 Step 3. Choose Songs to Convert
After adding Spotify music, you need to choose songs to convert. You can either select the songs one by one or select all of them at one time. After that, click "Add" button on the bottom right of the interface.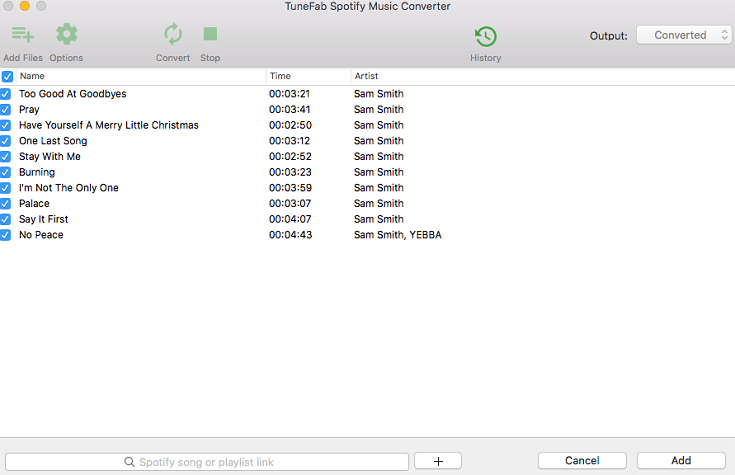 Step 4. Setting File Format for Converted Files
Click the "Options" > "Advanced" button to set output quality settings by changing output formats, sample rate, and bit rate according to your need.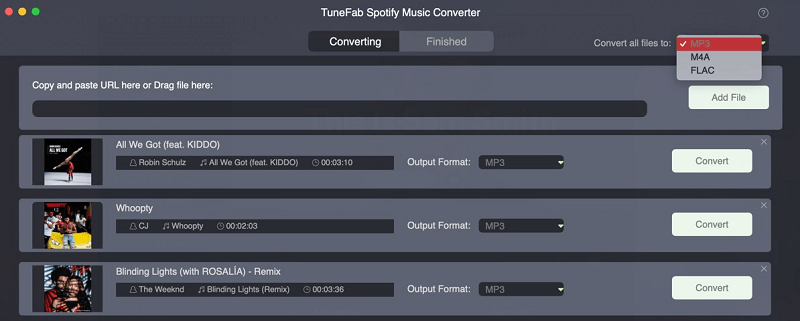 Step 5. Choose Output File Location
After finishing step 4, click "Options" > "General" to choose the output path of your converted files or you can also hit the "Output" button to choose the path to save your converted files.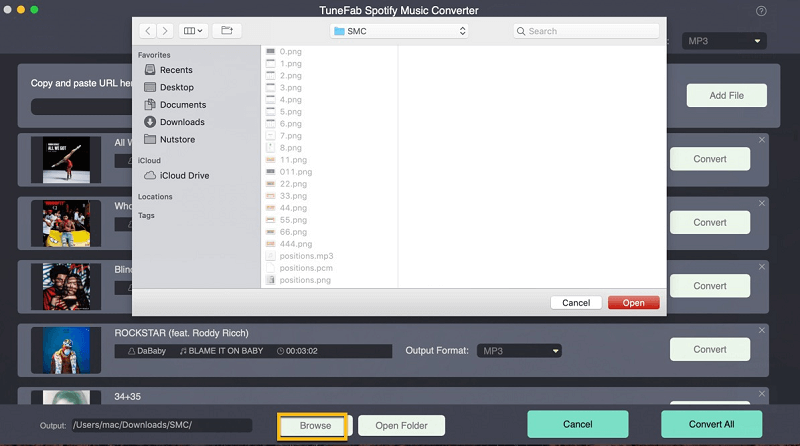 Step 6. Start Conversion
Hit the "Convert" button to start the conversion. And wait for a few minutes then the conversion will be done.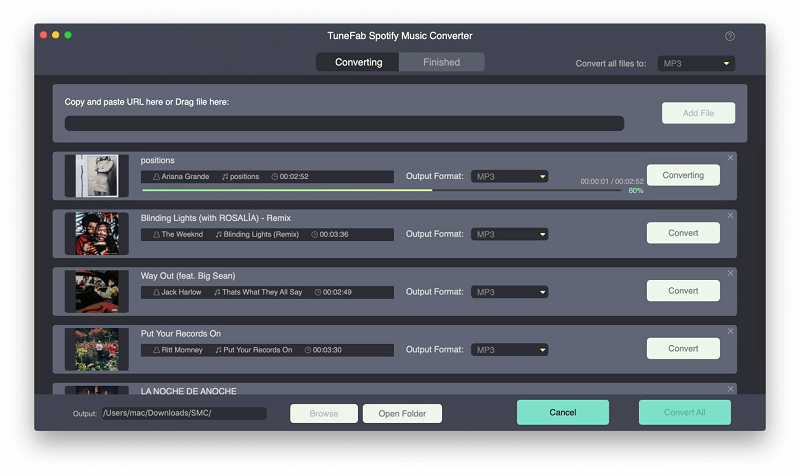 Step 7. Write an Email to Your Friend
After downloading the songs with converter, now you can write an email with music attachments to your friend as the final step of the first part.
Part 3: Extension: Share Spotify Music with Zapier
Zapier integration makes sending out an email via Gmail with any new playlist you add on Spotify easily. You can email your good taste in music to your friend just by a few clicks. In Zapier, You don't have to copy playlists link and afraid to paste the wrong link or open another website to log in your email. Therefore, With the help of Zapier, you can email your Spotify playlists to your friend more effectively.
Step 1. Visit at Zapier and Log in
Click Zapier to arrive at the official website and sign up with your Gmail.
Step 2. Make Zap to Share Playlist
Click "Use this Zap" to email your Spotify playlist to your friend following the instruction. First, you have to connect and test your Spotify account, then you need to log in to your Gmail.
Step 3. Fill Your Friend's Email
After you connect your Spotify and Gmail, you have to fill your friend's email in the "To" blank and hit "Continue" in the bottom to wait a few seconds to check the Zap automatically.
Step 4. Send an E-mail to Successfully Share Playlists
After step 3, if there is no other error, the sharing email will successfully reach your friend's email.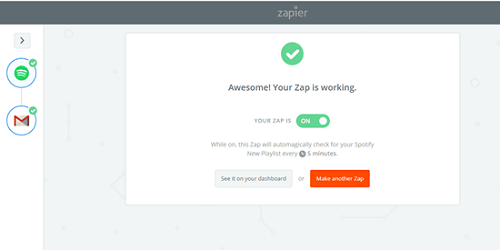 As you can see, Zapier provides a one-step email-sending function. In the whole progress, you just have to run Zapier and you can connect your Spotify account, Gmail within Zapier. Compared with traditional email sending, you can email your Spotify playlist to your friend more effectively. But there still exists some limitations in Zapier. For example, it just offers 14 days free trial for users and you have to purchase it for your further need. It just supports Gmail as sender which set some restrictions to email Spotify music to your friend. Therefore, it is more advisable for you to take TuneFab Spotify Music Converter as your first choice to email your Spotify music to your friend.
Under the help of TuneFab Spotify Music Converter, both of you and your friend can enjoy Spotify music conveniently and immediately. Relieve you from pasting playlists link will avoid the unnecessary mistake in the process of writing an email. Also, your friend can enjoy the music directly in his or her email, no matter he or she has a Spotify music account or not. Are you satisfied with the solutions mentioned above? Or do you have other methods to solve the Spotify music email problem? Come and share with us!
Was this information helpful?
TrustScore 5 | 49