People tend to share everything on Instagram with text, photos, videos, or reels. Also, you are able to share your own stories on Instagram and share them with people from all walks of life. Moreover, music can tell every story most of the time. You can also render stories with Spotify music and make them more appealing. Instagram users are able to share Spotify songs to Instagram Stories. Let's explore how to do it in this post.
CONTENTS
How to Share Spotify from Spotify App to Instagram Story
When you run into a catching tune in the Spotify app, you can directly share the song with your besties. Spotify allows listeners to share great songs to all kinds of apps, including Instagram. It's easy to make your story out of a song from Spotify to Instagram with a few steps.
STEP 1. Log in to your account on the Spotify app in iPhone/Android.
STEP 2. Go to Your Library to locate the song you want to share as an Instagram Story.
STEP 3. Tap the … icon behind the song and choose Share. You'll see the cover of the song and a clip of the music video now.
Note that you can click the Edit option to replace the video clip with a fixed color.
STEP 4. Tap Stories and it'll automatically open your Instagram app. You are able to add texts and stickers, apply an effect, or do drawing in this step.
STEP 5. When completed, tap Your story from the bottom and you'll successfully share Spotify on Instagram.
How to Add Spotify Music to Instagram Story on Instagram
Instagram users are able to add music to Instagram Stories, but the selectable tracks are provided by Instagram itself. There are all kinds of tunes available that cater to every mood. Just pick the right music and share your thoughts on Instagram Story. Let's explore how to add music to Instagram Story.
STEP 1. Open the Instagram app from the screen and tap Your story on the top right.
STEP 2. Choose a picture or a video to add to Instagram.
STEP 3. Tap the Sticker icon to pop up the sticker center and select MUSIC in it.
STEP 4. There will be curated songs for you, or you may go Search music on the top or browse songs in different genres. Tap the Play button to prelisten to a clip and select the song that matches your mood.
STEP 5. You'll see lyrics on the screen if available. In this step, you can do the Preview style, clip the song, or add your avatar to the story in this step.
STEP 6. When everything is done, tap Your story to post it on Instagram.
Can I Share Spotify to Instagram Story on PC?
Some people are wondering whether it is possible to share a song from Spotify to Instagram Story on Windows or Mac computers. I'm afraid that this feature is not yet realized on the desktop. If you often use Instagram or Spotify on your computer, you'll be aware of these scenarios.
● If you log in to your account on Instagram on the computer, you'll find that it only enables users to create a new post with photos or videos uploaded from their desktop to Instagram. Thus, there is no way to create your Instagram Story on PC, let alone share Spotify Music.
● If you log in to your Spotify account on the desktop, you'll also be frustrated that it cannot share a single song to any applications or website, but copy the link to the song.

Why can't you share a song from Spotify to Instagram Story? Because Spotify and Instagram don't integrate with each other on the desktop. Mobile application developers can use an integrated system to link together different applications functionally and perform as a coordinated whole. That's why it's easier to share songs between applications on mobile devices. However, you simply cannot share Spotify on Instagram using your Windows PC or Mac.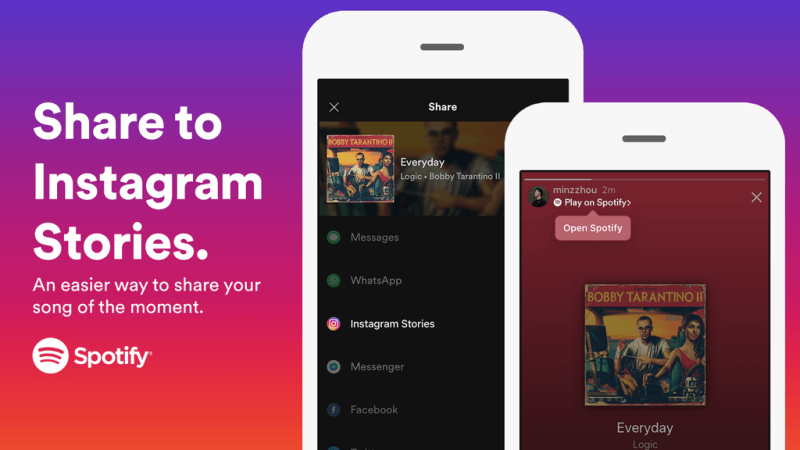 Conclusion
I'm sure you've got the idea of ways to share Spotify music to Instagram Stories. Although it's unable to share Spotify on Instagram via computers, you can always post a Spotify track to imply your feelings or something that just a song can tell using your iPhone/Android.
Was this information helpful?
TrustScore 2.4 | 10