Spotify, definitely the king of streaming music platforms, offers a music library of millions of songs. However, free users aren't allowed to download its music for offline listening, even paid users are restricted to enjoying the downloaded songs within the Spotify app only.
So, whether you're a free user, hoping to enjoy music offline, or a paid user, wanting to unleash the player restrictions, the best choice is to download MP3 from Spotify, as the MP3 format is compatible with most devices. This article will share several methods that can help you in this respect.
Can I Download an MP3 from Spotify App Directly?
No. There are altogether two types of subscription plans on Spotify, which are Spotify Free and Spotify Premium. The former has no function for downloading Spotify music, and the latter only supports enjoying offline music within the Spotify app. That is because the downloaded songs are actually cache files protected by encryption tech, forbidding their playbacks on other devices.
Nevertheless, when there is a need, there is a way. Some third-party tools can help you solve the above problems. After testing and using, TuneFab Spotify Music Converter is highly recommended here. By using this software, you can download Spotify music in MP3 format, which is compatible with most players. In this sense, you'll never be limited by devices or subscription plans, and you just need to know how to operate this software now.
How to Download MP3 from Spotify on Windows/Mac
Just as mentioned before, we need to use the third-party software-TuneFab Spotify Music Converter to download MP3 songs. This part will tell you more about this product and teach you the specific operating procedures.
Best Spotify to MP3 Downloader Introduced
TuneFab Spotify Music Converter is a user-friendly music converter designed to convert Spotify songs to MP3, M4A, FLAC, or WAV audio nearly losslessly. By removing DRM protection, you can listen to your loved songs on any device you like. What's more, it backs up batch downloading at 5X faster speed, which guarantees an efficient experience. And the downloaded songs can be stored locally forever, meaning you can find them at any time you like. With it, you can also listen to Spotify offline without the premium.
Key Features
● Remove DRM protection: no limitations on the playing device.
● Multiple output formats: convert Spotify music to MP3, M4A, WAV, and FLAC files.
● Preserve ID3 metadata: retain the title, album, artist, and album cover for convenient classification management.
● High-quality audio output: keep high music quality in converted audio just the same as the original.
● Efficient downloading process: support batch conversion and 5x faster speed of converting streaming media such as music and podcasts.
● Customizable audio parameters: freely choose parameters like sample rate and bitrate.
How to Download Spotify to MP3 via TuneFab
After knowing about the functions of TuneFab Spotify Music Converter, now comes the part about how to use it specifically.
Step 1. Log in to your Spotify account
When you have installed TuneFab Spotify Music Converter, just open this software. After that, you'll see the in-built Spotify Music Web Player, and then please sign in to your Spotify account first.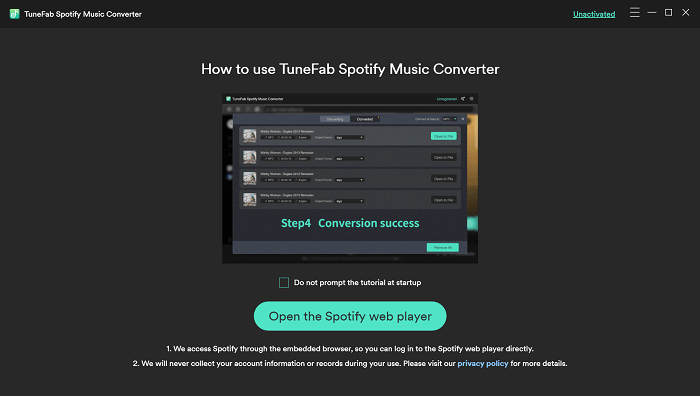 Step 2. Drag Spotify songs/albums/podcasts to convert
Pick up the songs/playlists/podcasts you'd like to convert to MP3. Then drag them to the "+" icon.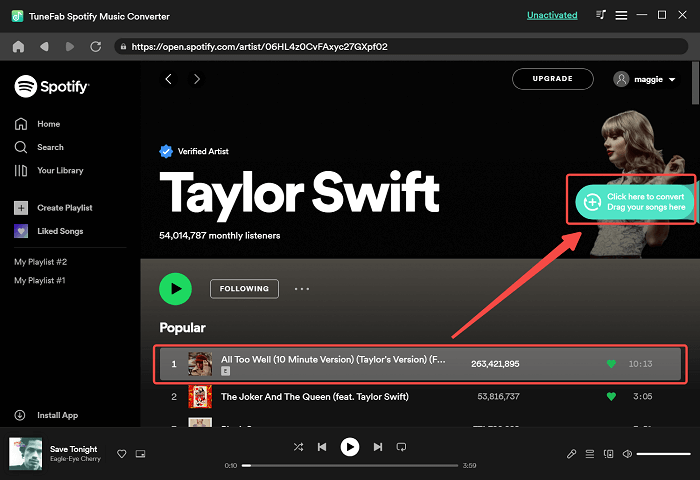 Step 3. Set output preferences
Hit the settings icon on the top right and select "Preferences". In the pulled-down box, you can set the output format such as MP3, and other advanced options such as sample rate and bitrate.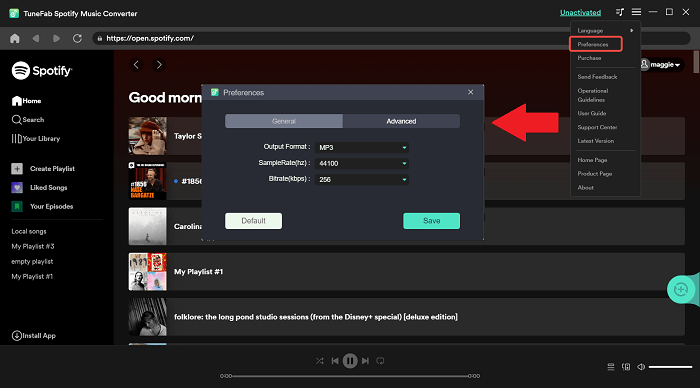 Step 4. Start the converting Process
Lastly, it's time to press the "Converting All" button in the bottom right corner. When all of these have finished, you can successfully download them in MP3 format.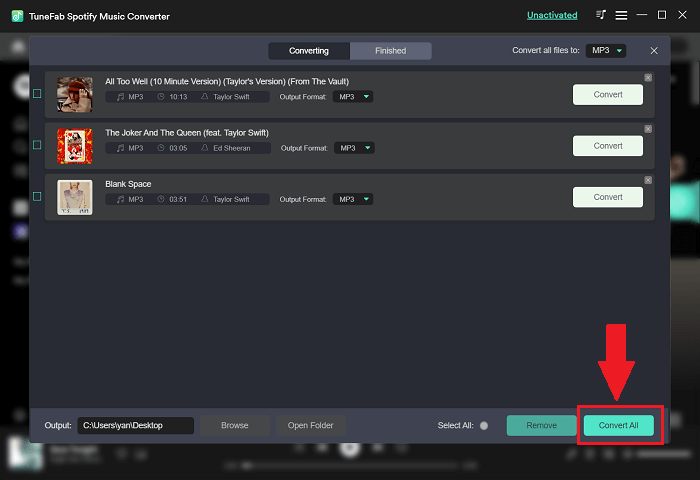 Now, you have finished downloading Spotify music for free, and then you can convert it to MP3 format.
How to Download Music from Spotify to MP3 Online
If you don't want to take trouble downloading software, the online converter will be an ideal option. Here we provide two different online converters for you.
Tool Required: SpotifyDown
SpotifyDown is an online tool that lets you quickly and easily free download any song, album, or playlist from Spotify to MP3 format, during which ID3 metadata can be also preserved for you. Its output quality can reach 128 kbps. Best of all, it's free and easy to use! But remember that batch conversion is not supported in it, only permitting you to download songs one by one. And when analyzing a playlist, the processing speed will become relatively slow.
If you still want to have a try, here is the tutorial on how to use SpotifyDown.
Step 1. Launch your Spotify App.
Step 2. Select the song/album you'd like to download and click on the "3 dots" button.
Step 3. Tap on the "Share" and then the "Copy Link" button.
Step 4. Paste the copied link above and press "Submit".

Step 5. Wait for the processing to finish and click the "Download" button.
Tool Required: SpotifyMate
Apart from SpotifyDown, another free online tool named SpotifyMate can also help you download Spotify songs in MP3 format. Unlike the former one, its website interface is concise without the ads popping up. But it fails to download every song because an error may occur and the ID3 metadata can't be fully preserved. It doesn't support batch conversion, either, so the downloading speed will be less than ideal. The output sound quality is not mentioned on its home page.
Here's the step-of-step of how to operate it.
Step 1. Open the Spotify app.
Step 2. Find the song you'd like to save as an MP3 file, and then click the "Three Dots"
Step 3. Click the "Share" button, and copy the song link.
Step 4. Paste the Link into the above input field that says "Paste URL from Spotify".

Conclusion
In short, this article shares mainly two categories of ways to download MP3 songs from Spotify. Compared with online converter tools, TuneFab Spotify Music Converter is the most suitable and user-friendly software for you to do so. With it, you can efficiently get high-quality MP3 audio. So, don't hesitate any longer, download TuneFab Spotify Music Converter and try it now!
Was this information helpful?
TrustScore 2.5 | 8