When you want to download Spotify songs to MP3 for offline playback, you may first consider whether there are online downloaders to help? Today, there are many helpful and workable online tools working to help you easily download Spotify songs offline without installing third-party software or subscribing to Spotify Premium.
There tools are very convenient but they seem still less stable and unsafe than those professional desktop Spotify downloaders such as TuneFab Spotify Music Converter. Some users also reported certain problems while using a popular online Spotify downloader, SpotifyMate, like its confused interface with many ads and the Spotify download failure. So in this review, let's mainly learn about SpotifyMate from all sides. After reading, you will better know whether you should choose SpotifyMate to help you download music from Spotify or not.
Note: If you prefer to use desktop tools, TuneFab Spotify Music Converter may be your best choice as a simple and stable Spotify downloader.
CONTENTS
Overview of SpotifyMate
SpotifyMate is an online tool that can help you easily download Spotify songs just by pasting their URLs here. Even Spotify has used the DRM protection to protect its music resources, the tool works to remove it and convert Spotify songs to MP3 for with good quality.
When SpotifyMate can run well on most devices as well as browsers, no matter if you are using a computer, a mobile phone, or a tablet, you can access the tool and then process Spotify Music download immediately. Compared with other methods that would need to install another software first, SpotifyMate saves your time and effort, which directly brings the Spotify Music download service to help you get your favorite songs to play or use offline just by very easy steps.

Detailed Review: SpotifyMate
Now, this part will mainly introduce how well SpotifyMate can help us download Spotify songs online. If you also feel curious about its performance and output quality, just have a look.
What Can It Convert from Spotify?
As just mentioned before, SpotifyMate would use URLs to detect the music resources and then convert for provide the download buttons to save them offline. Therefore, for the content that can copy URLs from Spotify, including both the songs and playlists, you can use SpotifyMate to download them (podcasts download is not supported at present).
Once pasting the URL to the search bar provided on SpotifyMate and click the "Search" button, the tool will immediately analyze it and offers the download options to you. For a single Spotify song, one download button is provided. If you are converting a Spotify playlist, all containing songs will be listed with a button provided next to each of them after SpotifyMate finishes analyzing the playlist URL. Then you can download any song from the list to MP3 offline immediately.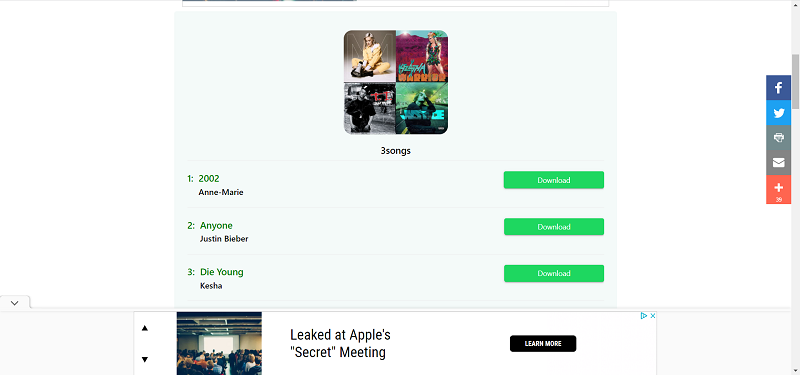 Does It Download Spotify Songs Fast?
The converting and downloading speed of SpotifyMate would really depend on the network condition of your device, and maybe the web browser performance too. When the Wifi connection is fast or your mobile signal is strong, the tool will work really fast to process Spotify Music conversion and download for you. On the contrary, if the network is not stable, conversion failure would easily appear.
Also, if your web browser is outdated, it would also affect the efficiency of downloading Spotify songs with SpotifyMate. Not only will the performance be slow, but the conversion success rate will also decrease.
Does It Save Spotify Music in High Quality?
Because there have no selectable quality options to download Spotify songs, so you don't exactly know what quality that SpotifyMate has provided to save the downloaded Spotify Music offline. But when we listen to the same songs downloaded as common music files with the original sources, you would find that the quality would be a little lower. So although SpotifyMate provides good quality for downloading Spotify songs, it can't reach the same condition as the originals.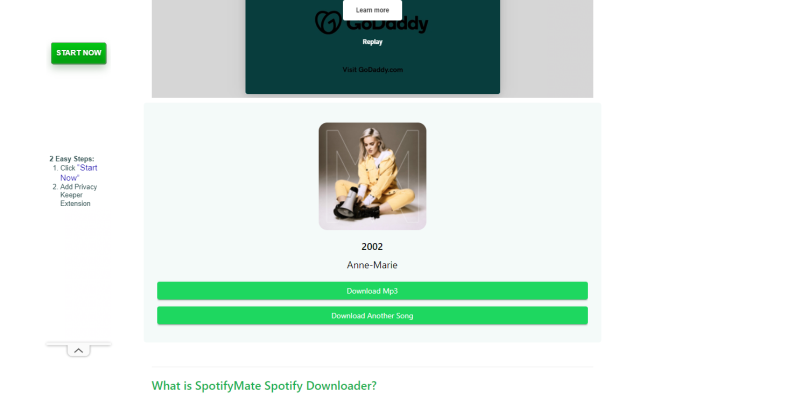 Is SpotifyMate Free or Safe?
Like many other online Spotify to MP3 converters, SpotifyMate is free to use. You don't need to sign up accounts or pay for any subscribers fee to use its online Spotify Music download function. Just open the platform and then you can directly start converting and downloading Spotify Music immediately.
But as the tool is free of cost, and you can also notice that there are ads listed or pop up while using it to download Spotify songs, the safety of SpotifyMate can not make sure to be 100% reliable. It will contain possible dangers in getting viruses or malware from these ads or unknown pop-ups. So if you worry about safety and want a 100% way to download Spotify Music, using a free online tool may not be the best choice.
What's the Alternative of SpotifyMate?
After reading the above introduction of SpotifyMate, you may know some disadvantages of this online tool, including the following points:
● There are many ads on SpotifyMate and they may lead to unknown dangers to your devices
● Although SpotifyMate allows you to download playlists, you still have to click downloading the songs one-by-one manually
● SpotifyMate only offers one option to download Spotify Music, and its quality is not the same as the original sources

But still, as an online Spotify downloader, SpotifyMate offers a very convenient service to let you easily download Spotify songs for keeping and playing offline. If you consider convenience more than high output quality or download efficiency, SpotifyMate is surely the best choice. However, for those who want a more professional tool to download Spotify Music with great quality, fast speed, and high safety, it is recommended to try TuneFab Spotify Music Converter.
TuneFab Spotify Music Converter is provided for Windows and Mac users to download Spotify Music with high quality. It offers several options to select as you need, and the highest one can reach 320Kbps, which is the same as the original quality provided by Spotify. Also, by adding the Spotify Web Player inside the software directly, you can search and choose any content in the web player and then drag to download without copying and pasting the URLs. TuneFab Spotify Music Converter then will help to download songs, playlists, and also podcasts just by one click in batch! If you don't feel satisfied with SpotifyMate because of its above disadvantages, TuneFab Spotify Music Converter is a really good choice you can consider.
Key Features:
● Allows to download Spotify songs, playlists, albums, and podcasts with the in-built Spotify Web Player
● Provides MP3, M4A, WAV, and FLAC to save Spotify downloads
● Offers the highest 320Kbps quality selection to download Spotify songs
● Saves ID3 information for all downloaded songs to help you manage them easily offline
● Supports batch download feature at 5X faster speed
● Only one click and you can download all Spotify songs from the playlists at once
● Offers free version to download Spotify Music without cost

Now, also see the tutorial and learn the way to use TuneFab Spotify Music Converter.
Step 1. Sign in TuneFab Spotify Music Converter Web Player
When you open TuneFab Spotify Music Converter, enter its in-built Spotify Web Player and then sign in with your Spotify account.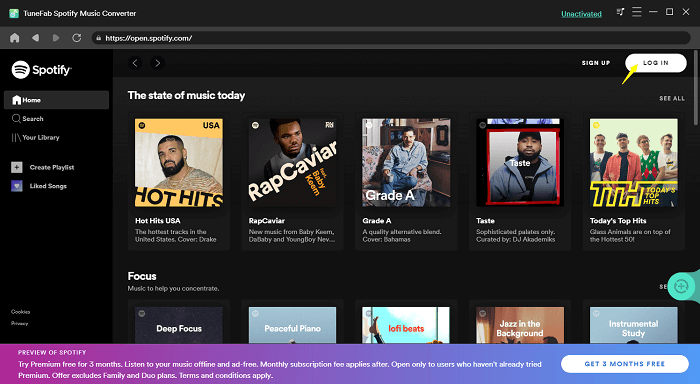 Step 2. Add Spotify Playlists to Download
Then you can use its web player and search the songs, playlists, or podcasts you want to download offline. Drag them to the "+" button and later you just need one click to download them all at once!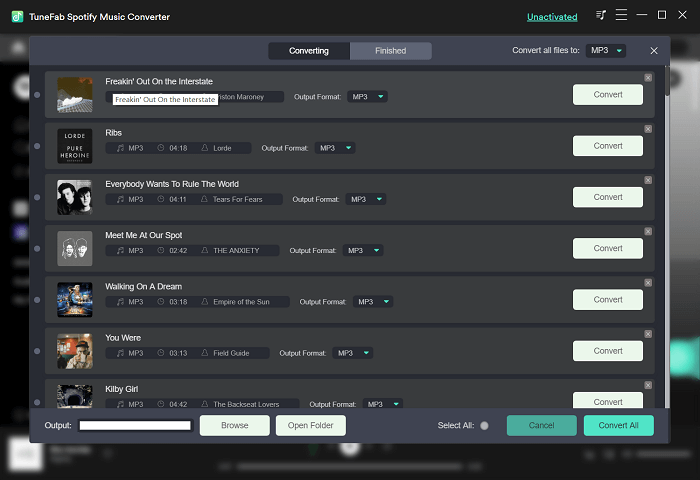 Step 3. Choose Format and Quality
After selecting the songs, go to the top-right "Convert all files to" format menu and you can choose the format to save Spotify songs as you like.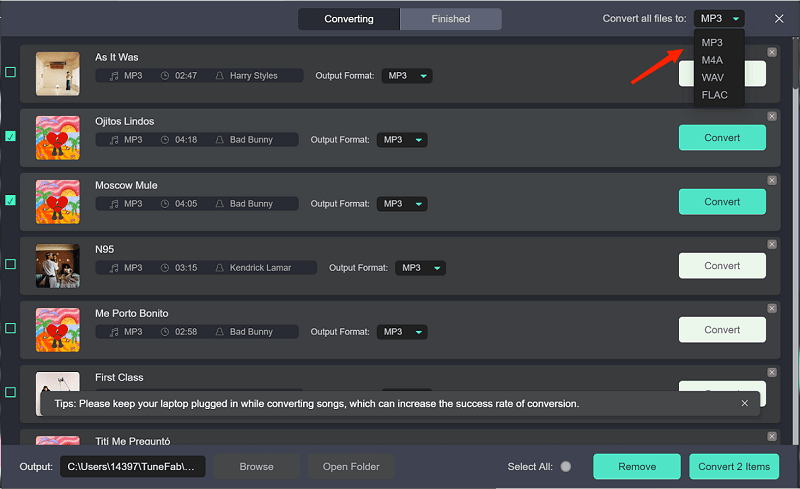 By going to "Preferences" setting, you can also adjust the quality options such as "SampleRate" and "Bitrate" based on your needs.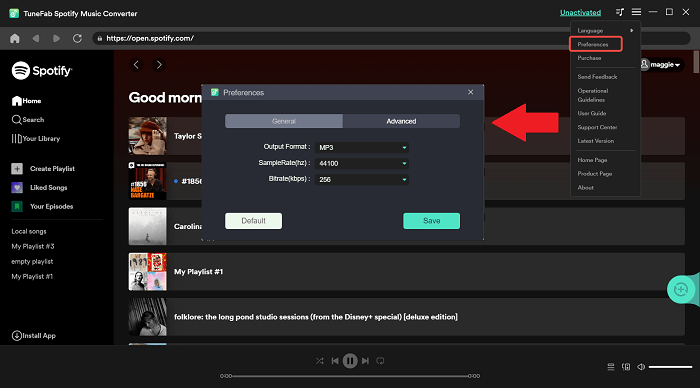 Step 4. Download All Spotify Songs at Once
Finally, just by clicking the "Convert All" button, then all the added Spotify songs will be downloaded at once for you. Just wait for the download finish, then you can enjoy their playback offline!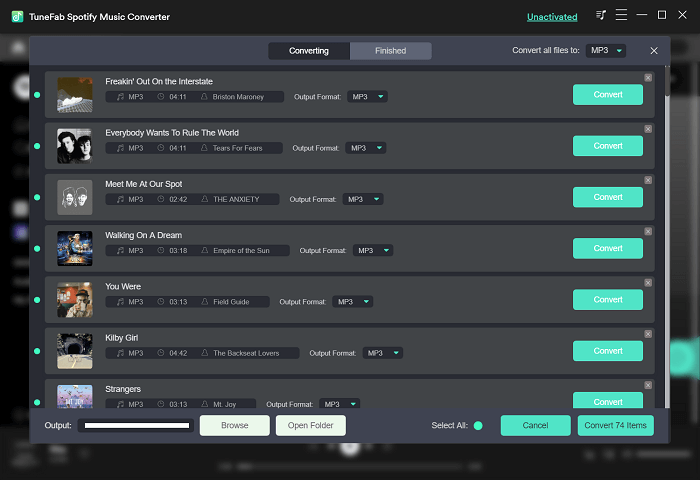 In Conclusion
SpotifyMate does offer great convenience in downloading Spotify songs because this online Spotify downloader doesn't need to install software at all. But as you try it, you will still find its limitations. So if you actually want a more professional tool to process Spotify Music download, TuneFab Spotify Music Converter is recommended. It is also free to try, so you can install it on computers immediately!
Was this information helpful?
TrustScore 2 | 6