Spotify Music Converter is the desktop program developed to remove DRM protection from Spotify songs, then download them as regular music files for streaming offline without restricted by Spotify regulations. On the market, as there are more Spotify Music Converters advert, how to select the best program to securely download Spotify songs with smooth experience?
In this review, TuneFab Spotify Music Converter will be recommended, after going through careful tests and comparisons with other well-known programs, which utilize different technology methods to realize the Spotify Music download function. Now, please scroll down and read why it defeats other competitors and becomes the best Spotify Music Converter of 2022.
CONTENTS
Best Spotify Music Converter - TuneFab
TuneFab Spotify Music Converter is developed with the advanced technologies, which provides smart unlocking function to decrypt the sophisticated DRM protection, and convert Spotify songs to non-DRM MP3 files as well as M4A, WAV, and FLAC for having free music streaming experience offline. It requires no Spotify Premium subscription to process the music download, and also enables more flexible controls on all Spotify resources as you wish.
Why TuneFab Spotify Music Converter Is The Best
When the advert of more Spotify Music Converters on the market, there appear more competitors, with similarly reliable features to download Spotify songs for offline streaming freely without being regulated by Spotify official. Nevertheless, by utilizing different core technologies to realize the Spotify Music conversion and DRM removal functions, there comes distinguishing benefits while selecting different Spotify Music Converters. In the following, let's compare TuneFab Spotify Music Converter with other programs from the utilized techniques to better learn about the superiority that TuneFab could bring to us. Please keep reading.
Stabler Performance with Higher Success Rate
● TuneFab Spotify Music Converter - synchronizes Spotify with built-in web player
● Noteburner/Sidify/ViWizard Spotify Music Converter - requires to install Spotify desktop app to build the connection for realizing URLs copying and pasting.
Currently, all Spotify Music Converters need to realize the music conversion successfully by connecting to the official database for getting the sources. But utilizing different technogies, it would lead to different performance and also the conversion success rate.
On the market, most Spotify Music Converters utilized the techniques like NoteBurner, Sidify, and ViWizard Spotify Music Converter, which requires users to install Spotify desktop version. Once launch the music converters, they would automatically detect and build connection with the Spotify app, then users can process the copy-and-paste manipulation to convert Spotify songs or playlists with the converters. The downside of such technique reveals in the frequent failure happening in the conversion process - unstable connection would lead to the URL analysis failure easily.
However, TuneFab Spotify Music Converter chooses to embed the official Spotify Web Player, in that users can offset installing Spotify app for synchronizing with it to process the music conversion directly instead. This also assists to avoid the failure in processing URLs analysis, as users no longer required to download Spotify songs through URLs! Therefore, compared with the traditional copy-and-paste method, the embedded Spotify Web Player technique utilized by TuneFab Spotify Music Converter greatly improves the conversion stability and leads to higher success rate.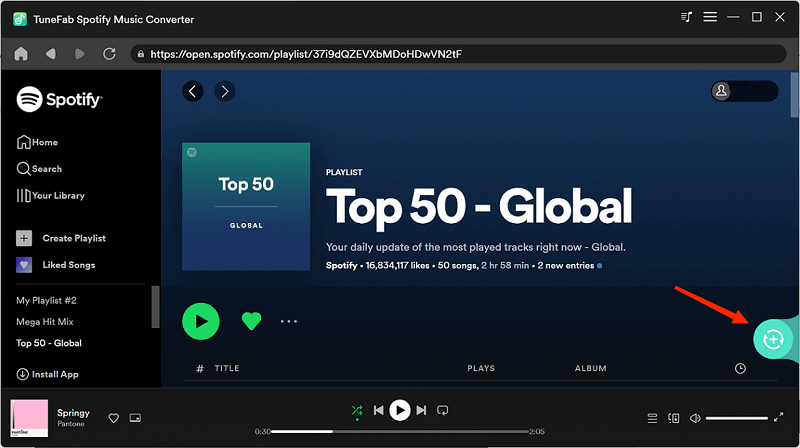 Higher Efficiency in Spotify Music Conversion
Another great benefits brought by the built-in Spotify Web Player also facilitates better efficiency and increases higher productivity to process Spotify playlists conversion and batch download. TuneFab Spotify Music Converter avails users to directly browse any Spotify resource in the converter as they need, then drag to the conversion button to realize auto playlist conversion without switching between apps to carry the URLs. In other words, TuneFab can be quite time-saving even you get a large sum of Spotify songs required to be downloaded at once.
Risk-free Technology to Protect Your Spotify Account
Compared with: NoteBurner Spotify Music Converter, Audials Music 2023
| | | |
| --- | --- | --- |
| | TuneFab Spotify Music Converter | Audials Music 2023 |
| Account Security | Extract Spotify Music through unlocking DRM protection | Connect with Spotify streaming system to record the music |
The technique utilized by TuneFab Spotify Music Converter comes with differs from some converters that have applied the recording technology to realize the Spotify Music conversion within the program. Take Audials Music 2023 as an example, the program has embedded the recording function, and when you play a Spotify song, its recording feature will be activated and speeds up the playback to capture the sound for you. This action would be easily detected by Spotify and causes account suspend (you have to log in with your Spotify account to access the database and process the music recording within Audials Music 2023).
By comparison, TuneFab Spotify Music Converter functions to detect the original music sources of the songs, and will directly extract them for processing the conversion instead of recording them like Audials Music 2023. Through this technique, it could avoid being detected by Spotify, in that protects your account from being suspended by accident.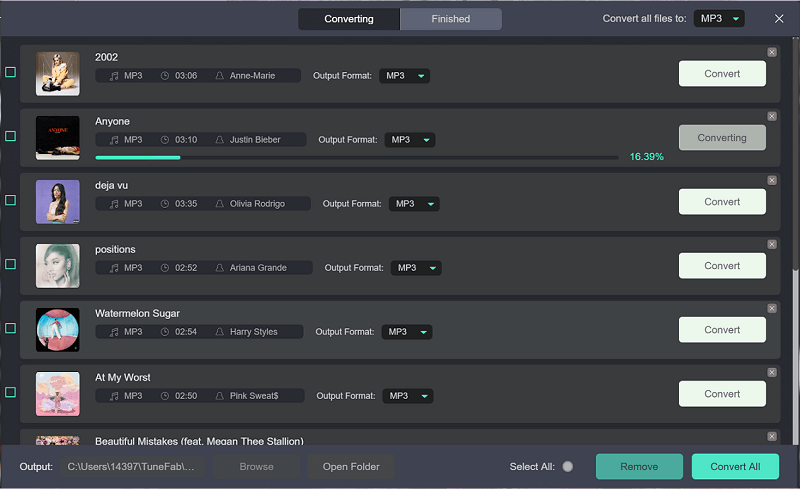 Other Highlighted Features of TuneFab Spotify Music Converter
Other from the above features attributed from the techniques that TuneFab Spotify Music Converter has utilized, TuneFab Spotify Music Converter is also equipped with the below features drive to more convenient Spotify Music download ability:
Popular encoders available - the program offers the most universally-supported audio formats such as MP3, M4A, WAV, and FLAC to enable the music playback on more devices.
Personalization on audio parameters - to guarantee quality streaming offline, it provides free customization on the output parameters such as SampleRate and Bitrate to export Spotify songs for local streaming in preferences.
ID3 and metadata ratined - while processing the Spotify Music download, the program will extract the ID3 and metadata information for each song accompanying the download process, allowing you to manage the music library offline more conveniently.
Batch download at 5X faster speed - to ensure higher productivity, it provides 5X or even much faster conversion speed, plus the batch download feature to download Spotify playlists in bulk to make the music conversion to be a time-saving job.
TuneFab Spotify Music Converter is also equipped with a skillful team to ensure responsive help when users are in need. You can access the support team for assistance while meeting any trouble while processing the music conversion utilizing TuneFab.
How TuneFab Spotify Music Converter Works
The embedded Spotify Web Player also enables TuneFab Spotify Music Converter quite an easy-using program. This manipulation guide will mainly walk you through how the program functions to process Spotify Music conversion for you.
Step 1. Log in Built-in Spotify Web Player
First, complete the simple setup to install TuneFab Spotify Music Converter on your desktop. When you open it and enter the main feed of the built-in Spotify Web Player, please tap LOG IN to sign in utilizing your own Spotify account.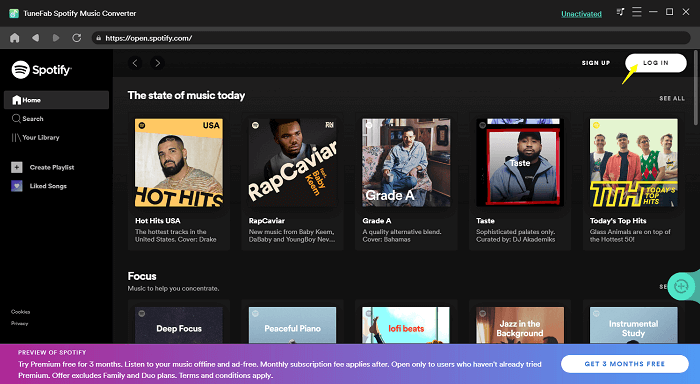 Step 2. Process Auto-playlist Conversion
Once login, you can directly browse Spotify database to access the Spotify playlists you wish to download offline. By dragging them to the Add button, the auto-playlist conversion will be activated to analyze the Spotify playlists for you.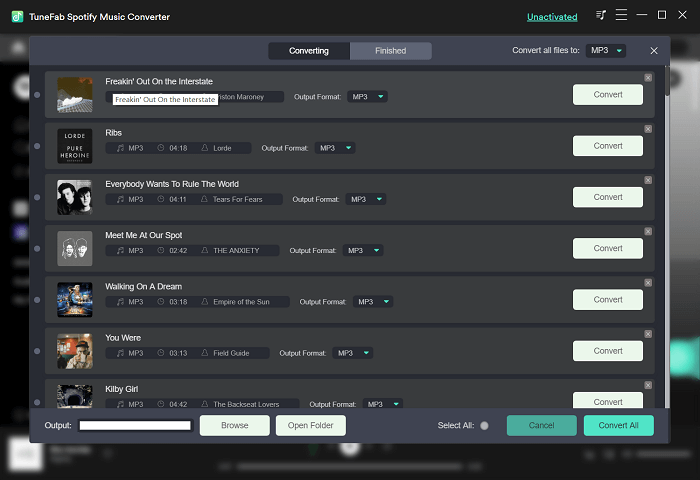 Step 3.Personalize Output Parameters
Subsequently, please turn to Menu >> Preferences to adjust the parameters under the Advanced tab to export Spotify playlists with customized Format, SampleRate, and Bitrate.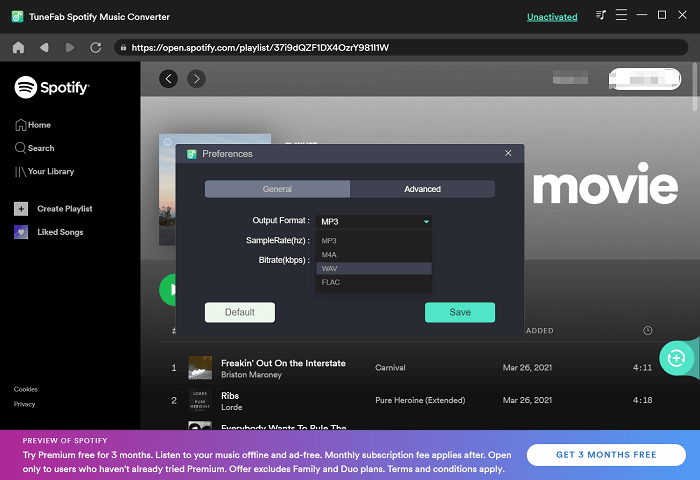 Step 4. Process Spotify Playlist Download in Bulk
Eventually, tap the Convert All button to proceed downloading Spotify playlists in bulk. The lightweight program will process the conversion with quick speed but only takes low CPU, which won't drag down your computer performance at all.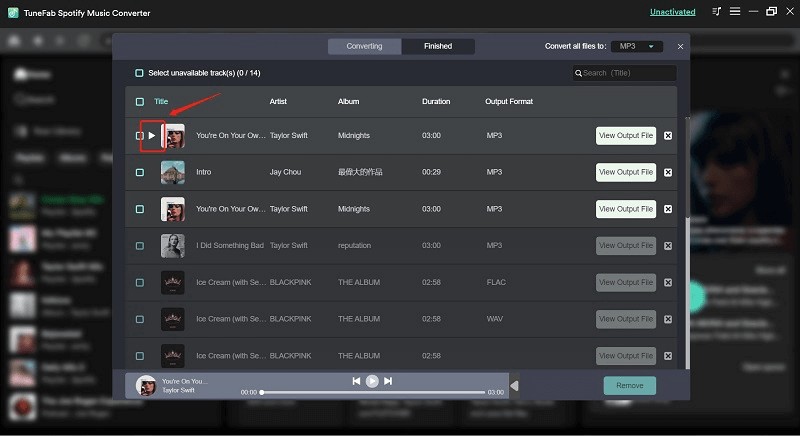 Verdict
Compared with other talented programs, TuneFab Spotify Music Converter stands out to provide users with the advanced and much securer function to download Spotify playlists more efficiently. From all these aspects, this program wins trust from users around the globe and stands on the top of the recommended list. Therefore, if you are seeking the "Best" Spotify Music Converter, this will be a rational option for you. Now, as TuneFab provides free trial, please install it and try out the download function in no time:
Was this information helpful?
TrustScore 2.7 | 23