No matter you are a Spotify free or premium user, you would get annoyed by the music streaming limitations brought by Spotify, Especially for its offline feature. Hence, more users are gradually turning to Spotify recorders to help grasp the songs they like from Spotify to stream offline.
For such demands, in today's blog, the 7 best Spotify recorders for all devices, including Windows, Mac, iOS, and Android are all included. They may realize Spotify music downloads through different teches, but after several tests, we found that they are all reliable to try. Now, check and pick an ideal Spotify recorder to get started on a more convenient Spotify Music streaming journey.
CONTENTS
Part 1: Best Alternative to Spotify Recorders - TuneFab Spotify Music Converter🔥
Seeking a music recorder on the market is not a difficult task. But consider when you have a batch of Spotify songs to record, a majority of these Spotify recorders are only available to process them one-by-one, and probably in lossy quality. Hence, if you have a higher demand for the output quality of offline Spotify music files, or desire to make the Spotify recording process more efficient, instead of trying a recorder, altering to a professional Spotify Music Converter would be more recommended.
Among so many options, TuneFab Spotify Music Converter is absolutely the most out-performing software to help download the songs offline in batches instead of recording Spotify music one by one. It has an embedded Spotify web player to deliver a more convenient music download process - you are only required to drag the singles, albums, playlists, or podcasts to start the conversion directly! With the least 5X faster batch download speed, TuneFab Spotify Music Converter enables you to grasp multiple tracks downloaded offline simultaneously just by easy clicks!
Features of TuneFab Spotify Music Converter You Shall Not Miss
● Embedded Spotify web player to browse and record Spotify Music within one click;
● Mainstream formats such as MP3, M4A, WAV, and FLAC provided;
● Customized parameters to extract Spotify songs in the quality you like;
● Full ID3 info preservation;
● 5X faster acceleration speed to batch process multiple Spotify downloads simultaneously.

Easy Operation to Convert Spotify Via TuneFab Spotify Music Converter
The easy-to-grasp functionality is also a highlight of TuneFab Spotify Music Converter, making it a better option than using a Spotify recorder with low efficiency instead. Here will guide you on how to use it within just several simple steps:
STEP 1. Launch TuneFab Spotify Music Converter and open its built-in Spotify web player to complete the login process.
Note: Using a Spotify free account to log in is also possible.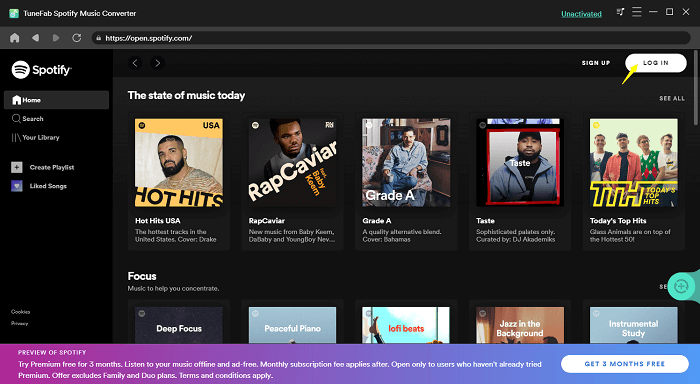 STEP 2. Now, browse and access the Spotify singles or playlists you desire to preserve offline. Drag to the floating "+" icon to add to the conversion queue.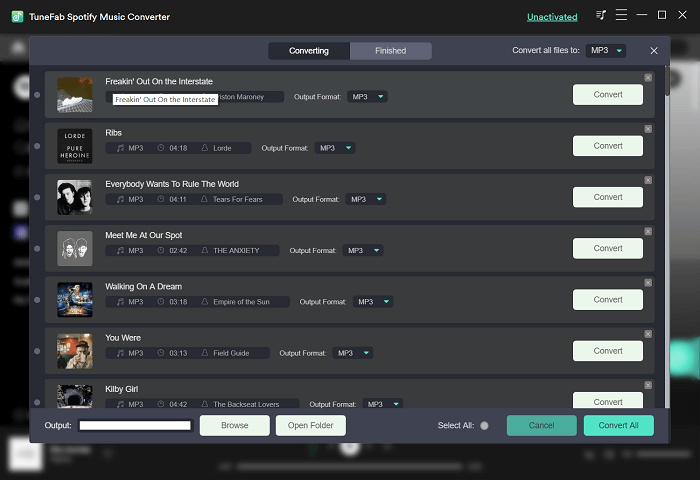 STEP 3. Navigate to "Menu" "Preferences" > "Advanced" and adjust the output format as well as sample rate, bitrate before starting to download the tracks offline.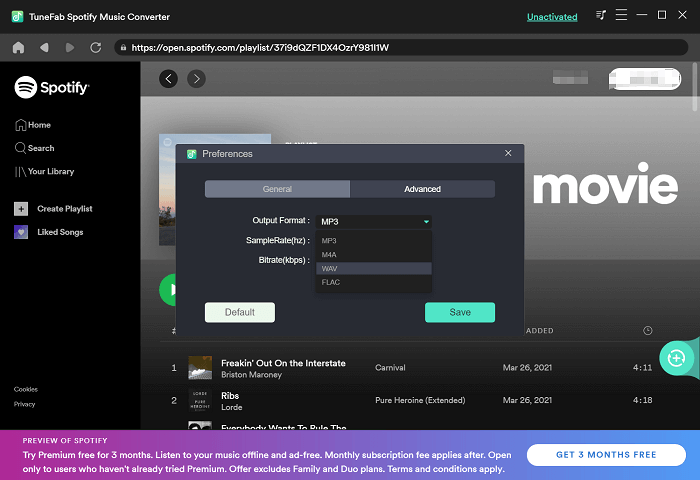 STEP 4. Give a go on the "Convert All" icon after all settings are completed. Then TuneFab Spotify Music Converter will begin converting Spotify music to MP3 for you right away. After it's done, you will get the local Spotify music files for listening or editing in the ways you like!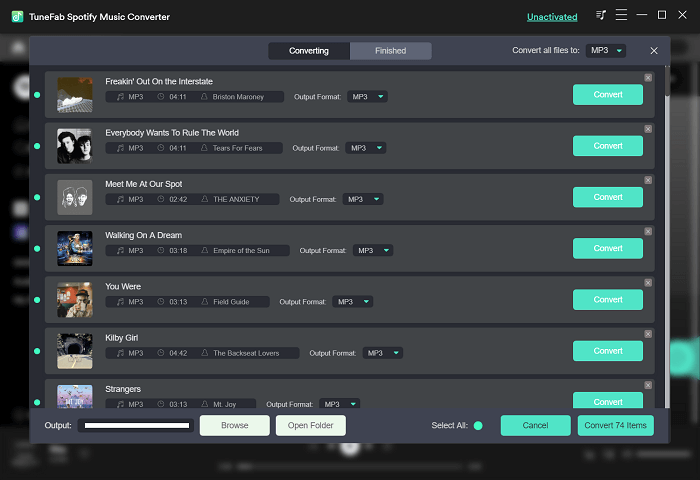 Part 2: 4 Best Spotify Recorders for Windows/Mac
But still, recording Spotify is a better option for those who desire to capture Spotify clips in any duration under different situations. Hence, here also collects the 4 best Spotify recorders for desktops (Windows and Mac) users to help. Just keep reading and grasp any of them.
Top 1: Spytify Audio Recorder (for Windows)
Mainly developed for Windows, Spytify Audio Recorder offers an easy way to let you record Spotify audio to get rid of ads and grasp them for offline playback without the Spotify app installed. It helps to split Spotify songs into clips and offers mainstream formats such as WAV and MP3 to output them, enabling the compatibility of the music files on different devices.
It would take a bit longer to use this Spotify recorder, for the reason that it won't work as a Spotify Music Converter like TuneFab to process the batch Spotify music download for once. However, it does offer a more flexible way for you to capture any part of a Spotify track as you need. It is also 100% safe to use.
Pros and Cons of Spytify Audio Recorder
Pros:
● Filter ads while recording Spotify tracks
● Mainstream formats provided
● Available to split Spotify songs into clicks
● Media metadata preservation
● Ensure same quality

Cons:
● Take a long process to complete the recording
● Only compatible with Windows systems lower than Windows XP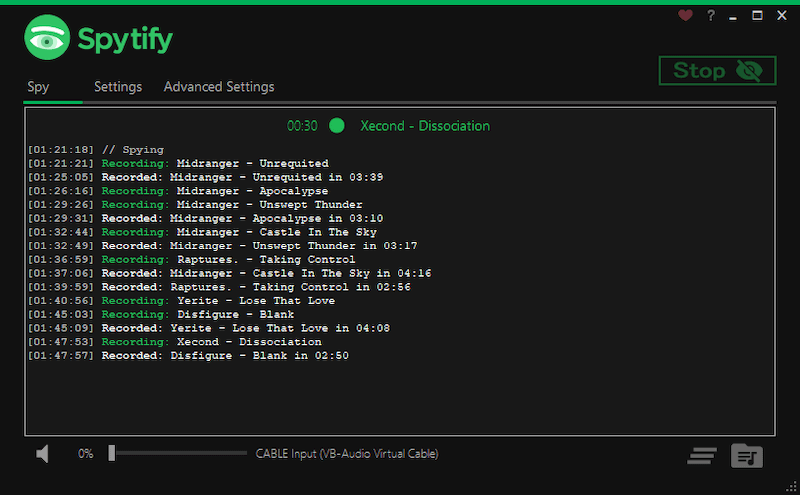 Top 2: Dojotech Spotify Recorder (for Windows)
Another trustworthy Spotify recorder you are able to try is Dojotech Spotify Recorder. Once you start streaming a Spotify song, the software will detect the music playback and then automatically capture it to output as an MP3 file. By tagging the song while recording it, you don't need to do extra editing on entering the media metadata, making it simpler to manage the Spotify recordings after getting them on desktops.
Pros and Cons of Dojotech Spotify Recorder
Pros:
● Auto-detection of Spotify songs and recording them
● Tag Spotify recordings by default to ensure convenient offline music management
● Available for editing bitrate as you require

Cons:
● The output quality is lossy
● Only compatible with Windows XP and lower systems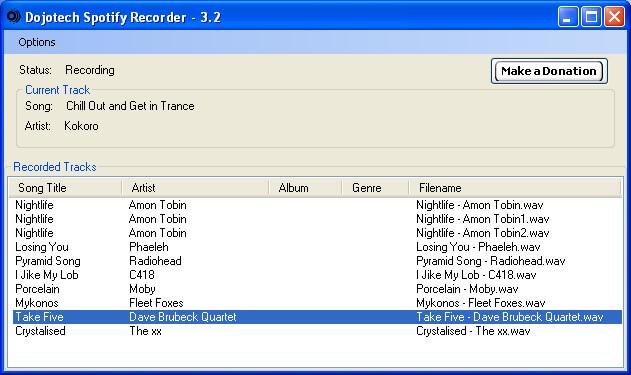 Top 3: VideoSolo Screen Recorder (for Windows/Mac)
If you consider a traditional recorder to capture Spotify Music more flexibly, like any part of a song for creating a ringtone, you are able to select VideoSolo Screen Recorder, an industry-leading screen recording software available to flexibly record all screen activities without hassle. With optional mainstream output formats and quality options, you are able to output Spotify recordings based on your requirements at the original quality as Spotify premium can offer.
The only drawback of this Spotify recorder should be the fact that it has no acceleration mode available to speed up the recording process. Meanwhile, batch recording is also not supported, which would lead to low efficiency if you get a list of Spotify songs required to record.
Pros and Cons of VideoSolo Screen Recorder
Pros:
● Compatible to record screen activities of all types;
● Flexible recording modes are provided to select;
● Available to customize formats and parameters before outputting recordings;
● Built-in trimming feature to adjust recording duration flexibly.

Cons:
● Unavailable to speed up the recording process;
● Only 3 minutes of a song can be recorded under the free trial period;
● Extra noise may easily be recorded while processing Spotify recordings.

Top 4: Audials Music 2023 (for Windows)
Unlike TuneFab, Audials Music 2023 is an all-in-one music recorder developed to capture streaming songs for offline listening from different platforms, including Spotify. The core tech applied by the software is by building the recording feature inside. While you select a Spotify song to play, it will automatically activate its recording feature to capture the sound, and creates a local music file for you. Don't worry about wasting time, as Audials Music 2023 will speed up the music streaming duration and shorten the recording period to save time.
Pros and Cons of Audials Music 2023
Pros:
● Compatible with recording music sources from a variety of music streaming platforms;
● Preserve high quality for recorded Spotify Music;
● Auto-tagging feature available to find and add tags for every recorded song;
● Customized quality to record Spotify songs;
● Simple eating function is provided to trim the music recordings before outputting them.

Cons:
● It would still be time-consuming compared with Spotify downloaders like TuneFab;
● It is not freeware at all;
● Spotify would detect recording action and suspend your Spotify account easily.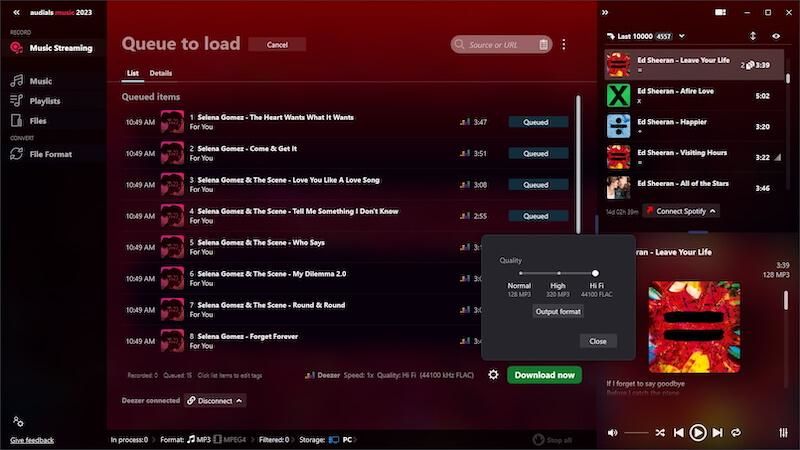 Part 3: Free Spotify Recorder for Android - Syncios Audio Recorder
Instead of using a desktop, if you are an Android user, you may consider whether there is also a workable Spotify recorder to help you record Spotify songs for preserving locally on your mobile devices to enjoy offline without the Spotify app. For sure the answer is Yes! Syncios Audio Recorder is a free Android application, which provides easy-to-grasp functionality to capture any audio on your Android device, including Spotify songs while playing them back. Syncios Audio Recorder is compatible with many Android models, including Samsung, Sony, HTC, LG, HUAWEI, and so on. With an intuitive design, you will also find it easy to handle. For Android users, Syncios Audio Recorder is recommended as a reliable Spotify recorder you should not miss.
Pros and Cons of Syncios Audio Recorder
Pros:
● Intuitive design and easy-to-grasp functionality;
● Completely free of charge;
● Available to record any audio on Android devices;
● Compatible with different Android models;
● Ensure high quality to output audio recordings for Spotify users.

Cons:
● Unavailable to speed up the Spotify recording to save time.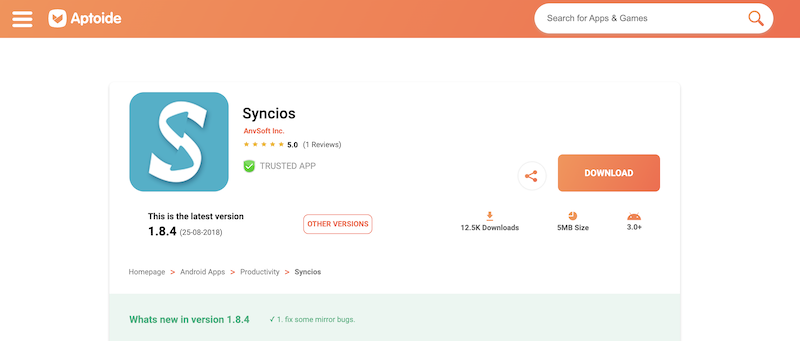 Part 4: Best Spotify Recorder for iOS - GarageBand Spotify Recorder
Instead of installing an extra Spotify recorder, on iOS, GarageBand Spotify Recorder can be an economical option - as it is a built-in freeware provided on iOS devices for use without paying a penny! Actually, GarageBand Spotify Recorder provides more features such as creating your own musical projects, songs, and using instruments in it. Meanwhile, the hidden recording feature also makes it simple for users to record Spotify songs on the device without installing extra apps. The recordings can be saved locally for streaming, and you are also able to use them to create your own music projects in GarageBand directly, enabling iOS users to make use of Spotify songs without hassle!
Pros and Cons of GarageBand Spotify Recorder
Pros:
● Built-in freeware for iOS devices;
● Available to record audio from Spotify and other sources without limitations;
● Entirely free of cost;
● Directly edit recorded Spotify songs or create new music projects freely.

Cons:
● The app takes up much storage space on the iOS device;
● The recording process can't be speeded up at all.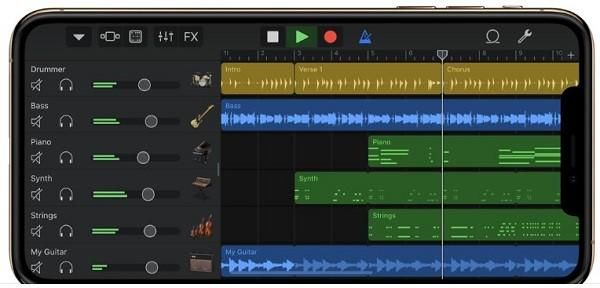 Part 5: Which Spotify Recorder is the Best One? (Table Comparison)
As we have gone through the introduction on the 7 best Spotify recorders on all devices, let's simply draw a conclusion on their features before selecting an exact one to get started:
 
Output Quality
Record Speed
Output Format
Batch Record
ID3 Tags Preservation
Pricing
TuneFab Spotify Music Converter
Lossless
5X faster
MP3, M4A, WAV, FLAC
YES
YES
Free trial available (starts from US$14.95)
Spytify Audio Recorder
High
1X
MP3, WAV
NO
YES
Free
Dojotech Spotify Recorder
High
1X
MP3
NO
NO
Free
VideoSolo Screen Recorder
High
1X
MP3, MP4
NO
NO
Free trial available (starts from US$14.95)
Audials Music 2023
High
1X
MP3
NO
YES
US$39.90
Syncios Audio Recorder
High
1X
MP3
NO
NO
Free
GarageBand Spotify Recorder
High
1X
M4A
NO
NO
Free
When there are so many options on the market, the top 7 Spotify recorders for all devices are provided here for you to select. Among all of them, it is clear that if you consider a professional, efficient, and quality-lossless way to get Spotify songs downloaded, TuneFab Spotify Music Converter is surely the most ideal pick. But if you still consider more flexible controls on capturing Spotify songs, simply based on your device systems and the output quality, or other things, you would care the most about selecting the most appropriate pick for yourself!
Was this information helpful?
TrustScore 5 | 49