Do you like to listen to DJ mix music? If yes, then would you like to create DJ mix music by yourself? Are you annoyed by long gaps of silence between songs? Well, if you say yes to the above questions, then you may need to crossfade songs. Actually, some popular streaming music services provide crossfade effect which allows you to fade out the currently playing song right at the end, such as Spotify. Then what about iTunes? How to crossfade songs in iTunes? Well, Apple Inc. won't let you down. For iTunes users, you are free to cut music on iTunes, crossfade Apple music and enjoy gapless playback.
Don't Miss:
Effortless Way to Burn iTunes or Apple Music to CD
How to Remove DRM from iTunes Music
CONTENTS
Part 1. What Is iTunes Crossfade Effect
The iTunes crossfade effect doesn't change the sound of the music you are playing in iTunes, but it is designed to change the way of the music. iTunes will fade out the music near its end and merge the playback with the next song for a little time depending on the duration you set. Besides, you can also slowly turn down the volume of one song and turn up the volume of the next in the meantime, which creates smooth transition between songs. For those who like to listen to continuous and nonstop music, you really should try the iTunes crossfade effect, it works for both Mac and Windows version.
Part 2. How to Crossfade Songs in iTunes
Here are the guides for crossfading songs in iTunes. As iTunes has both Mac and Windows versions, just choose either of them according to your computer.
For Mac users:
Step 1. First open iTunes on you Mac. Find the "iTunes" option from the top menu bar and click on it.
Step 2. Then you need to click on "Preferences" option and select the "Playback" option.
Step 3. Next tick the little box in front of "Crossfade Songs" option.
Step 4. Finally it's time for you to adjust the duration by moving the slider as you like. The duration means the number of seconds that crossfading should occur between songs. If you don't change it, then the duration will be six seconds by default. When you done, click "OK" to close the Preference window.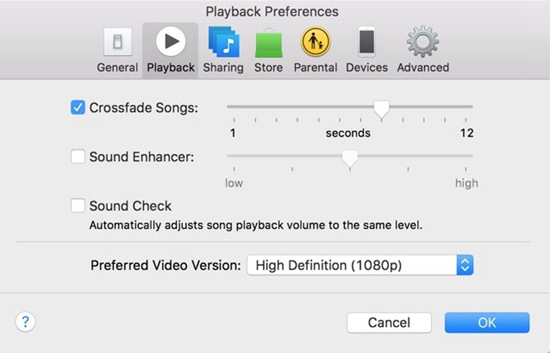 For Windows users:
The iTunes crossfade feature also works well in iTunes. Here is the guide for cutting music in iTunes for Windows users.
Step 1. First launch iTunes on your Windows.
Step 2. Then just cick on "Edit" button from the iTunes menu bar and click on " Preferences" button from the dropdown list.
Step 3. Next you need to click on "Playback" button and then you can see some effect options on the pop-up windows. Find and select "Crossfade Songs" settings by checking the tick button.
Step 4. At last you are free to use the slider bar to change duration as you like to get music gapless playback. When you complete the setting, then click on "OK" button.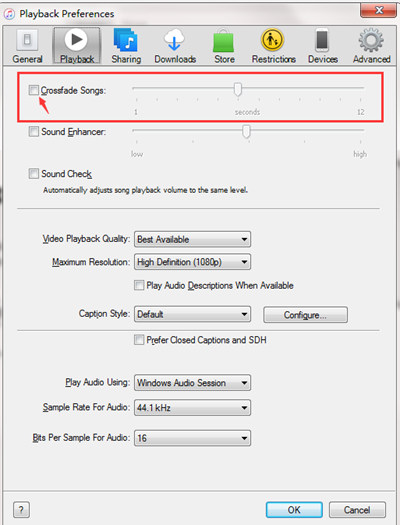 No matter you are Mac users or Windows users, it's so easy to crossfade songs in iTunes. If you want to check whether the duration of crossfading between songs is acceptable, you need to hear the end of one song and the beginning of the next one. In a word, you can easily adjust the duration to meet your satisfaction in iTunes. However, some users find that itunes crossfade not working.
Part 3. Solved: iTunes Crossfade Not Working
One iTunes user asked for help in the Apple Community, following is what he written:
"I played music on a playlist with crossfade activated, but none of the songs crossfaded. I tried turning the feature off and on, and quitting iTunes and restarting, but no luck. Any suggestions?"
Well, have you also found iTunes crossfade not working? How do you solve the problem? If you are upset about it, then go on, here are some suggestions for your reference. But before trying the below suggestions, make sure you have set crossfade function correctly. If you are not sure, just follow the methods mentioned above.
Don't Miss: Apple Music Problems: Here is the Fix!
Option 1. Try to Update to the Latest iTunes
If your iTunes is not the latest version, then you can click on "Help" option from the menu bar and select "Check for Updates" option to get the latest version.
Option 2. Try Another Crossfade App
If you have updated to the latest version, but iTunes crossfade effect still not working, then you may need to consider to use another crossfade softwares or apps to crossfade songs such as My DJ which allows you to play your own music with crossfade on iPhone. But you need to download iTunes music and use this app to cut music. Except for iTunes music, this app also works for Apple Music crossfade. But if you want to crossfade iTunes or Apple music by another app or software on non-Apple devices, then you need to use a professional Apple Music removal tool as Apple Music is protected with DRM, referring to that, TuneFab Apple Music Converter is the best choice as it does well in removing DRM protection from Apple Music and converting them to MP3.
As you can see, with a few easy steps, you can get music gapless playback for better audio experience by setting the crossfade in iTunes. However some iTunes users complain about that iTunes crossfade not working. If you have that problem too, try to quit and restart iTunes, or update the latest version, or just use another crossfade softwares.
Was this information helpful?
TrustScore 1.1 | 32