Deezer stands out for its HiFi fidelity and free use. But now there are no official ways to get free Deezer downloads since Deezer has canceled the free subscription in certain countries from April 2022. The change led to many complaints and controversy, and some users dropped out of Deezer because of the rising subscription fees.
But think about it, do you really need to use the Deezer app to listen to and download music from Deezer for free? And could there already be some official free trial options available? In this post, you can retrieve detailed answers to the two questions and truly achieve free downloading music on Deezer.
CONTENTS
Why is Deezer no Longer Free
Deezer is an online music service provider founded in 2007 in Paris, France, which allows users to listen to music from a number of music companies, including Universal Music, Sony Music, and Warner Music, online and offline on a variety of devices.
In recent years, however, due to fierce competition from music streaming platforms such as Spotify and Apple Music, as well as its own development and funding needs, Deezer ended its free subscription plan in some countries on 19th, April 2022. Since then, Deezer users have been required to subscribe to premium or family plans to listen to and download music from Deezer.
The cancellation of the free subscription service is widespread that many countries and regions are affected. And you can refer to the list below that is the known but not limited regions affected.
 
America 
Europe 
Africa 
Asia
Country or City

Argentina
Bolivia
Chile
Colombia
El Salvador
Guatemala
Honduras
Mexico
Paraguay
Peru
Jamaica


Bulgaria 
Croatia
Cyprus
Greece
Hungary
Poland
Serbia


Egypt
Kenya
South Africa


Philippines
How to Easily Get Deezer Free Music Downloads on PC
If the region you are living in has been removed from the range of free use of Deezer, you can put the method in this section into action straight away. Simply speaking, you can't use Deezer for free in your area because Deezer has imposed technical restrictions on it, and all you need is a professional tool that can help you break or bypass the restrictions.
TuneFab Deezer Music Converter, compatible with Windows and Mac, is a full-blown and powerful tool that can defy the restrictions on Deezer's use and help you decode and download Deezer music to MP3, M4A, WAV, and FLAC audio files with lossless quality. Better yet, all downloaded music can be kept and streamed to various mp3 players, like iPod Touch, iPod Nano, SanDisk, and more. In such a context, TuneFab Deezer Music Converter can make it possible for you to listen to free music on Deezer as you wish.
The Highlighted Features of TuneFab Deezer Music Converter
● Supports downloading Podcasts, Albums, and Playlists on Deezer
● Provides various mainstream output formats, including MP3, M4A, WAV, and FLAC
● Supports removing DRM protection from playlists
● The batch download can be seen at 5X or even faster download speed
● Supports customizing the output quality like bit rate and sample rate
● Provides good preservation of full ID3 tag information (except in the WAV format)

All these features make TuneFab Deezer Music Converter a reliable third-party tool you can look to. And you don't need to worry about the steps to download Deezer music via this software. With a built-in Deezer web player, TuneFab Deezer Music Converter requires the simplest steps to have the Deezer melody downloaded.
Steps to Download Music from Deezer via TuneFab
Step 1. Install and launch the top-rated tool on your computer by clicking the download button below.
Step 2. Log in to your Deezer account.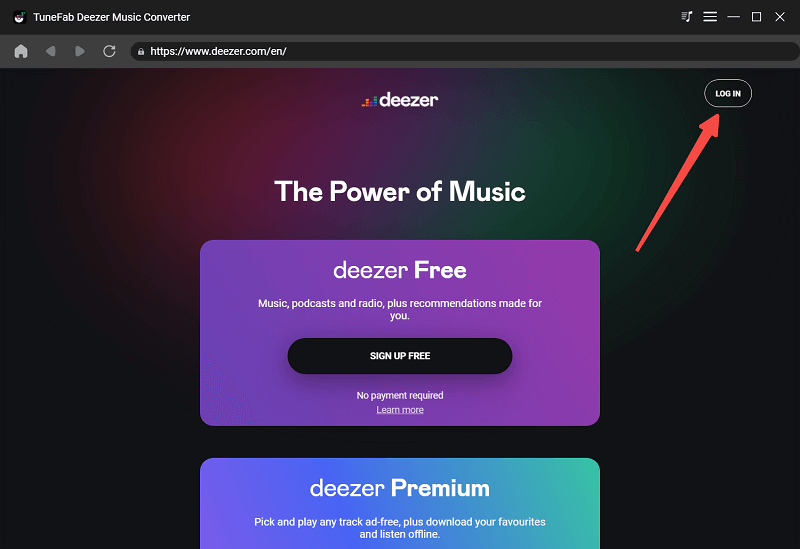 Step 3. Search or choose the music you want to save on your computer and then you can drag the single music or playlists to the Green Plus button.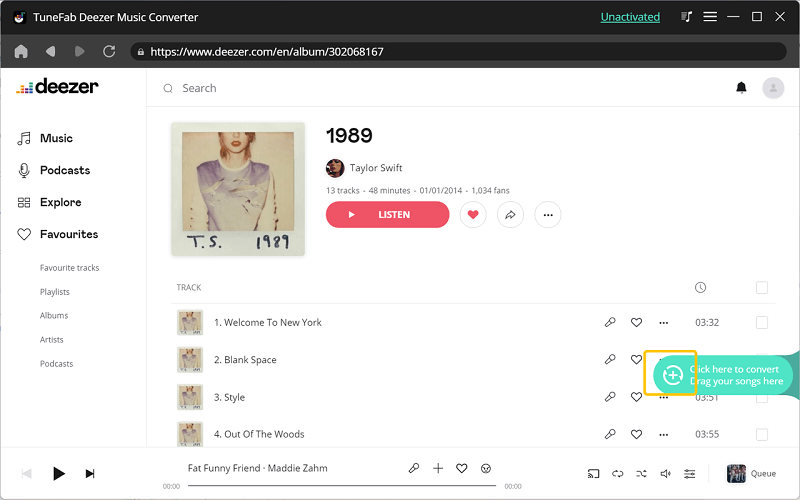 Step 4. Select the output quality and folder. And after the setting is finished, you can click the Convert All button to start downloading music.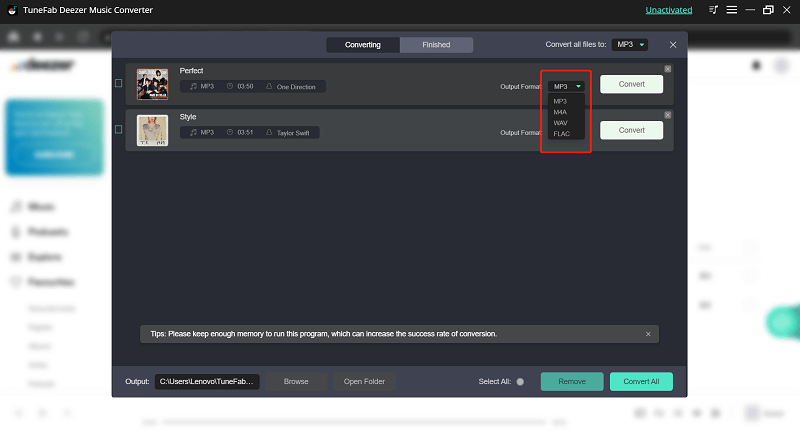 If you want to do some detailed settings, you can directly click on the Dropdown Menu button in the top right corner and choose Preference to customize the Bit Rate and Sample Rate.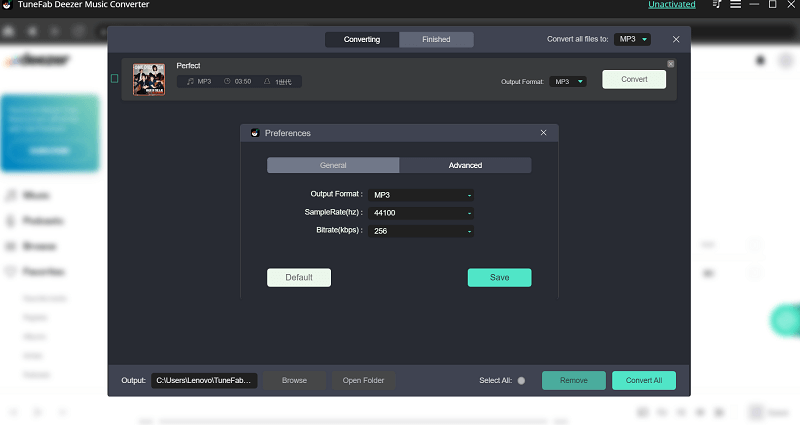 Step 5. You can go to the Finish section to view the downloaded songs.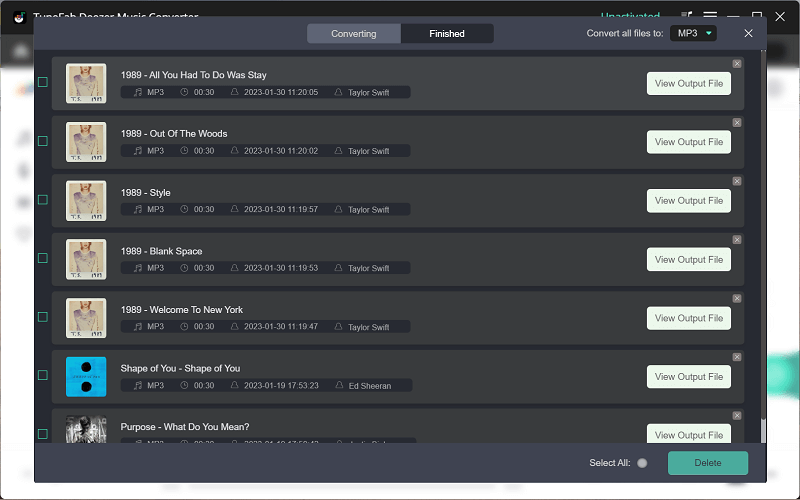 Note:
● TuneFab Deezer Music Converter is available for a 30-day free trial, and the free version can only download the first 3 minutes of a song.
● To download a full playlist, you are recommended to subscribe to Deezer Premium or purchase the full version of TuneFab Deezer Music Converter.
How to Get Deezer Music Free Trial on iPhone/Android
Are you a new user of Deezer? If you do, you can have the opportunity to get a free trial of Deezer for one month or three months on your iPhone or Android. But the period of the free trial depends on your location and eligibility. The detailed steps to get Deezer free trial have been compiled below, and you can check it to verify your eligibility and start the free trial.
Tutorials on Get Deezer Music Free Trial
Step 1. Browser Deezer subscription page on your phone.
Step 2. Tap on the Try For Free option.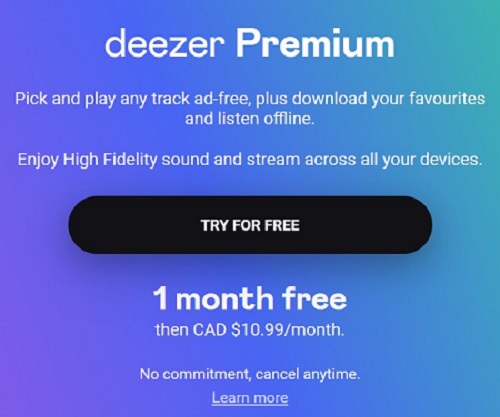 Step 3. Enter the email address, username, password, and other information according to the on-screen requirements.
Step 4. Hit Start my free trial to open the Deezer Premium free trial.
Note: All eligible doctors and nurses can get 3 months of Deezer Premium at no cost. And a half discount on next year's subscription will be offered.
Tutorials on Download Deezer Songs with Free Trial
After you get the free trial of Deezer, you must try the extreme quality of HiFi Fidelity which is one of the selling points of Deezer. And to enjoy the ultimate listening experience anytime, you had better download music on your phone. It is much easier to get done with a subscription trial.
Step 1. Open Deezer on your iPhone or Android and login to your account.
Step 2. Open a playlist and turn on the Download slider.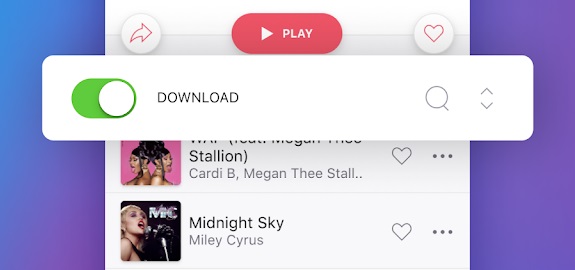 Step 3. Tap on the three dots and add albums or playlists to download from the dropdown menu.
Note: Downloaded songs will be unavailable when the trial expires, so it is recommended that you use TuneFab Deezer Music Converter to keep Deezer music for a long time.
Conclusion
To sum up, you have two paths to get Deezer free music downloads. One is downloading music via TuneFab Deezer Music Converter, and the other is getting a free trial as a new user of Deezer. But TuneFab Deezer Music Converter should be given the top priority. For one thing, you won't always be a new Deezer user. For another, TuneFab Deezer Music Converter is handy and easy to use and you can save and stream music between different players for good. With the industry-leading software, you can truly listen to Deezer music freely!
Was this information helpful?
TrustScore 5 | 49