Deezer is one of the famous music streaming platforms with millions of active users every month. However, one of its obvious drawbacks is that the Deezer song downloads can only be listened to on the Deezer app. These downloaded files are not saved on your device, nor are they available on other music apps. You can't play them anywhere outside the Deezer app and these songs will not be accessible once your subscription expires, which is really disappointing.
So, if you were hoping to download Deezer music and then access the Downloaded Deezer files after giving up your Deezer subscription, what can you do? A good way is to download Deezer to WAV, a lossless music format that is compatible with most devices.
In this post, we will break through all the technical issues and walk you through the best way to download Deezer music to WAV.
CONTENTS
Can You Download Deezer to WAV on the Deezer App
As we discussed before, all files downloaded from Deezer are protected by DRM. These encrypted files can not be played on platforms other than Deezer. The storage location and download path are inaccessible, which means you cannot freely find these files and convert their format to a standard format such as WAV.
To figure it out, you have to find a professional third-party Deezer Music downloader. Here we would like to introduce TuneFab Deezer Music Converter for you to download Deezer to WAV.
Best Tool to Download Deezer Music to WAV
TuneFab Deezer Music Converter is one of the best programs to help you easily download Deezer music and transform them into DRM-free WAV format. It means that your downloaded Deezer music and playlist have been stored in your local files and will never become invalid, even if you cancel your Deezer subscription. With this effective converter, you have the flexibility to play Deezer songs on any device without any restrictions.
Key Features of TuneFab Deezer Music Converter
● Powerful DRM Removal - It helps you to decode the DRM of Deezer songs, enabling you to play these DRM-free files anywhere.
● Multiple Formats Supported - It can convert Deezer music to MP3/ M4A/ FLAC/ WAV, which is playable on all devices.
● Output Customization - It allows you to choose the appropriate output parameters such as bitrate and sample rate.
● High Output Quality - It retains the high sound quality of the original Deezer music so that you can enjoy lossless music.
● Batch Conversion - It supports batch conversion, which saves you a lot of download time.

These fantastic features make it easy to save your Deezer songs as local files forever for offline playback. Here's a full step-by-step breakdown to help you download Deezer to WAV:
Step 1. Launch TuneFab Deezer Music Converter and Login
Download and Open TuneFab Deezer Music Converter. Tap the "LOG IN" button, and then sign in with your Deezer account on the built-in Deezer web player.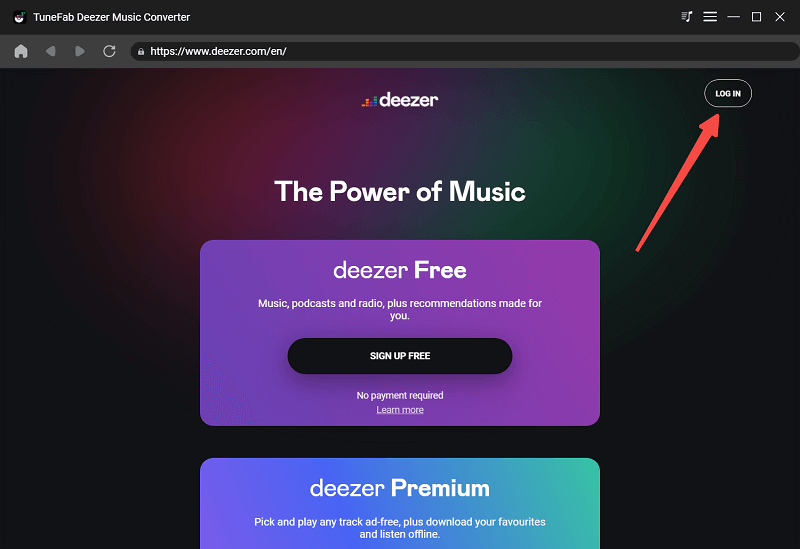 Step 2. Select What You Want to Download
Search for the song, album or playlist you want and drag the content you want to convert to the "+" button in the bottom right corner.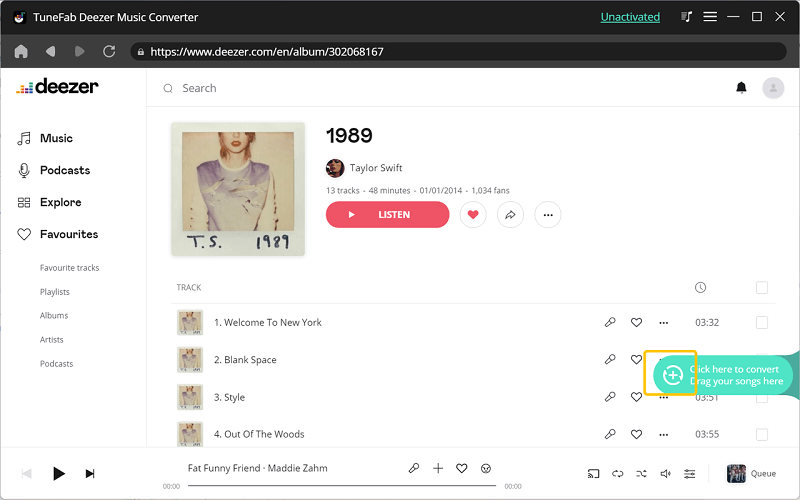 Step 3. Set Output Format
After adding all your wanted songs to the converting list, you can set the proper output format such as MP3/ M4A/ FLAC/ WAV. Here we choose WAV.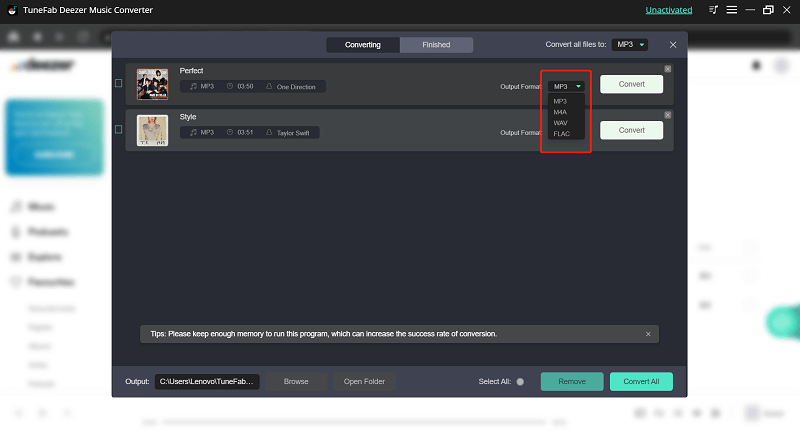 Step 4. Customize the Preferences (Optional)
Before starting the conversion, you can select the default parameters or customize your preferences. You can customize the output path in the General settings and select the desired sample rate and bit rate in the Advanced settings.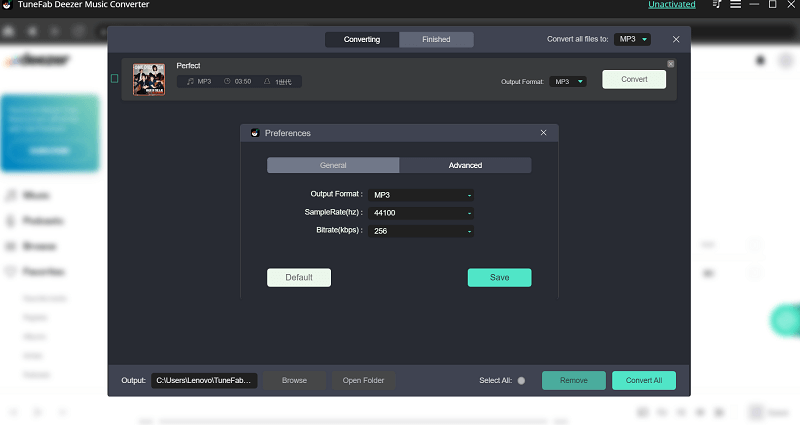 Step 5. Finish the Conversion
Click "Convert All" to start converting. When everything is done, you can find the converted DRM-free WAV files in your selected storage location, and the songs will be available for offline use.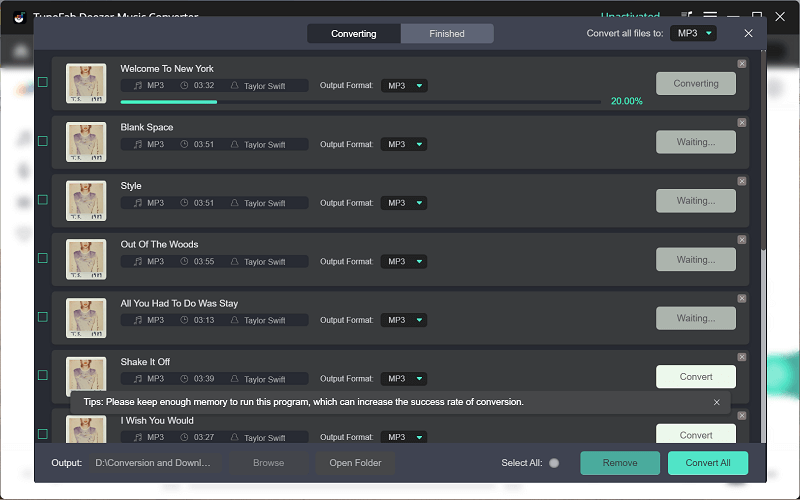 FAQs about Downloading Deezer to WAV
How to Download Deezer to WAV for Free?
Although Deezer only allows its Premium users to download music, it also offers a free trial for new users. You can try Deezer for either 30 or 90 days for free, depending on your region and eligibility. However, the downloads are encrypted due to DRM and will be not accessible once your free trial period ends.
Fortunately, there are some powerful third-party tools that can remove DRM and convert Deezer music to WAV format, such as TuneFab Deezer Music Converter. The downloaded WAV format can be saved and played on any device, regardless of the status of your subscription.
Can I Download Deezer Playlist to WAV?
The answer is YES if you use a third-party converter such as TuneFab Deezer Music Converter. Deezer users are allowed to download playlists, but the downloaded files are encrypted and are playable on the Deezer app only. By using TuneFab Deezer Music Converter, you can select Deezer playlists and convert all the songs to WAV format in batches, making it easy to save them locally.
Conclusion
With the comprehensive guide mentioned in the article, it hopes that downloading Deezer songs to WAV will no longer be a big problem for you.
It doesn't take a lot of tips and tricks; you need only download TuneFab Deezer Music Converter, choose Deezer songs, playlists or podcasts, and then use the converter to download Deezer music to WAV. When everything is done, you can freely listen to your favorite Deezer songs, albums, playlists, or podcasts offline, even when your subscription ends.
Hoping this article will help you discover new ways to get the most out of Deezer and all it has to offer.
Was this information helpful?
TrustScore 1 | 1