Deezer is a popular music streaming platform that has gained a large user base. By signing up for the Deezer free trial for Premium, users can enjoy a set of extra features for free, such as ad-free experience, offline listening, HiFi quality song playback, etc. This experience can help users decide if Deezer Music is worth subscribing to keep these premium benefits for a long time.
Yes, all features listed above are currently only available to Premium subscribers or Premium free-trail users. Once your free trial expires or if you choose not to subscribe to enjoy offline access to Deezer, you will only have access to personalized playlists. Additionally, you are highly likely able to enjoy free music for 30 seconds.
If you want to prolong your free trial experience for free, what can you do? Don't worry, this article will show you how to get the free trial and listen to your Deezer songs for free forever.
CONTENTS
Part 1: How to Get a Deezer Free Trial from Deezer Official Website
This is the most common option to get a Deezer free trial for users. However, the duration of the Deezer free trial may vary depending on the region. Some regions offer a 30-day trial, while others offer a 90-day or even a six-month trial.
Note: Deezer offers a free trial for new users to download Deezer music for free only. Users who have already subscribed to Deezer Music or used a previous free trial through other promotions will not get another chance.
Here is how you get a Deezer free trial from its website:
Step 1. Create a Deezer account, log in. and you will see a promotion pop-up window.
Step 2. Click on "TRY FOR FREE", and enter the payment page.
Step 3. After choosing and filling in your payment info, you are now "free" to enjoy your trial.
Avoid Post-Trial Regret: How to Cancel Deezer Free Trial Seamlessly
It's great that you got your Deezer free trial, but it's important to keep in mind that you should cancel your subscription before it expires if you just want to experience the service and don't plan on continuing. Otherwise, you will be automatically charged and unnecessary fees will be deducted from your account. Fortunately, Deezer will send you a notification message 7 days before the renewal date, so that you can have enough time to take action.
Now, let's walk through the steps to cancel your free trial on both PC and mobile devices:
On mobile:
Open Deezer and go to Settings > Account Management > Manage my subscription > Cancel my subscription > Choose reason > Confirm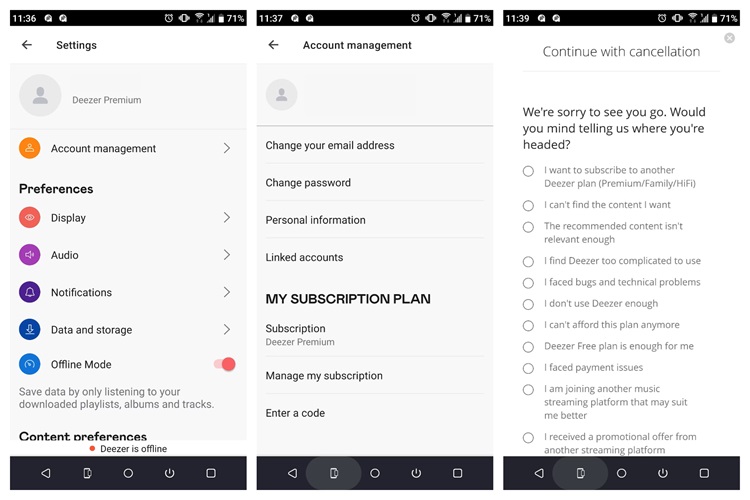 On PC:
Launch Deezer on your computer and go to your profile > Account Settings > Manage my subscription > Cancel my subscription > Select the canceling reason > Confirm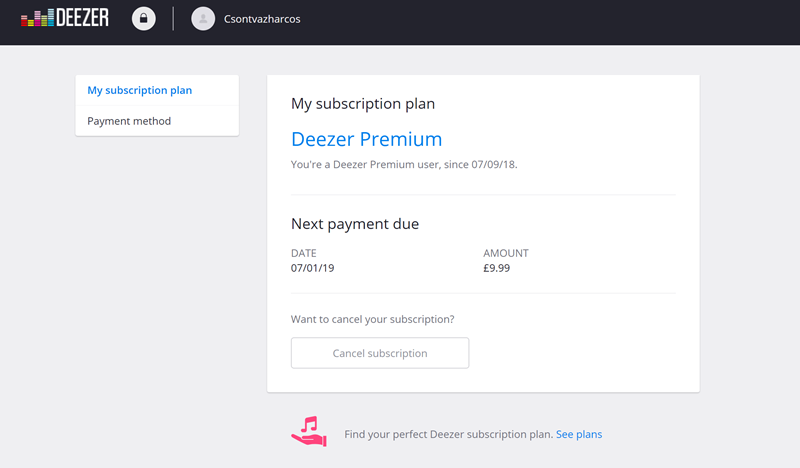 Part 2: How to Keep Deezer Songs Forever After Free Deezer Trial Expires
It is sweet to enjoy Premium's offline listening function on a free trial, but once it expires, your downloaded songs, unlimited skips, ad-free experience, etc. will disappear in the blink of an eye. But hey, all hope is not lost. Rather than being subject to the limitation, you can bypass it using a third-party Deezer music converter.
With TuneFab Deezer Music Converter, you can easily download your favorite songs from Deezer and store them on your computers in the forms of MP3, FLAC, M4A, or WAV for offline listening without any restrictions even after your Deezer free trial expires. This professional and reliable third-party downloader allows you to download Deezer music, playlists, albums, podcasts, etc. in batches, and keep them forever with lossless quality. In addition, music information such as artist, title, album name, etc. will also be saved during conversion.
More remarkable features of TuneFab Deezer Music Converter:
● High-Speed Conversion: Advanced speeding technology enables fast, efficient conversion of multiple Deezer tracks simultaneously at 10X faster speed.
● No Quality Loss: Download high-quality MP3 music up to 320kbps and 48000hz, coupled with original HiFi Deezer songs in lossless quality by selecting FLAC with the highest rates.
● ID3 Tags Preservation: Retain important metadata (except for WAV format), such as song titles, artists, albums, genres, and album artwork. This information is embedded in converted files, ensuring organization and easy navigation.
● Output Settings Customization: The bit rate (128 kbps -320 kbps) and sampling rate (22050 hz-48000hz) of each four supported formats (MP3, FLAC, M4A & WAV) can be selected according to actual needs.
● User-Friendly Interface: The menu layout and buttons are both intuitive and concise, making it easy for users to navigate and find the functions they need with just a few clicks.

After the introduction, to keep your favorite Deezer Songs forever with TuneFab Deezer Music Converter, just simply follow the basic steps below:
Step 1. Download the software installation package from the official website and install it.
Step 2. Log in to both the Deezer Music Converter and your Deezer account.
Step 3. Select the song you want to convert and put it into the conversion area.
Step 4. Choose the output format you want and click on the "Convert" button.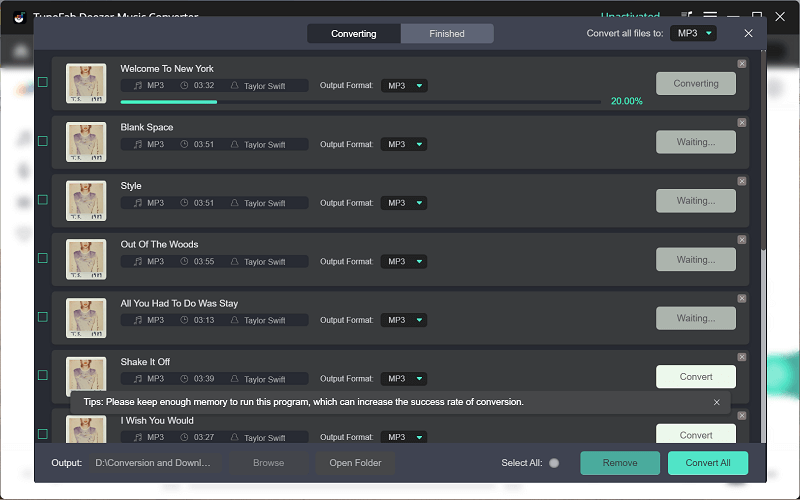 That's it! You can now enjoy your favorite Deezer music in the format of your choice.
For more detailed information, you can refer to:
Part 3: FAQs About Getting Free Deezer Trial
Q1: How much does Deezer cost after a free trial?
Deezer offers 4 types of plans(Free, Premium, Student, and Family) with different pricing options which depend on the region and the type of subscription you choose. If you are in the US and going for Deezer Premium, you will be charged $11.99 per month. For more up-to-date pricing information, please visit the official Deezer website.
Q2: What's the difference between the Deezer Free and Deezer Subscription Plan?
Before we begin, it's important to note that Deezer offers three subscription plans: Premium, Student, and Family. The following differences will help you compare these plans to the free version of Deezer based on account sharing, personalization, Ads, freedom of playing, offline listening, and audio quality: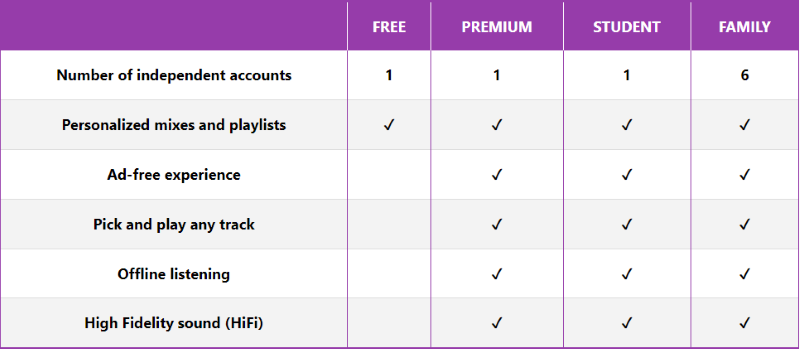 Q3: Is Deezer Free only allowed to play 30-second songs?
This depends on your region and the device you are listening to. In the United States, if you are using Deezer Web Player or Desktop, you can only listen to 30 seconds of the song for free. However, if you are in Germany or the United Kingdom, you can listen to the entire song for free.
Conclusion
After reading the article, you should have a good idea of how to get your Deezer free trial and keep your downloaded songs even after the trial ends. With TuneFab Deezer Music Converter, you can easily download songs, playlists, albums, or podcasts from Deezer in MP3, WAV, and other common formats without any loss of quality. Even if you're on Deezer's Premium free trial, you can still use TuneFab Deezer Music Converter to download music and listen to it offline.
Was this information helpful?
TrustScore 1 | 1