Deezer Music allows you to listen to many tracks as a Free user, but it doesn't enable you to download them for offline listening unless you are a premium user. However, even for the paid subscriber, the downloaded files are only available for authorized devices, like the Deezer Music app.
Therefore, some of you probably want to download music on Deezer as regular music files to bypass Deezer's music playback restrictions. Luckily, this article now offers two helpful approaches for you. If you are also seeking a way to process Deezer music downloads to ensure a smoother music streaming experience locally on your devices, please scroll down and take the method that suits you the best!
CONTENTS
How to Download Deezer Music as Local Files for Playback on Any Device
As mentioned above, when Deezer has restricted certain music streaming behaviors in the platform, you can't directly download Deezer music as local files even with a subscription, and are limited to playing the downloads with the official Deezer application installed. To bypass such an obstacle, you need help from a third-party program, like TuneFab Deezer Music Converter.
TuneFab Deezer Music Converter is a quick and reliable Deezer music downloader for Windows and Mac. With the built-in Deezer music player equipped, you can select any released content to download offline, including Deezer songs, albums, playlists, and podcasts. To log in to the music player, you don't need to subscribe to Deezer Premium, but using a free account can you access the music download function and download Deezer music to regular formats like MP3/M4A/WAV/FLAC.
Furthermore, TuneFab Deezer Music Converter will remove the encryption technique added on all streaming media, and download the songs as local files to play without the Deezer Music app installed. What's more, you can even transfer the Deezer downloads to other devices or media players to enjoy! For instance, you can transfer Deezer to iTunes or even burn Deezer to CD as collections! The program actually helps you unlock more ways to enjoy Deezer playback offline!
🐵 Key Features of TuneFab Deezer Music Converter
● Bypass and unlock DRM encryption - help get rid of DRM encryption and download Deezer music as local files in DRM-free formats such as MP3, M4A, WAV, and FLAC to play without the Deezer Music application.
● Original HiFi music quality retained - keep lossless HiFi music quality to retain the original sound effects when playing Deezer songs offline.
● 10X faster batch download speed - accelerate the downloading performance to 10X faster to batch download Deezer playlists for you efficiently.
● Built-in Deezer music player equipped - by embedding a Deezer music player in the program, you can directly log in and choose all Deezer songs to download by simply dragging and dropping them, greatly facilitating the downloading productivity.
Step 1. Log in Deezer Music Player in TuneFab
When you well install TuneFab Deezer Music Converter on your desktop, run the program and open its built-in Deezer music player to log in with your Deezer music credentials. You don't need a subscription but only a free account to complete the login.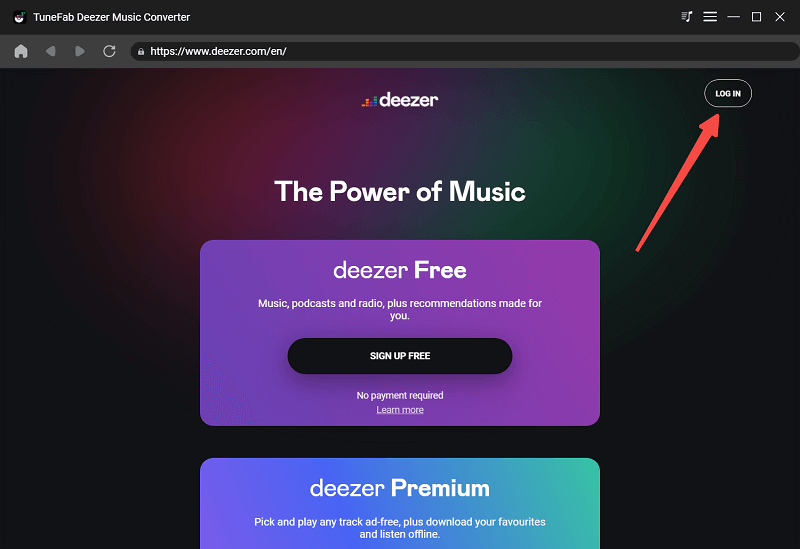 Step 2. Drag and Drop Deezer Music to Download
After entering the Playlists/Podcasts you want, you can convert the content by clicking on the green button on the lower left. Or you can simply drag and drop songs to the button to add them to the converting column.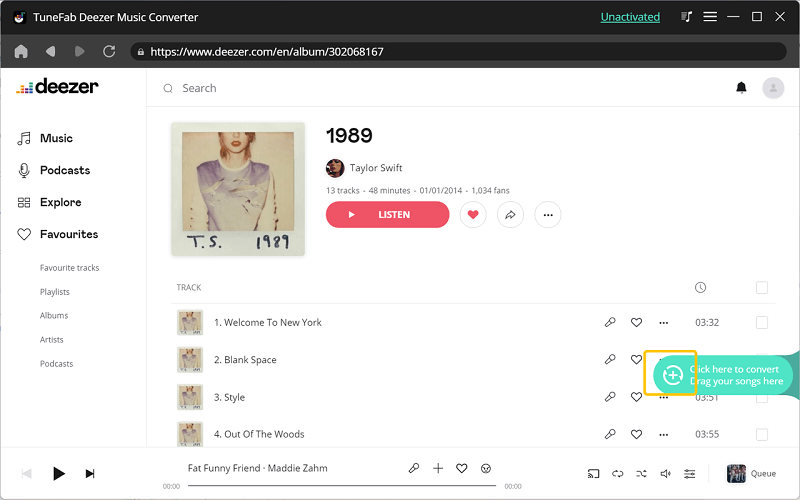 Step 3. Configure Output Parameters (Optional)
In the Converting list, you can directly select an output format from the Convert all files to the menu for all Deezer songs at once.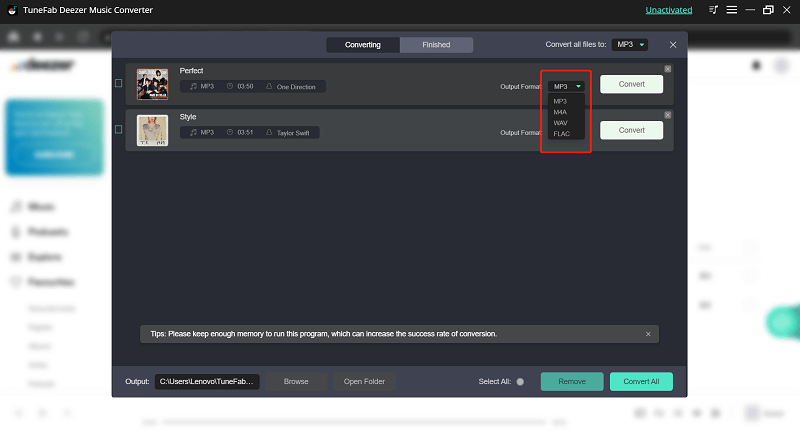 Please turn to Menu >> Preferences now. Under the Advanced module, you can personalize the downloading parameters such as the SampleRate and Bitrate in preferences. Don't forget to click on the Save button.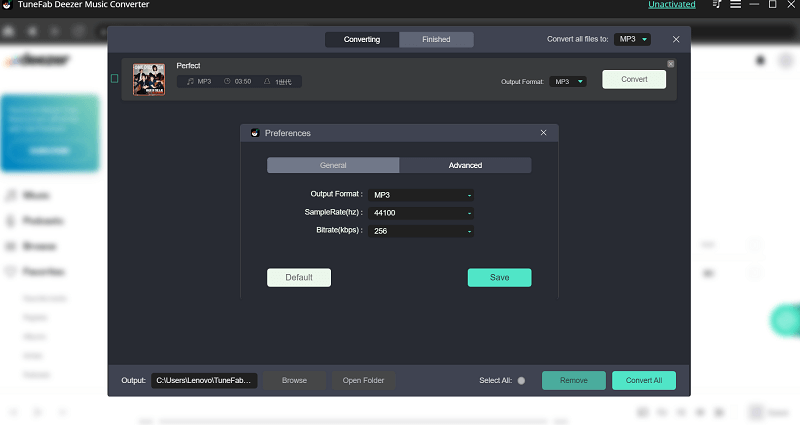 Step 4. Download Deezer Music to MP3
Once you're satisfied with the output parameters, click on the white Convert All button to download Deezer music offline in no time.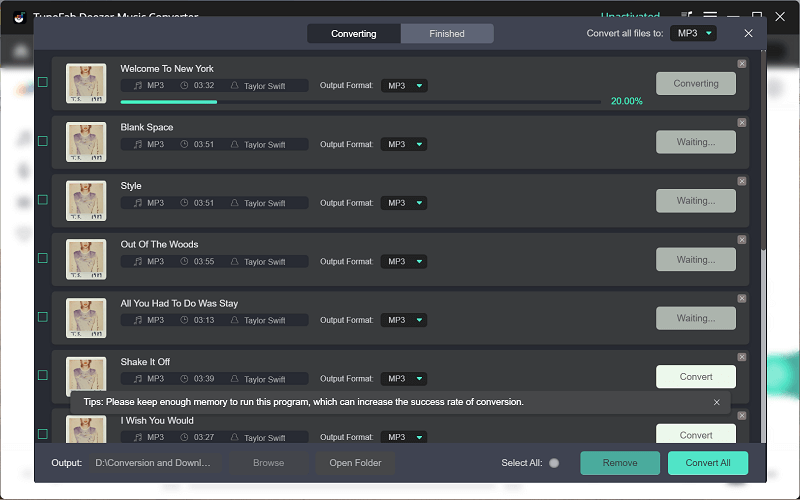 The music downloads will be kept under Finished once the downloading procedure is completed.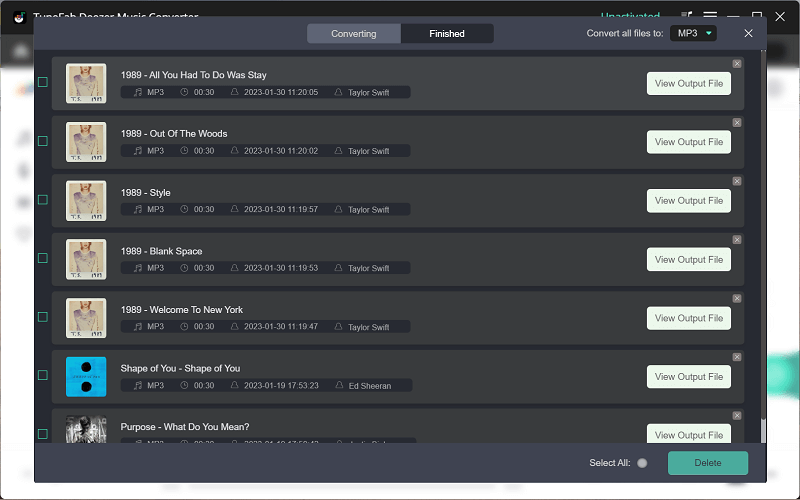 Now that you've downloaded Deezer music to MP3s, you can also upload the MP3s back to Deezer by clicking Favorites -> My MP3s (click on More of you can't see My MP3s) -> SELECT MP3S TO UPLOAD.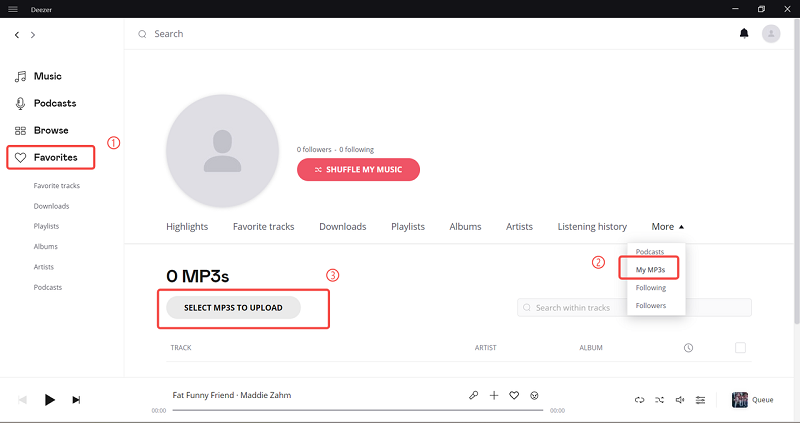 Apart from uploading the downloaded MP3s back to Deezer for offline listening, you can also play the songs on other media players, set them as your ringtone, or share them with friends. In full charge of your music, you can explore more possibilities of it.
How to Download Deezer Music on Deezer App
Instead of seeking an alternative Deezer music downloader to download music on Deezer, you can also download music on the official Deezer Music app on your PC, Mac, or Phone. But remember that you need to pre-subscribe to Deezer's premium plan.
How to Download Music on Deezer on Android & iPhone
As long as you subscribe to Deezer Premium, downloading Deezer music using your Android or iPhone app can be really easy. But note that before the downloading process, a playlist is first needed to start the download, and then just follow these steps to download Deezer music on your Android or iPhone.
Step 1. Launch the Deezer app and log in to your premium account.
Step 2. Go to Favorite. Favorite consists of two parts. You can download tracks/albums/playlists you like on the Music page or the podcast on the Podcasts page.
Step 3. Open the Tracks/Playlists/Albums you want to download.
Step 4. Tap on the three dots in the top right and select Download.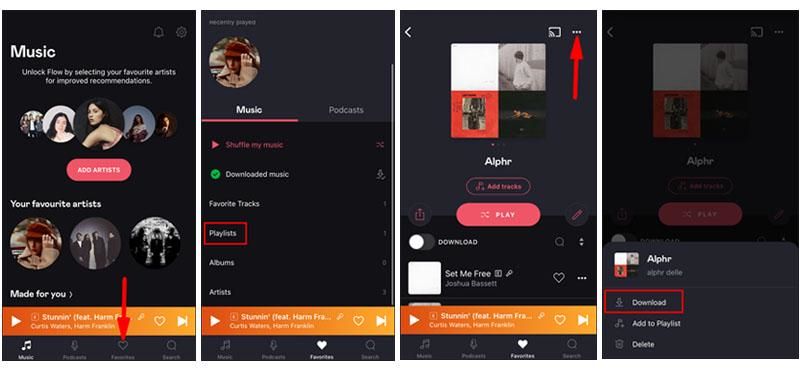 How to Download Music on Deezer on Computer
The whole process of downloading Deezer music on the computer is quite similar to that on your smartphone. You also need to create a playlist in advance to ensure it succeeds. Here are the specific procedures.
🌰 Note:
You can't download songs directly from the Deezer website even if you've subscribed. Instead, you would have to install a Deezer app on your devices and include the songs to your Favorites/Playlists before starting the download.
Step 1. Launch the Deezer app and log in to your premium account.
Step 2. Add the songs to your Favorites/Playlists. If you don't have a Playlist, you can click on Favorite >> Playlist >> Create a playlist to get one.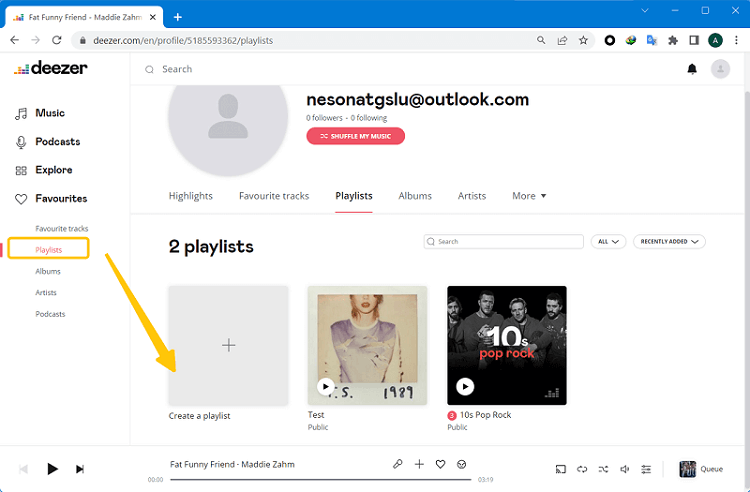 Step 3. Download songs. Go to your Favorites/Playlists/Albums and select the songs you want to download. Then click on the download icon to get the songs directly. After you download the songs, you can check them in Downloads.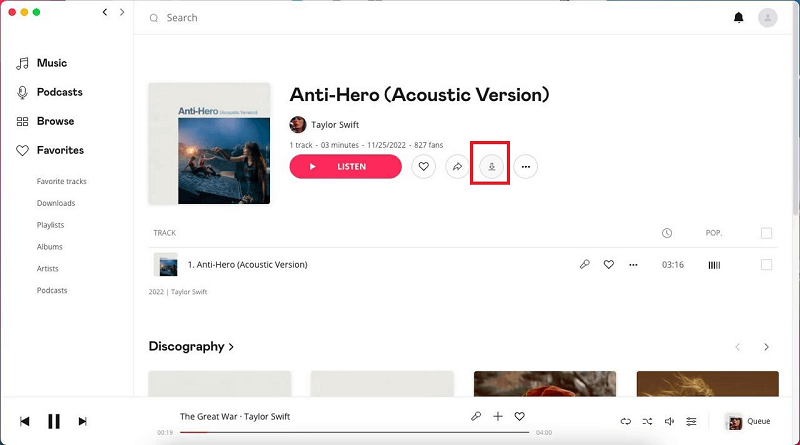 FAQs About Downloading Music from Deezer Music
Q1: Where Is Deezer Offline Music Stored?
Once the Deezer songs are downloaded within the official Deezer application, you can find the downloads in the local folders on your Windows and Android devices (unavailable on iOS). Please follow the paths below to find Deezer music downloads:
Windows: C:\Users\*(your user name)\AppData\Roaming\deezer-desktop\CacheAndroid: Data sotred on > storage > emulated > 0 > Android > data > deezer.android.app > files
However, please note that these downloads saved in local folders are only the cached data, which can't be opened or streamed with local media players. Instead, if you want to get the downloads saved in regular music files offline, you will need a more professional Deezer downloader such as TuneFab Deezer Music Converter to help.
Q2: The maximum number of songs you can download on the Deezer Music app?
Although you have subscribed to Deezer Music and are able to use its download function to save songs for streaming offline, please note that what maxuim numeber of songs you can get:
Albums/Artists/
Podcasts/Mixes
2,000
1,000
To remove the download limit and save unlimited Deezer songs offline, TuneFab Deezer Music Converter is just what you need.
Is Deezer Free to Download Music
Deezer only allows paid users to download its music, so free users have to listen to the songs online with ads interspersed. If you use this music software for the first time, a 1-month or 3-month subscription without any charge will be provided. The lasting time depends on your country and subscription plan, and the fee will be deducted automatically after the trial period if you forget to cancel the free trial.
Comparison tablet among different plans
Plan
Free
Premium
Students
Family
Monthly Payment
/
$10.99/month
$5.99/month
$17.99/month
Yearly Payment
/
$98.91/year
/
/
If your trial period is approaching the end, and you don't want to renew it, you can also use TuneFab Deezer Music Converter to download Deezer music locally when you are still under the trial period. By doing so, the music downloaded can be still accessible at any time and on any device, even when the discounting period is over.
Conclusion
To download Deezer music for streaming offline, despite the official offline mode with multiple restrictions, it is highly recommended to try TuneFab Deezer Music Converter, a leading program to remove DRM from Deezer music professionally, and download the songs to regular music files of original quality retained. With it, you can surely enjoy a nice streaming experience offline on any device you like from today!
Was this information helpful?
TrustScore 1 | 1