Having songs downloaded onto your device makes it easier to access even when you don't have an Internet connection. And it also saves you from the worries about songs being taken down due to copyright issues. But the music download button is not always readily available for you to click.
Luckily, if you're a Deezer user who wonders how to download songs, this article offers two helpful approaches for you. The first is to subscribe to Deezer Music and download songs directly to your devices. But in this way, the music downloaded will be encrypted and can only be played on the Deezer app. The second plan is to get a third-party tool that downloads music from Deezer in the most common formats (such as MP3 or M4A) so you can listen to the sweet tunes on any player you like. Keep reading and find out what suits you the best!
CONTENTS
How to Download Deezer Music in the Deezer App
So, let's talk about the first approach. If you have subscribed to Deezer Music, you can download the content you love to your devices directly. But you should know that the music downloaded through this approach is still encrypted. That is to say, even if you locate the downloaded files on your devices, you won't be able to enjoy them on other media players. If you're fine with that, keep reading this part to learn how to download songs on your PC/Android/iPhone.
Note: You can't download songs directly from the Deezer website even if you've subscribed. Instead, you would have to install a Deezer app on your devices and include the songs to your Favorites/Playlists before starting the download.
Download Deezer Songs on Computer
As mentioned, if you want to download songs directly from Deezer, you can only do it through its app. After having the Deezer app installed on your PC, you can take the following four steps to get the music for offline listening.
Step 1. Launch the Deezer app and log in to your premium account.
Step 2. Add the songs to your Favorites/Playlists. If you don't have a Playlist, you can click on Favorite -> Playlist -> Create a playlist to get one.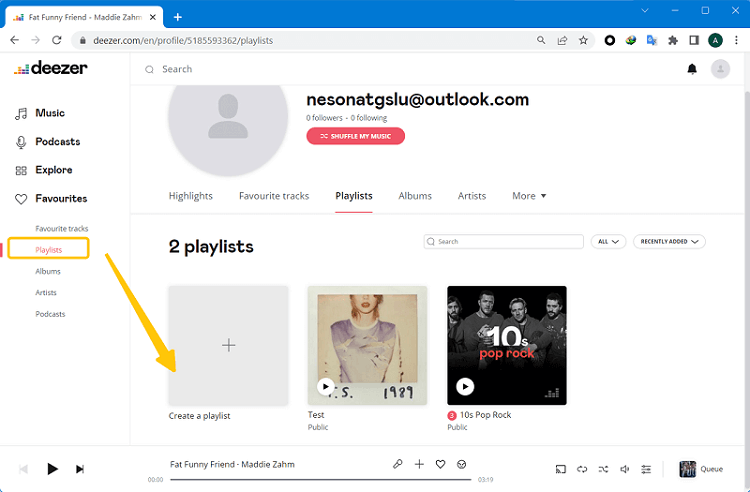 Step 3. Download songs. Go to your Favorites/Playlists/Albums and select the songs you want to download. Then click on the download icon to get the songs directly. After you download the songs, you can check them in Downloads.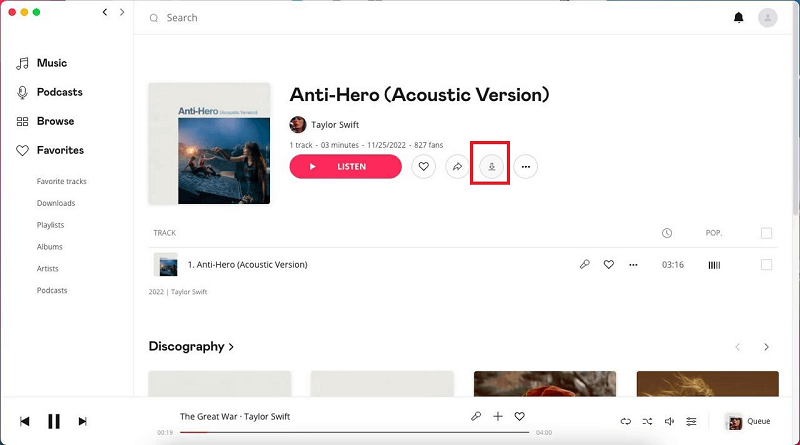 Download Music from Deezer on Android/iPhone
Downloading Deezer songs on your PC is easy, and so is it on your Android/iPhone. After installing the Deezer app from your app store, you can go through these steps for sweet melodies.
Step 1. Launch the Deezer app and log in to your premium account.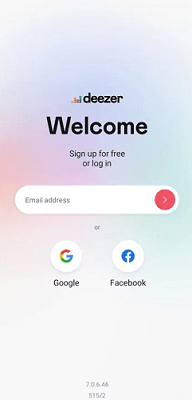 Step 2. Go to Favorite. Favorite consists of two parts. You can download tracks/albums/playlists you like on the Music page or the podcast on the Podcasts page.
Step 3. Open the Tracks/Playlists/Albums you want to download.
Step 4. Tap on the three dots in the top right and select download.
Whether you're using your PC or mobile device, make sure to go to the setting and turn on "Offline Mode" after you download the music. By enabling the function, you can enjoy music even if you don't have an Internet connection.
How to Download Songs from Deezer to MP3 for Playback on Any Device
The previous part shows how Deezer subscribers can download music directly from PC/mobile app. Although the approach is easy to follow, it certainly has drawbacks. For example, instead of downloading from the website, you have to install a Deezer app on your devices. And you must include the songs you like in your Favorites/Playlists before the downloads. What's more, the reliability and accessibility of the files are undermined because the music downloaded is encrypted and can only be accessed through the Deezer app. Given all the trouble, you are recommended a third-party software named TuneFab Deezer Music Converter.
TuneFab Deezer Music Converter is a quick and reliable Deezer downloader on Wins/Mac. With some simple drag and drop, you can convert the songs, albums, playlists, or podcasts you love into MP3/M4A/WAV/FLAC. Audios downloaded from the tool are not encrypted, so you can sync and play them on any media player you like. Also, its bitrate is up to 320kbps, which guarantees your immersive and excellent offline listening experience. With TuneFab Deezer Music Converter, you can download and savor Deezer music freely.
Key Features of TuneFab Deezer Music Converter
● Powerful music downloader - a vast selection of songs, albums, playlists, and podcasts on Deezer is fully available for you.
● Easy operation - drag and drop your way to Deezer music with no encryption hassle.
● Mainstream output formats - convert music into the most common format and let you be the true master of the sweet tunes.
● Flexible quality parameters - tune in to high-quality music with adjustable sample and bit rate.
● Fast download speed - choose all the songs you love and download them in bulk with just a simple click.

Powerful and smooth, TuneFab Deezer Music Converter is also praised for being easy to use. Take the following four steps, and you'll be able to indulge in the joy of offline listening:
Step 1. Download and Install TuneFab Deezer Music Converter
You can download the tool from the link below
After the installment, launch the tool and log in to your Deezer account from its in-built web player. You won't be able to download music if you don't log in.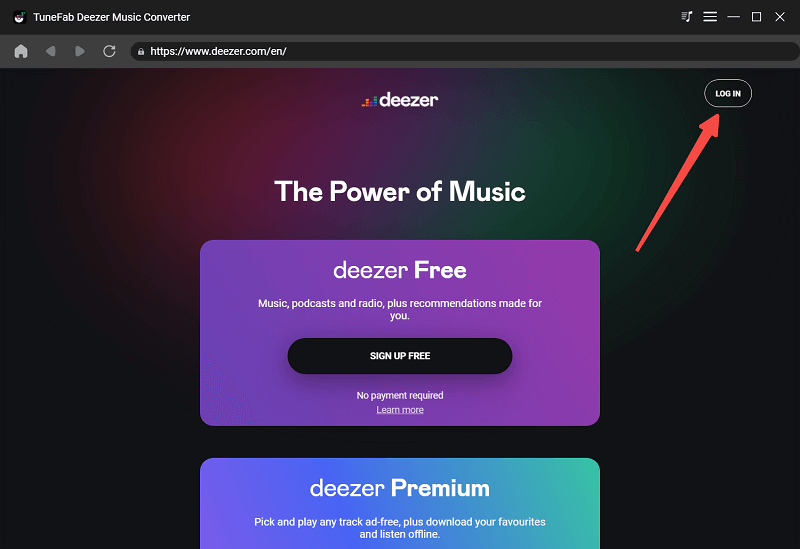 Step 2. Drag and Drop Deezer Music to Download
After entering the Playlists/Podcasts you want, you can convert the content by clicking on the green button on the lower left. Or you can simply drag and drop songs to the button.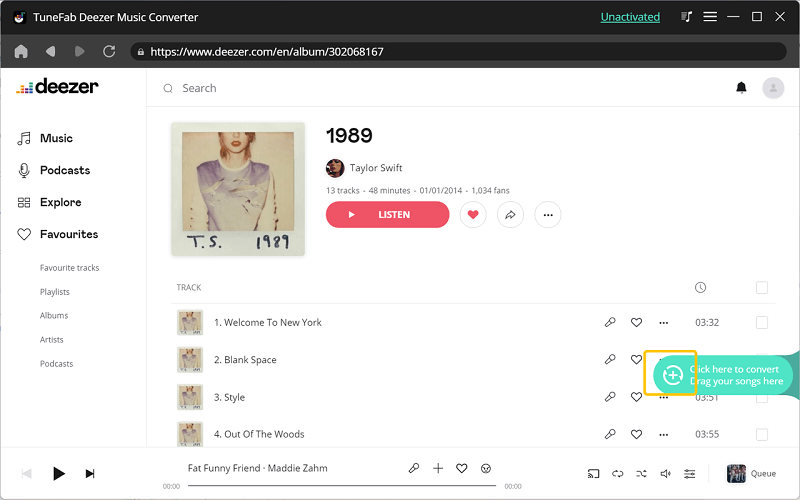 Step 3. Configure Output Parameters (Optional)
A smaller window will pop out after you drag and drop music to download. Here, you can choose the output format and output folder.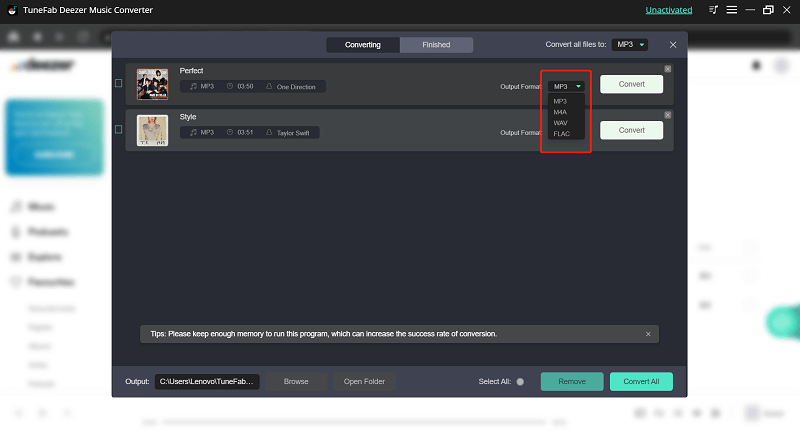 If you want to change the output sample rate or bit rate, go to Menu (the "≡" button on the upper left) -> Preference -> Advanced. Once you've decided on the output, don't forget to click on the Save button.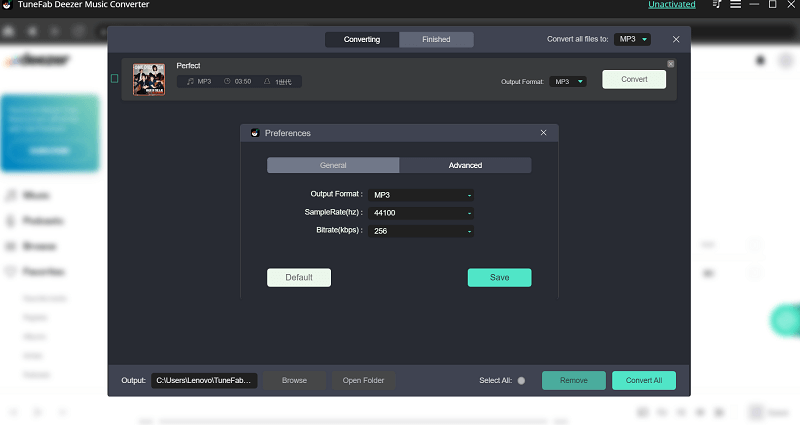 Step 4. Download Deezer Songs/Playlists/Albums/Podcasts to MP3
Once you're satisfied with the output parameters, click on the white Convert button to download the songs one by one. Or you can tap on the Convert All on the lower left to get all the songs in one go.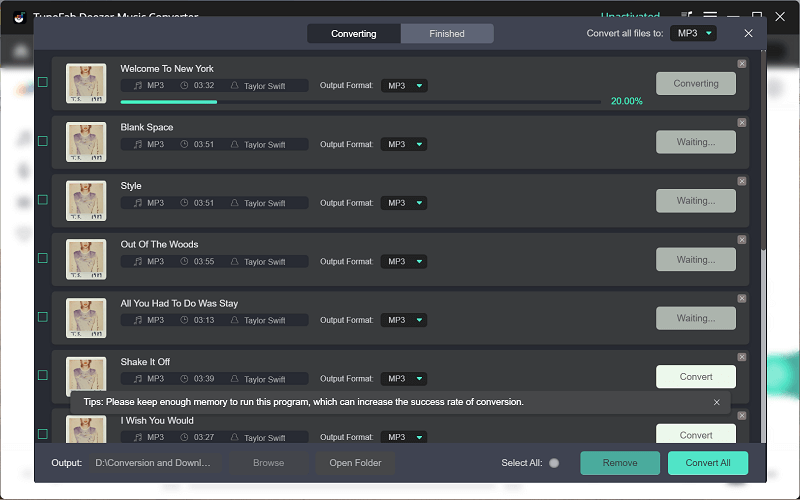 Wait for a short while before the songs are downloaded. You can find the files on Finished -> View Output File.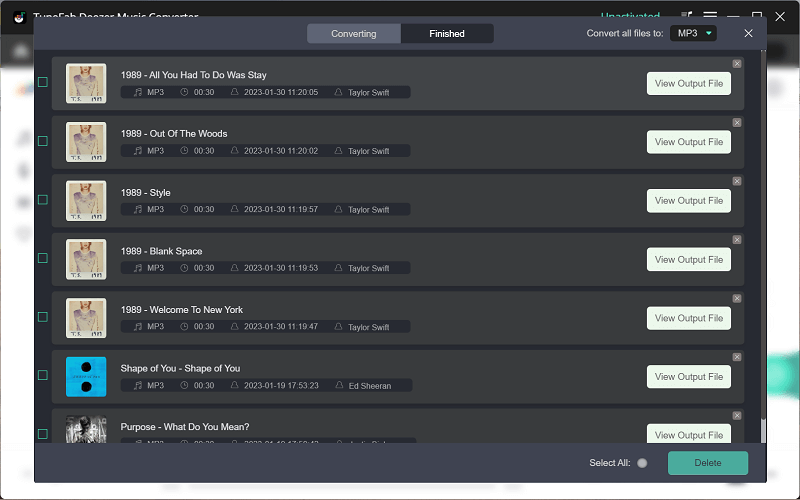 Now that you've downloaded the music into MP3s, you can also upload the MP3s back to Deezer by clicking Favorites -> My MP3s (click on More of you can't see My MP3s) -> SELECT MP3S TO UPLOAD.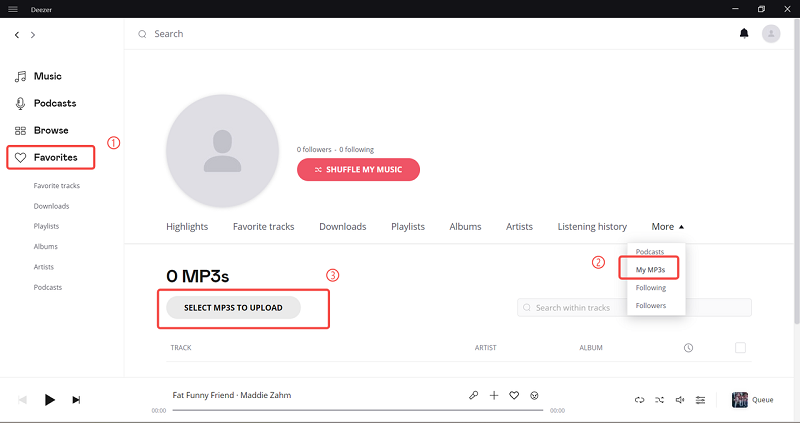 Apart from uploading the downloaded MP3s back to Deezer, you can also play the songs on other media players, set them as your ringtone, or share them with friends. In full charge of your music, you can explore more possibilities of it.
Conclusion
This article introduces two ways to download Deezer music. One is for subscribers to download music directly on the Deezer application. But in this case, the music is encrypted and can not be shared or played on other media players. Hence, this article suggests the other solution - a helpful third-party tool named TuneFab Deezer Music Converter. Its reliability, simple operation, fast download speed, and various output configurations will allow you to enjoy music to the fullest. Get TuneFab Deezer Music Converter and become the master of your music!
Was this information helpful?
TrustScore 5 | 49