Subscribing to Deezer premium plans can deliver many benefits to you like ad-free, offline listening, HiFi sound quality, and more. But no matter the reason, if you are planning to cancel Deezer subscriptions now, this article is all you need. It compiles various methods for unsubscribing from Deezer, whether through the app, website or bundled payment platforms. Also, it offers a solution to ensure continued access to downloaded music even after canceling Deezer subscriptions. Let's get started and explore these easy ways!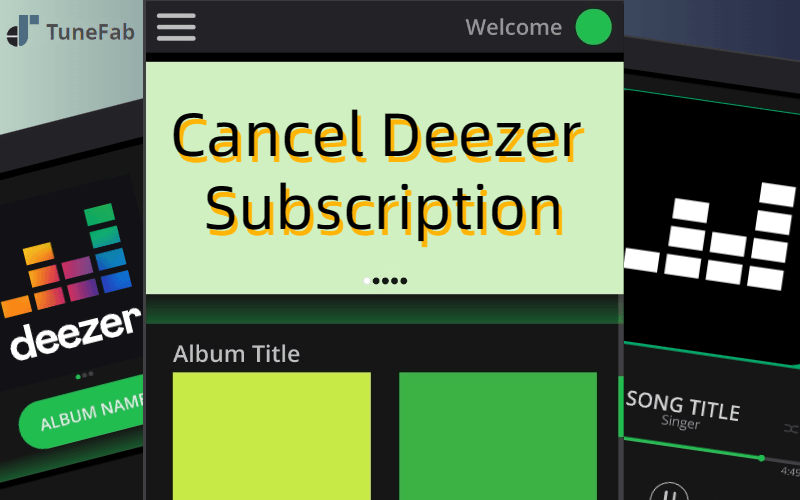 CONTENTS
Part 1. Cancel Deezer Subscription from Deezer Official
To cancel Deezer subscriptions, the simplest way is through the Deezer app or website. However, it's important to note that unsubscribing Deezer plans will mean losing all premium benefits. If this doesn't bother you, you can follow the specific steps below to cancel your Deezer subscription on the app and website.
💡 Note:
Only the owner of the Deezer Family Plan can cancel the subscription. If you are one of the family plans, you don't need to worry about Deezer cancellation.
On Mobile App
How to cancel Deezer subscriptions on the app? In fact, the process for Deezer cancellation is identical to Android and iPhone. Below are the specific steps.
Step 1. Open the Deezer app on your phone and go to "Settings".
Step 2. Navigate to "Account management" > "Manage my subscription" > "Cancel my subscription".
Step 3. Choose the cancellation reason and confirm it.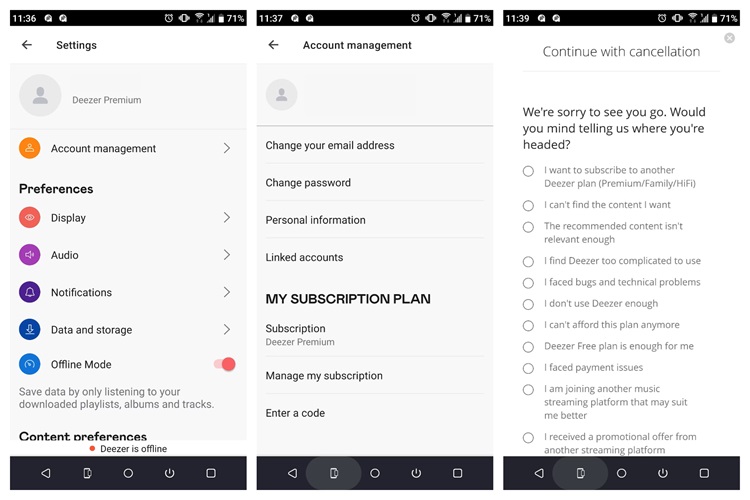 On Desktop Website
If you prefer listening to Deezer on the computer, you can also unsubscribe to Deezer plans via its official website. The steps are a little different from the app, but they are as simple as each other. And here is how it works.
Step 1. Go to Deezer.com and log in to your account.
Step 2. Tap on the "Profile" in the upper right corner, and choose "Account Settings" from the dropdown list.
Step 3. Find "Manage my Subscription" and click to open the tag, then choose the "Cancel subscription" option. You might also be asked to choose the reason for canceling. Tick on one and confirm it to finalize the process.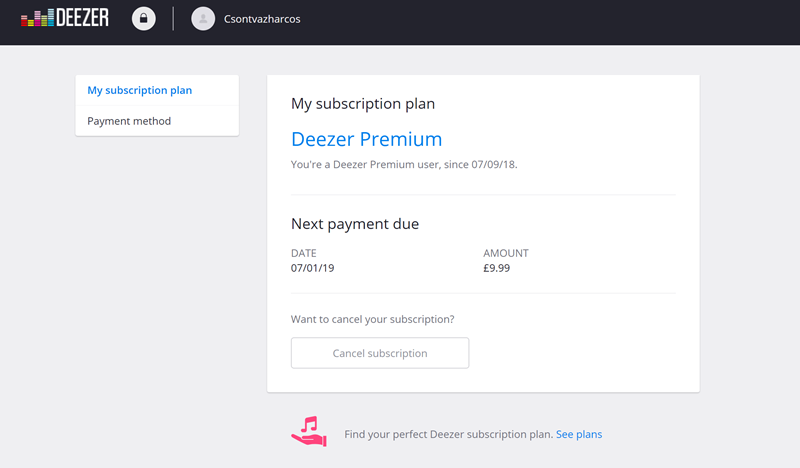 Part 2. Cancel Deezer Subscription from Different Payment Platforms
In addition to unsubscribing from the Deezer app or website directly, you can also stop subscription renewals through the payment platform. The specific steps for this method may vary depending on the payment platform you have bundled.
On Google Play
Google Play caters more to Android users. According to its terms, it will charge at the beginning of each billing cycle for an indefinite term. If you're using an Android phone and have previously subscribed to Deezer through Google Play, you'll need to manually cancel Deezer subscriptions via Google Play.
Step 1. Open Google Play on your Android phone, and log into your account or directly tap the profile on the top right.
Step 2. Go to "Payment & Subscription" from the dropdown menu and select Deezer, then tap on "Cancel Subscription" to confirm the cancellation reason.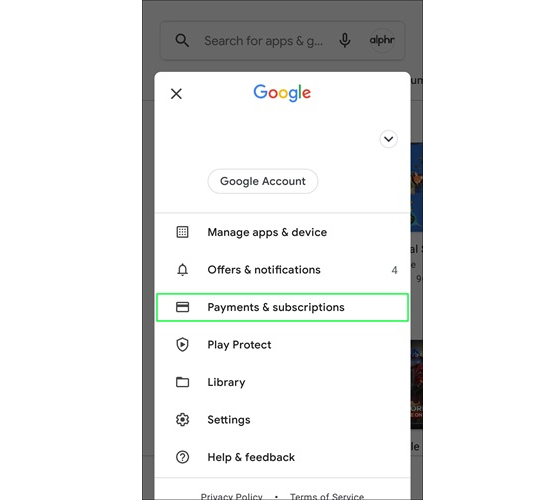 On PayPal
Deezer offers all new users a free one-month trial. If you selected PayPal as your payment method when getting the Deezer free trial, you can cancel Deezer subscriptions by stopping the renewal through PayPal. Meanwhile, if you're a long-term subscriber to PayPal, this method also applies.
Step 1. Open PayPal and tap the "Gear" icon at the top right corner.
Step 2. Choose the "Payments" tab and go to "Manage your Automatic Payments".
Step 3. Select and cancel the Deezer payment. Then you need to confirm it.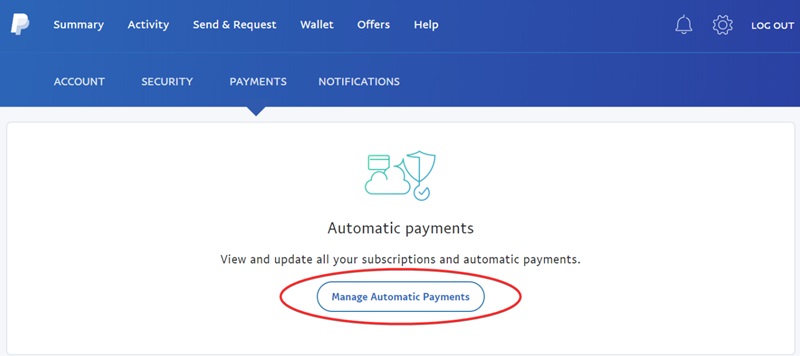 On App Store/iTunes
Apple Store and iTunes purchase Deezer subscriptions at higher prices made up of subscription fees, local taxes, and Apple's commission. But fear not, you can cancel your Deezer subscription using an iPhone or iPad, regardless of the platform you subscribed from. Here is how it works.
Step 1. Head to "Settings" > "Apple ID" > "iTunes & App Store".
Step 2. Find your Apple ID at the top, and then tap "View Apple ID".
Step 3. Scroll down the screen, select "Subscriptions", and choose Deezer from your subscriptions to tap "Cancel Subscription".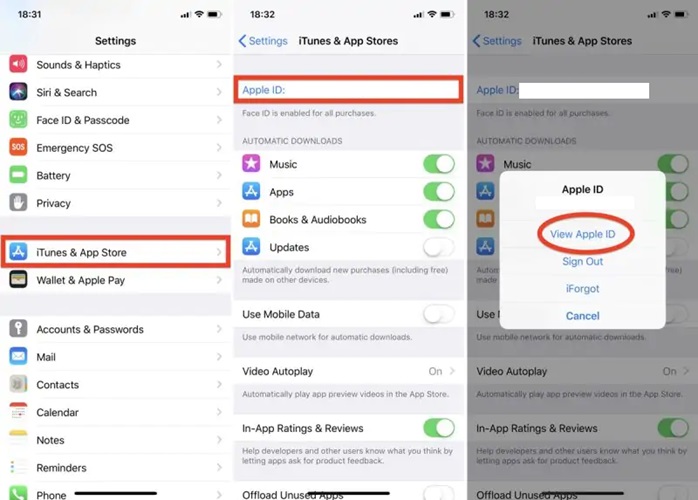 📌 Tips:
In addition to helping you cancel your Deezer subscription, you can also download Deezer music to iTunes in advance to avoid content loss.
Via Mobile Phone Providers as Bundles
Deezer sometimes partners with local mobile service providers to promote subscriptions. Subscribing this way ties the Deezer subscription fee with the phone service. If you are in this case, the method to unsubscribe is simple as well. You can directly contact the mobile provider to cancel Deezer subscriptions.
Bonus: Keep Deezer Music Locally After Cancelling Deezer Subscription
As mentioned earlier, once your Deezer subscription expires, all downloaded content becomes unplayable. Therefore, if you desire to continue access to Deezer music and podcasts even after canceling Deezer subscriptions, you might consider trying the versatile third-party downloader - TuneFab Deezer Music Converter.
TuneFab Deezer Music Converter is a full-fledged desktop app designed for all Deezer users, be you are a free user or a subscriber. Distinguished from other copy-paste link download methods, this highly praised program integrates with the Deezer web player, enabling you not only to access all music directly from Deezer but also to download Deezer music to MP3 and other common audio formats in lossless HiFi quality with the simplest drag-and-drop approach.
Better yet, the batch download feature helps you to get free Deezer downloads in the maximum number to multiple devices within a limited time. With TuneFab Deezer Music Converter, you can still enjoy premium benefits such as ad-free listening, offline playback, and unlimited skips, even if you no longer subscribe to Deezer.
👍 More Marvelous Features of TuneFab Deezer Music Converter
● Download Deezer singles, albums, playlists, and podcasts without Premium
● Choose from four output formats including MP3, FLAC, M4A, and WAV
● Hardware acceleration boosts batch download at 10X faster speed
● Preserve ID3 tag for more organized offline music library management
● Customize bitrate and sample rate for your listening preferences

With all these practical features festooned, TuneFab Deezer Music Converter can stably help you keep Deezer tracks or podcasts locally on your Windows/Mac computers after canceling Deezer subscriptions. Follow the tutorials below to have a try!
Step 1. Launch TuneFab and Log into Deezer
Download and open TuneFab Deezer Music Converter on your computer by clicking the download button below. After installation, you can log into your Deezer account to successfully enter the embedded web player.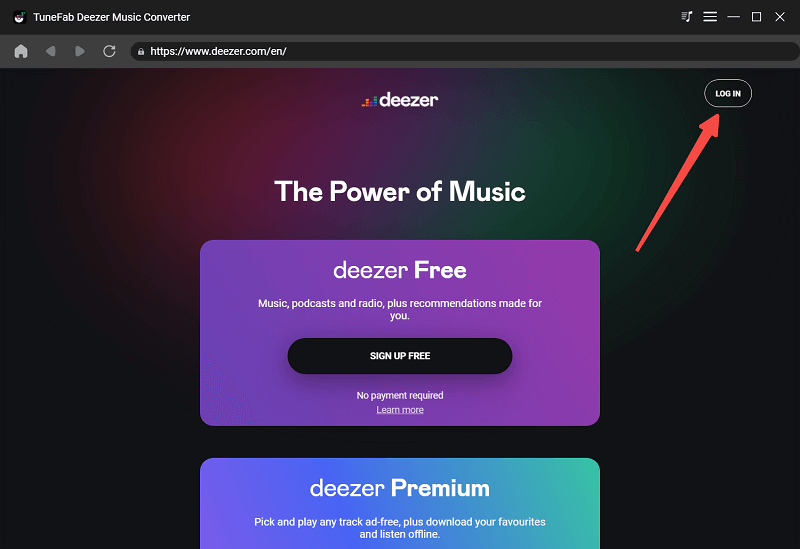 Step 2. Drag Selected Content to Convert
You can search tracks, albums, playlists, or podcasts from the Deezer web player, or choose them from your library. Then drag your chosen content to the green "Plus" button to add to the download queue.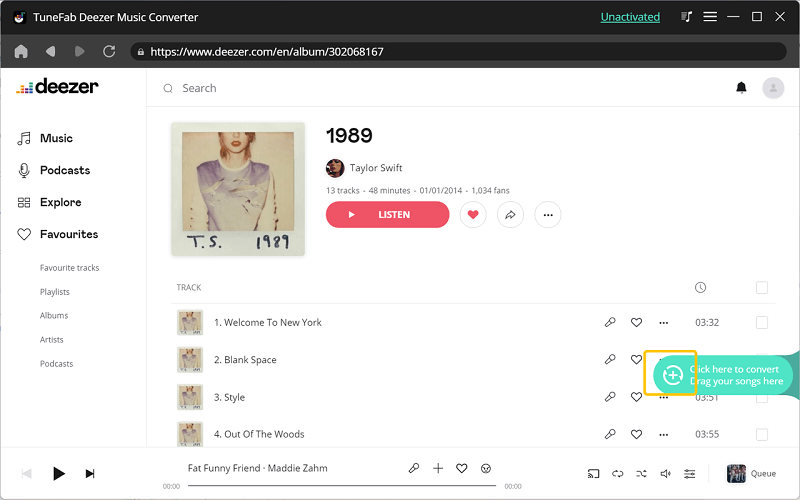 Step 3. Preset the Output Format
Head to "Convert all files to" in the upper right corner and select the format you want to convert. This will apply to all added songs. If you want to change the output format separately, you can click "Output Format" next to each song.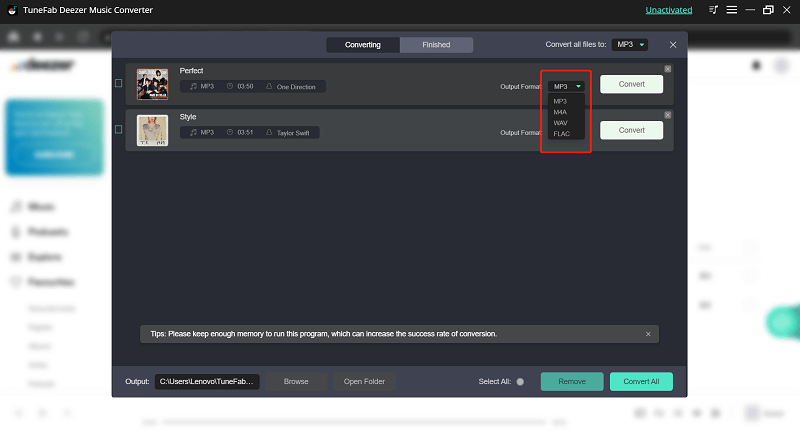 Also, you can set up the output format by navigating to "Burger Menu" > "Preferences" > "Advanced". Here, you are available to customize the output format, sample rate, and bitrate as you desire.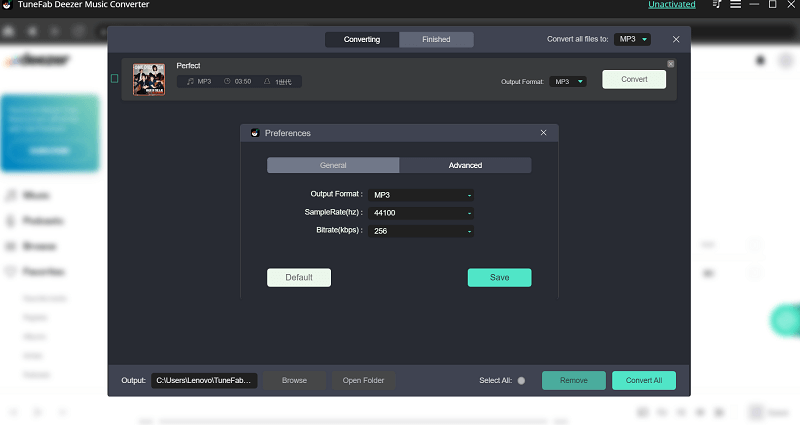 Step 4. Download Deezer Music
After all the settings are ready, hit the "Convert All" icon to start the Deezer music download right away. If you want to check the downloaded songs, you can go to the "Finished" section.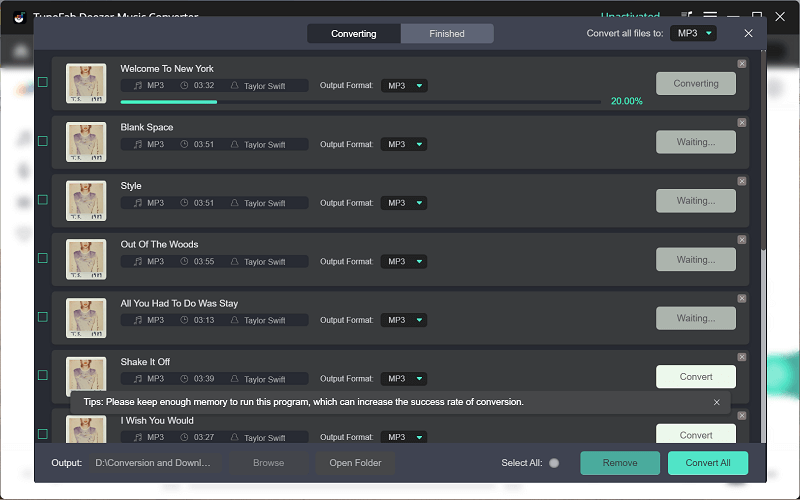 FAQs About Cancelling Deezer Subscription
Q1: Why Can't I Cancel My Deezer Subscription?
Unable to cancel Deezer subscriptions may be because you have already successfully unsubscribed and are now a Deezer Free user, so there's no need to cancel again. If this doesn't apply to your situation, you need to consider whether you have more than one Deezer Premium account linked to different emails, as this can also affect your ability to unsubscribe.
Q2: Why Do I Still Get Charged After Cancelling Deezer Plans?
Canceling Deezer subscriptions but still encountering unexpected charges can be attributed to the following three reasons:
● Unfinished Cancellation Process: You need to check your email for confirmation of the successful cancellation. If you haven't received any, you should refer back to the methods mentioned above to cancel your Deezer subscription again.
● Pending from a Third-Party: If you canceled through third-party platforms like the Apple Store, they might not have completed the cancellation yet, so contacting them immediately is advised.
● Multiple Premium Accounts: Consider if you have more than one Deezer Premium account, as all accounts need to be canceled to stop charges.
If you suspect any unexpected charges, you can contact Deezer Support for refund inquiries, or check the Deezer Help Center for relevant information and assistance.
Q3: How to Delete Deezer Account After Subscription Cancellation
Deleting your account after unsubscribing from Deezer is supported, but please be aware that this action is irreversible, and all data, settings, and favorites will be permanently erased. If this doesn't bother you, you can follow the steps below.
For Android and iPhone
1. Go to the settings cog at the top right of the Deezer app.
2. Find "Account Management" > "Manage My Account".

3. Select "Delete my account".
For Desktop
1. Open Deezer and click your profile.
2. Navigate to "Account Settings" > "Delete my account".
3. Tap your Deezer password and select "Delete my account", then a validation email will be sent to you.
4. Click the link to confirm deleting your Deezer account.
Conclusion
To wrap up, unsubscribing from Deezer can be done through official Deezer channels or by stopping renewals via linked third-party payment platforms. These processes are simple and user-friendly. However, in case you want to access tracks after canceling Deezer subscriptions, consider downloading TuneFab Deezer Music Converter on your computer. This top-rated downloader is available to free users and its built-in web player ensures a successful download process and HiFi audio quality. So better try than never!
Was this information helpful?
TrustScore 5 | 49