Amazon Music HD is a new tier of premium quality music. The quality options are available in High Definition and Ultra High Definition which is even beyond CD quality. Music bit depth and sample rate can reach 24-bit, 192 kHz, which is more than 10 times the bitrate of standard definition. This new kind of high-quality music is formatted in FLAC in Amazon Music.
Undoubtedly, it is good news for people who are fond of music. However, you may get lost to find the settings to switch to high-quality music. Or, you may also get confused about how to download songs from Amazon Music in HD/ Ultra HD quality.
Worse still, even if you successfully download the music in FLAC format, it could happen that your device failed to recognize the Amazon music files. What happens?
To unravel the mystery, we've written up this article to help you know about the FLAC format employed by Amazon Music. To help you enjoy Amazon Music songs in FLAC, we will share with you two methods to convert songs by using Amazon Music and TuneFab Apple Music Converter.
Part 1. Amazon Lossless Music Format (FLAC) vs. FLAC Format
Some of you may notice that the FLAC format of Amazon HD Music is a bit different from the common FLAC format. The following is about the difference between these two formats.
Amazon Lossless Music Format (FLAC)
Amazon lossless FLAC format is a proprietary audio format produced by Amazon Music. As has been mentioned above, the format is provided in High Definition and Ultra-High Definition sound quality on Amazon. These songs are encoded in the lossless FLAC codec, limited to use exclusively on the Amazon Music app.
FLAC Format
FLAC stands for Free Lossless Audio Codec, using lossless compression of digital audio. FLAC musical file format offers bit-perfect copies of CDs with only half the size of an uncompressed WAV or AIFF format. This format is compatible with common software programs such as VLC Windows App, VLC Store App, JetAudio app (Android devices), etc.
The major difference between Amazon Lossless Music Format and normal FLAC format is that Amazon's proprietary FLAC is DRM-protected. This is also the reason that leads to playback failure on some devices.
Part 2. How to Download FLAC Music from Amazon
As you've perceived, directly downloading Amazon Music in FLAC requires an account with a paid subscription. Therefore, the following guide should help those who already subscribed to Amazon Music HD but don't know how to take advantage of its music quality settings to enhance the music listening experience.
And if you are using Amazon Music Free or on a free trial, directly jump to the next part to find out how to get high-quality Amazon Music.
How to Adjust Best Quality Settings for Amazon Music HD
Step 1. Launch Amazon Music and Ready for Set Settings
Open the Amazon Music app on your computer. The settings are set in the "Preferences" section. You can find it in the user column.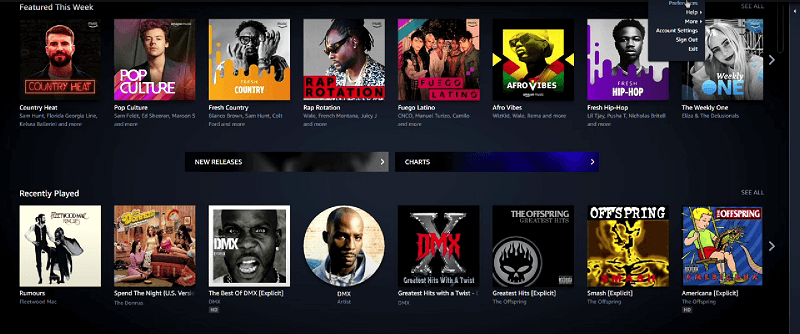 Step 2. Change the Setting for Listening to HD Music
After clicking "Preferences", you will find two sections – "General" and "Advanced". Go to the "Advanced" section and find "Audio Quality". Switch it to "HD/ Ultra HD" mode.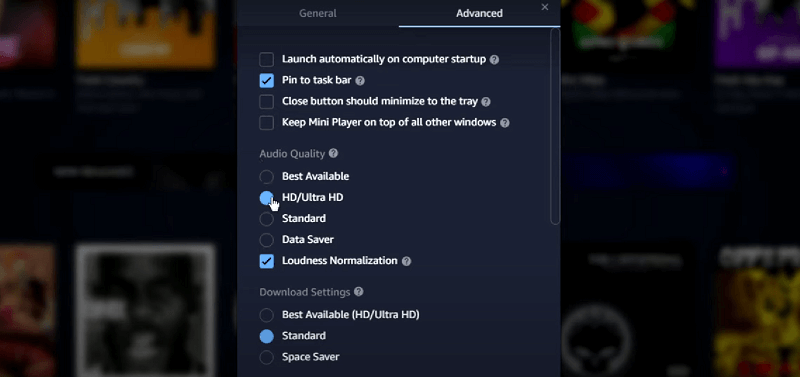 Tips: For casual listeners, you can turn on "Loudness Normalization". But if you pursue perfect music quality, just turn it off. Then the Amazon Music software won't have a negative impact on your listening experience anymore.
Step 3. Adjust the Setting for Downloading HD Music
When you finish the former step, you then can listen to HD music. If you want to download them in the same quality, just find "Download Settings" and choose "Best Available (HD/ Ultra HD)".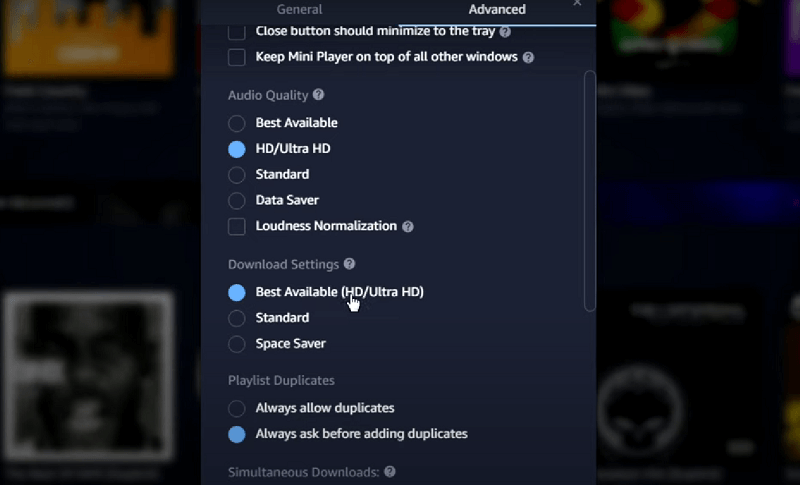 After the 3 steps, you can listen to and download HD/ Ultra HD music on Amazon Music. But given the inconvenience that you can only use the FLAC music within the Amazon Music App, you may seek a way to enjoy Amazon Music more flexibly. Then third-party Amazon Music converter should satisfy your need.
Download Amazon Music to FLAC via TuneFab
TuneFab Amazon Music Converter is a recommended audio tool that can download and convert Amazon music to FLAC and other formats like MP3 and WAV. In terms of downloads, it won't waste your time waiting for the download process to finish, for its converting speed reaches more than 5X faster, and sound quality is not affected during the process.
Compatibility should be another aspect that you care about. The Amazon Music converter perfectly works on both Windows and Mac systems so you can utilize the tool to download, convert, and save Amazon Music for convenient playback on devices that even don't come with the Amazon Music App. Just check out the following steps.
Step 1. Launch TuneFab Amazon Music Converter
After you download and launch TuneFab Amazon Music Converter, please sign in to your Amazon account or create one to log in. The converter will fail to convert the songs without a logged-in account.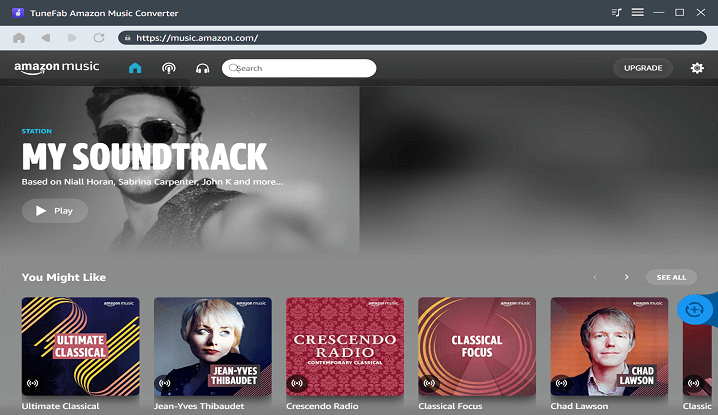 Step 2. Choose a Playlist of Amazon Music FLAC to Convert
Now you can begin to choose a playlist you want to download and add it to converting list. The blue button on the right side is the "add" icon.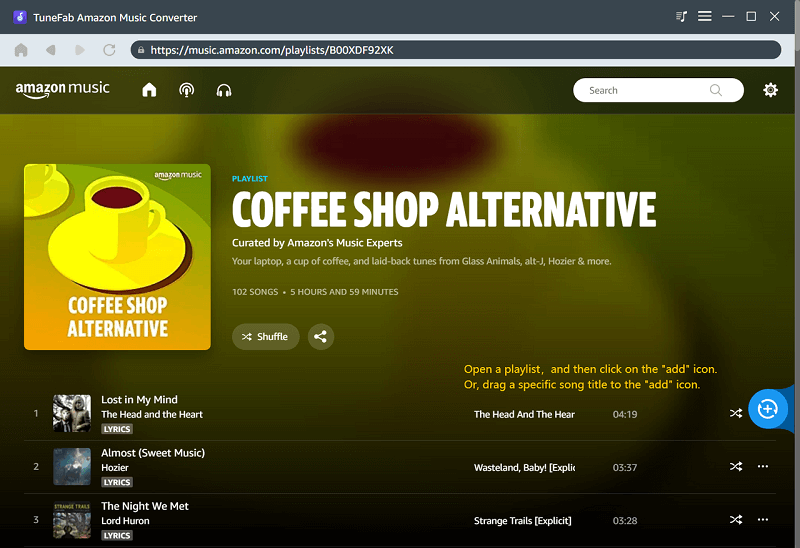 Step 3. Set Output Folder and Output Format
When you finish selecting and adding the playlist to converting list, you can choose an output folder on the bottom-left of converting page. The output format can be changed on the top-right of the page. Just select FLAC for output.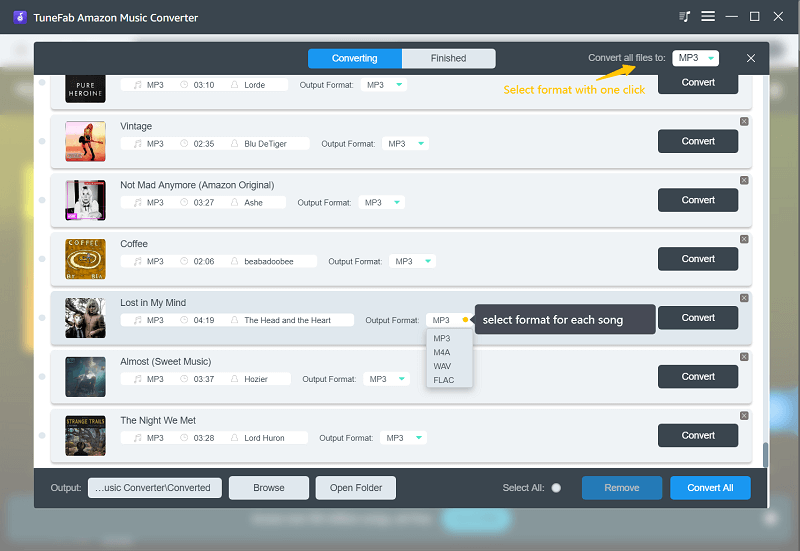 Note: You can also click on the settings icon on the upper right corner of the interface, and then select "Preference". Then, switch to the "Advanced" tab, and you can customize the bit rate and sample rate settings flexibly.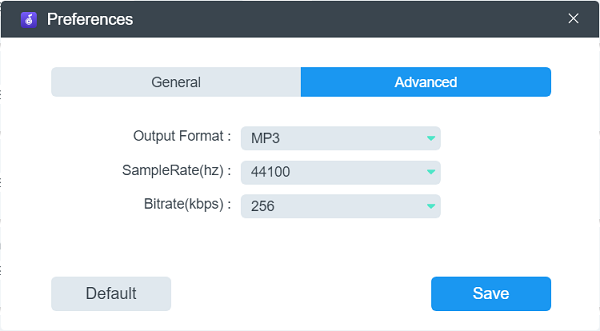 Step 4. Convert Amazon FLAC Music
After all preparation is done, just waiting for conversion completed. Songs that are successfully converted will be placed in the "Finished" column. You can click "View Output File" to check the offline files on your device.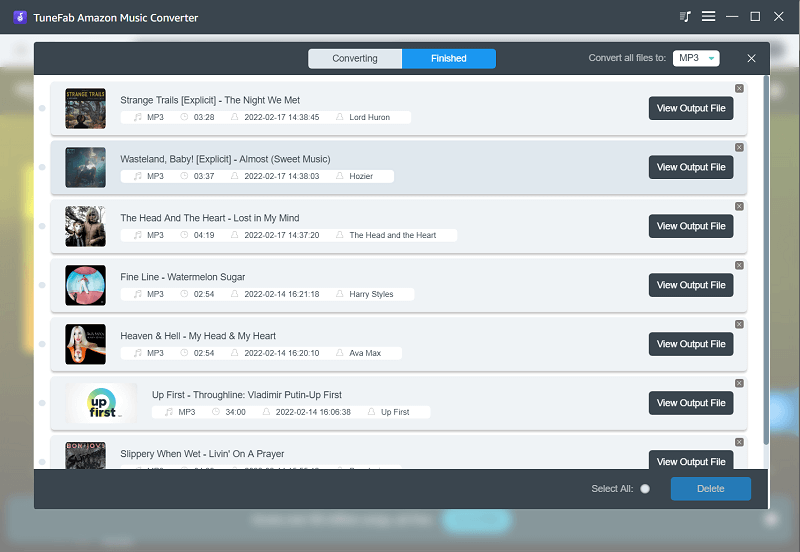 When all the steps are done, you will get the FLAC music files stored on your own device. You can listen to them whenever you want. Just remember which folder you choose to save them!
Conclusion
After reading this article, you are now knowing how to enjoy Amazon lossless music and download them via the Amazon Music app or directly to your own devices. Why not have a try now? While directly downloading songs from Amazon Music to FLAC requires a paid subscription, non-Prime subscribers can turn to TuneFab Amazon Music Converter and gain high-quality FLAC music!
Was this information helpful?
TrustScore 2.1 | 14