YouTube Music is a wonderland to explore all genres of music. Also, Premium subscribers can download music from YouTube and enjoy ad-free listening, but there are quite a few restrictions like in-app playback, availability, and device limitations.
Actually, a YouTube Music downloader online can break through all the restrictions and download YouTube music online without YouTube Premium. Then, you'll get DRM-free tracks for flexible playback on any device at any time for good. Now, let's check out the list of the top 6 BEST online YouTube Music downloaders of the year and get your preferred choice here.
CONTENTS
TuneFab YouTube Music Converter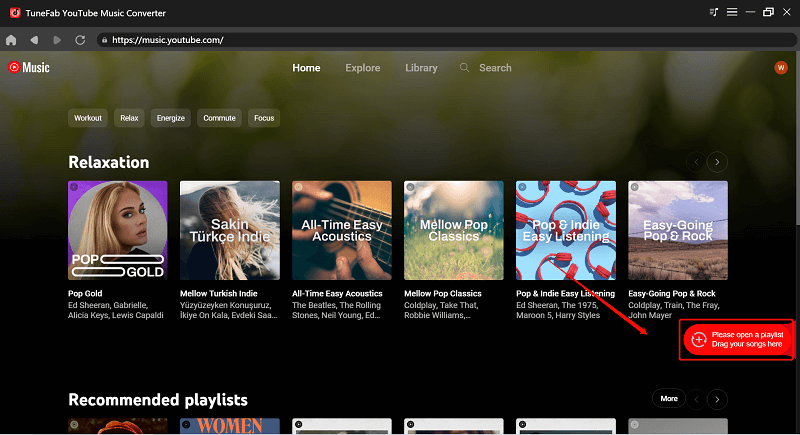 TuneFab YouTube Music Converter is an exclusive program for music lovers to easily download unlimited songs from music.youtube.com with no hassle. This dedicated software can access the whole music library of YouTbe Music and download single songs, music videos, albums, playlists, and mixes to DRM-free formats like MP3, M4A, WAV, FLAC, MP4, etc. From new releases to Live performances, all is at your fingertip.
More Marvelous Features to Explore
● Batch Download - TuneFab allows multiple download tasks at once, and it takes only a click to download the entire album/playlist to Windows and Mac. Literally, you can download millions of songs as you wish.
● 6X Ultra-Fast Rate - No more time-wasting! The download process can be accelerated up to 6X faster than ever, and it can even take a song to finish downloading the whole album.
● DRM Removal - TuneFab can defy the restrictions of DRM protection and remove it from YouTube Music. Then, your downloads will be totally DRM-free and playable on any device at any time.
● High-Res Music Quality - The software will keep the best sound quality of YouTube Music songs to deliver you detailed and optimal offline playback without ads.
● Instant Access - There is an in-built YouTube Music web player inside the program that makes it straightforward to download music from YouTube Music with only a button.

Be you a Premium user or not, you can download songs from YouTube Music directly with TuneFab YouTube Music Converter. Better yet, you don't even need to log in to your account. Now, let's grasp the idea of how it works here.
STEP 1. Give it a click on the button above and install the program on your Windows/Mac computer.
STEP 2. Launch TuneFab YouTube Music Converter and click "Open the YouTube Music web player" to proceed. Then, you can opt to sign in to your YouTube account or not.
STEP 3. Click "Search" to look for your favorite track, album, or playlist in YouTube Music.
STEP 4. Drag the name of the song or the cover of the album/playlist to the "Red Plus" button and select the track(s). Now, click "Convert All" to download music from YouTube to your local storage.
Note that you can go to the "Hamburger icon" >"Preferences" to set up the output path/format/quality.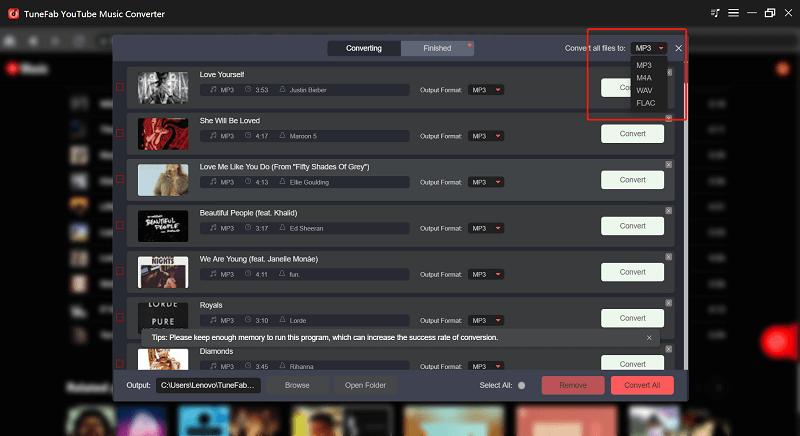 Pros:
● Require no Premium subscription.
● Download music and videos to popular formats.
● Download multiple songs at the same time.
● Ensure the high quality of downloads.
● Enjoy ad-free playback offline anywhere.
● Download music from YouTube without an account login.
● Enable hardware acceleration.
● Available forever and never expires.

Cons:
● Do not support iOS or Android devices.
● Need to download the software first.

SnapInsta

SnapInsta is a YouTube Music downloader online to use on Windows, Mac, Android, and iOS devices. It enables you to download music from YouTube to MP3 at from 64kbps up to 320kbps. Also, you can directly search for YouTube videos and convert them to 3GP, MP4, WMA, M4A, FLV, WEBM and MO, etc.
However, this is an ad-based service, so you'll have to deal with pop-ups and banners everywhere. What's more, you'll have to switch between YouTube and SnapInsta a million times if you want to download lots of songs. That takes quite an effort. Meanwhile, SnapInsta goes down from time to time because Google cracks down on such online services.
Pros:
● Free and online to use on any device.
● Convert YouTube videos to MP3 and MP4.
● Offer various download options of different quality.
● Enable in-site search to look for YouTube videos.

Cons:
● Flood with misleading ads.
● Download one song at a time.
● Unstable to download YouTube music online.
● Cannot download YouTube Music albums and playlists.

YooDownload

YooDownload is one of the best YouTube Music downloaders online without any software. Only by throwing a link into the site can it easily fetch and download music from YouTube. The whole process goes over the cloud, and the output format will be in MP3 at 128kbps.
Moreover, it offers a Chrome Extension for instant download when streaming YouTube videos. Better yet, it supports downloading videos and tracks from SoundCloud, Vimeo, Facebook, Twitter, Instagram, and Vidme. The main drawback is that the service has stopped maintenance ever since 2018.
Pros:
● Support download from 7 online sites.
● Require no software to download YouTube Music to MP3.
● Release an Extension for Google Chrome.
● No bothering ads on the site.

Cons:
● Do not enable batch downloads.
● Convert songs to 128kbps only.
● Stop updates after 2018.
● Fail to download copy-protected songs.
● Allow up to 20-minute videos only.
● Cannot download albums or playlists.

YouTubeMP3

YouTubeMP3 is pretty easy to tell from its name. As an online YouTube Music downloader, you can use it to download your favorite songs to MP3 at up to 320kbps. Unlike other online tools, it enables you to select output formats and adjust the volume in the first place. Then, it'll finish the conversion and let you download music from YouTube with a download link.
However, it takes a lot of work if you have a list of songs awaiting, for it can only download tracks one after one. Also, it doesn't allow you to download YouTube Music playlists, albums, or mixes, because its cloud server cannot tackle such an overload.
Pros:
● Easy to use on a browser.
● Free to use without annoying ads.
● Download YouTube music online to HD MP3.

Cons:
● Process downloads one after one.
● Do not support albums and playlists.
● Cannot download songs when it overloads.
● Download tracks at a slow rate.

KeepVid

KeepVid enables you to download unlimited songs from YouTube Music to MP3 and MP4. Other than pasting a music URL to it, it's faster to download music from YouTube by searching for your desired songs in the search bar. Better yet, KeepVid is expanding its support list to add more sites.
However, the advertisements are literally hidden in every step, and you'll trigger them anyway. Besides, this YouTube Music downloader online will be fetching video and audio data from YouTube at the same time. Therefore, it could take quite a while to show up the options. If you can bear the misleading ads, it's worth a try.
Pros:
● Online and free to use with ease.
● Download YouTube Music online to MP3 at 320kbps.
● Keep adding support for more sites.

Cons:
● Bring up ads at every step.
● Take a long time to fetch data from YouTube.
● Show up video options without MP3 options sometimes.
● Fail to download YouTube Music playlist and albums.

Vidownloader

Vidownloader is more an online video downloader than a YouTube music downloader online. It brags that it can download videos and music from over 1,000 online sites like YouTube, Vimeo, Niconico, LiveLeak, Jamendo, Mixcloud, and so on. Also, it requires no registration to take advantage of its download service.
This online YouTube Music downloader lets you download music from YouTube to MP3 at 128kbps or MP4 at 480p. Frankly speaking, the quality is less than satisfying. If that doesn't matter to you, Vidownloader can be a nice choice for you to consider.
Pros:
● Need no account to use the online service.
● Free to use on any device without software.
● Claim to support over 1,000 platforms.
● No pop-ups or banner ads.

Cons:
● Allow one download task at once.
● Download videos and music with SD quality.
● Do not download playlists and albums.
● Fail to download protected tracks.

Comparison: Which is the Best?
It could be a hard decision when it comes to choosing from a bunch of options, but take it easy. To make it clear for you, here comes an in-depth comparison table among the top 6 best online YouTube Music downloaders. Now, get the rope here.
 
TuneFab
SnapInsta
YooDownload
YouTubeMp3
KeepVid
Vidownloader
Audio Formats
MP3, M4A, WAV, FLAC, MP4
MP3
MP3
MP3
MP3
MP3
Music Quality
Best
320kbps
128kbps
320kbps
320kbps
128kbps
Batch Download
√
×
×
×
×
×
Download Playlists
√
×
×
×
×
×
Download Albums
√
×
×
×
×
×
Download Mixes
√
×
×
×
×
×
Download Rate
6X Fast
General
Fast
General
General
Slow
Success Rate
100%
70%
70%
50%
60%
80%
Ease of Use
Easiest
Easy
Easy
Easy
General
Easy
If you just want to download one or two YouTube music without any software, a workable YouTube Music downloader online is worth considering. Both SnapInsta and KeepVid are worth a shot. However, online tools often come with limitations like one-time downloads, poor music quality, unstable to use, and inability to download playlists/albums/mixes from YouTube Music.
That's why TuneFab YouTube Music Converter stands out as the best YouTube Music downloader of the year, attracting users from all walks of life. It enables you to download as many songs as you want and keep the best quality of your favorite tunes for studio-like playback. Better try than never!
Was this information helpful?
TrustScore 1.7 | 11