Unlike streaming Apple Music service, YouTube Music makes it easy for you to download music for offline listening on your Android phone. However, the download feature is currently only available to premium subscribers. If you don't want to subscribe to get offline access to YouTube Music on your Android, what can you do? Don't worry, this article will help both YouTube Music Premium and Free users to download music from YouTube Music to Android without limitations.
CONTENTS
Method 1: Download from YouTube Music on Android to MP3 (Free & Premium Users)
For premium users, you can access the best features of YouTube Music and listen to all songs/playlists offline easily. But there're still some restrictions to reduce the pleasure of your listening experience by directly downloading music from YouTube Music on Android.
The Limitations of YouTube Music Download Services:
● Download services are only available on the YouTube Music app for smartphones & tablets. There's no downloadable app made for computers, except for a web player.
● Downloads are only allowed to be played on YouTube Music because of DRM(Digital Rights Management) protection.
● YouTube Music requires users to reconnect to the internet for at least 30 days. Otherwise, all downloads will be nullified automatically.

In this situation, is there no way to break the restrictions?
Absolutely not! You can use TuneFab YouTube Music Converter, a third-party program on Windows and macOS, which is able to directly convert songs and playlists from YouTube Music to MP3 with high quality for both YouTube Music free and premium users.
Why Choose TuneFab YouTube Music Converter?
● Download outputs are fully compatible with all devices without DRM restrictions. This tool supports converting songs, podcasts, albums, playlists, and even videos to be DRM-free.
● A 30-day free trial is provided. For new users, you can enjoy up to 3-minute downloads within 30 days.
● The built-in web player is equipped to directly access YouTube Music.
● Common audio formats are allowed to be customized, for example, MP3, M4A, WAV, and FLAC.
● High-quality outputs are assured. You can enjoy mellifluous songs after converting music from YouTube Music.
● TuneFab aims to offer the best YouTube Music Converter. All new users can finish their first conversation with only a few simple clicks.
● Support 6X conversion speed and batch download.

Next, I will show you how to download music from YouTube Music to Android specifically.
How to Download Music from YouTube on Android
STEP 1. Install TuneFab YouTube Music Converter on Your PC/Mac
This tool works well with Windows and macOS computers. To begin with, click the download button below and then follow the instructions to finish the installation.
STEP 2. Access the Song/Playlist from YouTube Music
As a versatile program, TuneFab YouTube Music Converter offers an entrance to direct access to the YouTube Music web player. When you launch TuneFab YouTube Music Converter, you can simply log in to the web player with your account and then navigate to your favorite music that you want to download from YouTube Music.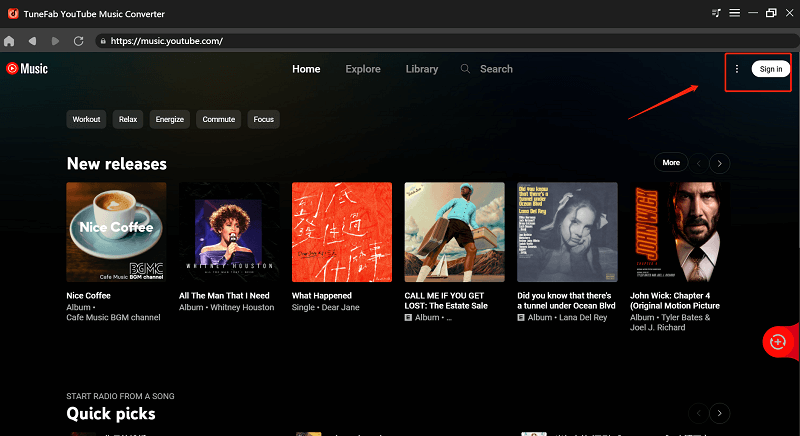 STEP 3. Preference Settings (Optional)
You may have your own preferred output settings. For sure, this program allows users to adjust the output settings such as output quality, output format, saving location, etc. Downloads saved in MP3 with high quality will be recommended.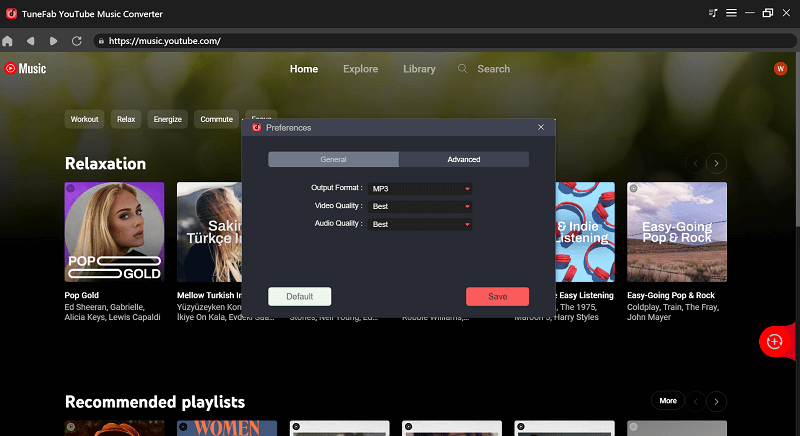 STEP 4. Add YouTube Music to Convert
This all-in-one program allows you to download music from YouTube Music without copying and pasting the file link.
When your mouse is on the red + button which is placed at the lower right corner, you can see the instruction, telling you that you can directly drag your favorite songs/ playlists to that spot to activate the conversion.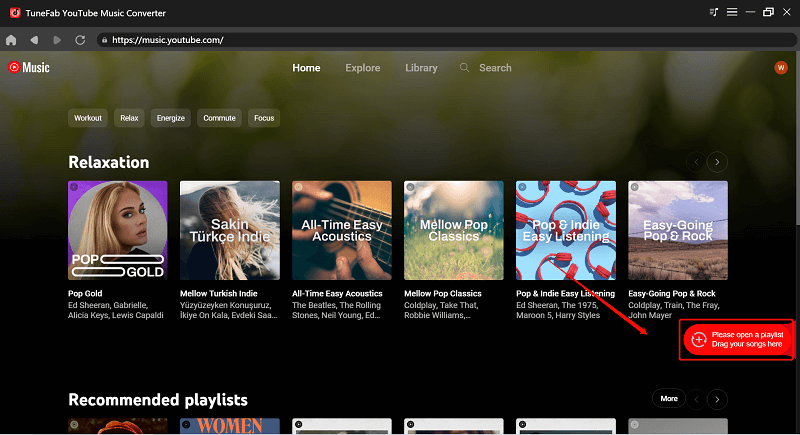 STEP 5. Start Downloading Music from YouTube Music
Once you drag a song, or playlist to the red button, it will automatically pop up the Converting window. You can check the converting list if it's done. Or you can add or detract music files. Then, click the "Convert All" button to start converting music from YouTube Music to MP3.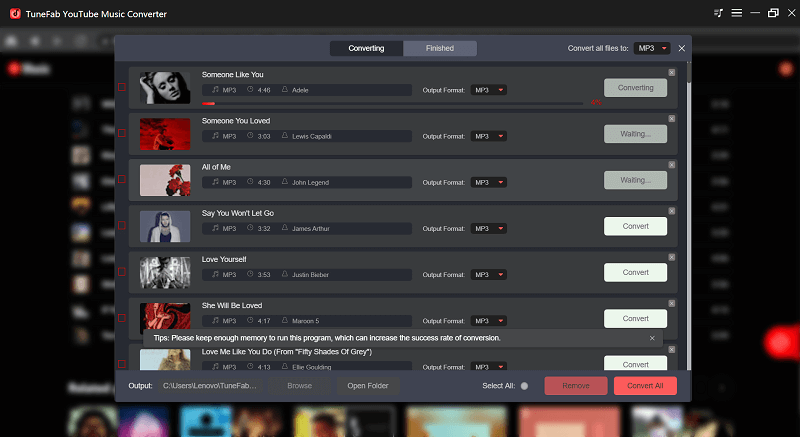 STEP 6. Transfer Downloaded MP3 Music Files to Android Devices
Conversion will be finished at a high speed. You can check the downloads on the Finished tab on the program interface by clicking the melody sign icon on the menu bar.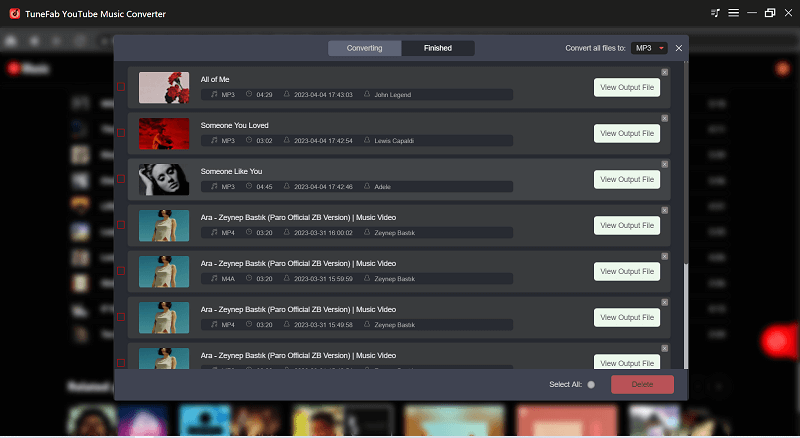 Now, you just need to transfer the downloads from your computers to your Android devices.
1. Connect your Android device to the computer with a USB connection cable.
2. Allow permission to access the phone data.
3. Copy or drag the downloaded music tracks from the computer folder to the Android music folder.

See, it's a little bit complicated, but it's easy to follow as well. I believe you now know how to download music from YouTube Music without premium on Android. During the free trial, you can download music from YouTube Music to Android for free.
Method 2: Download YouTube Music Directly on Android App (Premium Users)
If you just want to listen to songs on YouTube Music App on one Android device only and will not transfer any music tracks to other devices or platforms, you can subscribe to YouTube Music, then download songs directly on YouTube Music App on your device.
There are two methods provided for YouTube Music Premium member users to download music to listen to offline - Turn on Smart Download and Manually Download. Here's how:
How to Turn on Smart Download
Once you enable the Smart Download service, the app will automatically download music tracks based on your previous listening history. Here's how:
STEP 1. Open the YouTube Music app on Android phones or tablets.
STEP 2. Tap your profile photo. > Tap Downloads > Tap the gear icon to open Settings.
STEP 3. Turn on "Smart downloads".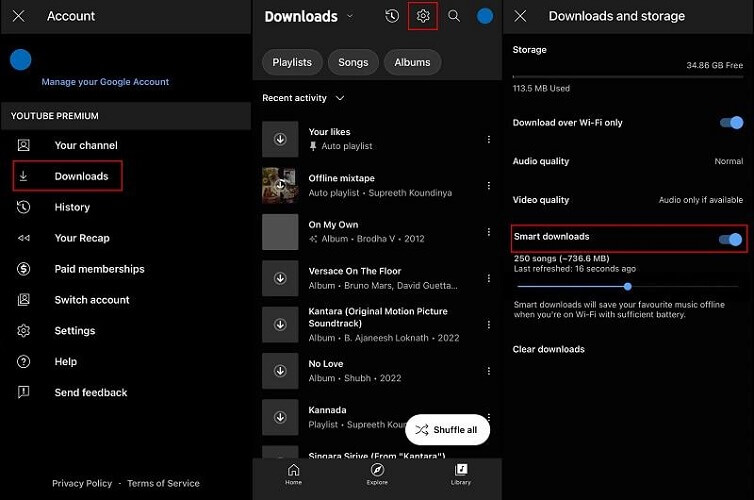 To improve the precision of preferred downloads, you can delete your listening history to manipulate it. Moreover, you can go to Menu > "Remove download" to remove specific songs, playlists, or albums you don't like from your downloads.
How to Manually Download Music from YouTube Music App
Smart Download service may cause the least available storage space. To reduce unnecessary storage occupancy, you can manually choose specific playlists, songs, or albums to download on Android phones and tablets. Simply tap the 3-dot menu and select Download or simply tap on the download arrow button on the playlist or album details page to start downloading.
Note: Mind that you will need to reconnect the internet within 30 days to keep your downloads available.
Conclusion
Many music lovers are willing to pay for downloads through the YouTube Music app. But continuous premium subscription is a great burden for many people to afford, especially for users who want to enjoy their favorite songs offline freely.
By comparing these two methods above, using TuneFab YouTube Music Converter is much more economical than directly downloading music from the YouTube Music app on Android. With it, users can play any music they want and transfer local downloads to any device for offline listening anytime, anywhere.
Was this information helpful?
TrustScore 5 | 49